If Spotify keeps growing at its current rate, it will have a billion global users by the midpoint of 2027.
That was one of MBW's major takeaways from the firm's Q1 2023 quarterly earnings today (April 25), which confirmed that SPOT's monthly active user (MAU) count hit 515 million at the end of March this year, up by 26 million quarter-on-quarter.
As explained by Spotify CEO, Daniel Ek, on the firm's call with analysts this morning, that QoQ growth in users was the second biggest in Spotify's history, second only to Q4 2022, when it added 33 million MAUs.
The firm's average quarterly net addition of MAUs over the past six months, then, is +29.5 million… an annual run-rate of +118 million MAUs per year. Impressive.
---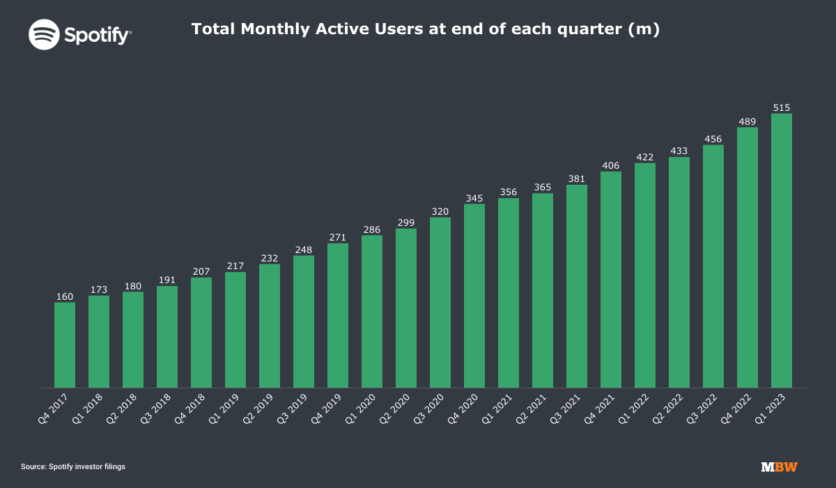 ---
Another takeaway from Ek's call with analysts today?
Spotify is taking concerns about the impact of AI-generated music on entertainment rightsholders seriously.
Last week, the debate around the use of AI in music reached a boiling point after the emergence of a track that featured AI-generated vocals copying the voices of Drake and The Weekend.
The track was subsequently deleted by platforms – including Spotify – after a successful copyright claim was issued by Universal Music Group.
While the 'fake Drake' track was still available on Spotify last Monday (April 17), UMG responded, publicly stating that "[streaming] platforms have a fundamental legal and ethical responsibility to prevent the use of their services in ways that harm artists".
It's a message that Daniel Ek appears to have heard loud and clear.
The exec was asked on Spotify's Q1 call today about the "copyright pushback from some of the major labels" in regards to the use of AI in music, in the context of Spotify launching its own AI-powered personalized DJ service.
Ek was careful to differentiate Spotify's AI DJ from the wider AI conversation as it pertains to copyright, noting that on the "AI DJ… we've had nothing but positive reactions from across the industry".
He then tackled the elephant in the room.
"[Spotify] is working with our partners … in trying to establish a position where we both allow innovation, but to protect all of the creators that we have on our platform."

Daniel Ek, Spotify
Said Ek: "[T]he AI pushback from the copyright industry, or labels and media companies, is really [concerned with] issues like 'name and likeness', what is an actual copyright, who owns the right to something where you upload something and claim it to be Drake [when] it's really not, and so on. Those are legitimate concerns."
Ek then confirmed that "obviously, those are things [Spotify is] working with our partners on in trying to establish a position where we both allow innovation, but at the same time, protect all of the creators that we have on our platform".
Ek's confirmation came after emails emerged, via the Financial Times, that had recently been sent by Universal Music Group to streaming partners including Spotify in March, in which the major wrote: "We have become aware that certain AI systems might have been trained on copyrighted content without obtaining the required consents from, or paying compensation to, the rightsholders who own or produce the content".
An unnamed "person familiar with the matter" told FT that UMG had been issuing takedown notices "left and right" against AI-generated tracks that infringed on copyright.
Ek's comments also follow those of another music streaming company CEO on the subject of artificial intelligence.
Speaking on his company's FY 20222 earnings call on March 1, Jeronimo Folgueira, Chief Executive Officer of Deezer, said: "I am supportive of being stricter in terms of what we allow to get uploaded to the platform, and the quality of the catalog."
He added: "Especially… when machine-generated music really takes off… I think that's something we need to handle and address, and that's something we're doing with the labels."
 "I don't think I've ever seen anything like [AI] in technology, how fast innovation and progress is happening."

Daniel Ek
Elsewhere on Spotify's earnings call today, Daniel Ek noted that in regards to AI's relationship to music, "this is very early days and it's an incredibly fast developing space".
Ek added "I don't think I've ever seen anything like it in technology, how fast innovation and progress is happening in all the really cool and scary things that people are doing with AI at the moment.
"But it's important, on the risk side, not just for Spotify, but for our entire creative ecosystem, the question around copyrights and who owns what copyrights and what the fair way would be to attribute value when you're doing things in name and likenesses situations or inspired by a certain artist, etc.
"I think the whole industry is trying to figure that out and trying to figure out [AI] training. I would definitely put that on the risk account because there's a lot of uncertainty for the entire ecosystem."
---
As reported on Tuesday (April 25), the music streaming company added 5 million net Premium subscribers to its user base in Q1 2023 (the three months to end of March), taking its total global paying subs audience to 210 million.
Those 210 million subscribers marked Premium Subscriber growth of 15% YoY, and was 3 million above the company's guidance for the quarter.Music Business Worldwide