In yet another sign that Drake's megastardom is nowhere near its end after more than a decade of topping the charts, the Canadian-born hip-hop artist has seen two new tracks go viral in just the past few days.
But hang on – those aren't Drake tracks at all. They're AI-generated spoofs, and they're the clearest sign yet of the headaches that AI audio tools are starting to cause the music industry.
As MBW reported earlier today (April 17), one of these 'fake Drake' tracks is an apparent original composition called heart on my sleeve, created by an 'artist' called ghostwriter.
It features AI vocals replicating the voices of both Drake and The Weeknd. And it has, via the help of an unknown distributor, made its way to numerous streaming platforms including Spotify, Apple Music, TIDAL, Deezer, SoundCloud, and YouTube/YouTube Music.
Yet over the course of today, MBW has noticed that three of these streaming platforms – Apple Music, Deezer, and TIDAL – appear to have pulled the track down.
UPDATE: As of 18.40 ET, around 3 hours after this story was first published, the track is no longer available on Spotify.
At the time of publication, heart on my sleeve remains available on YouTube/YouTube Music (where it has over 231k plays).
It's also still up on SoundCloud (127k plays), and Spotify – where it's now surpassed 625k plays, while doubling its monthly active user count within 24 hours (see below).
---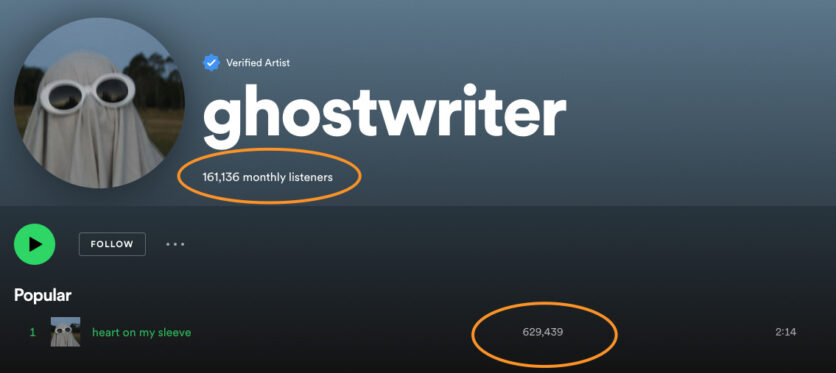 ---
What's not entirely clear right now is why the track has been pulled down by Apple Music, Deezer, and TIDAL.
An obvious answer might be due to a copyright complaint from a music rightsholder. But the copyright ownership of an original composition using AI-generated vocals that 'borrow heavily' from the voices of established superstars is… complicated.
Especially if, as on Spotify, the uploaded metadata of the track doesn't mention the names of said established superstars.
Ghostwriter's track does mention Drake and/or The Weeknd, however, on YouTube, SoundCloud and TikTok.
Indeed, ghostwriter's self-uploaded video clips on TikTok, all featuring the song, have now cumulatively racked up more than 15 million plays.
---

---
If a copyright complaint is responsible for triggering the takedown of heart on my sleeve on Apple Music etc. it could potentially have something  do with the famous recorded 'tag' of producer Metro Boomin': "If young Metro don't trust you, I'm gon' shoot you."
That tag, voiced by Future, has appeared on multiple popular modern tracks including Kanye West's Father Stretch My Hands Pt.1, Drake & Future's Jumpman, Migos' Bad and Boujee, Big Sean's Bounce Back, and 21 Savage's asmr.
It can also be heard at the start of ghostwriter's heart on my sleeve.
Besides heart on my sleeve, another AI-driven piece of music going viral over the past few days is an unlicensed version of Ice Spice's Munch, featuring "Drake" on vocals.
Both Drake and The Weeknd are, of course, affiliated with Universal Music Group (UMG), with both artists releasing their recorded music via UMG's Republic Records.
In another social media snippet making the rounds this week, an AI 'version' of Rihanna – yet another UMG-affiliated superstar – can be heard singing Beyonce's hit Cuff It.
According to a report in the Financial Times last week, Universal Music Group (UMG) has asked streaming platforms including Spotify and Apple Music to block access to their content to any AI platform looking to 'scrape' their copyrights.
"We will not hesitate to take steps to protect our rights and those of our artists," UMG wrote to DSPs in March, as quoted by the FT.
---
A Universal Music Group complaint to YouTube recently saw a 'cat-rap' video taken down that contained vocals that replicated, via AI, the sound of Eminem's voice.
The UMG complaint in that case, MBW understands, was for infringement of the music behind the vocals, rather than the vocals themselves.
---
UMG entered into new agreements with both TIDAL and Deezer earlier this year, under which all parties intend to explore new artist royalty payout models for streaming music.Music Business Worldwide