As MBW reported yesterday, the recorded music world was taken by storm over the past few days with the release of several AI-generated music productions that spoofed the vocals of superstar artists Drake, The Weeknd and Rihanna.
At the center of the storm was an apparently original composition called heart on my sleeve, which featured an AI-generated Drake on vocals, accompanied by an equally AI-generated The Weeknd.
The track was uploaded to YouTube and TikTok by its purported author, who goes by the moniker ghostwriter.
More surprisingly, via a third-party distributor, the track successfully made its way to streaming services like Spotify, Apple Music, SoundCloud, Deezer and TIDAL, where it began to rack up streams by the hundreds of thousands.
Over the course of yesterday (April 17) daytime (ET), three of these DSPs – Apple Music, Deezer and TIDAL – removed access to the track.
But that wasn't the end of the take-down: As the evening wore on (ET), the track also disappeared from Spotify (original link here), YouTube (original link), SoundCloud (original link), and TikTok (original link).
At least, the 'official' versions of the track did, with audio files removed from ghostwriter's artist pages on Spotify and SoundCloud, and video files removed from their YouTube and TikTok channels.
However, it's currently still possible to hear heart on my sleeve on 'user-generated content' services including YouTube, SoundCloud, and TikTok… if you're willing to search for them.
Why? Because of users re-uploading the recording (whether via audio or video) to their own channels.
One such video on TikTok, which tags ghostwriter (@Ghostwriter977), is aptly accompanied by the words, "Vibing to this GHOSTWR!TER & Drake before the lawsuit…".
---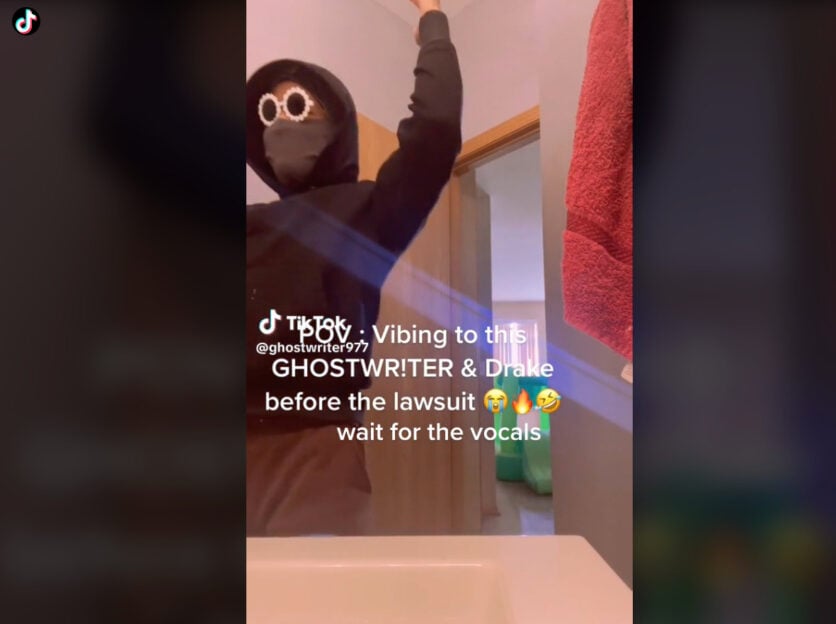 ---
Before the 'official' versions of the AI-generated track were taken down yesterday, they racked up over 15 million views on Tiktok, 625,000 plays on Spotify and over 250,000 plays on YouTube.
The remaining fan-uploaded snippets of the track still available on TikTok have driven more than 4 million video views combined.
There is a confirmation on what triggered the takedown of the track, at least on one service, on the holding page of ghostwriter's now-defunct YouTube upload.
It reads: "This video is no longer available due to a copyright claim by Universal Music Group."
---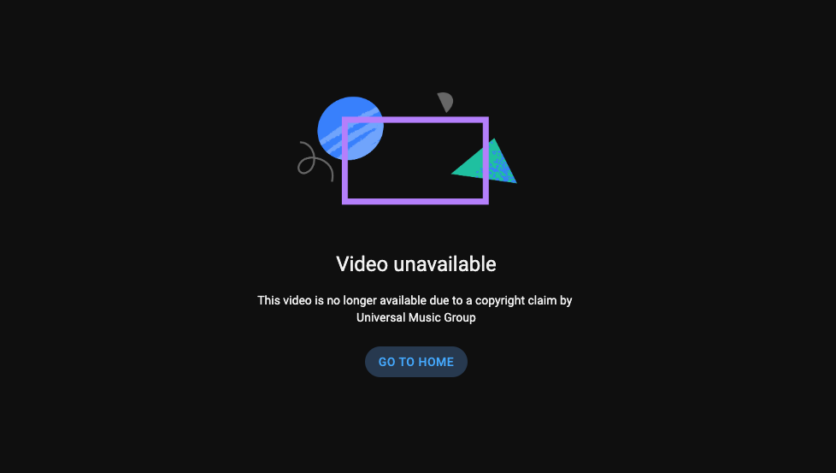 ---
The fierce interest in the AI-generated track yesterday prompted a statement response from UMG, with which both Drake and The Weeknd's recorded music are affiliated.
"UMG's success has been, in part, due to embracing new technology and putting it to work for our artists – as we have been doing with our own innovation around AI for some time already," a UMG spokesperson told MBW.
"With that said, however, the training of generative AI using our artists' music (which represents both a breach of our agreements and a violation of copyright law) as well as the availability of infringing content created with generative AI on DSPs, begs the question as to which side of history all stakeholders in the music ecosystem want to be on: the side of artists, fans and human creative expression, or on the side of deep fakes, fraud and denying artists their due compensation.
"These instances demonstrate why platforms have a fundamental legal and ethical responsibility to prevent the use of their services in ways that harm artists.
"We're encouraged by the engagement of our platform partners on these issues–as they recognize they need to be part of the solution."
Prior to heart on my sleeve, UMG had taken the lead in the fight against unauthorized AI-generated music.
In an email the company sent to streaming services, seen by the Financial Times, UMG asserted that "we will not hesitate to take steps to protect our rights and those of our artists."
An unnamed "person familiar with the matter" told FT that UMG had been issuing takedown notices "left and right" against AI-generated tracks.
In addition, via the RIAA, Universal is a founder member of the Human Artistry Coalition (HAC), which says its goal is to ensure that AI develops "in ways that strengthen the creative ecosystem while continuing to recognize the unique and irreplaceable role of human artistry in culture and the arts".
While heart on my sleeve got the most attention over the past several days, two other AI-generated tracks featuring UMG artists have also made waves.
One was a cover of Ice Spice's Munch, which featured "Drake" on vocals, which prompted Drake to take to Instagram, calling it "the final straw."
The other was a snippet of Beyonce's hit Cuff It, in which an AI-generated Rihanna can be heard on vocals.Music Business Worldwide