Amazon-owned live-streaming platform Twitch revealed via a blog post on Friday  (September 4) that it will be closing its karaoke app, Twitch Sings, in January next year.
Twitch states that, starting December 1, it will begin removing videos, clips, and highlights "per our contractual obligations" from the app, which is currently licensed globally by around 180 music publishers.
The app is being shuttered, according to Twitch, because the firm has "decided to invest in broader tools and services that will help support and grow the entire music community on Twitch".
The timing of Twitch's statement is interesting – because it arrives just as we learn that Spotify appears to be building its own, in-app karaoke feature.
The new and unreleased Spotify Karaoke Mode was first spotted by renowned reverse engineer Jane Manchun Wong – who uses her expertise to dig around in the code of various apps to see what companies are testing – earlier today (September 3).
Manchun Wong has previously uncovered Spotify features such as video podcasts and virtual concerts.
Her Spotify Karaoke Mode discovery suggests the vocal level in the feature will be adjustable. She has released a screenshot from the under-wraps feature that allows for the vocals to be turned up and down.
---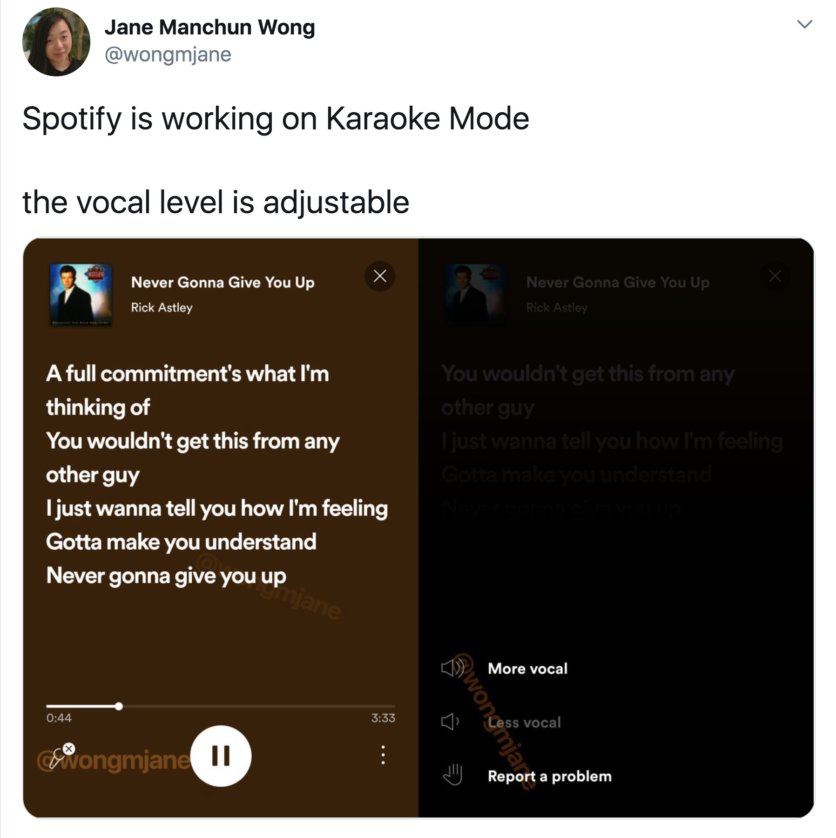 ---
Spotify's reported entrance into the app-based karaoke business makes a lot of sense, with Tencent Music Entertainment (TME's) WeSing app serving as a prime example of what can be achieved in the space.
TME claimed last year that WeSing users were generating 10 million recordings per day. WeSing reportedly accounts for 77% of China's online karaoke user base.
TME also recently entered into a strategic partnership with Thailand's largest record and publishing company, GMM Grammy (GMM Music).
According to a press release, "with the help of WeSing, TME's international online Karaoke social community, the partnership will bring a more diverse music entertainment experience and interactive play to music fans in Southeast Asia, and also tap the greater potential of the music markets in China and Thailand".
In other words, it looks like Tencent Music is keen to push WeSing in Thailand with the help of GMM's publishing catalog, while GMM's artists are set for a more sustained push in China via TME's services.
Amazon boss Jeff Bezos told the House Judiciary Committee's anti-trust hearing in July that he didn't know whether or not Amazon-owned Twitch pays royalties to artists for records played on the service.
Nevertheless, Twitch has been getting increasingly close to the music business this year.
Last week, Amazon Music partnered with Twitch to incorporate the latter platform's livestreaming functionality into the Amazon Music app on IOS and Android, beating Spotify to the launch of a livestreaming element in the process.Music Business Worldwide