The MBW Review is where we aim our microscope towards some of the music biz's biggest recent goings-on. This time, we delve into Netflix's latest fiscal results, and compare them to the manner in which the music industry is developing its business. The MBW Review is supported by Instrumental.
---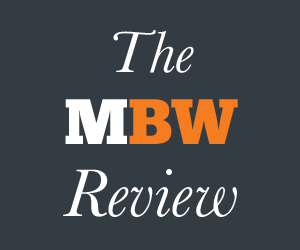 What a difference a year makes.
In Q1 2020, as Covid began to change the world, Netflix added nearly 16 million global paid subscribers quarter-on-quarter.
In Q1 2021, the platform gained just 4 million – 2 million lower than its own forecast.
As a result, Netflix finished Q1 2021 with 207.6 million paid subs, below its guidance of 210 million.
---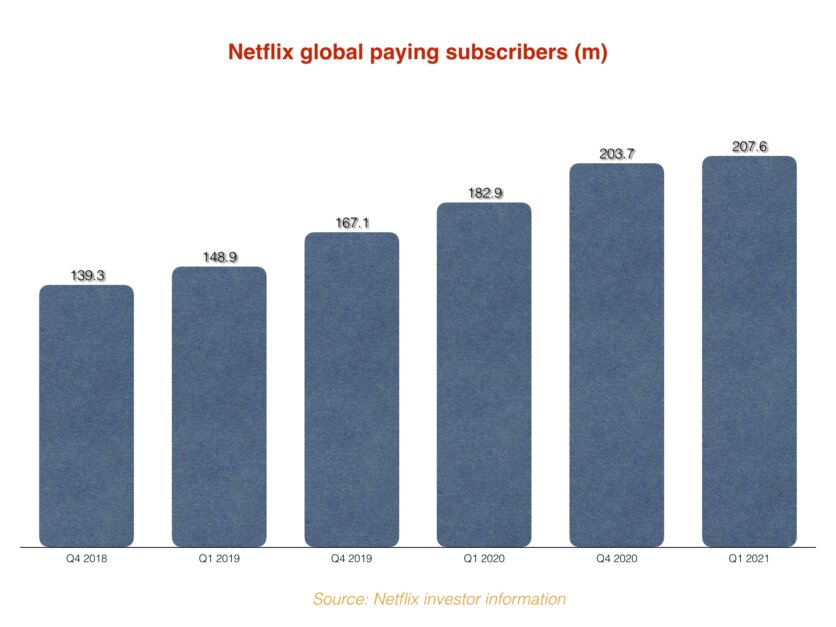 ---
Netflix has blamed Q1's below-forecast subscriber number on a lack of new hit content.
"We believe paid membership growth slowed due to… a lighter content slate in the first half of this year, due to Covid-19 production delays," said the company in its Q1 2021 letter to shareholders.
"We continue to anticipate a strong second half with the return of new seasons of some of our biggest hits and an exciting film lineup."
"We had 10 years where we were growing smooth as silk, and it's just a little wobbly right now."

Reed Hastings, Netflix on the firm's Q1 subscriber slowdown
For Netflix, then, the calculation is simple: More new hit releases equals more new subscribers. The absence of hit new releases? Trouble.
On an earnings call this week, Netflix founder and Co-CEO, Reed Hastings summed up Q1 2021 to investors thusly: "We had 10 years where we were growing smooth as silk, and it's just a little wobbly right now."
Who needs hits?
Over in the music industry, a notably different narrative is playing out.
According to Hits Daily Double, catalog claimed more than two thirds (68%) of the US recorded music market (in sales-equivalent terms) in the first three months of this year.
That was a higher-than-usual percentage, says the US publication, "due to a dearth of big new releases thus far in 2021".
By and large, this dearth continues a trend we saw a lot of in 2020 – a relatively quiet blockbuster release schedule leading to a higher market share for catalog music.
According to MRC data, catalog's total share of US sales-equivalent (and therefore, roughly speaking, value-equivalent) music consumption in 2020 stood at 63.3%, up from 62.8% in 2019.
---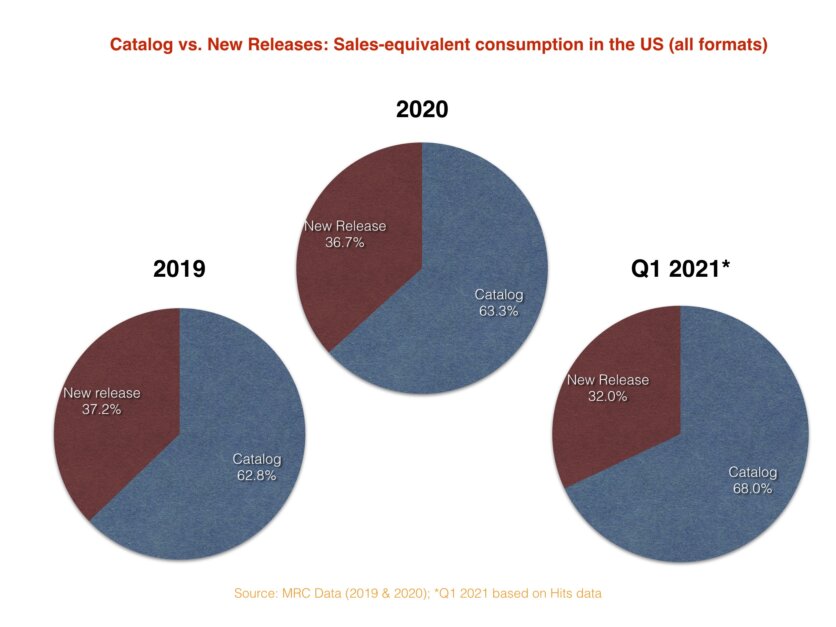 ---
That 63.3% number is lower than the 68% stat published by Hits for Q1 2021, but it still means that catalog releases (in MRC's terms, records released 18 months or more prior to the time of listening) claimed around two-thirds of the US market last year.
And yet, unlike Netflix's "wobbly quarter", this trend isn't having a a majorly detrimental impact on the popularity of music streaming – or the growth in subscriptions to music streaming services.
In fact, the total number of paid music streaming subscriptions in the US last year grew by the biggest margin ever, up by 15.1 million year-on-year, according to the RIAA.
And although annual music streaming volume growth did slow in the US last year, it didn't do so by a material margin: total US streaming volume in 2020 grew by 126.7bn plays YoY, very close to the +134.9bn streaming volume growth the US saw in 2019.
There is, though, a twist in this tale. And it's got a picture of Benjamin Franklin on it.
---
Vanity vs. Sanity
In Netflix's "wobbly" Q1 2021, the company's total quarterly revenue grew by $1.395bn year-on-year.
That actually represented larger YoY monetary growth than the company experienced in the prior-year quarter (Q1 2019), when its quarterly revenues were up $1.247bn YoY.
It was the same story quarter-on-quarter: in Q1 2021, Netflix's quarterly revenues were up $519m on the prior quarter; in Q1 2020, the equivalent jump was smaller, at +$301m.
In other words: Netflix saw a concerning slowdown in subscriber volume growth in Q1 2021, but actually saw its revenues accelerate.
---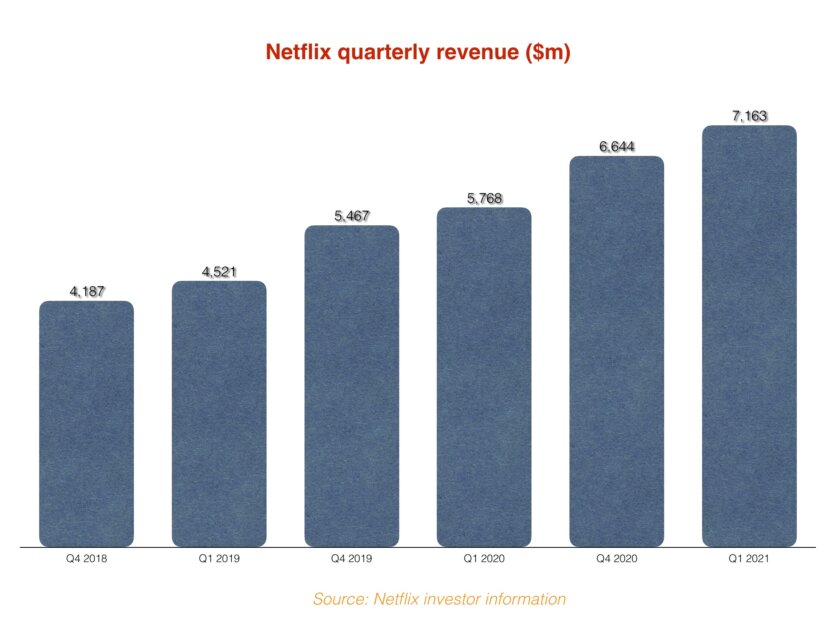 ---
For the music industry, things are the other way around.
As mentioned, the US recorded music business saw the volume of its subscriptions leap up last year, as the volume of total streams rose by a similarly massive margin to its uptick in 2019.
But, as MBW has covered before, annual subscription streaming revenue growth in the States last year actually plummeted – down from +$1.459bn in 2019 to +$894m in 2020.
---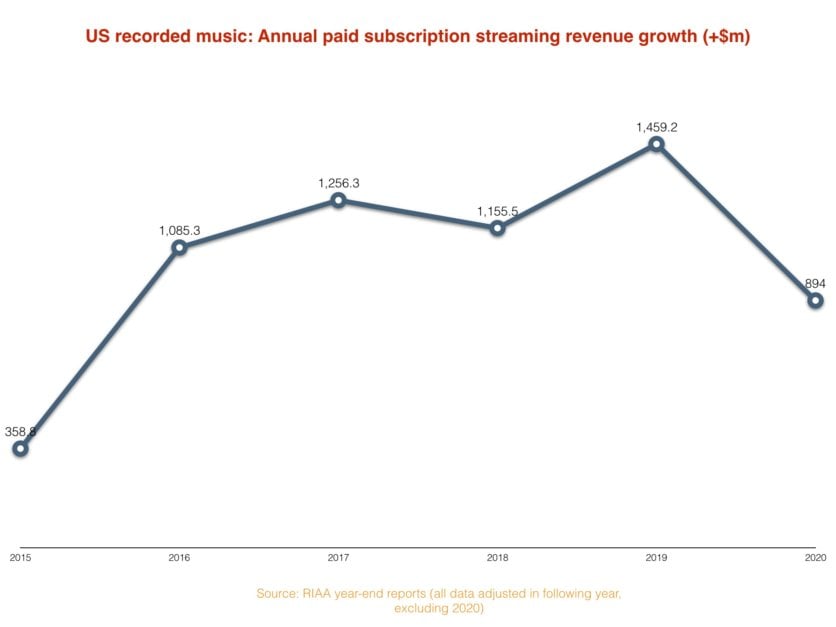 ---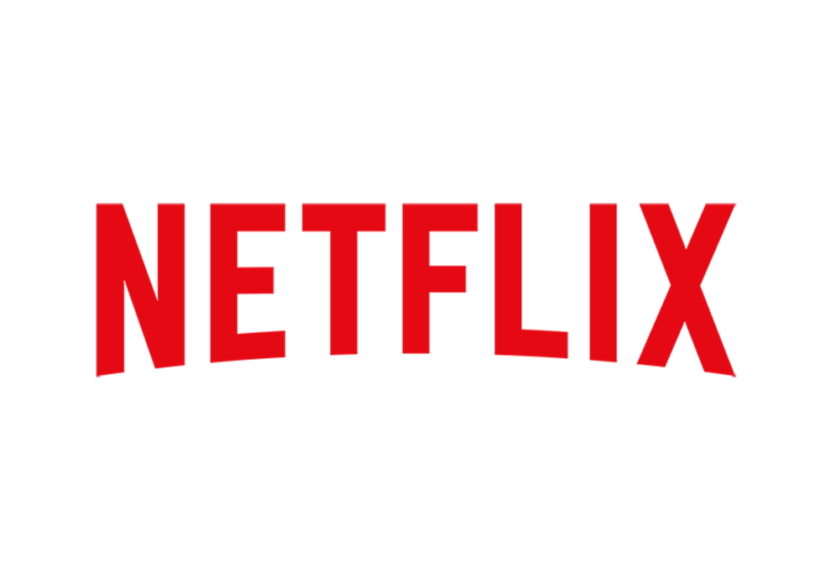 In short, then: Netflix isn't doing as good a job as the music industry at attracting subscribers when new hit content is thin on the ground.
But it's doing a much better job of making the subscribers it does have pay more, en masse, as each year rolls past.
Why is this happening?
Here's a clue: Netflix raised its prices in the US in October 2020, and in the UK in December. This was its second subscription price hike in as many years, after it moved up its US prices in January 2019.
---
Netflix's latest shareholder letter reveals its global "Average Revenue per Membership" rose 5% year-on-year at constant currency in Q1 2021. In the same period of the prior year, this figure was up 8% YoY.
The company doesn't break down this 'ARM' (aka: subscriber ARPU) figure by region anymore, but it used to: We know, for example, that in Q1 2020, the average paying Netflix subscriber in the US was shelling out $13.09 per month, up by $1.64 on the same figure in Q1 2019 (see below).
Presumably, looking at Netflix's latest stats, with revenue shooting up and subscriber growth slowing, this US-centric ARM number has risen yet again in Q1 2021.
---

---
The equivalent figure in the music industry is tumbling in the other direction.
Based on RIAA and MRC data, MBW estimates that the monthly subscriber ARPU of music streaming subscribers in the United States last year was $7.74 – a decline of 8.3% year-on-year.
That $7.74 figure is not far off half what the average US Netflix subscriber is currently paying for the service.
Unlike Netflix, of course, Spotify is still charging the same $9.99 monthly US subscription fee it launched with in 2011 – a figure that, on an average per-subscriber basis, continues to be brought down on average by Family bundles, telco bundles, and price promotions.
This is a tale of two industries, then. Both are currently dealing with a Covid-driven "dearth of hits".
But only one of them is carefully refusing to let its average subscriber pay less than they used to.
---

The MBW Review is supported by Instrumental, which powers online scouting for A&R and talent teams within the music industry. Their leading scouting platform applies AI processes to Spotify and social data to unearth the fastest growing artists and tracks each day. Get in touch with the Instrumental team to find out how they can help power your scouting efforts.Music Business Worldwide