The MBW Review is where we aim our microscope towards some of the music biz's biggest recent goings-on. This time, we take a closer look at new numbers just revealed by the RIAA on the US record industry in 2020. The MBW Review is supported by Instrumental.
---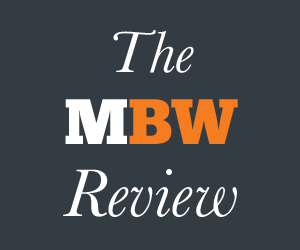 The US recorded music industry saw total revenues rise by 9.2% in 2020 to $12.15bn on a retail basis.
As previously predicted by MBW, that was up by over $1bn on the $11.13bn the market generated across all formats in 2019.
In a pandemic-hit year that saw the ruination of live concerts across the US – as well as the enforced closure of much physical music retail – these figures will be welcomed by the music industry, and especially the major record companies at Universal, Sony, and Warner.
---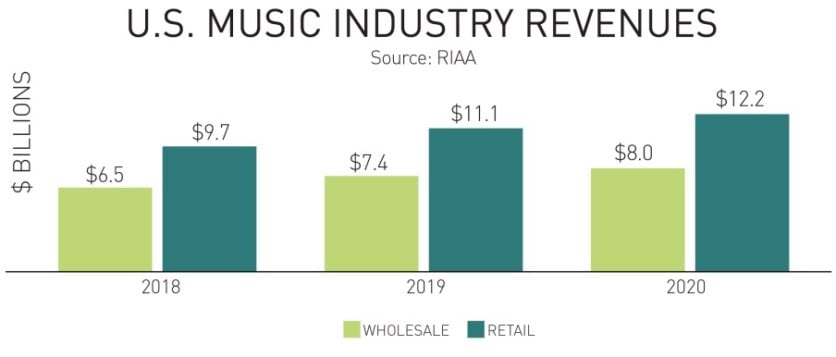 ---
Yet further analysis of these official year-end market numbers – from trade org the RIAA – raises tricky questions for both record labels and streaming services in the States, not least over what consumers should be expected to pay for a monthly subscription to the likes of Spotify.
Below, MBW explains why 2020 streaming numbers that are, on the surface, very positive, hint at big challenges for the US record industry in the years ahead.
Let's start with the good news.
---
The US record industry in 2020:

Streaming's rise and rise
Streaming formats (including ad-supported and paid, on-demand and non-interactive) generated $10.075bn in the US in 2020, says the RIAA.
That meant streaming accounted for 83% of the entire US record industry's revenues in 2020, helping to offset a 23.4% slide in CD sales, and an 18.0% decline in digital download revenue.
(Important note: The RIAA's industry numbers include sales and streams of all music formats – physical and digital – plus sync licensing money, and SoundExchange's collections from digital/customized radio platforms.)
---

---
The US record industry in 2020:

The less good news
Where things start to get concerning for record labels is when we focus in on the biggest source of that $10.075bn streaming revenue – paid subscriptions to streaming services such as Spotify and Apple Music.
This category pulled in $7.009bn in the US in 2020, versus $6.115bn in the prior year – a YoY bounce of $894m.
As a result, paid subscription claimed the lion's share (58%) of all record industry revenues in the US last year.
(An important caveat: The paid subscription figure we're discussing here is for for full 'Premium'-type subscriptions on Spotify et al; the RIAA categorizes subscriptions to cheaper services with limited interactivity and/or catalogs – what it calls 'limited tier subscriptions' – separately.)
---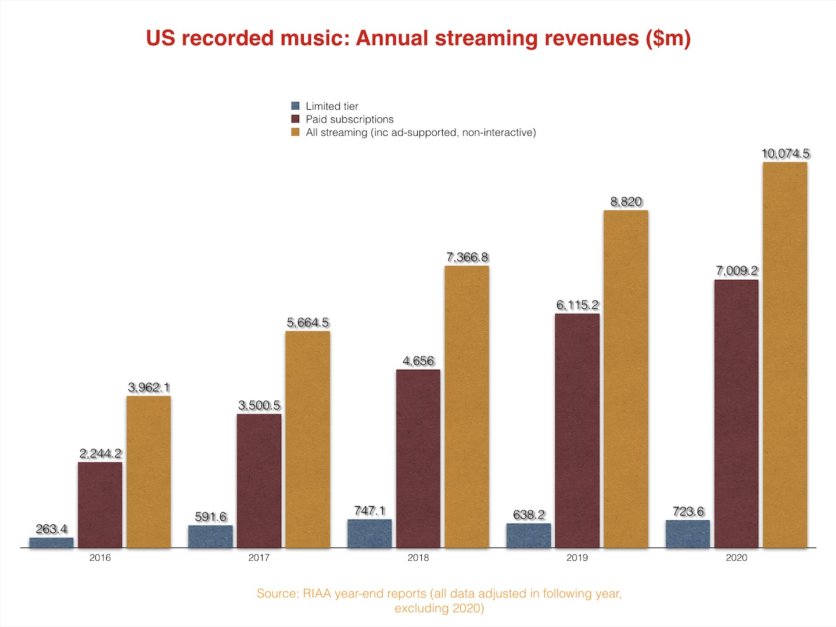 ---
However, the annual growth in the money US consumers paid for subscription music streaming services in 2020 was significantly down on 2019, and at its lowest point since back in 2015.
Here's why that's important: it tells us that subscription streaming growth in the US – the world's biggest music market – is now materially slowing down in terms of cold, hard cash. As such, it calls into question just how big a streaming market the United States can become in the years ahead.
---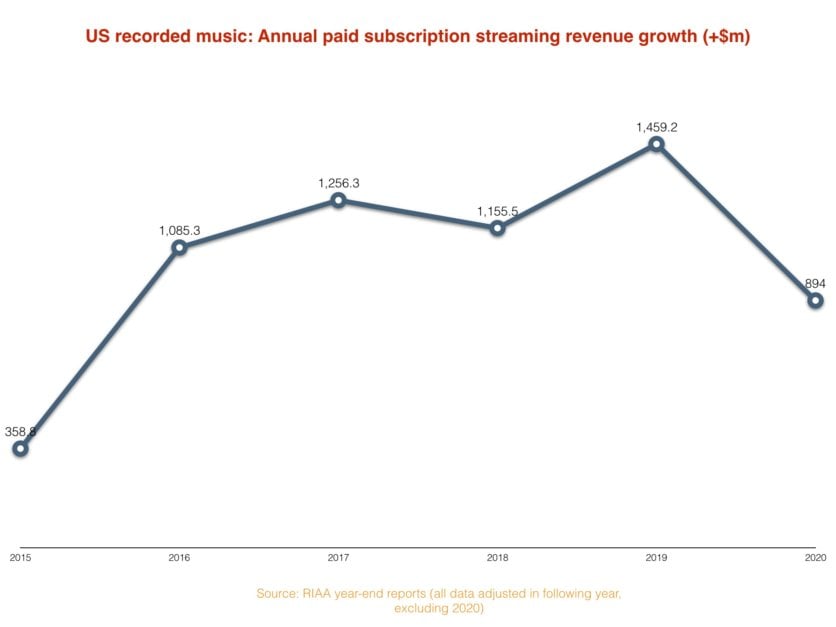 ---
As you can see above, the $894m yearly raise in subscription streaming spending seen in the US in 2020 was significantly smaller than the +$1.459bn growth seen in the prior year.
In fact, 2020's subscription streaming growth number (+$894m) was down by over a third (38.7%) on 2019's equivalent increase.
This isn't the first time annual growth in paid subscription spending has slowed in the United States (that last happened in 2018, according to MBW's reading of RIAA data), but 2020 saw by far the steepest decline in this figure to date.
Here's what's particularly odd about the decline in paid subscription growth in 2020: the RIAA also reports that the average number of paid subscriptions to music services in the United States last year (again, in terms of full subscriptions, not including 'limited tier') grew by 15.1 million, to 75.5 million. Which was the "biggest ever increase in a single year", according to the RIAA.
This 75.5 million figure counts each multi-user subscription plan (like Family Plans or Spotify's Premium Duo option) as a single account.
---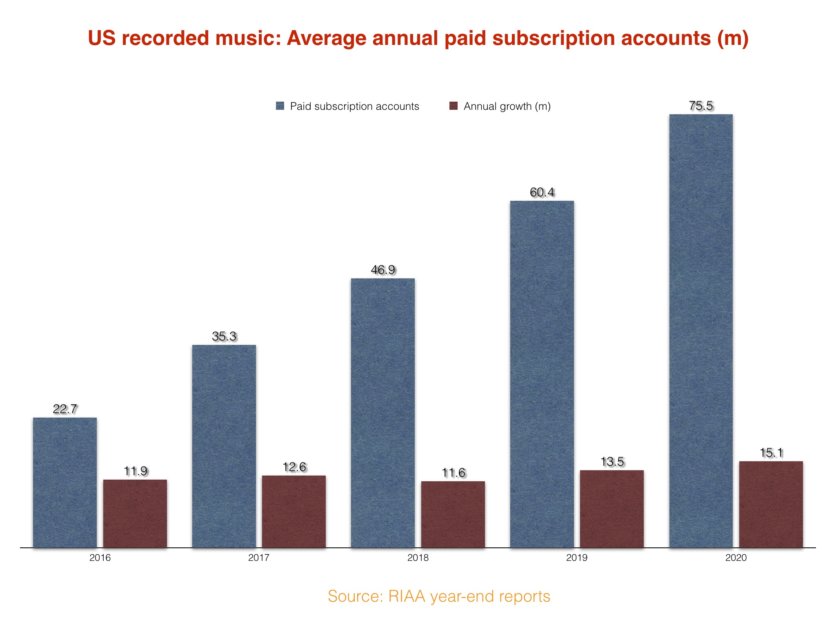 ---
To re-cap important bit there: The number of paid streaming subscriptions in the US grew by its biggest amount in history last year (+15.5m), yet the amount of money being spent on those accounts grew by a significantly smaller size (+$897m) than it did in the previous 12 months.
Inevitably, this dichotomy can only leave one conclusion: the average price of full 'Premium' paid subscriptions in the United States in 2020 fell dramatically versus 2019.
Now, let's show how big that fall was, and why it may cause record labels (not to mention music industry investors) headaches as the years roll on.
---
The US record industry in 2020:

A big question about pricing, and growth
The RIAA's reported number for subscription streaming accounts is just that – an average number, representing the full 12 months of each year. The RIAA's reported number for subscription revenue, meanwhile, is a year-end figure, meaning it takes into account every penny spent to the end of December 31 in each year.
It's important to know this distinction before we start creating calculations with these two sets of numbers; ie. the numbers you're about to read are approximate.
Know also that the figures below are not the oft-cited ARPU (Average Revenue Per User) figures for streaming, but are in fact more like ARPPSA (Average Revenue Per Paying Subscription Account).
This determination is crucial as the latter definition (ARPPSA) is not affected by the number of people sharing a Family Plan or other multi-user accounts (which is often blamed for dragging down the reported ARPU of services like Spotify).
Here are the numbers. Check out the significant difference between 2020 and every other year.
---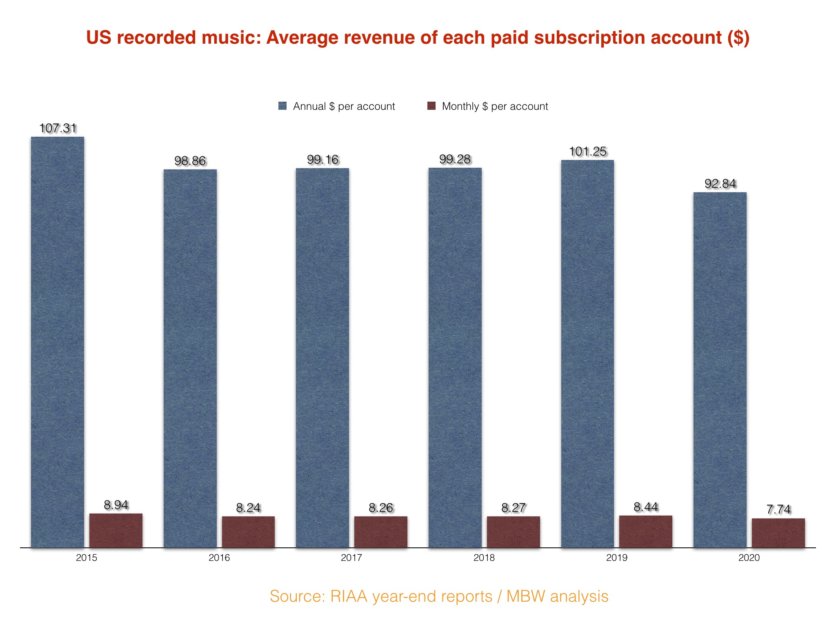 ---
As you can see, 2020 saw the first ever sharp decline in this ARPPSA number, with the average annual account for a full paid subscription of a music service in the US in 2020 paying over $8 less than they did in 2019.
When you're talking about a market with over 75 million paying subscribers – around a quarter of the US population – this reduction in per-head spending really adds up.
---
The bottom line: The number of paying subscribers to music streaming services in the United States grew by its biggest ever margin in 2020; yet the amount of money being paid by each of these subscribers fell considerably.
If music rights-holders want to maximize the monetary growth of the United States consumer base, these figures suggest, more thought is going to need to be given to the potential of raising subscription streaming prices in the market.
The US's biggest audio subscription platform, Spotify, remains very resistant to this idea. Daniel Ek ruled out a price rise for Spotify in the US market in a conversation with the Financial Times last week.
"We're playing it very carefully in the US."

Daniel Ek ruling out a US price rise for Spotify, speaking to the Financial Times
"There are definitely [parts] of the US where [subscription is] starting to become mature, but large portions of the US are just now discovering streaming," Ek said. "That's why we're playing it very carefully in [the market]."
He's right: with more paying music subscriptions than ever before added in 2020, there are clearly still plenty of paying newcomers left in the US for the likes of Spotify and Apple Music to court.
Quite what those people are willing to pay for streaming is another matter – one we expect to be the source of fierce debate between record companies and Daniel Ek's platform in the years ahead.
---

The MBW Review is supported by Instrumental, which powers online scouting for A&R and talent teams within the music industry. Their leading scouting platform applies AI processes to Spotify and social data to unearth the fastest growing artists and tracks each day. Get in touch with the Instrumental team to find out how they can help power your scouting efforts.Music Business Worldwide