Over 30% of all on-demand audio and video streams in the United States last year were of tracks recorded by R&B and hip-hop artists.
That's according to new stats from industry monitor MRC Data, compiled with Billboard.
In the case of on-demand video streams, the 'R&B/hip-hop' category actually claimed over a third of all plays, at 33.9%.
In terms of audio streams, 'R&B/hip-hop' claimed 30.7% of all on-demand plays. And across audio and video streams combined, 'R&B/hip-hop' claimed 31.1%.
These startling figures meant that the 'R&B/hip-hop' category increased its market share of total 'album-equivalent sales' in the US in 2020, which take into account physical sales, digital sales, and streaming.
In 2020, says MRC Data (formerly Nielsen Music), 'R&B/hip-hop' claimed a 28.2% share of total album-equivalent consumption. That was up on both 2019 (27.4%) and 2018 (25.6%).
Meanwhile, Rock was the second most popular genre in the US in 2020, both across all formats, and across on-demand streaming platforms.
Rock claimed 16.3% of on-demand audio streams in the US last year, ahead of Pop on 13.1%.
Interestingly, this appears to have been somewhat driven by golden oldies: the biggest rock album of the year in album-equivalent terms (including streaming data) was Queen's Greatest Hits, followed by Elton John's own hits compendium, Diamonds.
Pop was more popular on video streaming services like YouTube, however, with a 13.5% share of plays vs. Rock's 11.4%.
You can check out the numbers below, and read the full MRC Data/Billboard year-end report through here.
---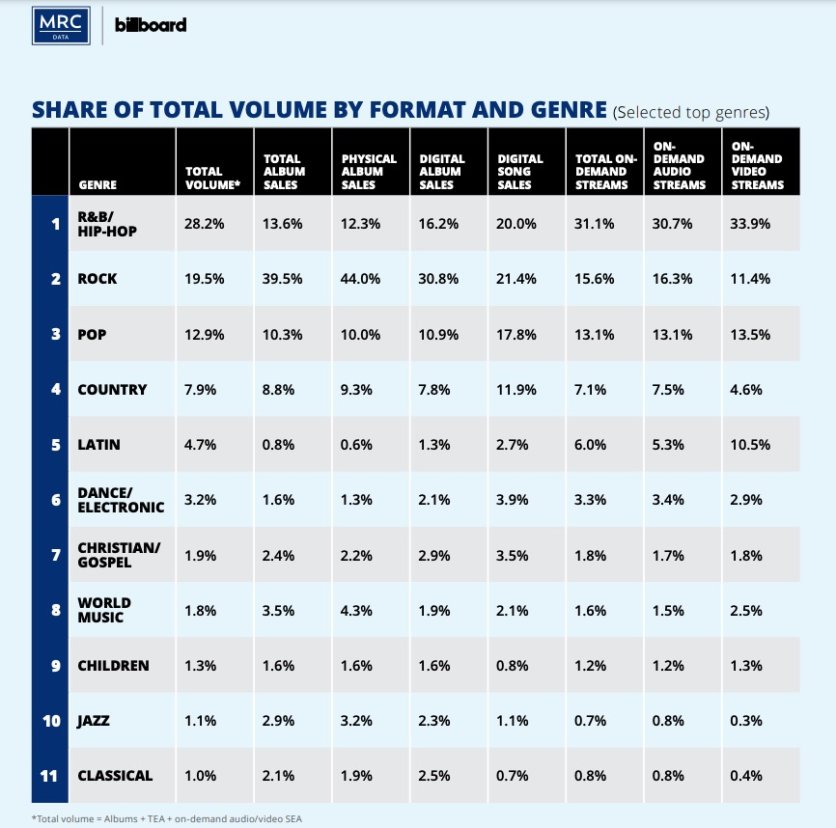 ---
The most popular track on both on-demand audio and video streaming platforms in the US last year was The Box by Roddy Ricch, which accrued 920.4m on-demand audio plays, and 399.2m on-demand video plays across 2020.
The US's second most popular audio streaming track of the year was The Weeknd with Blinding Lights (691.5m) followed by DaBaby feat Roddy Ricch with Rockstar (674.0m).
---

---
The MRC report shows that total on-demand audio streaming volume in the United States grew by 126.7bn plays in 2020 compared to the prior year – up by 17% annually.
The US saw 872.6bn on-demand audio plays on music streaming services in pandemic-hit 2020, up on 745.9bn in 2019.
This meant that annual audio streaming volume growth slowed in the US last year, but only slightly: that 126.7bn increase in 2020 couldn't quite match the 134.9bn jump seen in 2019.
---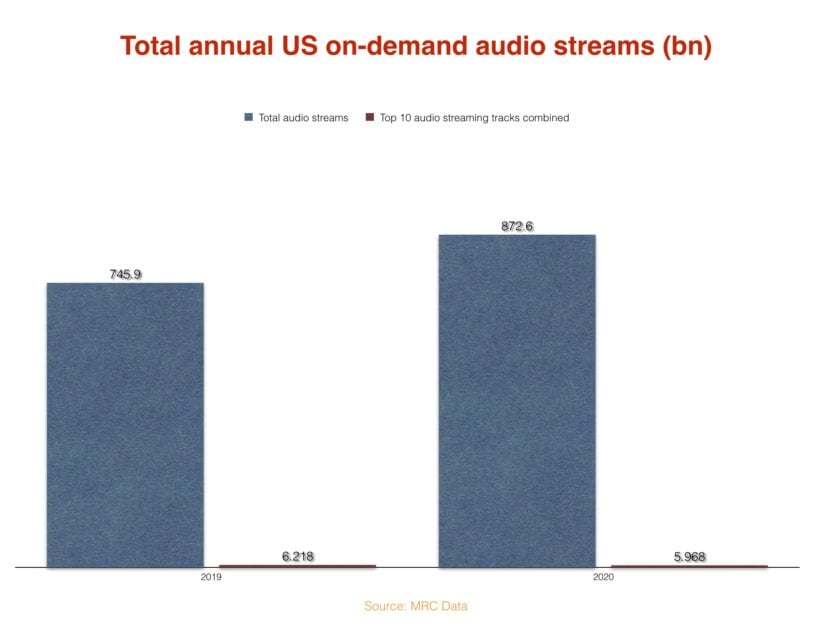 ---
Despite the 17% YoY rise in on-demand audio streams, the total number of audio streams needed to crack the US's Top 10 biggest streaming hits of 2020 fell compared to the previous 12 months.
Combined, the top 10 audio on-demand streaming tracks in the US in 2019 — led by Lil Nas X with Old Town Road — attracted 6.218bn plays, according to MRC Data.
The top 10 in 2020, led by Roddy Ricch's The Box, pulled in the lesser figure of 5.968bn plays.Music Business Worldwide