Mark Ronson's Uptown Funk is the biggest single of the moment, and according to MBW analysis it's making around US $100k on Spotify alone every week.
The track, which has now hit No.1 in more than 20 countries, was released on November 10 and entered the Spotify Global Top 200 in w/c: 23/11/2014 – where it's stayed ever since.
Spotify's numbers tell us that in total up until this week, in just over two months, it's been played a total of 125.9m times.
Using Spotify's own rough estimate of its payment to rightsholders – $0.007 per-play – that means the song has earned around $880k in total.
As you can see in our chart below, Uptown Funk has become steadily more popular on the service in every week, culminating in 15.4m plays in the last week of January.
In the past week, that play-count has slowed slightly, but remained above 15m plays.
Again, using Spotify's per-play average, that means the song is now earning around $100k each week globally on the service (15m x $0.007 = £105k); a figure that will be shared between Ronson, his label Columbia plus his publisher Imagem and his co-writers, Jeff Bhasker, Bruno Mars and Philip Lawrence of The Smeezingtons.
Today, Uptown Funk is comfortably No.1 on Spotify globally, but other songs that are clocking up a similarly high play-counts include Ed Sheeran's Thinking Out Loud and Hozier's Take Me To Church, which are both attracting around 13m streams a week.
Recent research from SNEP/Ernst & Young in France suggests that major labels keep around 73% of payouts from Spotify, with artists taking 11% and songwriters/publishers being granted 16% between them.
Spotify's payment to artists and songwriters continues to be the source of much debate in the industry, but, as Ronson proves, if you can create a global megahit, you can certainly make the service pay.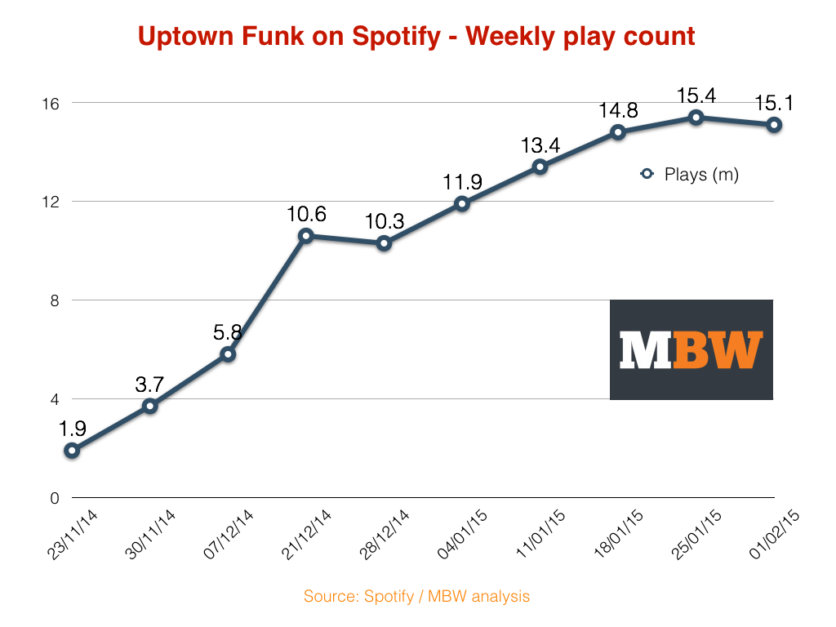 Music Business Worldwide