New record company figures out of France suggest that artists receive just 68 cents from every €9.99 monthly music streaming subscription – as major labels keep hold of 73% of payouts from the likes of Spotify.
French recorded music trade body SNEP, whose members include Universal Music, Sony Music and Warner Music,  ran a recent study with Ernst & Young to discover where money paid by a subscriber to the likes of Spotify or Deezer ultimately ends up.
As you can see below, in terms of the turnover that these platforms generate, the major labels ('producteurs') take home the lion's share, pulling in an average of €4.56-per-subscriber every month after tax.
In terms of the total subscription payment, that's a 46% share of the spoils.
However, further analysis from MBW gives a more interesting split: who takes home what from the revenues paid out by streaming companies to music rights-holders.
If SNEP's figures are correct, €6.24 of every €9.99 subscription is paid to music rights-holders – that's what's left after tax and the digital platforms' fee.
That would means the labels keep 73% of payouts from Spotify/Deezer etc.
They're followed by writers/publishers with a 16% share, and then artists – mostly paid by their labels – who get 11%.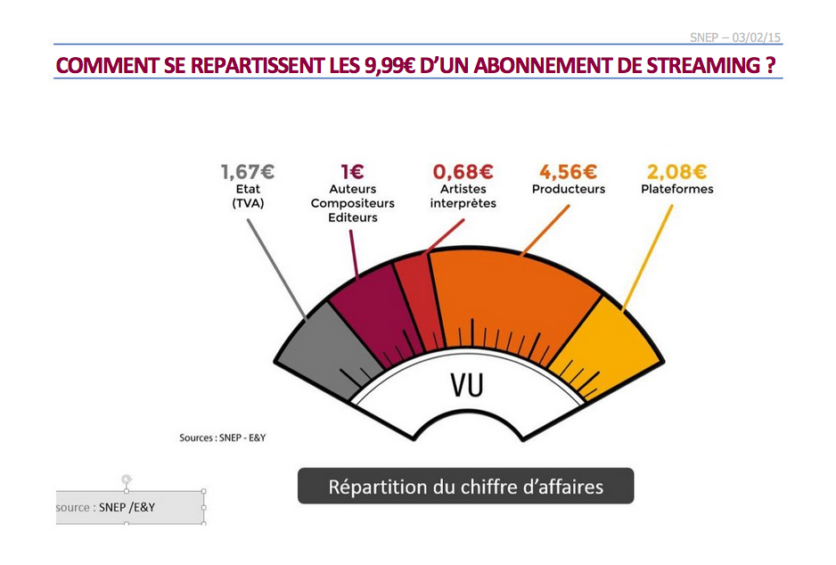 Here's how that €9.99 turnover payout share looks when you divide it up by percentage – both in terms of total revenue, and the recipients of the €6.24 payout by Spotify/Deezer etc.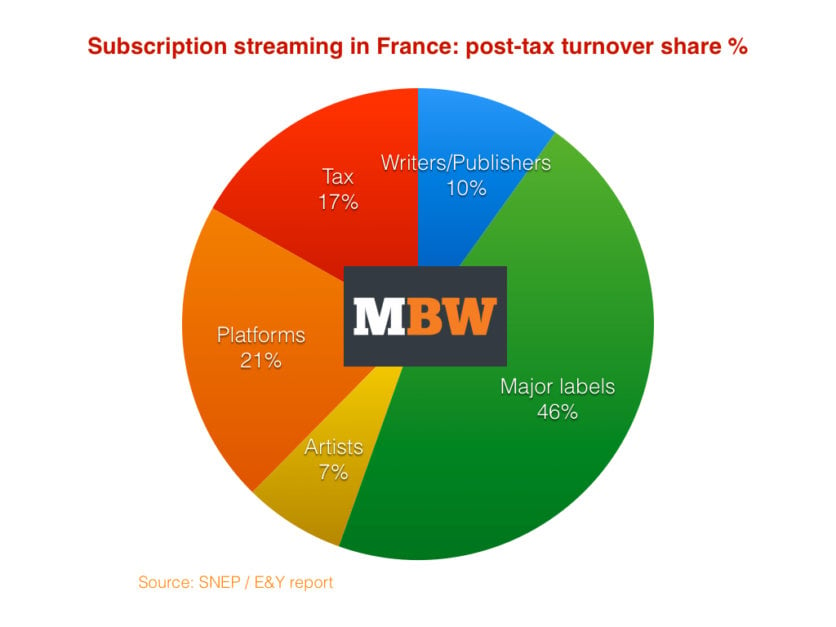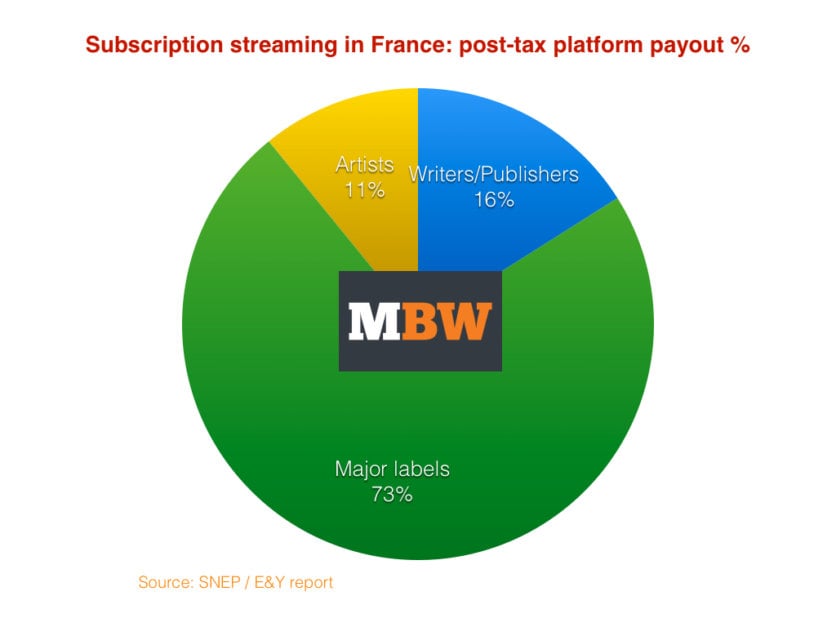 How can the majors justify taking home such a huge chunk? Well, SNEP and E&Y's research doesn't stop there: they also estimate how much each party brings home in net pre-tax profit.
That means scoping how much major labels, publishers and digital platforms spend on costs – including marketing, making and/or distributing the music in the first place.
Here things get debatable: the net income of labels and digital platforms is, in SNEP/E&Y's eyes, estimated at just 5% of total revenue.
That, in itself, will be a highly contested figure; many managers would argue that a 95% margin of cost doesn't ring true on digital platforms devoid of packaging, breakages and returns.
Applying the 5% profit margin to SNEP's figures changes the percentages of 'take home' money quite dramatically, as you can see below.
SNEP and E&Y calculate that labels earn €0.26 net profit for each subscription, while digital platforms earn just €0.10 per €9.99.
These tiny profit margins – if at all accurate – go some way to explaining why even the biggest streaming services find turning a profit no easy task.
It's also the exact reason why managers want more streaming cash for their artists… and why major labels say they can't pay it.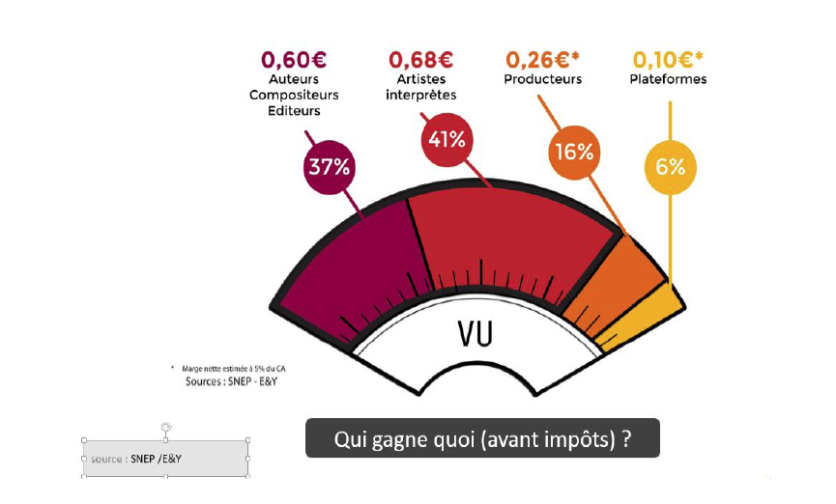 [Pictured: the cover image from French superstar Johnny Hallyday's latest album, Rester Vivant – the fourth biggest-selling LP in the market last year]Music Business Worldwide