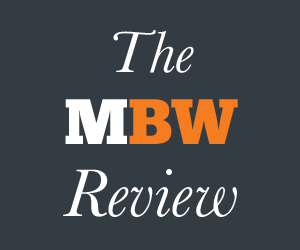 The MBW Review offers our take on some of the music biz's biggest recent goings-on. This time, we take a closer look at potentially the biggest album of the year – Taylor Swift's Lover – and what its commercial reception says about the music industry, and the LP itself, in the modern age. The MBW Review is supported by Instrumental.
---
Fact bundle No.1: Taylor Swift's Lover surpassed 3 million equivalent sales worldwide in its debut week, was a faster seller than any other album released in the United States over the past year, and delighted Swift's label partner, Republic Records, so much, that its CEO, Monte Lipman, claimed: "Taylor's brilliant body of work has shattered industry metrics around the world."
Fact bundle No.2: Taylor Swift's Lover sold 44% less than its predecessor, 2017's Reputation, in the United States in its debut week. Even with the addition of streaming/track "equivalent sales" bundled in, it was still 30% down. And, according to MBW's research, the LP's cumulative global streams on Spotify on the the last day of its debut week (28.1m) were nearly half that it pulled in on its release day (54.1m).
---

---
Welcome to the record industry of 2019, where an album's commercial performance is no longer a matter of indisputable fact, but instead rendered subjective, awash with elements of conjecture and manipulation.
Where your view of an artist's success or failure in the marketplace can, to a large degree, depend on which side you prefer to take. And where, just as in politics,  there's always an available statistic with which to shoot down your version of the truth as "fake news".
---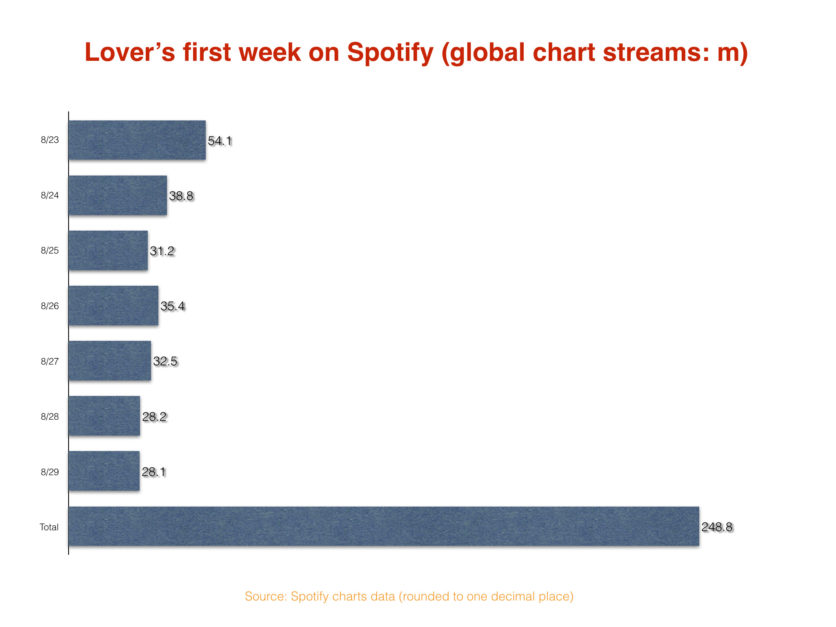 ---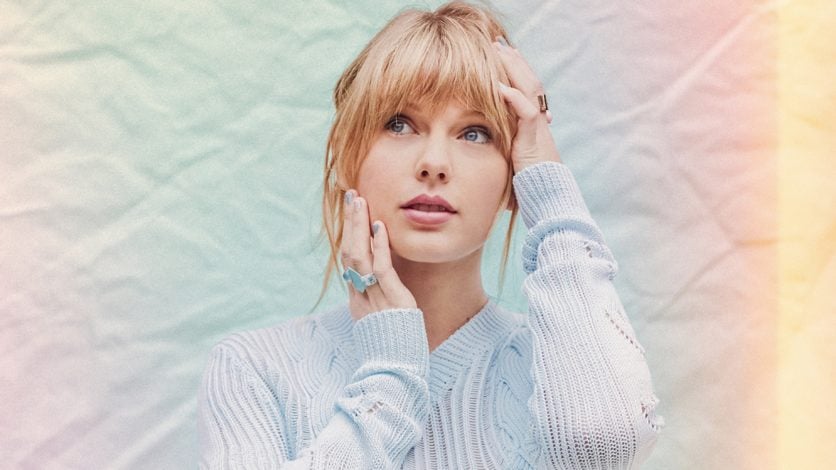 Has Lover really "shattered industry metrics around the world"? It's… complicated.
Perhaps the 18-track record's biggest achievement didn't come in the US or Europe, but in China, where it surpassed over a million equivalent sales in its first seven days on sale, according to a Universal Music Group press release sent last week.
This, we're told, sets a new all-time record for an international release in the territory, with a week-one consumption tally that more than doubles the previous record for a non-Chinese LP.
What we don't know about Lover's million-equivalent performance in China, for one thing, is the role that Tencent Music Entertainment played in pushing it to this milestone. TME, remember, owns China's biggest music streaming services – QQ Music, Kuwo and KuGou. Monthly users of TME's mobile music services hit a mammoth 652m in Q2, with 31m of these customers paying for a Premium account.
TME's majority parent, Tencent Holdings, has made an approach to buy 10%-20% of Universal Music Group, as local regulators crack down on TME's privileged status as the three major labels' exclusive sub-licensing partner.
In other words, Tencent may have good reason to demonstrate to Universal exactly what it can do for international artists in China right now… via some powerful promotion for a priority global act on its services.
(Tencent may also, you might hypothesize, have good reason to show UMG's biggest competitors what they might be missing out on… unless they too consider an even closer relationship at some stage in the future.)
---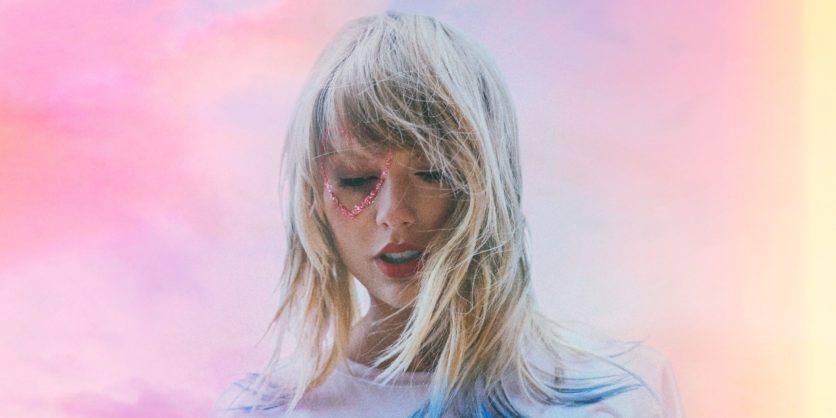 Another talking point: UMG/Republic jointly announced last week that Lover's first week saw it "eclipse 1 million-plus total consumption year-to-date" in the US.
"Year to date" is an important caveat: it denotes that UMG is including the cumulative streams/downloads that Lover's singles racked up before the album was officially released on Friday, August 23.
These pre-release singles included ME! (feat Brendon Urie of Panic At The Disco), released on April 26, and You Need To Calm Down, released on June 14, plus another track, The Archer, which landed a month before the album on July 23.
To some degree, Universal/Republic's insistence on including the streams of these tracks in their announcement is fair enough.
We live in an age where the album is no longer the sole focus for an artist marketing campaign. You could argue the humble LP, in fact, merely represents one spike along an artist's continuous consumption relationship with their consumers.
In other words, in the streaming era, your 'album' starts being listened to the moment you issue a song from within its tracklisting.
---
But here's the thing: the industry should beware any attempt to normalize the concept that streams of an album's pre-release singles is analogous ('equivalent') to a historical LP sale.
The whole philosophy behind the existence of 'equivalent' sales in the streaming age is that they give us a fair barometer with which to measure an album's commercial popularity vs. the old-world metric of 'pure' physical and digital sales.
Yet if we're now counting the popularity of pre-release singles towards the week-one 'sales' tally of an album, then perhaps we should do the same, for argument's sake, for Michael Jackson's Thriller, or – and this is a more flippant example, but it's also the most popular LP of all time in the States – Eagles: Their Greatest Hits 1971-1975.
The point: it would be a little wonky to claim any modern album as an historic record/milestone-setter if you were also wrapping into your numbers music which appeared before said album even publicly existed.
---
Pre-release tracks discarded, how well or otherwise did Lover do in its first week?
There is no denying it made a major global impact – hitting No.1 on industry charts in the US, UK, Australia, Canada, Ireland, Mexico, Netherlands, Norway and Sweden, to name a few.
In the United States, according to Billboard/Nielsen data, Lover shifted 679,000 copies in its first seven days in 'pure' sales – i.e. people purchasing the full record via digital or physical retailers.
That number rises to 867,000 when Streaming Equivalent Album (SEA) 'sales' and Track Equivalent Album (TEA) 'sales' are taken into account. (Billboard/Nielsen's Billboard 200 charts counts every ten track sales of a song from an album as a single LP sale; likewise, it counts 1,250 premium audio streams or 3,750 ad-supported streams as the same unit.)
Unlike Reputation (and its predecessor, 2014's 1989), Lover appeared on streaming services (including Spotify's free tier) from day one.
It's hard to quantify what effect this streaming availability had on Lover's 'pure' sales performance, but we can have a stab at calculating how the album fared vs. macro market trends.
According to Nielsen data, overall 'pure' album sales (see below) in H1 2017 (ie. the year Reputation was released) vs. H1 2019 (ie. the year Lover was released) fell 37%, from 81.9m to 51.6m.
The fall in Swift's 'pure' week one sales for Lover vs. Reputation is slightly steeper than this drop, at 44%.
---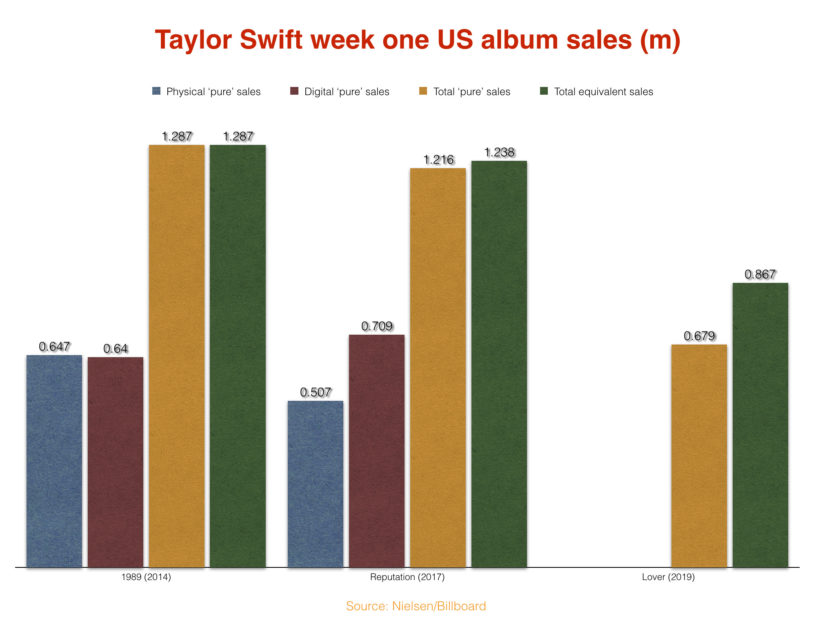 ---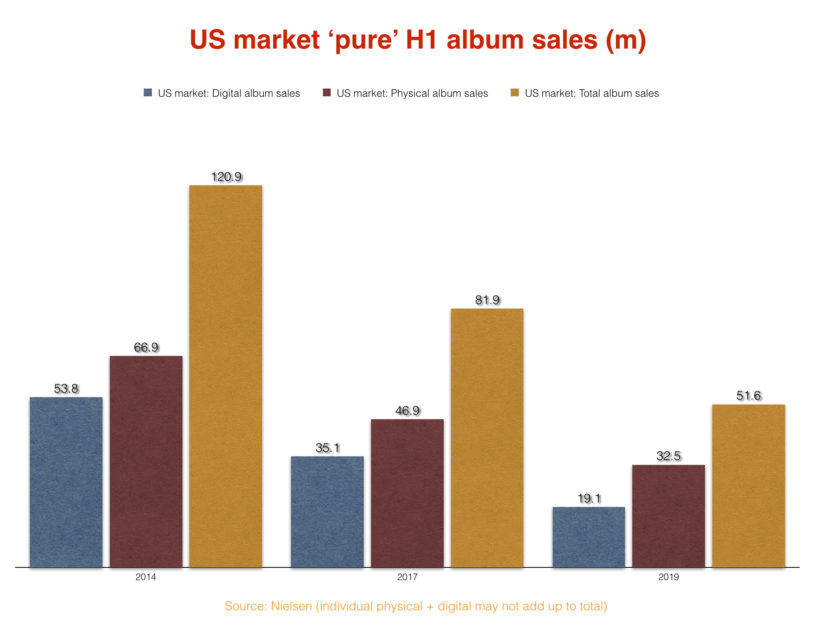 ---
What of Swift's week one performance with an album on streaming services?
There are a few ways to look at this. According to Billboard, Lover (with 18 tracks) posted 226m on-demand audio streams in its first official week on sale in the United States, an average of 12.6m per track.
For comparison: Ed Sheeran's No.6 Collaborations Project (15 tracks), attracted 121m on-demand US audio streams in its debut week… also an average of 12.6m per track.
Yet Ariana Grande's Thank U, Next (12 tracks), released in February, pulled in 307m on-demand audio streams Stateside in week one, an average of 26.6m per track.
---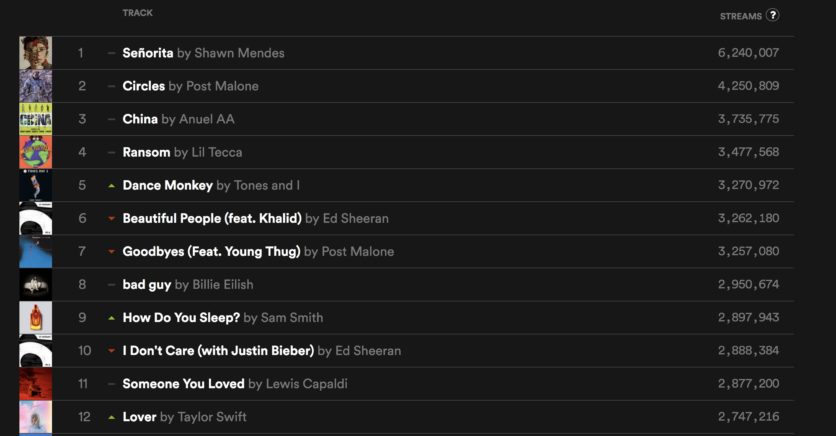 As for Lover's worldwide streaming performance, according to MBW's calculations (which you can see in detail via our spreadsheet here), the LP pulled in 248.8m chart-eligible streams on Spotify – the world's biggest audio streaming platform – in its first seven days.
This was, undoubtedly, a strong debut. Yet perhaps the truest test of an LP's strength in the streaming age is its longevity.
As of yesterday (September 3), Lover did not have a single track in Spotify's global daily Top 10. In contrast, Ed Sheeran's No.6 Collaborations Project, nearly two months past release, had two: I Don't Care (with Justin Bieber) at No.10 (2.89m daily streams), and Beautiful People feat Khalid (No.6, 3.26m daily streams).
The highest entry from Lover was the LP's title track, at No.12, with 2.75m daily streams.
Important footnote: the beauty of streaming for any artist, of course, is that it can reflect a sudden burst in popularity for any song, at any point – which makes judging Lover's success on Spotify (or any other streaming service) a longer game than a simple snapshot of its first week-and-a-bit.
---
Clearly, there are a plethora of stats and performance indicators surrounding Swift's Lover after its first week of availability – both those trumpeted by Universal as miraculous accomplishments, and those which show the album in a less triumphant light.
Yet perhaps the biggest takeaway from all this isn't actually a conclusive picture of how Lover is performing versus Swift's albums from the past.
It's a nagging question: about whether that kind of comparison is even possible anymore, and what this means for how the record industry accurately judges its – and its artists' – standout achievements from now on.
---

The MBW Review is supported by Instrumental, which powers online scouting for A&R and talent teams within the music industry. Their leading scouting platform applies AI processes to Spotify and social data to unearth the fastest growing artists and tracks each day. Get in touch with the Instrumental team to find out how they can help power your scouting efforts.Music Business Worldwide