Spotify loves Taylor Swift (again).
As MBW covered last week, despite some turbulent history, the $26bn-valued streaming service has put its global marketing might behind Swift's much-anticipated new album, Lover, which was released on Friday (August 23).
This is a very different story than Swift's previous two studio albums, 1989 and Reputation, which were both initially unavailable on Spotify when they emerged in 2014 and 2017, respectively.
So, a few days past release – and with around 450,000 'pure' album sales racked up in the US on day one – how is Swift's new record performing on the world's biggest audio streaming service?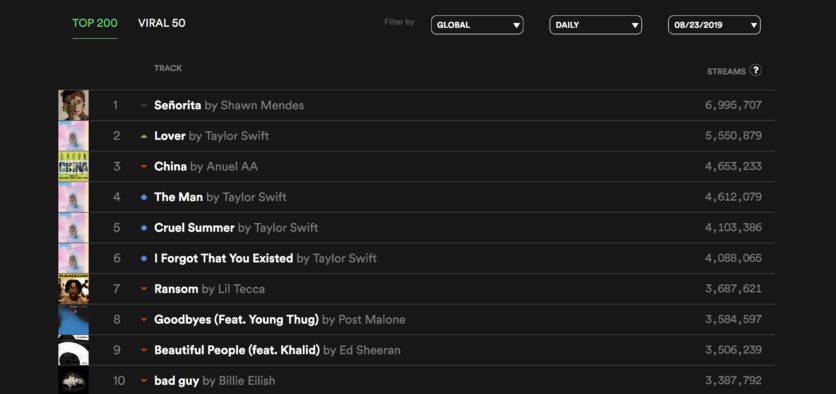 Spotify provides data that help us answer this question via its Spotify Charts platform – which reveals the popularity of a track or album on any given day, in multiple regions.
(Time for our usual disclaimer: the following sees us measure chart-eligible streams from Spotify, which are the only publicly-displayed number available on the service. These figures under-play the full total an album may have attracted; to prevent people gaming the system, Spotify puts a cap on the number of plays each individual user can contribute towards its chart within a 24-hour period.) 
Across Lover's 18 tracks, it racked up 54.10m chart-eligible Spotify streams globally in its first 24 hours on the service last Friday.
These daily plays were led by the album's title track, which landed at No.2 on Spotify's global daily chart that day (behind Shawn Mendes) with 5.55m plays. The second most popular Swift track on August 23 was The Man (No.4 on Spotify's global chart with 4.61m plays), followed by Cruel Summer (No.5, 4.10m).
---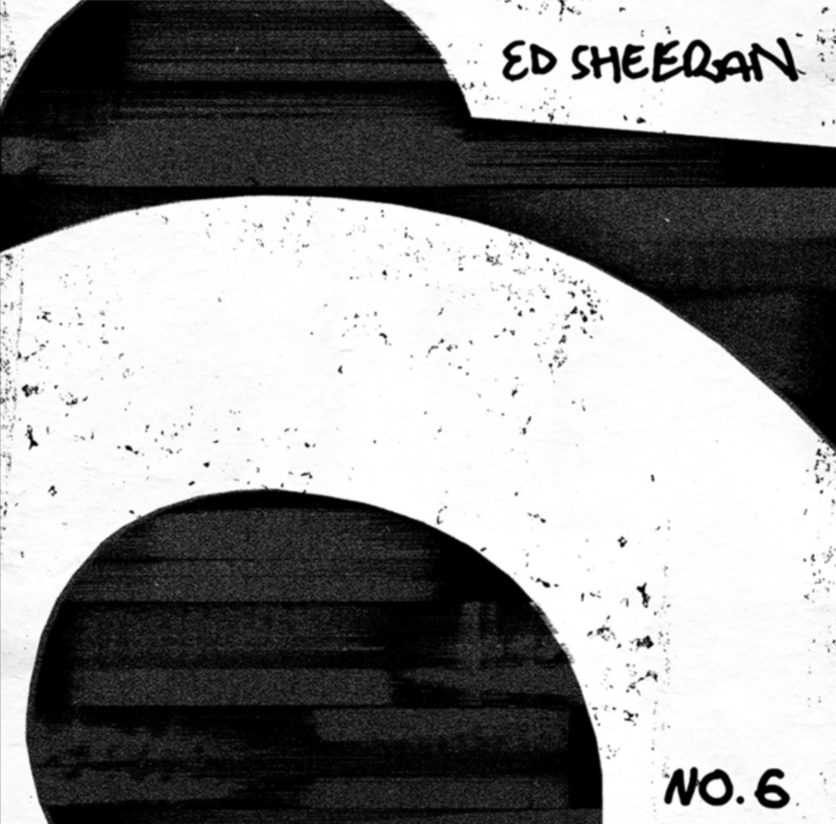 To better gauge Lover's popularity on Spotify, it is interesting to compare its debut 24 hours with that of another major recent pop LP release – Ed Sheeran's No.6 Collaborations Project.
Before doing so, we should point out that four of Lover's 18 tracks were actually available on Spotify ahead of the album's official release date of August 23: ME! (released April 26), You Need To Calm Down (June 14), The Archer (July 23) and Lover (August 16).
This front-loaded approach was also adopted by Sheeran, who released five tracks – I Don't Care (May 10), Cross Me (May 24), Beautiful People (June 23), Best Part of Me and Blow (both July 5) – ahead of No.6 Collaborations' official arrival on July 12.
---
On day one, globally, Lover accumulated 54.10m Spotify chart-eligible streams. No.6 Collaborations Project attracted fewer Spotify chart plays in its opening 24 hours, with 45.53m.
However, taken as a single-track average, across its 15 songs, Ed Sheeran's latest record accumulated 3.04m per track around the world on day one; Lover took in 3.01m per track.
During Lover's first 72 hours on Spotify, it pulled in 124.52m chart-eligible streams – a per-track average of 6.92m.
For No.6 Collaborations Project, this three-day global number weighed in at 114.45m, or a 7.63m per-track average.
---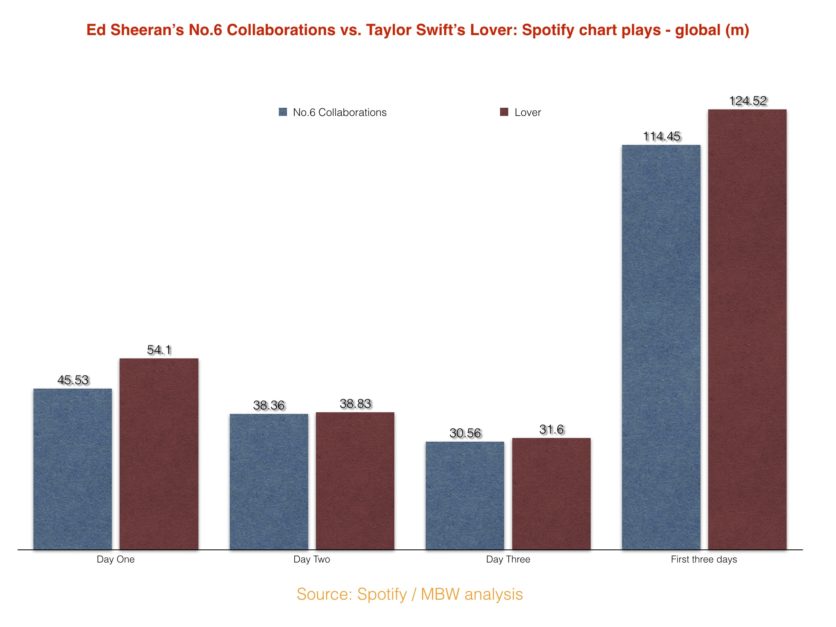 ---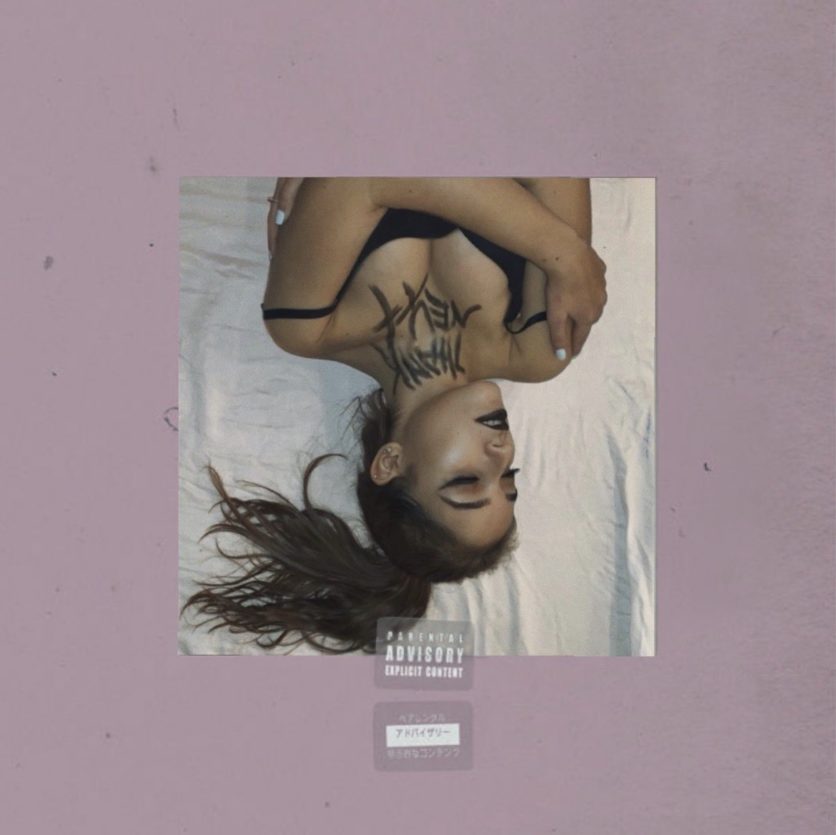 It's also interesting to compare Lover to the two biggest album releases of the first half of this year in the US, according to Nielsen: Ariana Grande's Thank U, Next (pictured) and Billie Eilish's When We Fall Asleep, Where Do We Go?
According to Spotify data, both of these albums enjoyed major worldwide streaming numbers on the service on their release day.
Eilish's album attracted 48.39m global chart-eligible streams across its 14 tracks – an average of 3.46m per song – in the 24 hours after it was released on March 29.
As for Thank U Next, it trumped all of the other albums mentioned here, racking up 67.54m plays across its 12 tracks on day one of being released (February 8) – a per-track average of 5.63m, not far off double the equivalent rate of Lover (3.01m) and No.6 Collaborations Project (3.04m).
(Thank U, Next was preceded by two setup tracks – the title track, released in November 2018, and 7 Rings, released in January 2019. The latter track broke Spotify's all-time record for popularity in the opening 24 hours of a song, with nearly 15m daily plays.)
---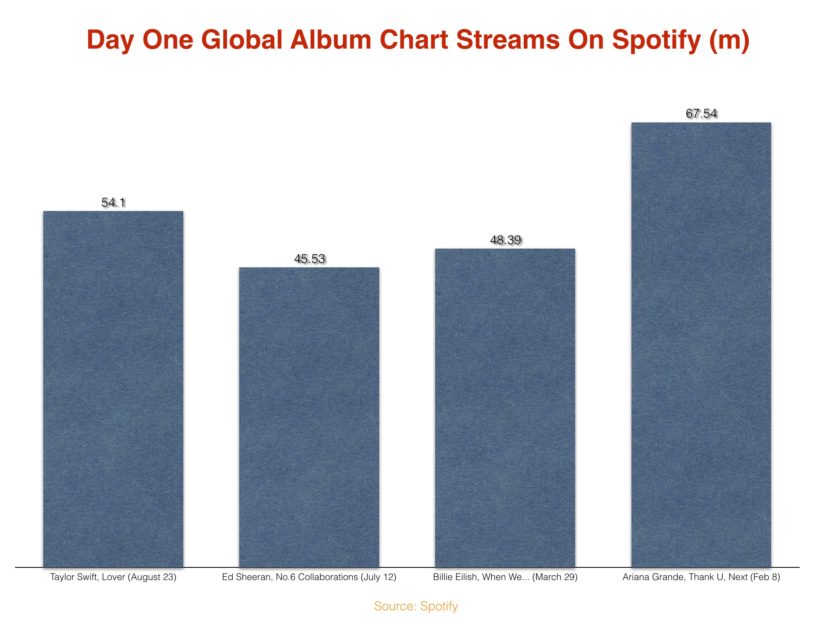 ---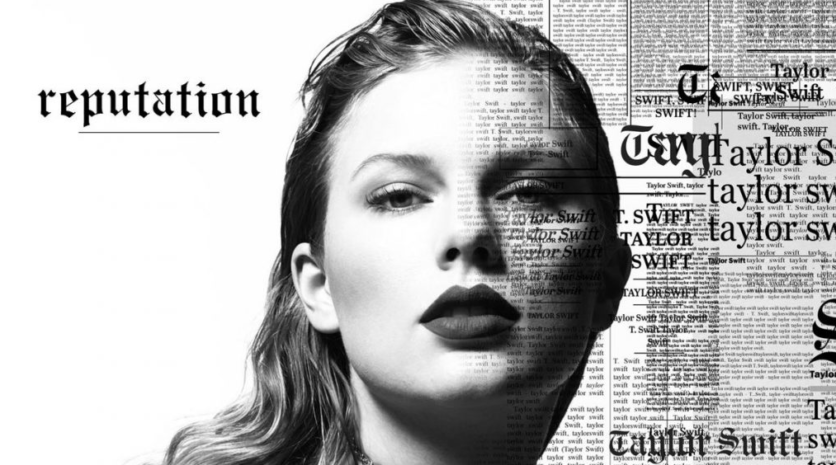 Obviously, with Swift's Reputation not landing on Spotify for three weeks after its official release date in 2017, a like-for-like launch comparison between Lover and the singer/songwriter's previous studio LP on the platform is rendered impossible.
Yet this stat is certainly noteworthy: according to Spotify Charts data, Lover's big lead single, ME! (feat. Brendon Urie), racked up 7.95m global Spotify chart plays in its first day of being released (April 26), only very slightly higher than the 7.91m equivalent number attracted by reputation's first single, Look What You Made Me Do – which became a Spotify record-breaker when it landed on August 25, 2017.
Despite these two numbers (7.91m vs. 7.95m) only having a hair's breadth between them, Spotify's global monthly active user base grew significantly in the same approximate timeframe (August '17 – April '19) – up 46% from 149m up to 217m.
---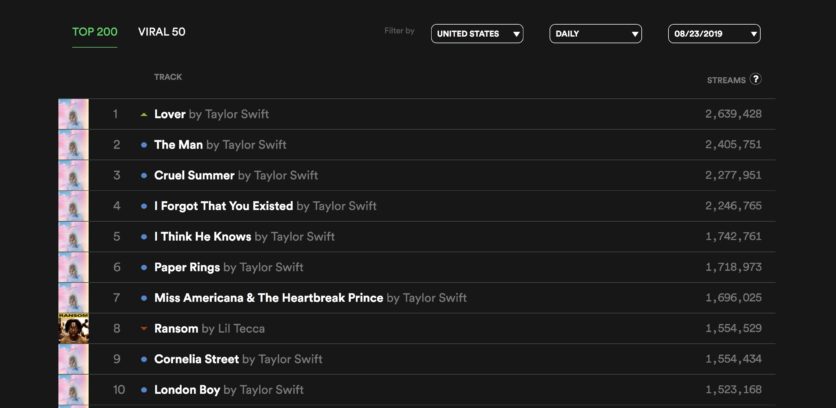 And here's one final interesting data point: according to Spotify chart data, Lover accumulated 29.06m Spotify chart streams in the United States alone during its opening 24 hours on Friday.
This represented 53.7% of the album's day one global Spotify plays (54.10m) – meaning that less than half of the record's streams on this day happened outside of Swift's home nation.
Unsurprisingly, this makes Lover a far more US-centric release than No.6 Collaborations Project; according to MBW research, the Ed Sheeran record saw 26.8% of its day one Spotify chart streams in July take place within the States.
You can check out all the numbers behind MBW's calculations here, as sourced from SpotifyCharts.com, via this spreadsheet.Music Business Worldwide