Streaming is on course to make more money for the US music business than downloads and physical sales combined within the next three years.
The US appears poised for streaming to become its most valuable music format in either 2016 or 2017, according to MBW forecasts – so long as you include SoundExchange royalties generated by digital radio platforms like Pandora alongside subscription and ad-supported platforms like Spotify.
The prediction is made possible by looking at the annual growth pattern in streaming's US market share from previous years, and applying it to the years to come. That is to say – and this get slightly complicated – the typical percentage increase each year of the percentage of annual market value that streaming claims.
This method is obviously not foolproof – there are no guarantees that streaming's growth won't slow at any point – but it gives an exciting taster of how quickly access-based formats could become music's market leader. (In addition, these are not conservative times: many believe the serious entry of Apple's Beats into the market this year will only accelerate streaming's ascent to dominance.)
Applying this methodology to other countries, we see that the 50% industry income milestone for streaming looks likely to break in the UK a year later than the US, during 2017.
But in the other three biggest recorded music markets in the world – France, Germany and Japan – the public appears more hesitant to allow streaming to take over.
MBW forecasts that streaming could provide 50%+ of France's annual record industry income as early as 2016 – but only if a pattern of fast streaming market share growth returns following a significant slowdown in 2013. Looked at more conservatively, the watershed moment in France could take as long as 2022 to arrive.
Even with an optimistic crystal ball, it should take Germany until at least 2022 for streaming to overtake the joint commercial might of physical and downloaded music.
Japan, though, is a whole different kettle of fish: its streaming growth to date has been so slow, current trends suggest that streaming wouldn't hit a 50% market value in Japan until at least the middle of the decade starting in 2020.
According to IFPI data, streaming accounted for 11% of global music revenues last year, with subscription services alone generating $1.1bn. Countries such as Norway and Sweden have already surpassed the point of the majority of retail income being derived from streaming services.
United States
To understand why streaming – importantly, including digital radio royalties – could become king of the US market by 2016, first you have to appreciate the decline of the overall market.
As the total US recorded music market has declined in value by some 43% in the past eight years, streaming's percentage of the market has grown from 1.4% to 21%.
The RIAA, the US body which measures the market in value terms, is yet to announce its figures for 2014 – meaning the last hard data available relates to 2013.
But we do know from Nielsen data issued last week that the volume of streams in the US leapt 54% in the year to 164bn – so a similar movement in value terms won't be a great surprise.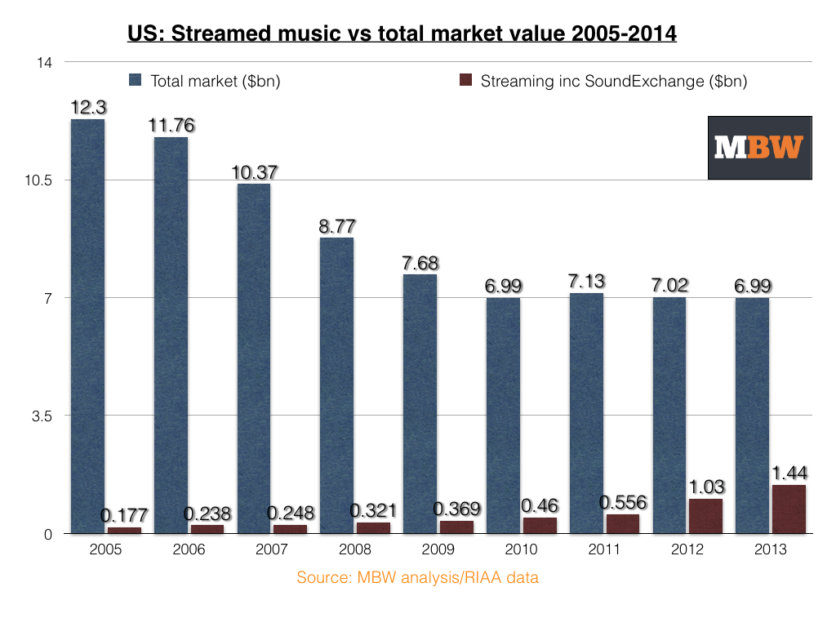 The average annual growth in streaming's total US market share in the past eight years has been an increase of 42% per year.
If this trend was to be applied annually to the future of the market, streaming would become the US's biggest money-making music format by 2016, when it would claim around 59% of the market.
Thinking more conservatively, if you take a couple of arguable 'anomalies' out of previous years' growth (2008, when market share jumped 67%, and 2012, when it increased 88%), you end up with a 30% average yearly uptick.
Applied to future years, this level of growth would mean streaming would take until 2017 to generate more than 50% of the US music market's value.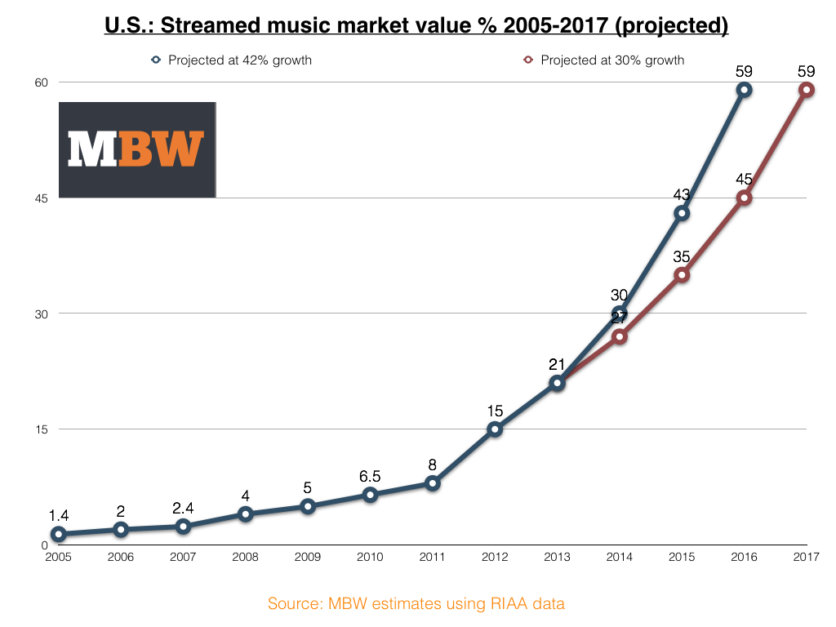 United Kingdom
The data available in the UK in terms of how much cash streaming has generated is hard to come by – public records only appear to date back to 2010.
Inevitably, a shorter period of recorded growth means any pattern is less reliable.
Luckily, the BPI has just released its market value figures for 2014, which show streaming taking a 17% market share, generating £175m in the year.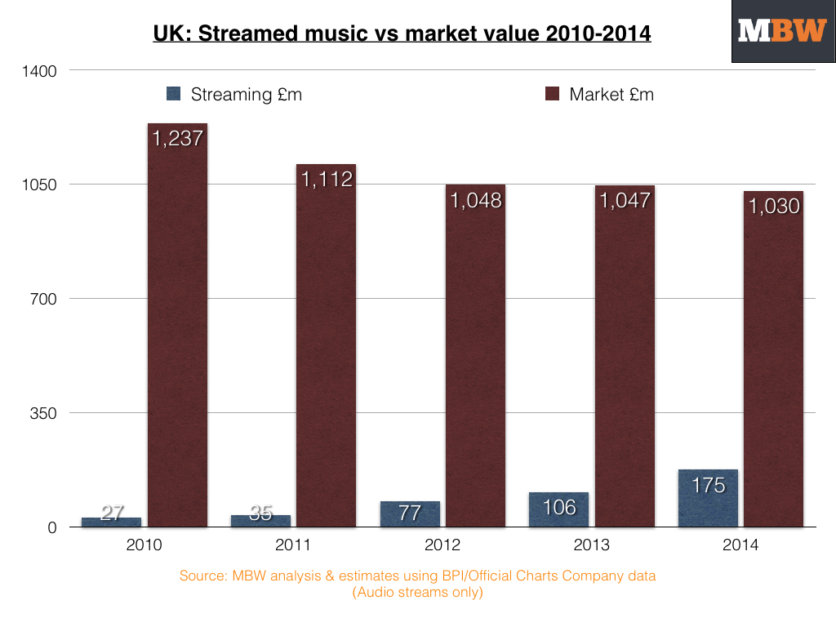 This haul has helped the percentage increase in streaming's average annual market share since 2010 grow to a very healthy 73%.
If applied to future years, that would see streaming take a 50% share of the UK recorded music market's annual income by 2016.
Once again, if you take a more conservative view of past annual market share growth – omitting 2011's 133% increase (from 3% to 7%) – you end up with a 54% average annual uptick.
Applying this to the future means that streaming would claim more than 50% of the market by value in 2017 – possibly ending that year by generating more than 60% of all industry income.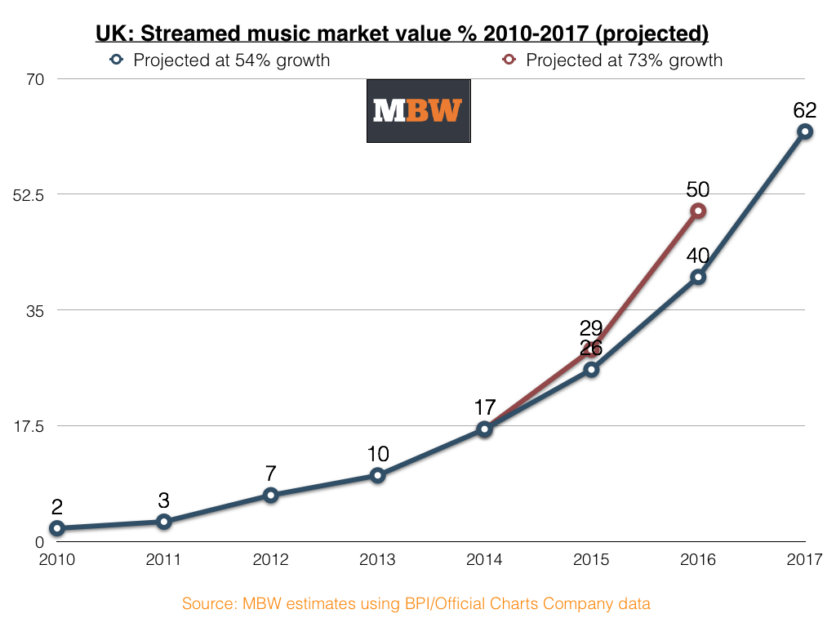 France
The French aren't the most streaming-phobic people in Europe, but they're quite far behind their British cousins.
According to trade body SNEP, cash generated by streaming in France in 2013 claimed 11% of the market – but this represented a real slowdown in the growth of streaming's market share, on 2012's 10.7% tally.
We're still waiting for 2014's numbers, but in 2013, streaming generated 54m Euros in the country – just 2m Euros more than in 2012 – against a total recorded music industry haul of 493m Euros.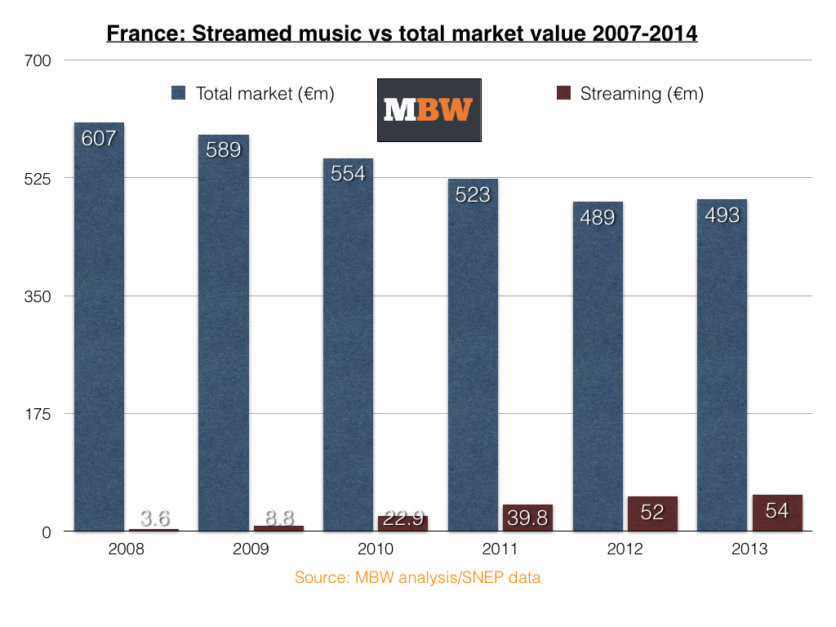 This slowdown in 2013 rather messes with a strong pattern of streaming market share growth previously seen in France – the average increase from one year's streaming market share percentage to another is 71%.
If the format kept this up over the next few years, streaming would soar, accounting for more than 50% (65%) of the market by 2016.
But let's face it, that's not very likely. The small rise in streaming market share seen in 2013 suggest a much more mild ascent is now on the cards.
A more conservative projected annual percentage growth – in this case, a mean average just of the last two years – leads to a more realistic conclusion: streaming will eventually take 52% of the market in France, but not until 2022.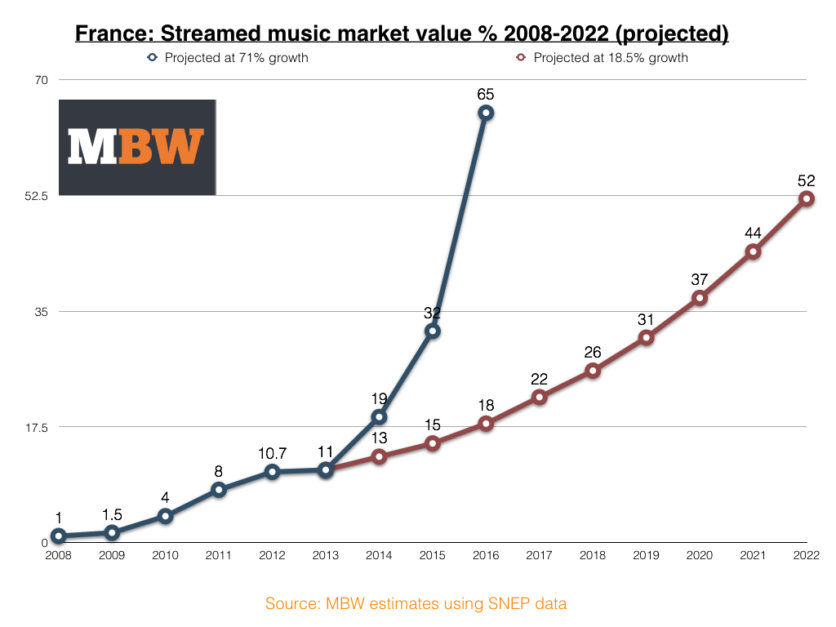 GERMANY
The Germans still love their music on physical formats. So much so, in fact, it makes the task of discerning any pattern of growth amongst streaming vs. the country's total market a difficult one – simply because the gulf between the numbers remains so large.
The last figures on record from BVMI/GFK are for 2013, when by generating 68m Euros in Germany, streaming claimed just 4.7% of a €1.45bn marketplace.
This market share figure was, though, 45% up on the previous year's 2.5% – suggesting that streaming is starting to move in the right direction in Germany despite still being relatively minute in direct monetary terms.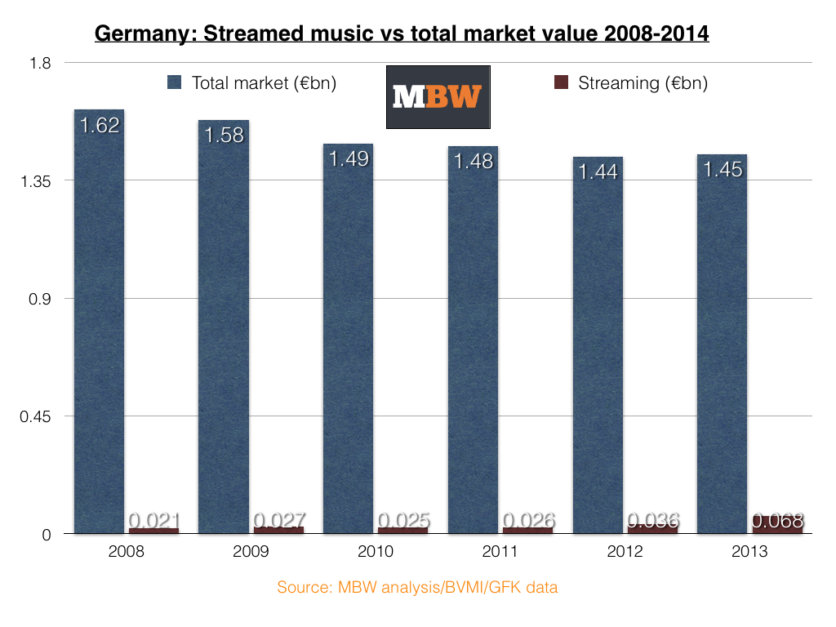 The average annual market share uptick in Germany for streaming stands at a modest 33%. If this continued into the future, it would take streaming until 2021 to lay claim to 50% of the market by value.
However, if you take a more conservative average growth figure by omitting 2013's 88% jump (from 2.5% to 4.7%), you end up with a 19% annual growth curve – which would mean streaming would take until 2027 to finally be crowned king of the German music market.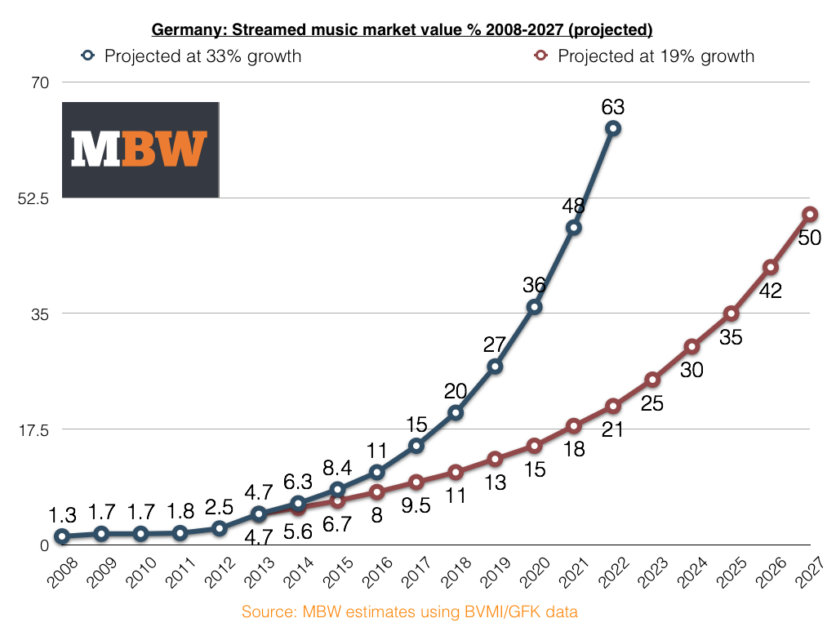 JAPAN
If Germany's citizens are taking their time to warm to streaming, the Japanese seem to be willfully ignoring it.
Even when you factor in miscellaneous 'other digital music contents' (likely YouTube) from the RIAJ's numbers, streaming subscriptions still only generated 1.36% of the Japanese music market in 2013 – the last year on record.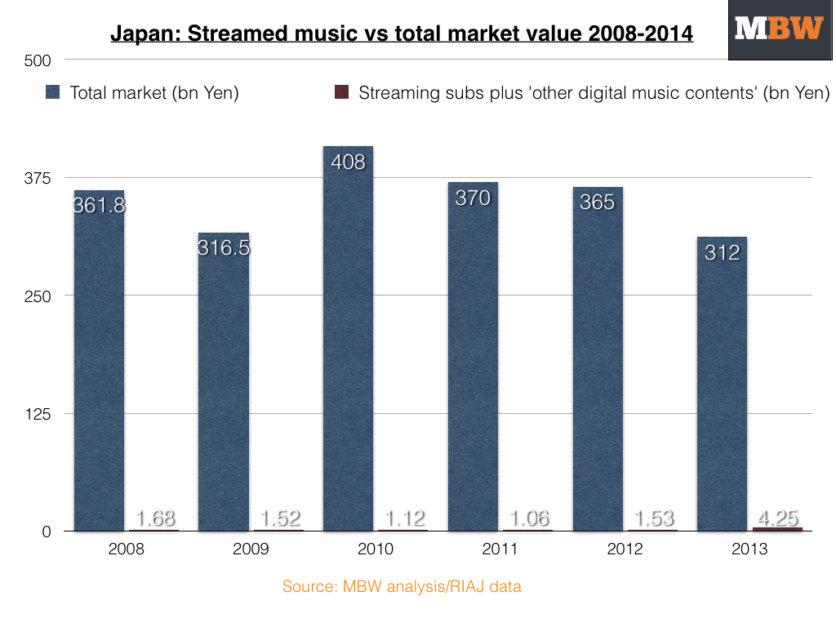 But we're here to find patterns, and patterns we shall find.
The simplest way of completing the fool's errand of projecting streaming's long-term growth trend in Japan is to look at the leap in its market share % from 2008 to 2013 – up 272% to a stil-rather-weeny 1.36%.
If this trend continues, streaming should be king of Japan by around 2027- but even that seems unlikely.
Another plot on the chart below suggests that streaming is on course to take a 19% chunk of the Japanese annual music market by 2023, and that seems more plausible; it would certainly seem a reasonable target for the likes of Spotify and Rdio, who are rumoured to be launching their wares in the territory soon.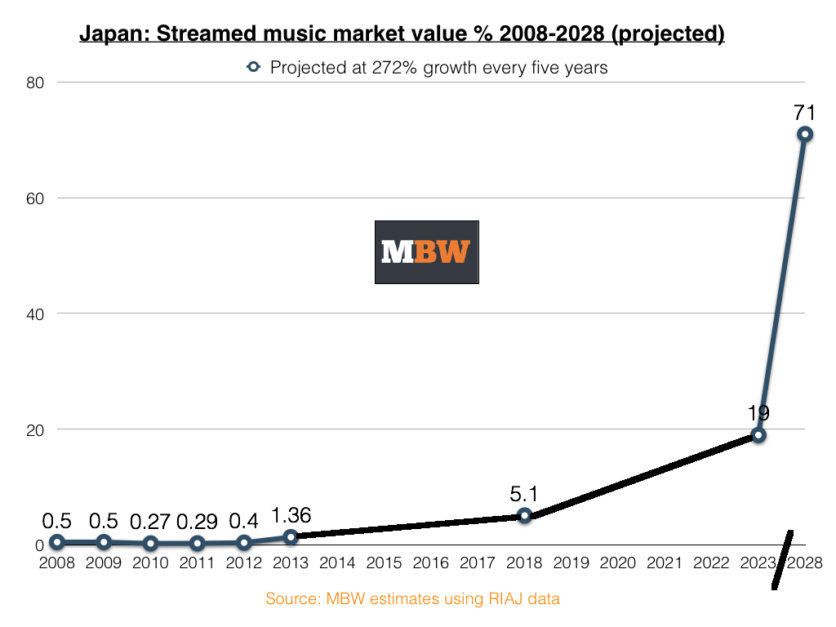 Music Business Worldwide