Total annual album sales in the US are now almost two-thirds smaller than they were a decade ago.
According to 10 years of Nielsen Soundscan data analysed by Music Business Worldwide, full-year LP sales dropped by a shocking 61.5% between 2004 and 2014 – from 667m all the way down to 257m.
Billboard has released some new Soundscan stats for last year that complete the decade's sorry picture, showing that total album sales fell 11% year-on-year in 2014, down to 257m versus 289.4m in 2013.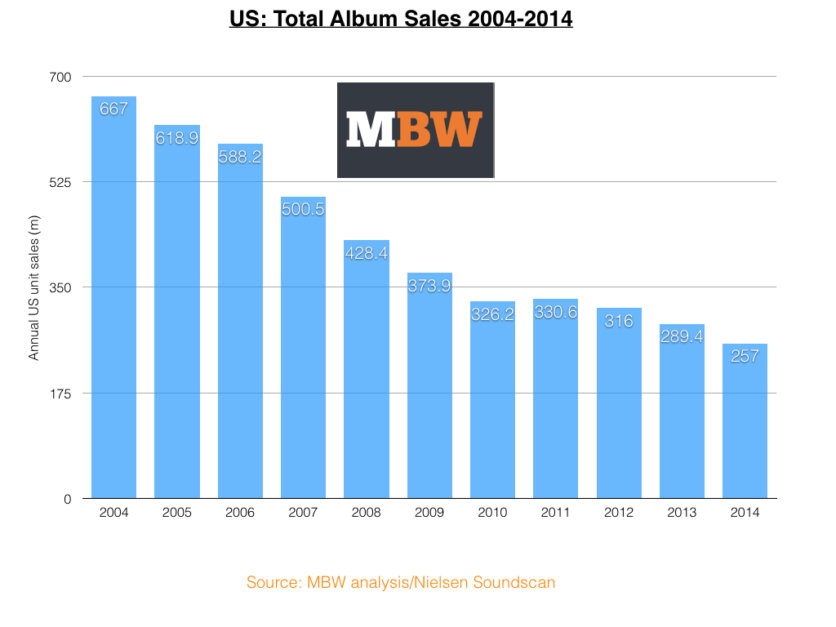 Digital album sales fell 9% in the year, down to 106.5m from 117.6 million in 2013.
It was the format's second annual decline in two years, although it dipped just 1% in 2013. Digital albums took 41% of the total LP market across all formats in 2014.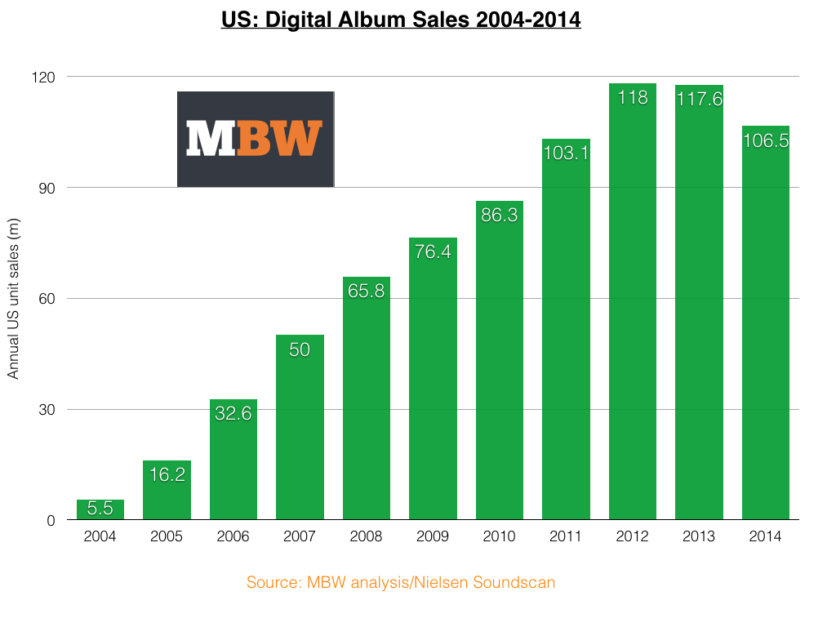 The CD format has been hit particularly hard over the past decade, its popularity presumably having been damaged first by the download era and now the rapidly growing streaming market.
In 2004, 651m CD albums were sold in the US, according to MBW estimates using Nielsen Soundscan data. In 2014, the format sold just 141m – a 78% decline.
Or to put it another way, the US CD albums market is now almost a fifth of the size it was a decade ago.
In the past year, the CD album format dropped from 165m unit sales (2013) to 141m, a dip of 15%.
This, however, represents a calming of the deterioration of the format seen in the mid-noughties: in 2007, CD sales dropped 18% year-on-year,  and in 2008 that decline increased to 20% – down to 295m from 361m.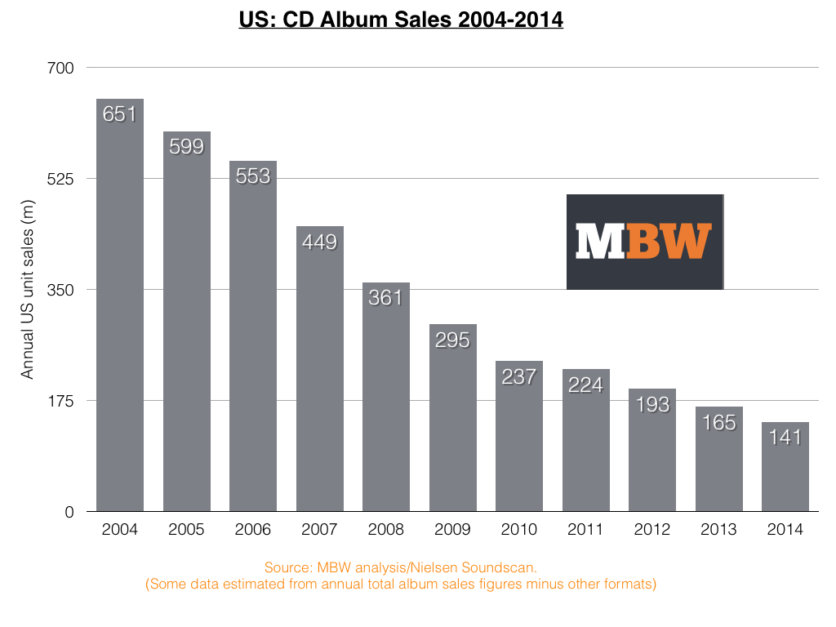 So were there any bright spots for the humble album in the US in 2014?
Well, yes, mainly in the shape of Taylor Swift (pictured), who sold 3.66m copies of her 1989 LP – 1.41m of them digitally – to claim the most popular album of the year.
Swift sold even more than the soundtrack to Disney's phenomenon, Frozen, which shifted 3.53m in 2014 to take second spot.
These, though, were the only two LPs to top three million sales in a year that contained the lowest-selling albums week in recorded US history: in the last commercial week of August, just 3.97 million albums were shifted in the whole country.
Elsewhere, US vinyl LP sales were up to record levels once again in 2014, with the format selling 9.2m copies, jumping 52% on 2013's 6.1m tally.
But there wasn't much cheer from the single-track market. 2014 was only the second year in history, after 2013, where US unit sales of singles fell year-on-year, down 12% to 1.1bn.
The was inevitably positive news to come out of streaming's performance in North America in 2014, though: music streams – including audio (Spotify, Rdio) and video (YouTube) – were up 54% to 164bn.
We'll have to wait for numbers from recording body the RIAA to know what impact that had on the amount of hard cash generated in 2014.
But sales-wise, the story of the year in the US is inarguable: yet more worrying decline for the album format in a market that seems to be rapidly, tragically falling out of love with it.Music Business Worldwide