When will hip-hop's growing dominance of streaming in the United States come to a halt? Not yet, friend.
The genre was very well represented amongst the biggest tracks in the U.S last year, according to BuzzAngle Music, which says in its new annual report that Hip-hop/Rap artists claimed no less than six of the Top 10 biggest streaming tracks of the year – and a whopping 52% of the Top 100.
That Top 100 was led by Lil Nas X's Old Town Road, which racked up 1.78bn streams across audio and video platforms in the States last year.
Old Town Road's 963.1m audio streams in 2019 made it an even bigger hit in the States than Drake's massive God's Plan in 2018.
God's Plan attracted 1.68bn overall streams, and 843.9m audio streams, in the US last year – making it 2018's biggest track – according to BuzzAngle's annual report.
---
How did hip-hop's general performance in 2019 compare to its performance in the prior year?
To answer that, we can turn to Nielsen Music data, published on social media by journalists earlier this month.
Numbers from Nielsen's annual report show that hip-hop claimed a 27.7% market share of overall album consumption in 2019, calculated across sales and streaming.
The same metric in 2018, according to a Billboard report, led to a smaller share of the market, at 25.6%.
---
Yet it's specifically on streaming services that hip-hop really dominated 2019.
According to Nielsen's data, the genre claimed a 30.7% share of overall on-demand streams (across video and audio) in the States in 2019.
That was up by a full percentage point on the 29.7% market share hip-hop achieved in the prior year, according to Billboard/Nielsen.
In terms of audio streaming only, hip-hop artists claimed 31.2% – close to a third – of all plays in the US last year, says Nielsen's data; on video services, that number stood at 29.6%.
---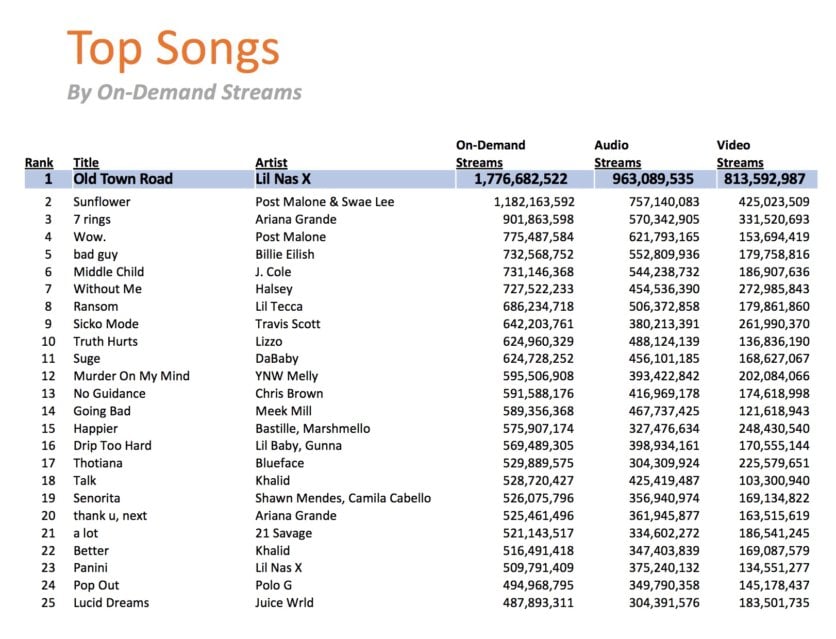 ---
According to BuzzAngle's report, hip-hop tracks in the Top 10 most-streamed records in the US last year included Middle Child by J.Cole (pictured, No.6), Ransom by Lil Tecca (pictured – in a recent SoundCloud ad – No.8) and Sicko Mode by Travis Scott (No.9).Music Business Worldwide