The MBW Review is where we aim our microscope towards some of the music biz's biggest recent goings-on. This time, we crunch the numbers of Drake's record-breaking release versus his last record-breaking release… and ponder what it all means for the fan-artist relationship The MBW Review is supported by Instrumental.
---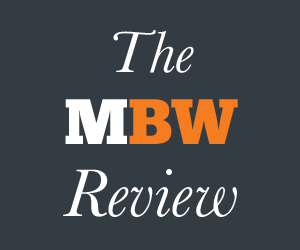 On Friday (September 3), Drake broke his own record for the biggest 24-hour album debut on Spotify.
His June 2018 release, Scorpion, held that record for over three years – racking up over 132 million day-one Spotify chart plays.
His latest set, Certified Lover Boy, finally eclipsed that peak: It pulled in 153.4 million global Spotify chart streams on release day.
So will Certified Lover Boy now crush Scorpion's other long-lasting record on Spotify: the most streams in an opening week for an album?
According to MBW's analysis: no, it won't.
The current numbers suggest that Certified Lover Boy is going to fall short of Scorpion's global week-one tally on Spotify.
This fact tells its own story about the promiscuity of the modern music fan – and the challenge of maintaining an audience's attention with a blockbuster album in 2021.
Before we get into the data, we need to cover off a few caveats.
For starters, Certified Lover Boy is, without doubt, a ginormous streaming album. MBW predicts that it will comfortably become the second biggest album week-one of all time on Spotify tomorrow (September 8).
Its week-one performance will be bigger than Kanye West's Donda, which currently holds the all-time No.2 slot having recently racked up 442 million Spotify plays in its opening seven days.
(We'll come back to this, but Kanye's 442 million streams, as confirmed by Def Jam in the past few days, were total Spotify streams. The 'Spotify chart' stats we're using for Drake in this analysis – courtesy of SpotifyCharts.com – are missing a small number of legitimate streams, as Spotify only counts a maximum of 10 plays per person, per track, per day towards its chart.)
We should also mention that, at 21 tracks, Certified Lover Boy is a smaller beast than Scorpion, which contains 25.
Onto the numbers.
As you can see below, Certified Lover Boy began with that record-breaking day-one play-count of 153.4 million global Spotify chart streams.
Yet by day three of its release week (September 5), this figure had fallen to less than half its debut 24 hour Spotify stream-count (60.6 million).
And by day five of its release week (September 7), this figure had fallen to nearly a third of its debut 24 hour Spotify stream-count (51.5 million).
(As of today, September 8, these are the latest figures available on SpotifyCharts.com, as analyzed by MBW.)
---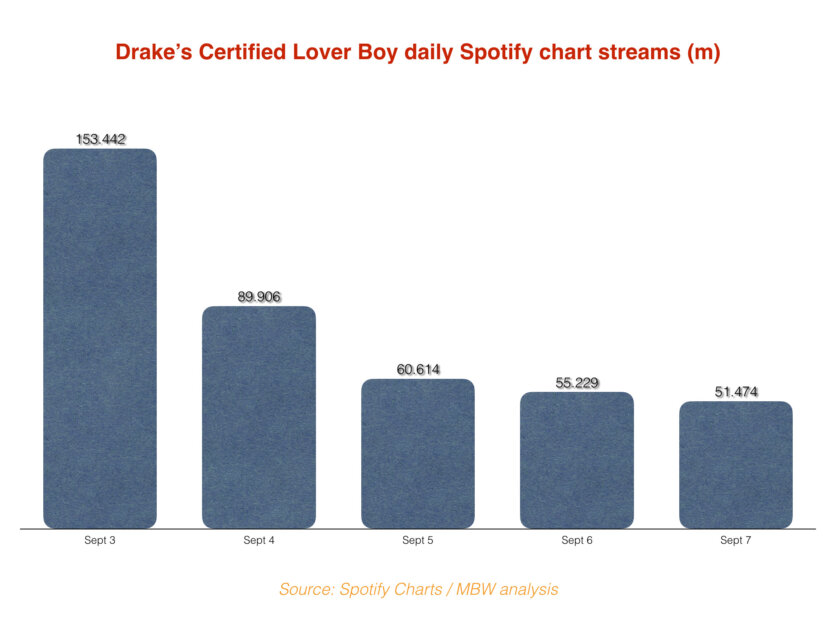 ---
The drop-off in Certified Lover Boy streams from day one onwards is more pronounced that the equivalent drop-off seen by Scorpion.
For example, Certified Lover Boy saw a 66.5% decline in daily Spotify chart streams from its debut day versus its fifth day of availability.
Scorpion, meanwhile, saw a significantly smaller drop of 51.8% from day one through to day five.
Speaking more roughly, Certified Lover Boy's streams were cut by two thirds; Scorpion's streams were cut in half.
---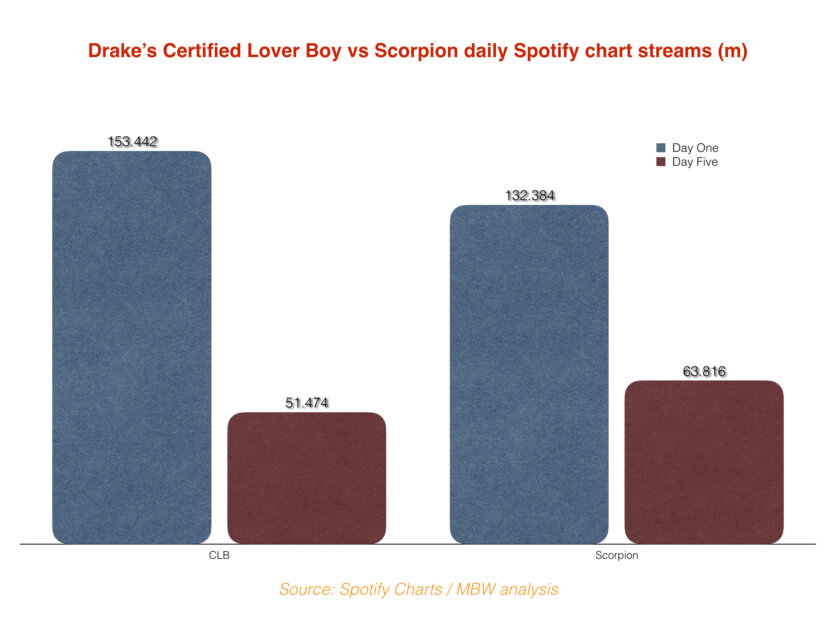 ---
It's this disparity in the drop-off in daily streams which leads us to be confident that Certified Lover Boy is going to fall short of Scorpion's record-breaking opening Spotify week.
According to MBW's analysis of Spotify's numbers, Certified Lover Boy racked up 410.7 million cumulative global chart streams in its opening five days on Spotify's platform.
As of yesterday (Sept 7), the album was pulling in around 51 million daily streams. If it can keep that up across the last two days of its release week, it will finish up with around 512 million Spotify chart streams in its opening seven days.
This will be enough to beat Kanye West's Donda. But it won't be enough to beat Scorpion.
In its opening week, Drake's 2018 album pulled in 559.0 million Spotify chart streams.
(In terms of total streams – including non-Spotify chart-eligible plays – Scorpion attracted 573 million plays in its debut week, according to MBW sources. We're expecting a similar uplift – around 2.5% – between chart streams and total streams for Certified Lover Boy.)
Worth mentioning: In terms of average-Spotify-chart-plays-per-track, we expect Certified Lover Boy to end its first week with somewhere around 24 million. This would be enough to beat Scorpion on this metric, as Scorpion contained three more tracks than CLB. Scorpion's chart-plays-per-track stood at 22.4 million across its opening week.
---
So what does this all tell us about the wider challenges of releasing a global blockbuster album in 2021?
Above all else, it tells us this: Scorpion may prove to be an unrepeatable moment in time.
With some 60,000 tracks now pouring onto Spotify every day, the competition for listeners is more intense than ever before, and certainly more intense than it was in 2018.
The trend of listener loyalty – or, alternatively, the promiscuity of listeners – is only going one way: read MBW's analysis of the reduction in cumulative annual streams of US Top 10 releases (aka: "the death of the megahit") for more on that.
Drake's Certified Lover Boy has been released into this changing landscape.
Its performance evinces the sinking streaming market share of modern superstars, whose vast popularity on Spotify et al has plateaued in the past three years… while the popularity of these platforms has continued to mushroom.
This narrative is profoundly underlined by the following chart:
---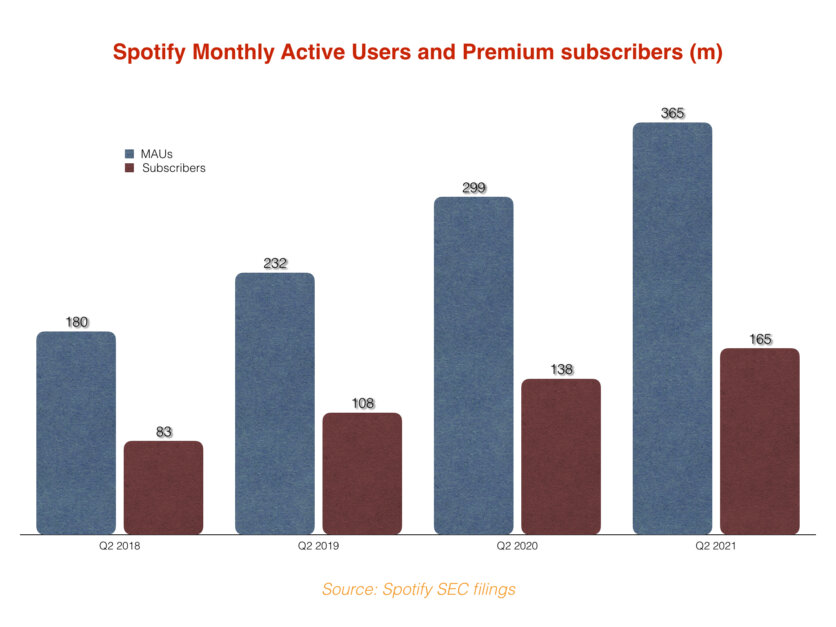 ---
Drake released Scorpion during the last month (June 2018) of a quarter (Q2 2018) where Spotify officially had 180 million monthly active users (MAUs) and 83 million paying subscribers worldwide.
He has just released Certified Lover Boy into a changed landscape: At the close of June 2021 – i.e. three months ago – Spotify counted 365 million MAUs and 165 paying subscribers worldwide.
Yes: Between the release of Scorpion to the release of Certified Lover Boy, Spotify's global audience – both in terms of total users and paying users – has more than doubled.
Yet the biggest streaming superstar on the planet cannot out-do the performance of an album he released three years ago.
---

Some will insist that this is merely evidence of the fact that Certified Lover Boy isn't as good/sticky/worthy-of-repeat listens as Scorpion.
Others will point out technicalities: For example, Scorpion's durability in its opening week was possibly helped – or possibly hindered – by the fact that a few big tracks (God's Plan/Nice For What/I'm Upset) had been released prior to the album; Certified Lover Boy, by contrast, came to the market 'cold' with no prior hits amongst its tracklist.
Yet there's no getting away from the fact that, even for a megastar as gargantuan as Drizzy, the music industry of 2018 was a far simpler land – a far more conquerable land – than the music industry of 2021, where consumers are relishing unending choice at their fingertips.
As superstar pop songwriter Ryan Tedder succinctly put it recently: "The frustrating thing about music is that now there's too much of it…  you're competing with every song that has ever come out."
---
Here's another, more factual spin on what we might call, with no hint of unnecessary drama, "the destruction of the concept of the all-dominant superstar".
There are 365 million monthly active users on Spotify today. Following the record-busting release of Certified Lover Boy, Drake currently has 58.2 million monthly listeners on the platform.
You know what this means?
Drake's just released the biggest blockbuster major label album of this year, or last year, or any year for the past three years. It may be the biggest album of the next three years to come.
Yet over 84% of Spotify users aren't interested, and they're not listening.
---
Continuing the point: In July 2018, following the release of Scorpion, Drake had slightly more monthly listeners on Spotify than he does now (58.95 million).
This meant that, when it came to Drake, a third (33%) of all Spotify users at the time (180 million) were interested, and were listening.
This really wasn't a very long time ago.
But in the realm of global streaming and global superstars? It was a different world, with different rules.
---

The MBW Review is supported by Instrumental, one of the music industry's leading growth teams for independent artists. Instrumental uses data science to identify the fastest growing independent artists on the planet and then offer funding, premium distribution and marketing support to take them to the next level, without taking their rights.
---
Music biz data geek? Welcome to the family. You can read a detailed breakdown of the Spotify chart numbers used in this story through here.Music Business Worldwide