On April 27, Post Malone broke Spotify's day-one worldwide record for the popularity of a new album – with 78,744,748 streams of Beerbongs & Bentleys.
Yesterday (June 29), Drake obliterated this figure.
According to MBW calculations based on data from SpotifyCharts.com, Drake's 25-track album Scorpion racked up total global streams of 132,384,203 within its opening 24 hours.
Its most popular track, Nonstop, generated 9,298,297 plays alone.
This also appears to be a day-one record for a single track: when Taylor Swift's Look What You Made Me Do broke that record last year, it attracted approximately 8m streams.
(Drake's ultimate figures here may be even higher, as these numbers represent Spotify's chart-eligible streams. To prevent people gaming the system, Spotify puts a cap on the number of plays each individual user can contribute to the chart within a 24 hour period.)
Scorpion was responsible for the Top 12 songs on Spotify worldwide yesterday, with only XXXTentacion's SAD! (at No.13) preventing Drake from claiming the full global Top 17.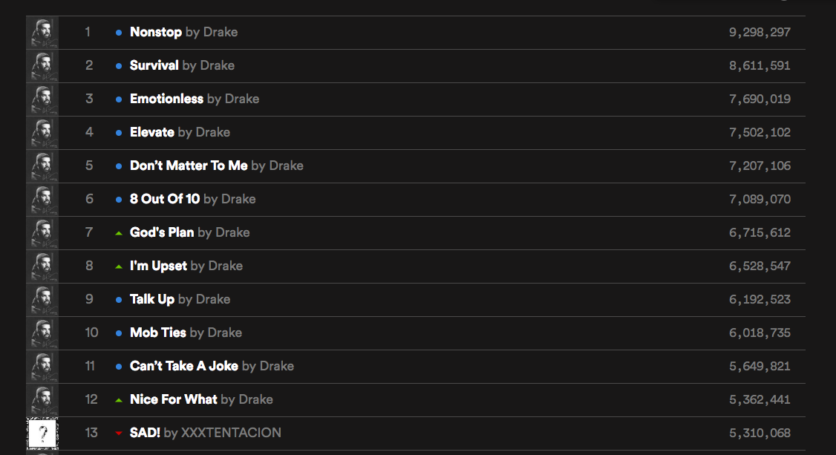 ---

In terms of US-only plays, Drake's dominance was nothing short of astounding: Scorpion laid claim to the entire Top 23 most-played tracks on Spotify in the States yesterday.
The previous US-only, day-one record for an album was Post Malone (again) with 47,930,039 plays within 24 hours.
Yesterday, Scorpion racked up 80,482,708 chart-eligible Spotify plays in the US – a 68% rise on the Beerbongs & Bentleys record.
To put all of this further into perspective: shortly before Post Malone broke the US record in April, J Cole's KOD became Spotify's biggest day-one album in US history, with 36,656,086 plays in the States.
That stat was announced just over nine weeks ago (April 23).
Drake's Scorpion (80.48m) racked up more than double J Cole's record US number (36.65m) within its debut 24 hours.
Nonstop was also Drake's most popular track in the US on Spotify yesterday, with 5,749,019 streams.
Currently, as of today (June 30) Drake officially has 47.37m monthly listeners on Spotify, putting him at No.2 overall behind J Balvin.
Expect that number to rocket upwards in the coming days.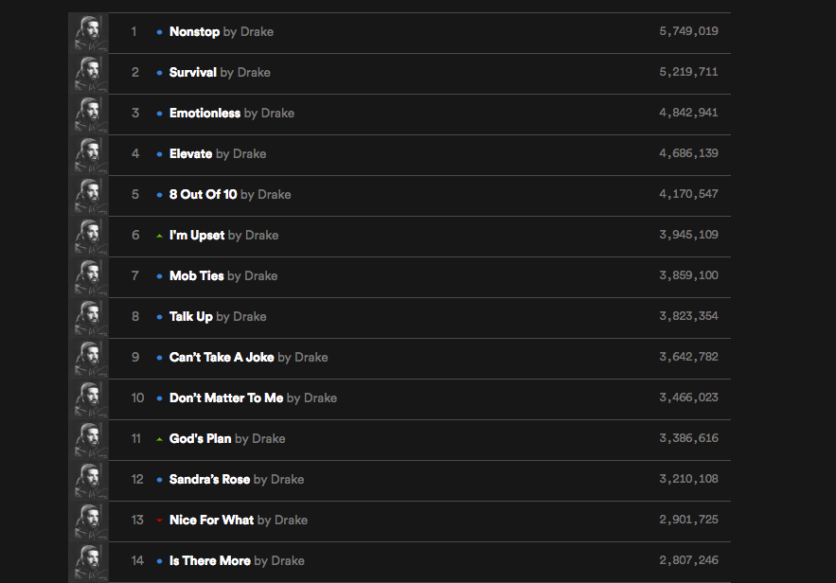 ---
Spotify obviously worked hard to ensure Drake succeeded: the company yesterday permitted the rapper to 'take over' multiple playlists including Today's Top Hits, Rap Caviar, Afternoon Acoustic, Morning Commute and more (see pic below).

MBW has a theory as to how this agreement may have come about.Music Business Worldwide