Blockbuster albums have been in short supply these past 18 months.
While the likes of the Weeknd's Blinding Lights (March 2020) and Taylor Swift's Folklore (July 24, 2020) certainly impressed on streaming services, they couldn't get close to the kind of numbers pulled in by all-time record breakers on the likes of Spotify and Apple Music.
In fact, for a minute there, it looked like no new albums would ever smash play-count records on major streaming platforms again.
But then Kanye West returned. Soon followed by Drake. And records did shatter all over the land.
Kanye West's tenth studio album Donda (G.O.O.D./Def Jam) was released off-cycle on Sunday, August 29.
Def Jam confirmed yesterday (September 5), that the album racked up over 520,000 equivalent units globally in its first week (seven days) of streaming, having accumulated over 775 million global streams in that period.
Over 442 million of those streams came from Spotify, while 242 million took place on Apple Music.
That Spotify haul was enough to secure Donda the second-biggest global week-one performance on the platform of all time, ahead of  Post Malone's Beerbongs + Bentleys (409m in week one) but behind Drake's 2018 effort Scorpion (559m in week one).
According to data from SpotifyCharts.com, Donda also became the second-most streamed album in 24 hours on Spotify ever, racking up nearly 100m (94,455,883) streams on August 29.
Again, that wasn't quite enough to top Drake's 25-track album Scorpion, which racked up a total global stream count of 132,384,203 within its opening 24 hours on June 29, 2018.
But then on Friday (September 3), Drake broke this own record – yes, his own record – with sixth studio album, Certified Lover Boy, which is now officially the most streamed album in a single day on Spotify.
---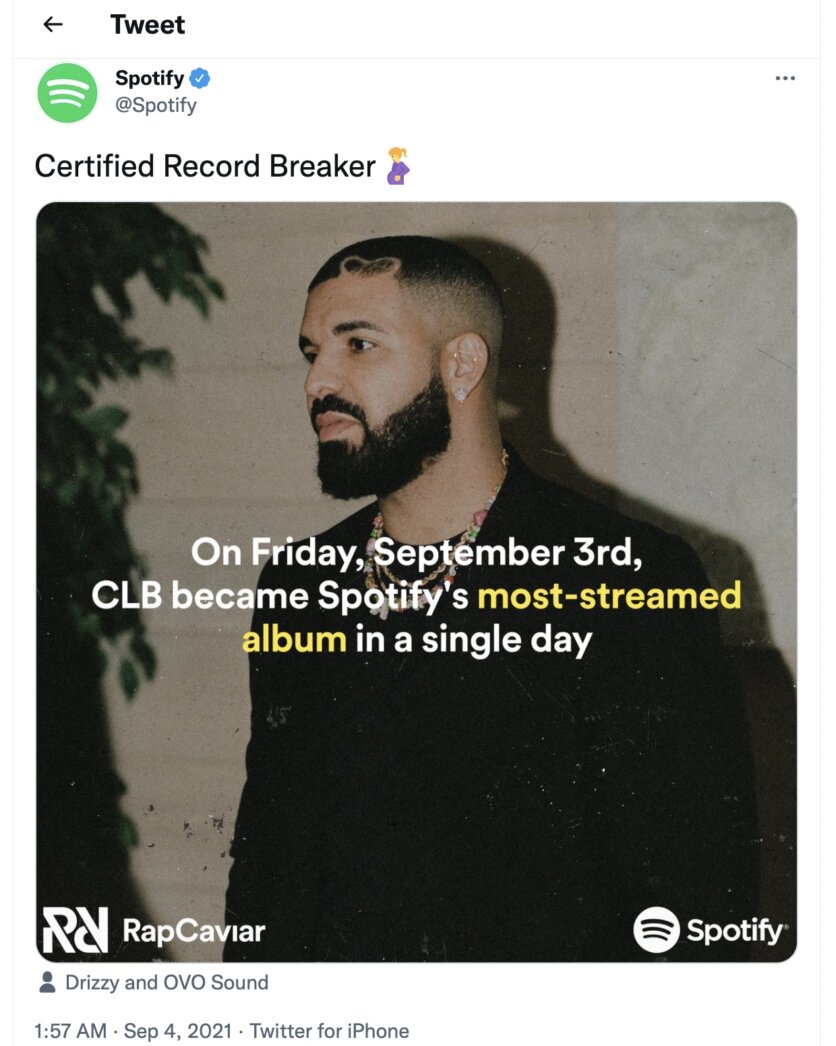 ---
According to MBW calculations, based on data from SpotifyCharts.com, Certified Lover Boy,  Drake's first studio album release on his own OVO Sound label (licensed to Republic Records), accumulated 153,441,565 million global streams in its first 24 hours on the platform. (These SpotifyCharts.com numbers are Spotify chart-eligible streams, and so will not show the full amount of total streams on the platform. Spotify is believed to only count the first ten plays of any track by an individual within a 24 period for its charts.)
Drake's CLB also scored the biggest album debut in 24 hours on Apple Music, surpassing his own 2018 record set with Scorpion (Cash Money/Republic/Universal).
In addition, Girls Want Girls (feat. Lil Baby), Champagne Poetry, and Fair Trade (feat. Travis Scott) are the three biggest song debuts ever on Apple Music, overtaking Drake's own Nonstop.
---
Now read: Drake's Certified Lover Boy, Spotify, and the destruction of the all-dominant streaming superstar.Music Business Worldwide