It's hard to remember a time when Drake wasn't dominating Spotify.
He was the platform's most streamed artist of 2015 with 1.8bn plays. He's also its most-played act of 2016 (so far).
In addition, every day for the past six months, Drake has been the most popular artist on Spotify in terms of global monthly listeners.
That is, until now. Because he's just been overtaken by fellow Torontonian The Weeknd.
---
Drake took the No.1 spot in May from Rihanna, when he climbed above 33m monthly listeners following the delayed release of Views on Spotify.
He's stayed there ever since, and currently boasts just under 36m monthly listeners on the service.
However, The Weeknd is now adding more than 580,000 listeners a day, and has piled on 1.2m in the past 48 hours alone.
Today (December 1), he's currently sitting pretty on 36.068m monthly listeners – enough to dislodge Drake from his long-held summit.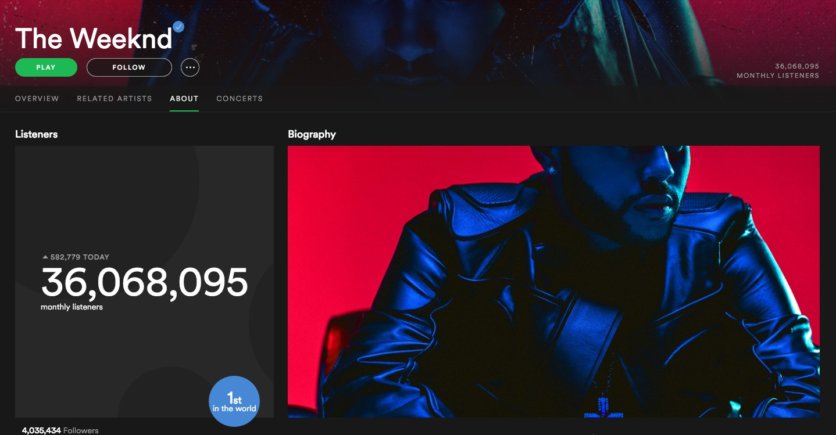 ---
The Weeknd's new album, Starboy, was released via Universal's Republic on Friday (Nov 25).
By Tuesday (Nov 29), Spotify had confirmed that he had broken the record for the most streams in a day from a single artist.
The company didn't give a stat, but it must have been in excess of 36m – the figure Justin Bieber racked up on November 13 last year to claim the record.
The Weeknd's triumph is being trumpeted as a test case of what can happen when artists work with Spotify to push their blockbuster new material – as opposed to signing exclusive windowed release deals elsewhere.
On the flip side, it's quite the vindication for Sir Lucian Grainge's recent decision to outlaw streaming exclusives amongst his top artists and labels.
Monte Lipman, Chairman & Co-Founder, Republic Records said, "Spotify's continued support of The Weeknd has now reached historic proportions and also reinforces the tremendous growth of global streaming."
Spotify's Global Head of Creator Services, Troy Carter, said: "We're proud to have partnered with The Weeknd, his management and Republic Records on a phenomenal album. We look forward to breaking even more records together in the near future."
---
Spotify has previously suggested that its average per stream payout to music rights-holders sits between $0.006 and $0.0084.
If that's still true, it means The Weeknd is currently generating somewhere around $250,000 a day on the service.
Not that Drake will be too devastated: his One Dance is just 30m plays away from becoming the first track to ever hit a billion spins on Spotify.
By the same calculation, that means One Dance has generated somewhere close to $7m so far.
---
MBW has rifled through the list of the most popular Spotify artists in terms of global monthly listeners.
Check out the Top 25 from today (Dec 1) below – with a symbol showing whether each act's daily audience has grown or shrunk.
The Weekend – 36.07m monthly listeners (+583k)
Drake – 35.96m monthly listeners (-)
The Chainsmokers – 35.12m monthly listeners (-)
Sia – 30.59m monthly listeners (-)
Major Lazer – 28.84m monthly listeners (-)
Calvin Harris – 28.49m monthly listeners (-)
Maroon 5 – 28.25m monthly listeners (+30k)
DJ Snake – 28.18m monthly listeners (-)
Ariana Grande – 27.95m monthly listeners (+18k)
Bruno Mars – 27.19m monthly listeners (+110k)
Rihanna – 25.3m monthly listeners (+9k)
Coldplay – 25.06m monthly listeners (-)
Shawn Mendes – 24.41m monthly listeners (-)
Bebe Rexha – 23.08m monthly listeners (-)
Twenty One Pilots – 22.29m monthly listeners (-)
Rae Sremmurd – 21.37m monthly listeners (+ 380k)
Martin Garrix – 21.04m monthly listeners (-)

Kanye West – 20.06m monthly listeners (+29k)
Adele – 19.90 monthly listeners (+51k)
Justin Bieber – 19.41m monthly listeners (+93k)
Wiz Khalifa – 19.13m monthly listeners
Justin Timberlake – 18.88m monthly listeners (-)
Imagine Dragons – 18.47m monthly listeners (-)
Zara Larsson – 18.45m monthly listeners (-)
Jonas Blue – 18.31m monthly listeners (-)
Music Business Worldwide