So how much did Apple Music's two-week exclusive of Drake's Views really hurt Spotify?
We know that the album smashed all-time US streaming records on Apple's platform alone, as well as becoming the most-streamed UK No.1 album in history.
But now Spotify's got its hands on the record – and the platform's definitely making up for lost time.
Views finally arrived on Spotify on Friday (May 13), and in the days that have followed Drake has become the most streamed artist of all time on the platform.
Yes, of all time.
According to music data tracking website Kworb, Drake has now notched up 3.185 billion total lifetime streams on Spotify.
Views has been available to stream on Spotify for just five days, but it's been enough to take Drake ahead of the service's previous all-time top artist, Justin Bieber, by around 10 million plays.
Bieber sits in second place with 3.176bn streams, while Ed Sheeran claims third spot with 2.154bn.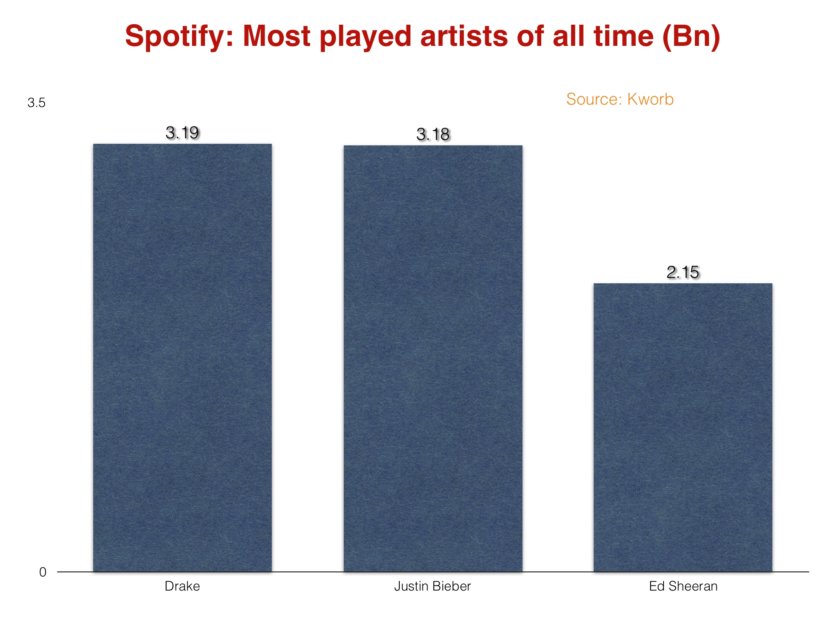 And that's not Drake's only victory on Spotify this week.
The Canadian superstar has finally overtaken Rihanna to become the service's most popular artist of the past month, too.
Drake currently has 33.7m monthly active listeners on Spotify – over a third of its total user base.
London is his most popular city, followed by Los Angeles, Mexico City, Brooklyn and Manhattan.
Bieber has 27.5m monthly active listeners (3rd in the world) and Rihanna takes second place on that leaderboard with 31.9m.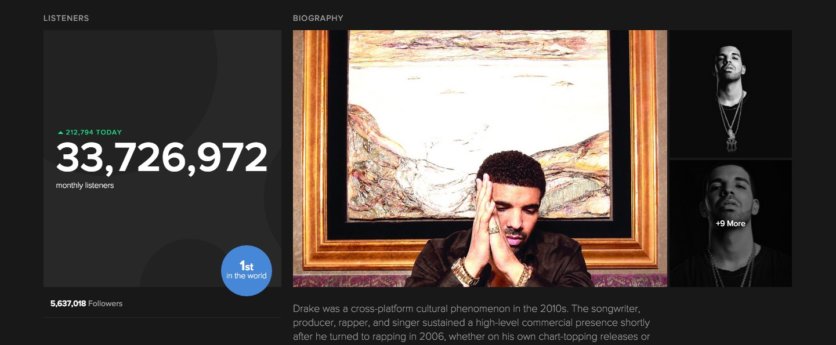 The first single from Views, One Dance, is currently No.1 on Spotify's Global Top 50, with nearly 6.5m daily plays.
In the first week of its release, Views set the all-time record for weekly album streams with 247m in the US and 23m in Canada on Apple Music alone, according to BuzzAngle.
Music Business Worldwide