Spotify published its financial results for Q1 2020 today (April 29), reporting that it had 130m Premium subscribers globally at the end of the quarter (ended March 31).
That was up by 6m subscribers vs. the end of the prior quarter, in Q4 2019, and up by 30m (+31%) year-on-year.
The most important point about that 6m subs growth? It was – despite widespread industry concern surrounding a potential COVID-19-driven subs slowdown – completely as expected. In fact, in good news for the entire music rightsholder landscape, it was actually on the optimistic side of what Spotify forecast.
Spotify's guidance in the pre-COVID prior quarter suggested that the company would hit between 126m and 131m subscribers in Q1. At 130m, SPOT sailed into that zone.
Spotify's total revenue in Q1 2020 was €1.85bn, up 22% YoY, while premium revenue grew 23% YoY to €1.70bn.
Again, these figures were on track: in its prior guidance, Spotify suggested its total Q1 revenues would come in between €1.71bn and €1.91bn.
Spotify's total monthly active users (MAUs), including subscribers plus free/ad-supported users, hit 286m in Q1 2020, up by 15m quarter-on-quarter and by 69m (+31%) year-on-year.
Once again, this was as expected: Spotify's prior guidance suggested it would hit somewhere between  279m and 289m MAUs in Q1.
---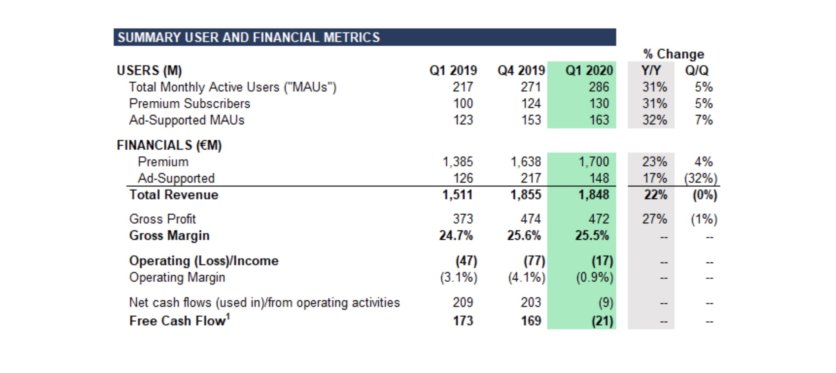 ---
In an important update to investors on the impact of COVID-19 today, Spotify said: "Beginning in late February, we saw some impact to our business. While MAUs and Subs remained in line with our forecast and held steady, in hard hit markets like Italy and Spain, we saw a notable decline in Daily Active Users and consumption."
However, the firm added that, in the last few weeks, "we've seen listening start to rebound, and in many markets, consumption has meaningfully recovered".
"In fact, both new and reactivated MAUs grew substantially even during lockdown periods in major markets."
It continued: "[When] we saw consumption starting to decline we would have assumed that MAUs and Paid Subscribers would be negatively impacted, but that wasn't the case.
"In fact, both new and reactivated MAUs grew substantially even during lockdown periods in major markets."
---
One area, as many expected, where the COVID-19 pandemic has negatively hit Spotify is in its advertising business.
SPOT's ad-Supported revenues in Q1 2020 (€148m) grew 17% YoY at the company, but declined heavily quarter-on-quarter, down by 32% on the €217m posted in Q4 2019.
The firm said its Q1 ad revenues "fell short of expectations as a result of impacts from COVID-19, particularly [in] the last three weeks of the quarter".
Spotify's premium monthly ARPU in Q1 2020 was down 6% year-on-year to €4.42 – a number record labels are unlikely to love. This figure was down even more, 7%, excluding the impact from FX rates.
Spotify explained: "A significant portion of this [ARPU] decline was driven by the continuation of longer free trials rolling over from Q4 and additional intake during Q1. Excluding the impact of Trials & Campaigns, ARPU would have declined 4% Y/Y as a result of continued mix shifts in product and geography."
---
Spotify's operating expenses totaled €489m in Q1, an increase of 16% from Q1 2019, which was was "short of our plan" according to Spotify.
It added: ""The cost of Share Based Compensation, both from the social charges as a result of share price movements and lower than expected grants of new equity, was the largest driver of the variance to forecast this quarter."
SPOT posted a €17m operating loss in Q1, though thanks to a boost in finance-related income, it actually posted a €1m net profit in the quarter.
---

---
In its specific note on COVID-19's impact in Q1, Spotify continued: "Not surprisingly, we have seen usage in Car, Wearable, and Web platforms drop (double digits in some instances). However, the audience through TV and Game Consoles has grown materially, in excess of 50% over the same time period.
"In fact, for Ad-Supported MAU in the US, game consoles have been a top 2 or 3 platform in terms of consumption for the better part of the month, and connected device usage generally is up more than 40% among Ad-Supported users globally."
It added: "The past few months have only strengthened our belief in the Freemium model. As mentioned, we have seen strong growth in users, both new and returning. Historically, over 60% of our Premium users start as Ad-Supported users, so continuing to grow the top of the funnel is very healthy for our ecosystem. We also know that roughly 70% of churned users are back with Spotify within 45 days of leaving, which includes coming back through either our Premium or Ad-Supported experience.
"While our sincere hope is for some sense of "normalcy" to return to people's lives as quickly as possible, we do believe our model is uniquely positioned to not just weather this storm, but to come out the other side even stronger."
Spotify's new guidance suggests that the company will end 2020 with between 328m and 348m Monthly Active Users, as well as 143m to 153m Premium subscribers.
These numbers remain unchanged from Spotify's previous guidance. The only piece of FY guidance that has changed as a result of COVID-19 – and its impact on ad revenues – is Spotify's projected revenues.
The company now expected to end 2020 with annual revenues between €7.65bn and €8.05bn, down from its prior forecast of €8.08bn to €8.48bn.Music Business Worldwide