The volume of subscription streams on the likes of Spotify and Apple Music jumped by more than 69% in the US during the first half of this year to 141.3bn – dramatically outperforming the number of online music video streams in the same period.
According to trusted market monitor BuzzAngle, US-based music streams on online video services such as YouTube grew by just 6.1% to 101.5bn in H1 2017, some 39.8bn behind the total play count of on-demand subscription audio platforms.
The 69.3% mid-year increase in US subscription streams was a comfortably bigger leap than that seen on ad-funded audio platforms such as Spotify's 'free' tier.
These ad-supported audio services hosted 38.5bn on-demand streams in H1 2017, up 28.4% year-on-year.
Combined, ad-funded and subscription audio platforms attracted 179.8bn on-demand streams in the Jan-June period, up 58.5% on the same period of 2016.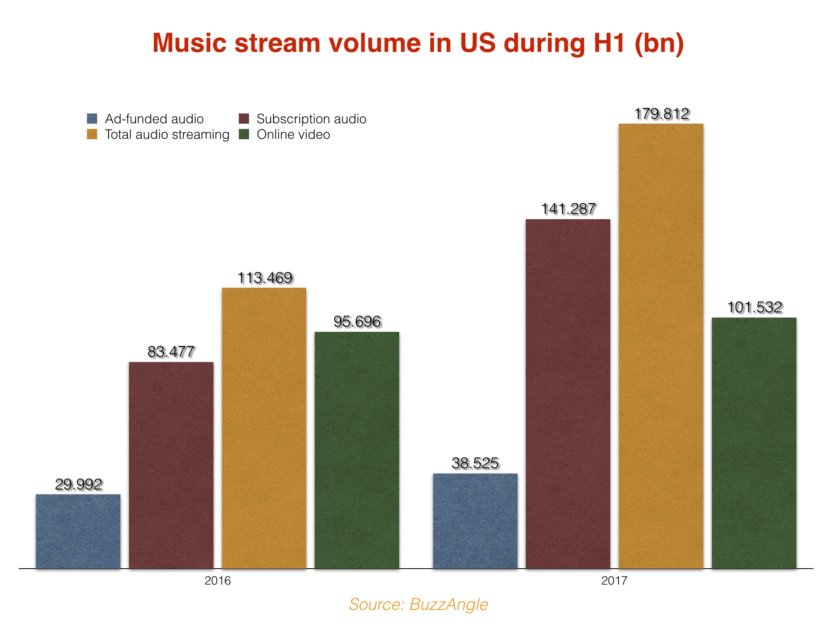 ---
Overall, audio streams took a 64% share of all on-demand music plays in the six months, with video streams on 36%. In the same period of 2016, video claimed a 46% share.
There's a slight caveat, however: starting in the third quarter of 2016, YouTube stopped reporting stream counts to BuzzAngle for songs that didn't exceed 1,000 plays per day.
It's difficult to tell quite what impact this move had on results, but it wasn't likely to be greatly significant: back in H1 2016, before this change took place, total US audio streams already outperformed total music video streams by more than 17bn plays.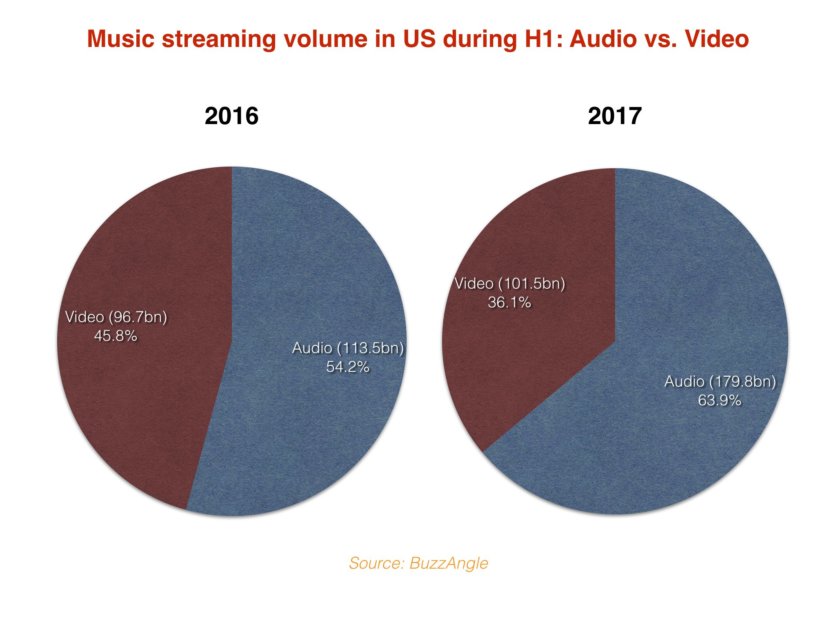 ---
Meanwhile, total single-track downloads in H1 2017 fell significantly yet again, down by 23.8% to 313.3m.
Although BuzzAngle doesn't supply revenue figures from the US market (those are still to come from the RIAA), past patterns suggest monetary figures will follow a similar percentage drop.
Total US album sales across physical and digital formats (not including 'equivalents') fell 13.9% to 74.1m in the six months.
Within that figure, digital album sales dropped by 24.3% to 34.5m, while physical album sales dipped by just 2.1% to 39.6m.
CD sales were down 3.9% to 37.4m, while vinyl album sales grew 20.4% to 3m.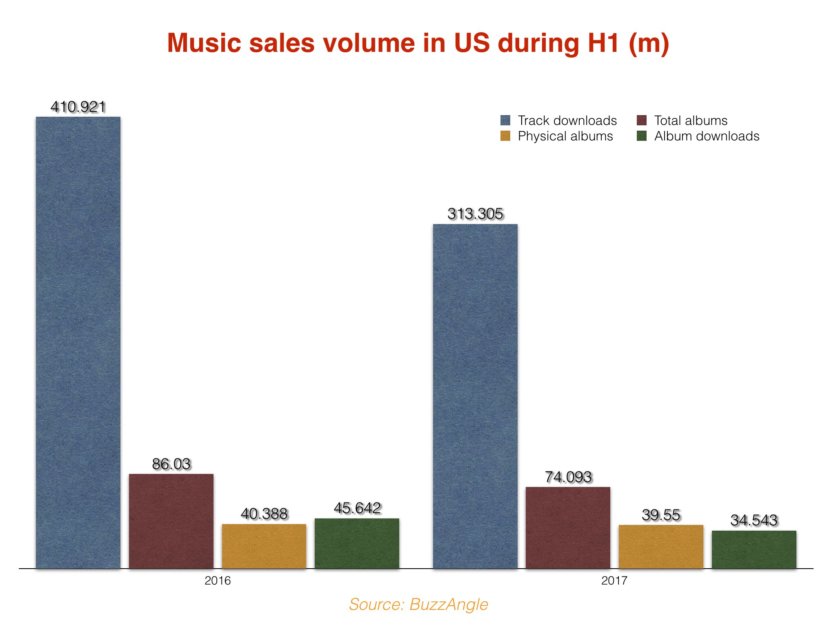 ---
According to BuzzAngle's report (which you can download through here), hip-hop was the biggest genre in the US during the period, claiming 20.6% of 'album project' consumption across physical sales, track downloads and streaming.
(BuzzAngle defines an 'album project' as either a full album sale, ten track downloads or 1,500 online audio or video streams from an LP.)
On streaming services, hip-hop's share of plays was as high as 24.4% – followed by pop on 12.8%.
The biggest album across total 'project/consumption' metrics was Ed Sheeran's Divide, ahead of DAMN. by Kendrick Lamar (No.2) and More Life by Drake (No.3).
The biggest track on streaming services was Bad and Boujee by Migos (pictured), which was played 711.3m times – 271.5m on audio services and 439.8m on video platforms.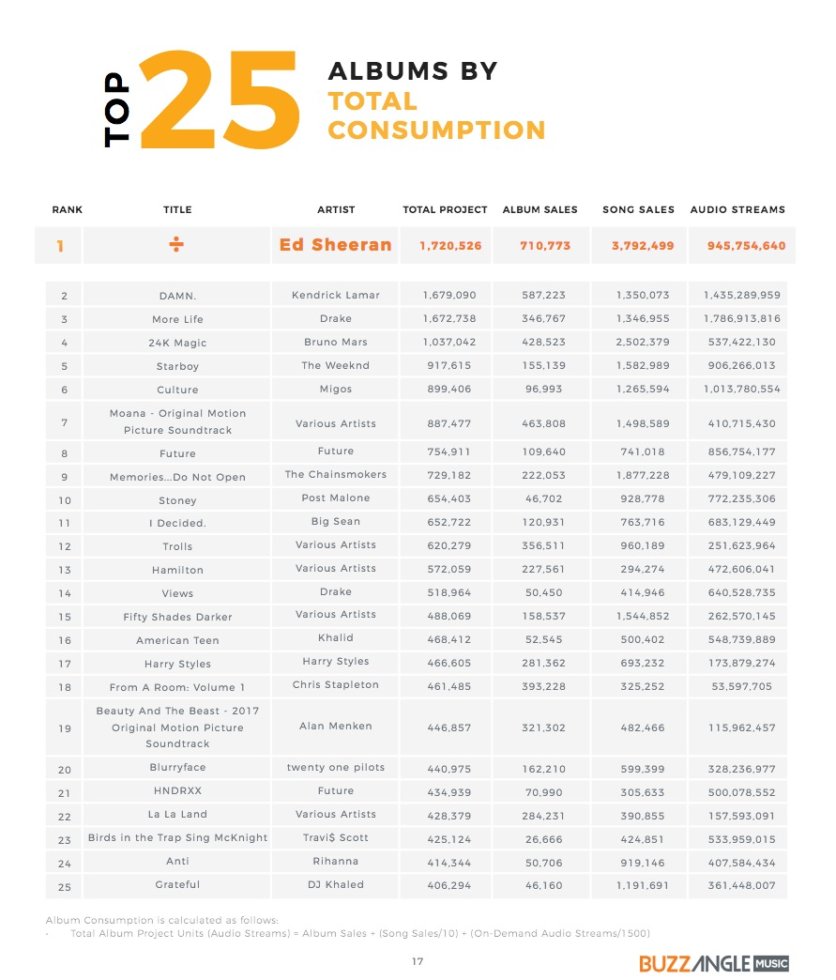 Music Business Worldwide