The global digital advertising slowdown that took hold in 2022 continued to be a drag on YouTube's ad revenue in Q1 2023 (ended March 31).
However, YouTube parent company Alphabet saw significant growth in subscribers in the period – including for its music streaming service, YouTube Music.
In its latest earnings report, released Tuesday (April 25), Alphabet reported YouTube ad revenue of USD $6.69 billion, down 2.5% YoY from Q1 2022, when revenue came in at $6.87 billion.
This marks the third straight quarter that YouTube ad revenues have fallen YoY, although this quarter's numbers slightly beat analysts' expectations of $6.6 billion, as compiled by FactSet.
As recently as a year ago – that is, Q1 2022 – Alphabet was reporting double-digit growth in YouTube ad revenues.
---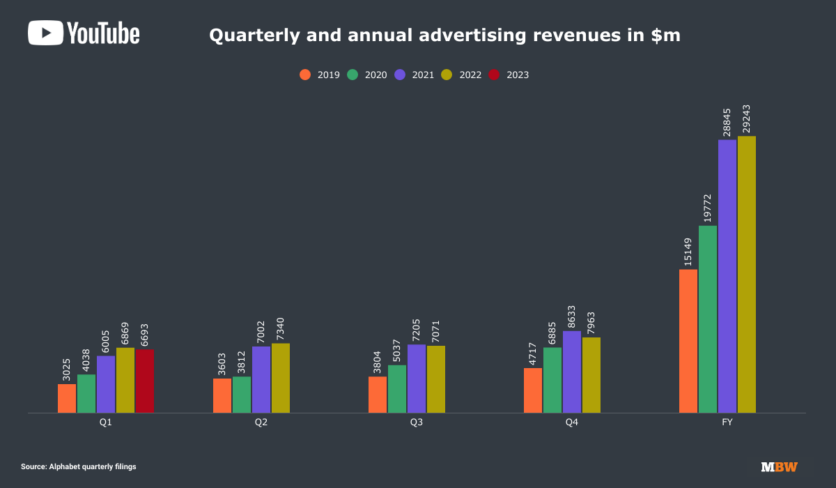 ---
Yet while YouTube lost ad revenue in Q1 2023, it gained revenue from paid subscriptions.
Alphabet's "Google Other" category, which includes YouTube TV, YouTube Music and YouTube Premium , saw revenues rise 9% YoY, from $6.81 billion in Q1 2022 to $7.41 billion in Q1 2023.
"We are pleased with the significant ongoing subscriber growth in both YouTube Music Premium and YouTube TV," Alphabet CFO Ruth Porat said on Alphabet's earnings call Tuesday.
She added that YouTube "saw signs of stabilization in ad spend" over the quarter, a phrase repeated by other Alphabet execs on the call, though without elaboration.
The number of YouTube Music and YouTube Premium subscriptions reached 80 million towards the end of last year, an increase of 30 million from just 13 months earlier. Alphabet didn't release any updated subscriber figures in its latest earnings report.
"More than 100,000 creators, artists and brands have connected their own stores to their YouTube channels to sell their products. We're excited about the potential ahead."

Phillip Schindler, Alphabet
Besides the success of its subscriber-driven model, Alphabet is looking to monetize YouTube in other ways, including through YouTube Shopping, which lets content creators promote their own products or stores through videos and livestreams.
"Last year, we brought shopping to more creators and brands by partnering with commerce platforms like Shopify," Alphabet's SVP and Chief Business Officer, Phillip Schindler, said on the earnings call.
"Now more than 100,000 creators, artists and brands have connected their own stores to their YouTube channels to sell their products. We're excited about the potential ahead," he said, adding the caveat that it's "still super early days" for YouTube Shopping.
YouTube has also focused intensely on "Shorts," videos under one minute long that it has been nudging creators to produce. It's a move that many observers say is YouTube's response to the rising popularity of short-video platform TikTok.
Alphabet is "encouraged by progress in monetization" of Shorts, Porat said on Tuesday's call.
The worldwide slump in ad revenues, which analysts have struggled to explain, took hold in the second half of 2022, and many market experts today say they don't see a recovery happening this year.
Despite the ad revenue decline, Alphabet overall posted upbeat numbers for Q1 that beat analysts' expectations. Net income for the quarter came in at $1.17 per share, beating expectations of $1.07 per share. Revenue came in at $69.79 billion, a 3% YoY increase and about $1 billion more than analysts had forecast.
Former YouTube CEO Susan Wojcicki exited her role at the company in February and was succeeded by Neal Mohan, who had previously been YouTube's chief product officer.Music Business Worldwide