YouTube's parent company Alphabet recently published its financial results for Q1 2022 (ended March 31), including revenues generated by the video platform's ads business.
YouTube's advertising revenues reached $6.87 billion in Q1 2022, up 14% versus the same quarter in 2021.
Alphabet generated total revenues of $68 billion in Q1 2022, up 23%, or up 26% in constant currency.
YouTube generated $6.005 billion in Q1 2021, up 49% YoY, which means that YouTube's latest ad revenue growth slowed significantly year-on-year.
Average estimates by analysts forecast the platform's ads business to grow at roughly 25% YoY in Q1 to around $7.4 billion.
---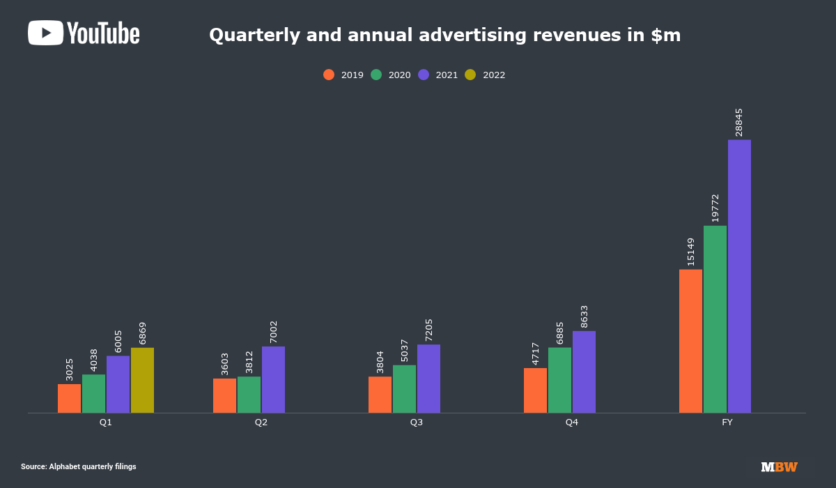 ---
In spite of missing analyst's expectations for its Q1 revenue haul, when compared to other recently published financial results by prominent streaming services, the value of YouTube's ads business in Q1 is something to behold.
Last month (April 27), Spotify revealed in its Q1 results that it generated revenue of €2.661 billion ($2.98bn) across its entire business during the quarter (Premium subscriber revenues and ad revenues included), which was up 19% year-on-year on a constant currency basis.
Obviously enough, at $6.87 billion, YouTube generated more than double from advertising than what Spotify – which now has 182 million global subscribers – made across its entire business in Q1.
Parent company Alphabet didn't specify what YouTube generated from it's subscriber base in Q1, but CFO Ruth Porat stated during the firm's earnings call that the video platform saw "substantial growth in YouTube non-advertising revenues driven by subscriber growth in YouTube Music and Premium and YouTube TV".
YouTubes Global Head of Music Lyor Cohen has previously claimed that YouTube Music is "the fastest growing subscription service out there".
YouTube/Google

"YouTube has seen significant growth and has become a central destination for entertainment."

Sundar Pichai, Alphabet
Speaking during the company's earnings call, Alphabet and Google CEO Sundar Pichai claimed that YouTube "has seen significant growth and has become a central destination for entertainment, learning and educational content" over the past two years.
Pichai also revealed that YouTube's TikTok rival Shorts is now averaging over 30 billion daily views, which, he reports, is four times as much as what it was seeing a year ago.
YouTube's total advertising revenue across the 12 months of 2021 amounted to $28.84 billion.
Sundar Pichai, CEO of Alphabet and Google, said: "Q1 saw strong growth in Search and Cloud, in particular, which are both helping people and businesses as the digital transformation continues.
"We'll keep investing in great products and services, and creating opportunities for partners and local communities around the world."
Ruth Porat, CFO of Alphabet and Google, added: "We are pleased with Q1 revenue growth of 23% year over year.
"We continue to make considered investments in Capex, R&D and talent to support long-term value creation for all stakeholders."Music Business Worldwide