Yesterday, MBW ran the data on Spotify's Global Top 200 chart – in addition to industry-wide US streaming numbers – to show how last week was, by and large, a positive one for the music business, even amid the beginnings of Coronavirus-related lockdown worldwide.
At first glance, there appears to be less good news for record labels in Spotify's chart week (to end of today, March 19). But there's also very good reason for those same labels not to be too concerned about it (which we'll come back to).
MBW now has data for the first six days of the current chart week (to end of Wednesday, March 18) from Spotify's global Top 200.
Cumulative global streams of Spotify's 200 chart in this time, according to our calculations, stood at 1.56bn.
That's an average of 259m streams per day, which allows us to confidently forecast a full-week tally (from Friday, March 13 to end of Thursday, March 19) of 1.81bn.
If a seven-day tally in this ballpark comes to pass – and all indications suggest it should – it will represent a week-on-week fall of 11.4% globally for Spotify's cumulative Top 200 chart streams.
---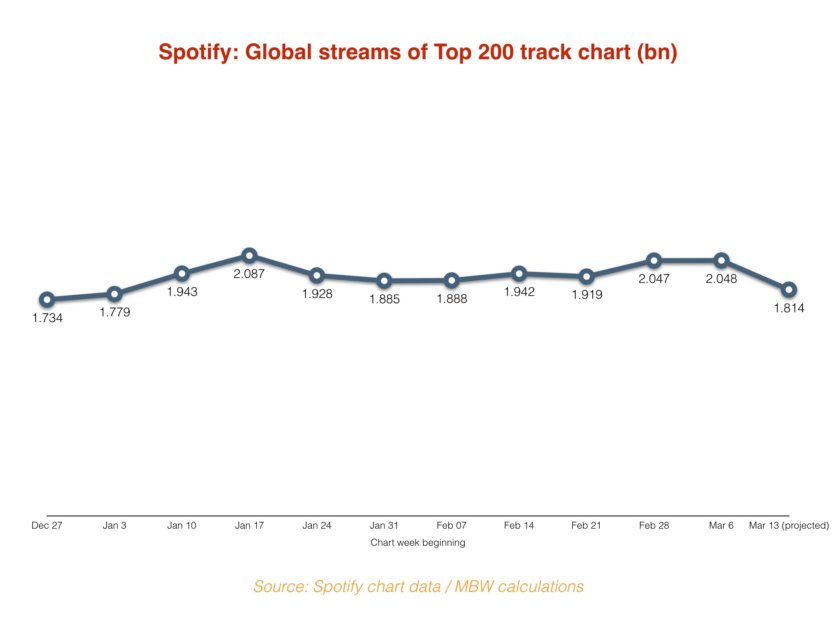 ---

Obviously, in a world where many people are self-isolating and/or 'social distancing', this trend flies in the face of the idea that music streaming might see a Coronavirus 'lockdown bump' from consumers spending more time at home.
Looking specifically at Italy sheds more light on this topic, as noted in this (rather doom-laden) piece by Quartz.
Below, you can see the week-by-week Spotify Top 200 chart streams in Italy, including an MBW forecast of where those streams will get to in this chart week (to end of this evening).
We're predicting a 13.1% decline in Spotify Top 200 streams in Italy for this week vs. last week; in turn, last week's total was down 9.3% on the prior seven days.
Worth remembering: Italy's prime minister announced a national quarantine on March 9, midway through the penultimate chart week in our chart.
---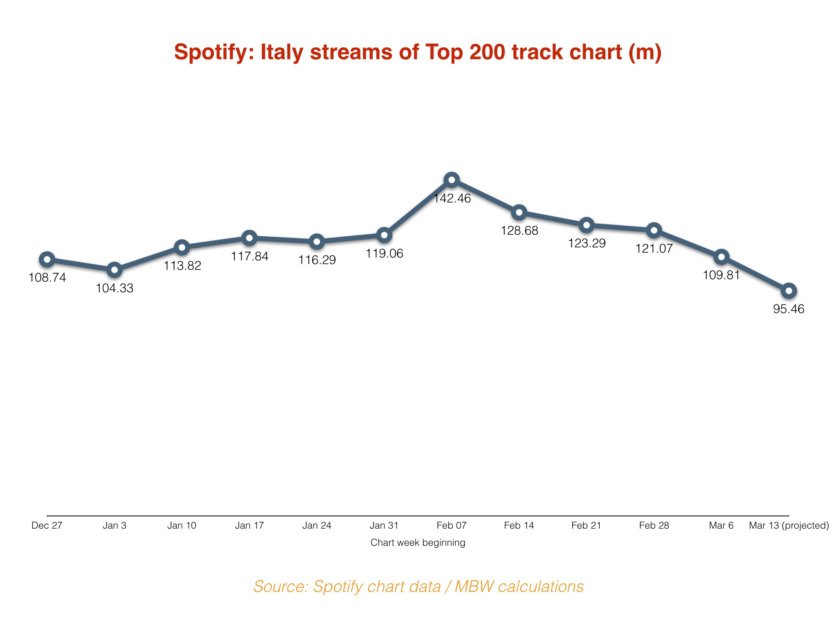 ---
The above graph, at first glance, makes for unhappy reading for the record business, then.
It suggests that hopes of a Coronavirus streaming 'lockdown bump' were unfounded – while also hinting that a populous staying at home, rather than commuting / at the gym / in the car etc. is actually predisposed to streaming less, rather than more, music.
Drawing such over-simplified conclusions, however, would be misleading.
These week-on-week percentage falls in Italy, it should be remembered, are relatively tiny in global terms; the difference between Italy's cumulative Spotify Top 200 plays last week versus our projection for this week is 14 million plays.
Much more importantly, there are some huge caveats to remember here – not least the general sleepiness of the global blockbuster release schedule in music right now.
---

On a global basis, the chart week a fortnight ago (starting Friday, March 6) saw the release of precisely one truly blockbuster streaming album: Lil Uzi Vert's Eternal Atake, which landed at No.1 on the Rolling Stone chart in the US with over 350m weekly streams in the market.
As a result, Lil Uzi Vert scored four new entries in the Top 20 of Spotify's global chart on release day: Pop (No.19), Silly Watch (No.15), Lo Mein (No.11) and Baby Pluto (No.6, see below).
Yet, other than tracks from Eternal Atake, new entries on Spotify's worldwide Top 200 on Friday, March 6 were minimal; the highest was at No.38: Demi Lovato's I Love Me.
---
---
In the current chart week (starting March 13), things are even quieter. The biggest new release is (slightly confusingly) another Lil Uzi Vert record, the mixtape Lil Uzi Vert vs The World 2.
On its release day (Friday, March 13), Lil Uzi Vert vs The World 2. scored just one entry in the Top 20 of Spotify's global Top 200 – Myron, at No.14 (see below).
Highlighting the lack of record industry activity right now, Myron was also the highest new entry on the Spotify global chart from any artist that day.
Indeed, Spotify's daily chart had just four new entries in its entire global Top 50 last Friday… all of which were from Lil Uzi Vert vs The World 2.
---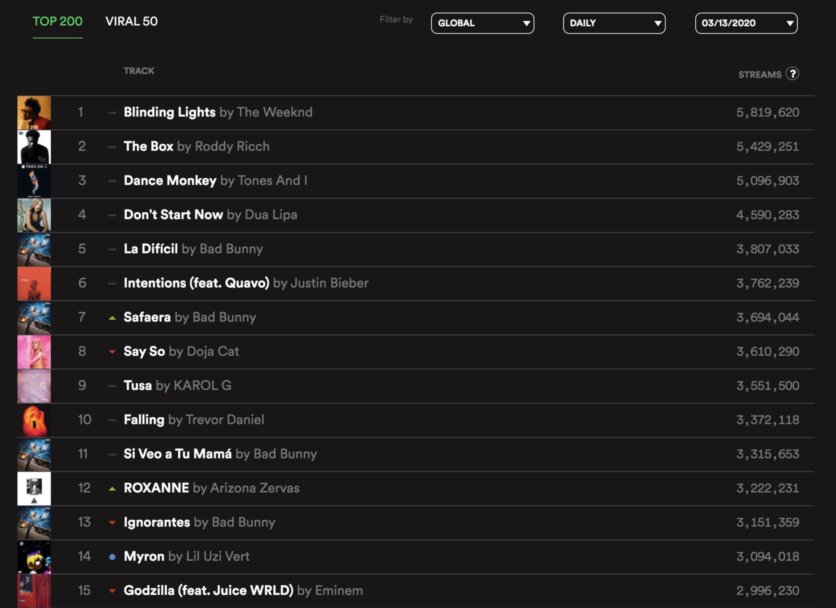 ---
Tomorrow (Friday, March 20) will be a very different story, when the Weeknd's After Hours – the Canadian megastar's first album since the huge streaming hit Starboy in November 2016 – is released.
Spotify's chart database doesn't go back as far as Starboy's release date, but let's just remind ourselves what SPOT's global Top 200 chart looks like when a truly blockbuster album is made available.
Here's how the Top 15 of the Spotify global Top 200 chart was transformed on September 6, 2019, when Post Malone – The Weeknd's fellow Republic-signed superstar – released his latest album, Hollywood's Bleeding.
---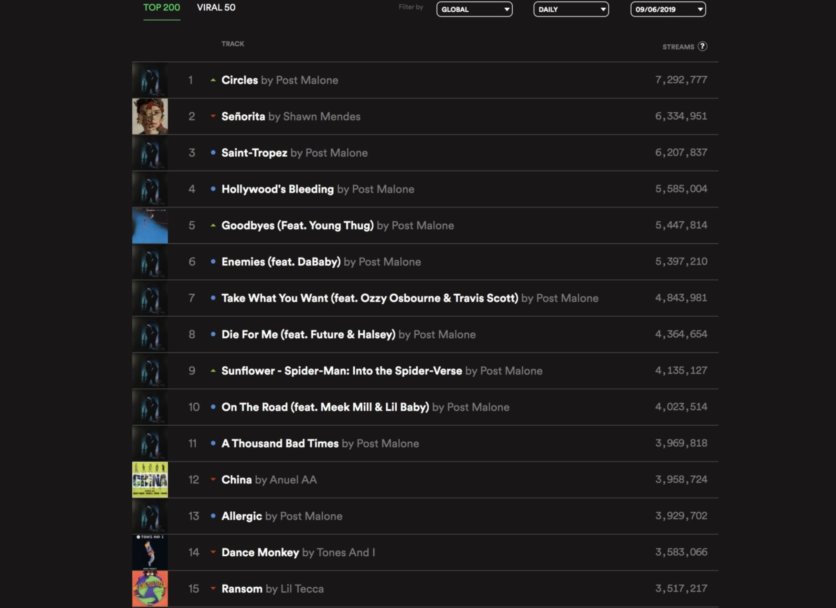 ---
Expect The Weeknd to dominate similarly, and those global Spotify Top 200 weekly streams to shoot up once again.
(While we're in 'everything's still great, honestly' mode, Italy's Spotify chart on the last industry release day, March 13, saw one – one! – new entry in its entire Top 50, Trip by Nicola Siciliano feat. Nayt, at No.44. So the fact Spotify chart plays in the market are suffering this week may have less to do with Coronavirus and more to do with the fact that… erm, hardly any new music is charting.)
---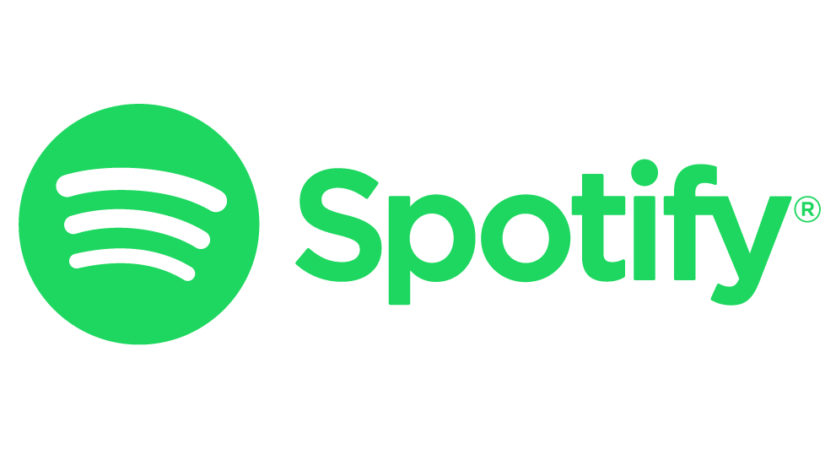 Another very important point here: Spotify's Top 200 chart is an indicator of just that – the 200 biggest songs on the platform at any given time.
What it doesn't show is how all of the other 50 million-plus tracks on Spotify, where the bulk of the platform's streaming activity actually takes place, are performing.
A quiet blockbuster release week like the one we're seeing right now can, therefore, have a major negative impact week-on-week on these rankings, which doesn't apply across all activity on Spotify.
Some even suggest that the real Coronavirus 'lockdown bump' may be taking place across evergreen catalog songs (outside the Spotify Top 200) that bring comfort and familiarity to us during uncertain times.
Interesting, then, to see catalog tracks such as Perfect and Shape Of You by Ed Sheeran (No.162 and No.136 respectively) plus Bohemian Rhapsody by Queen (No.130) are all rising on Spotify's global chart right now.
Plus, the record industry won't be sweating any dip in Spotify streams from paying subscribers – labels and artists will still be paid a share of this 'big pot' of revenue based on their proportion of monthly paid-for streams.
All of that being true, the leading players in video media, rather than audio media, are enjoying much clearer signs of a Coronavirus 'lockdown bump' as you read this.
Earlier today (March 19), the European Union called on the likes of Netflix and YouTube to stop showing video in HD – because their services might literally break the internet breaking due to unprecedented usage.
Netflix's stock price, at the time of writing, is up over 9% on the NASDAQ.
[Pictured: Anna Pepe aka ANNA, the rapper behind Italy's No.1 song on Spotify at the moment, Bando.]Music Business Worldwide