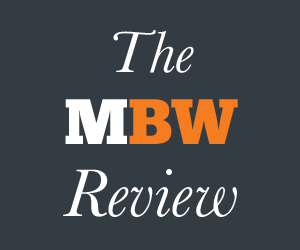 The MBW Review offers our take on some of the music biz's biggest recent goings-on. This time, MBW moves our attention away from the troubles of the live industry, and considers how the Coronavirus pandemic is affecting the music streaming world. The MBW Review is supported by Instrumental.
---
Yep, it's miserable and unsettling out there.
Unsettling from a human perspective, as the global case count of you-know-what keeps ticking upwards. And miserable from a music business perspective – with a raft of shows and festivals (including Coachella, Glastonbury, Bonnaroo and the Eurovision Song Contest) now officially postponed and/or cancelled, as Amazon blocks trade orders of CD and vinyl in order to prioritize essential household goods.
The live music business is obviously in particular turmoil, and warrants special industry-wide support in testing times. (The difficulties of Live Nation and its competitors, of course, don't only have negative knock-on effects on investors and employees – but also agents, songwriters, managers, contractors and, most of all, artists themselves.)
But there has to be some sunlight beyond the storm-clouds, right? Everything can't just stop.
Well, kinda.
There is a strong belief out there that, despite a limited number of blockbuster new releases set in stone for the coming weeks, the entertainment streaming economy will be insulated – and even benefit – from a world where most of us are self-isolating, or at least practising 'social distancing'.
That's essentially the hypotheses of a new Nielsen report, focusing on visual media, which suggests that the "novel coronavirus (COVID-19) is bound to affect media consumption habits", before noting that "staying put in our homes can lead to almost a 60% increase in the amount of content we watch".
---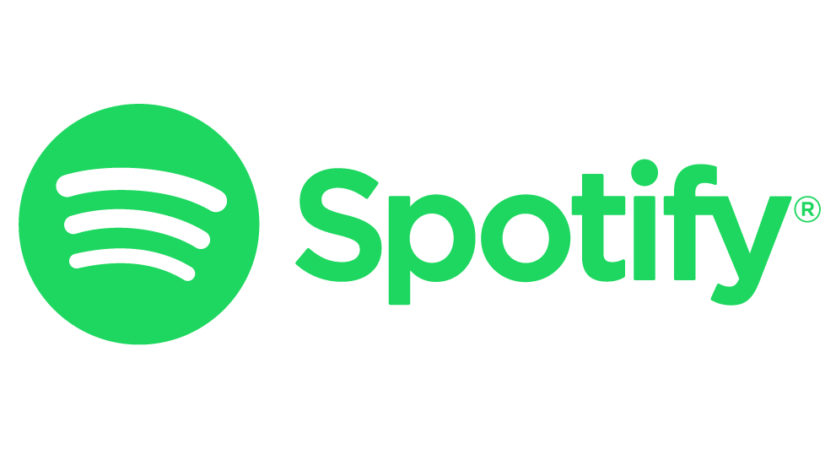 Will that presumption be mirrored in terms of audio streaming volume? Or will a reduction in listening activity on commutes, in cars and at desks deplete this tally?
MBW has crunched public-facing data from Spotify to see how worldwide consumption is moving on the platform to give us a clue.
To do this, we've run calculations on the total number of streams within Spotify's weekly Top 200 global chart.
This isn't a perfect source of data (for one thing, Spotify discounts streams as non-chart-eligible if a user plays a track too many times within 24 hours), but it's a strong indicator of user behavior.
And, in good news, our calculations suggest that the last chart week (from Friday, March 6 to end of Thursday, March 12) was the biggest on Spotify for nearly two months – and the second biggest of 2020 so far.
There were 2.05bn chart-eligible streams of the Top 200 in the week, according to Spotify's data.
Interestingly, that chart week saw few blockbuster album releases, aside from Lil Uzi Vert's Eternal Atake, which landed at No.1 on the Rolling Stone chart in the US with over 350m local weekly streams in the market.
The biggest streaming hit on Spotify globally in the week was Blinding Lights by The Weeknd on 41.1m plays, followed by The Box by Roddy Ricch on 37.5m plays.
Spotify's biggest chart streaming week of 2020 so far was the week beginning Jan 17, in which Dance Monkey by Tones & I was the biggest hit – racking up 50.4m global weekly plays – ahead of Roddy Ricch's The Box on 48.9m plays.
---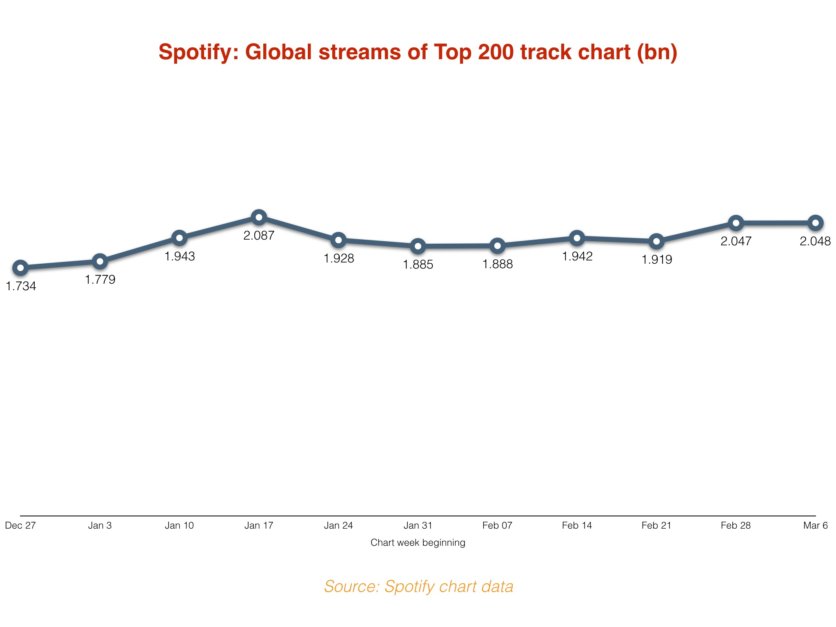 ---
The current chart week (ending tomorrow, Thurs, March 19) is, in many ways, the most crucial of the year in terms of predicting the recorded music industry's near-term future. Consumers are, after all, now largely housebound (whether by government or employer decree) across the US, UK, Europe, Asia-Pacific and beyond.
MBW has also run the data on the first five days of Spotify's Top 200 global chart in this chart week (Friday, March 13 – Tuesday 17). This five-day period saw the charts' cumulative volume of global streams hit 1.31bn plays.
That represents an average per-day playcount of 262m plays – suggesting that Spotify's current chart week will end with around 1.83bn plays.
Obviously, that's not in the realm of the biggest weeks in the chart above; indeed, it would be the third smallest chart week of 2020 on Spotify.
But it's an important reminder that, even if the record industry is considering a COVID-19-driven slowdown in blockbuster music releases, the level of streams of its catalog aren't going anywhere. Neither, of course, are the related royalties: even amongst just the Top 200 tracks on Spotify, that 1.83bn playcount last week would have seen around $8m paid out to the chart's associated labels and artists.
(Don't forget: The Weeknd's new album, After Hours, is out Friday (March 20), and is anticipated to breathe new life into exactly this segment of the market.)
---
It's also worth remembering, of course, than the Top 200 tracks on Spotify make up a minority of the service's total streams, with the comfortable majority of plays taking place outside of these heavy-hitting songs.
With that in mind, the chart below might bring some extra cheer to the music business. It shows overall audio on-demand streaming volume, week-on-week, in the United States, according to BuzzAngle/Alpha Data – which takes into account plays across Spotify, Apple Music, Amazon Music, YouTube Music (audio) and Pandora, amongst others.
As you can see, last week (chart week beginning March 6) saw a fall in total streams, but the prior week – chart week beginning February 28 – was actually the biggest in the United States this year.
Last week's tally (15.187bn plays) was still the third biggest stream tally of 2020 so far, and is expected to have generated somewhere in the region of $70m for labels and artists.
---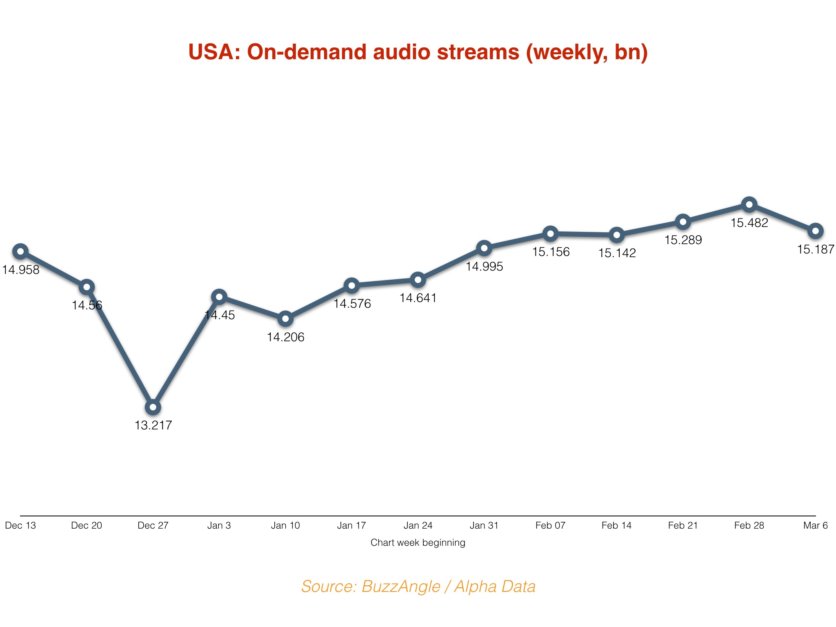 ---
All eyes now, of course, turn to whether this week (chart week beginning March 13) can keep the volume count (and the payout rate) high for the global recorded music business.
Even with a dip, labels should count themselves lucky not to be in the same situation as live music promoters – not to mention managers of artists whose income relies on concerts and festivals – who now face a financial washout of a summer.
(I mean, genuinely, at this point, it's just nice to see a commercial music industry graph that doesn't fall off a cliff after the start of March, right?)
---
Another reason for record labels to count their blessings: yesterday, Tencent Holdings Ltd, the company set to acquire 10% of Universal Music Group for over $3bn, announced its full-year earnings for 2019.
The firm turned over a gigantic $53.5bn last year, with an annual net income of $13.6bn.
Yet most interesting to the music industry was Tencent's insistence that, alongside some ad-revenue pain, the short-term impact of the Coronavirus on its business will actually offer some positives. Not least: 'digital entertainment', in which Tencent – which operates in video games, video and other entertainment industries as well as music – is now forecasting "increased time spent and consumption when people stay at home" (see below, from its Q4 presentation to investors).
---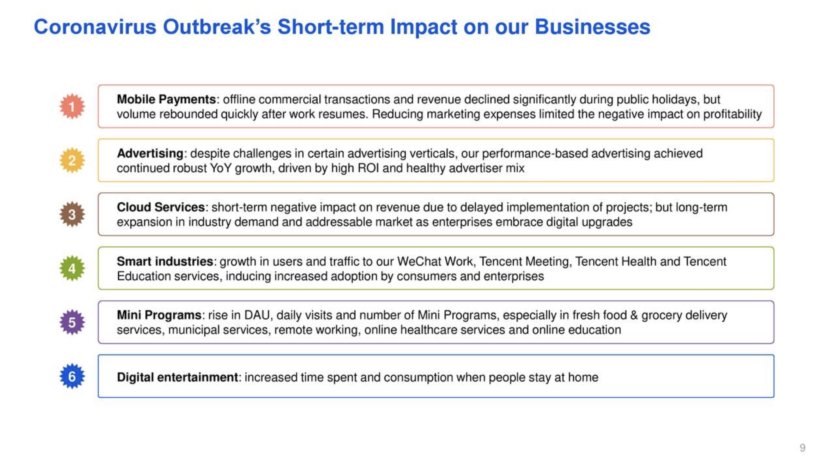 ---
This point was echoed by Tencent Music Entertainment (TME) earlier this week.
TME, of course, is majority-owned by Tencent Holdings Ltd, and runs China's biggest digital music services such as QQ Music, Kugou and Kuwo.
Chief Strategy Officer of TME, Tony Yip told investors on Monday (March 16) that the firm expected its music services revenue growth to slow in Q1 2020 versus that seen in Q4 2019 "primarily due to declining sunrise licensing revenue as well as advertising revenues impact from the virus".
However, Yip further explained: "[We] expect [music] subscription revenue, which is our core focus, to continue to see over year growth rate to accelerate in Q1 compared to Q4."
You read that right: despite (assisted by?) the global response to the Coronavirus outbreak, TME expects increases in subscriptions to its music streaming services to accelerate, rather than decelerate, in the first quarter of this year.
This should be music to the ears of record labels and publishers, especially when they juxtapose their world with that of their beleaguered friends in the live industry.
Concluding TME's earnings call on Monday, the firm's CEO, Cussion Pang, summed things up.
He said: "During the period of the Coronavirus epidemic, I wish you and also your family with good health," before adding: "[I offer] understanding that the virus has brought some negative impact to our society, even the global economy – but I'm sure that after [the] bad time is gone, the future is bright."
---

The MBW Review is supported by Instrumental, which powers online scouting for A&R and talent teams within the music industry. Their leading scouting platform applies AI processes to Spotify and social data to unearth the fastest growing artists and tracks each day. Get in touch with the Instrumental team to find out how they can help power your scouting efforts.Music Business Worldwide