The MBW Review offers our take on some of the music biz's biggest recent goings-on. This time, we crunch the numbers of Apple Music's latest revelation that it's hit 40m subscribers, plus Amazon Music's recent confident proclamations of its own growth. The MBW Review is supported by FUGA.
---
Spotify has grown accustomed to its domination of music streaming – but how long is it going to last?
In amongst the hubbub of the Swedish company's debut on the New York Stock Exchange last week, an illuminating announcement regarding its arch-rival, Apple Music, was easy to miss.
Last Wednesday (April 4), a supposed Apple insider based in Paris, tweeted an image unofficially 'announcing' that Apple Music had clocked up more than 40 million subscribers worldwide.
On the very same day, Amazon confirmed that its music platform had surpassed "tens of millions" of paying subscribers.
These two pieces of information combine to suggest a couple of things which Daniel Ek may find alarming:
(i) Apple Music alone is now adding subscribers to its service at near-double the rate of Spotify; and (ii) combined, Apple and Amazon could get within touching distance of Spotify's global subscriber base by the end of 2018.
---
First, let's deal with the straight comparison of Spotify and Apple Music.
The 40m announcement regarding Apple Music came less than a month after Eddy Cue (pictured) confirmed that the service had topped 38m paying subscribers – with a further 8m on a free trial.
And it came almost two months to the day that we learned, care of the Wall Street Journal, that Apple Music counted 36m subscribers on its service.
It rather looks like Apple has been keen to tell the world something of late: namely, that its average per-month net addition of subscribers in 2018 has been consistently above 2m.
That's a definite acceleration: prior to the 36m confirmation from the WSJ in February, the last official word out of Apple came from Jimmy Iovine, who said in September 2017 that AM had 30m subscribers.
Conclusion: in Q4 last year, Apple was adding around 1.2m subs per month. Now, it's adding around double that.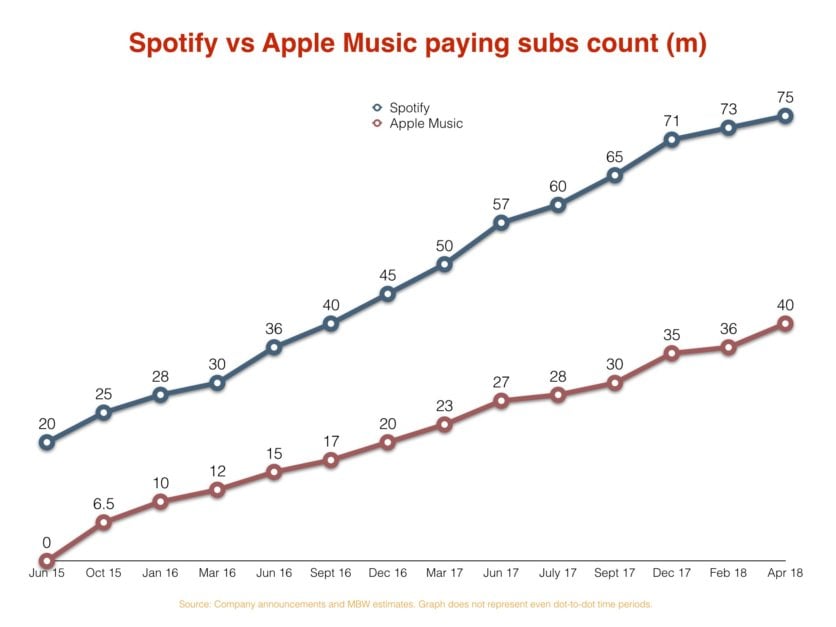 ---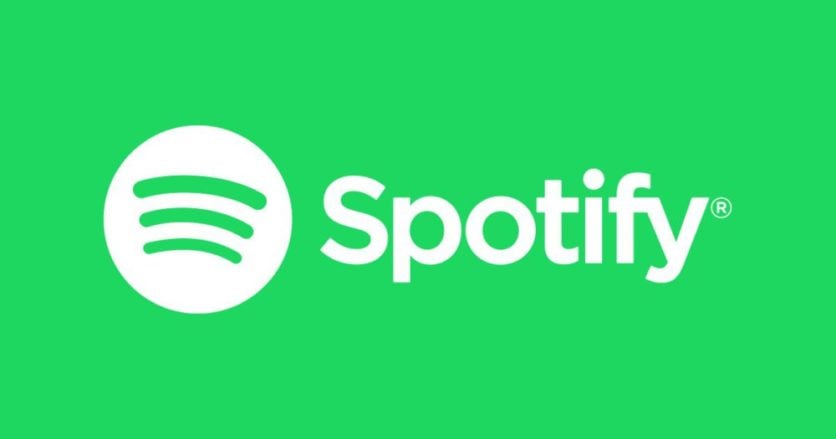 Why could Apple be so keen to plant such numbers in people's heads right now?
Perhaps because Spotify is not keeping up.
In February, as part of the Swedish firm's application to list on the New York Stock Exchange, we learned that it counted 71m paying subscribers at the end of 2017.
Then, according to fiscal guidance handed to its shareholders towards the end of last month, Spotify said that it expected to end Q1 2018 (ie. end of March) with somewhere between 73m and 76m subs.
Going off the mean average there (74.5m), Spotify would have added just 3.5m subscribers in the first three months of this year.
"To be clear: Apple Music's current global growth rate is approximately double that of Spotify's."
In the same time period, Apple appears to have added over 6m subs.
To be clear: Apple Music's current global subscriber growth rate is somewhere approaching double that of Spotify's.
Alongside its Q1 guidance, Spotify also forecast that its year-end subscriber base in 2018 would end up between 92m and 96m subscribers – a mean average of 94m.
Should Apple keep adding subscribers at a rate of 2m+ net per month, it will finish 2018 with over 58m subs.
---

Which brings us on to Amazon Music.
The company is notoriously tight-lipped on its subscriber base number – and remained so the other day when MBW tried to get further clarification on its "tens of millions of subscribers" milestone.
However, there are enough clues for us to take an estimated guess of where the company is, and where it's headed.
"Tens of millions" would, by the virtue of semantics, suggest that Amazon Music is now comfortably above 20m paying streaming subscribers.
Amazon, though, has been quite careful with the wording here: that 20m figure includes both its Music Unlimited subscribers and its Amazon Prime subscribers (Music Unlimited is Amazon's fully on-demand streaming platform – including an Echo-only tier at $3.99-per-month and a full tier at $9.99-per-month. In addition, the firm offers a limited-catalog Prime Music platform, which is free to Amazon Prime members – but a kernel of their subscriptions goes to music rightsholders.)
Recent stats back up the feasibility of 20m+ paying Amazon Music subscribers across these services: Midia Research suggested last year that, in June 2017, Amazon had 16m "commercially active" subscribers across Music Unlimited and Prime Music.
What's more, in an interview with Billboard earlier this month, Amazon Music VP Steve Boom confirmed that the number of paying subs to Amazon Music Unlimited had doubled in the previous six months (presumably Oct '17 – March '18 inclusive).
This increase (again, carefully-worded) does not seem to include Amazon Prime Music subscribers, focusing only on Amazon Music Unlimited, but it's all directionally helpful.
---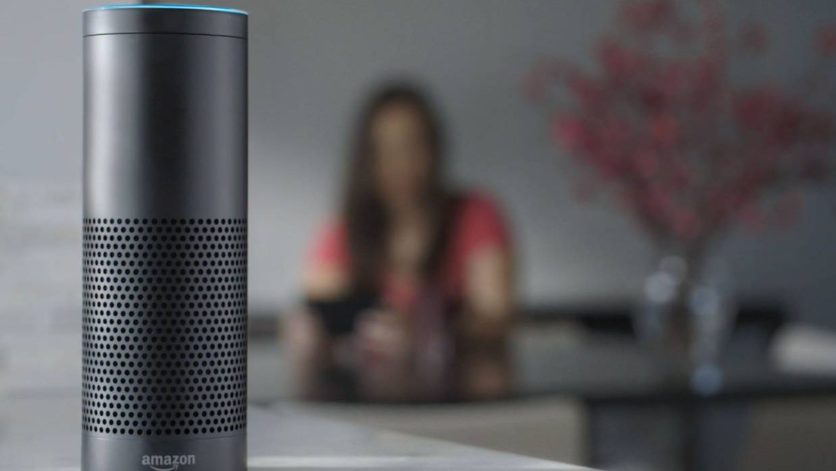 With this level of growth, you'd surely expect the 16m reported by Midia at the end of June 2017 to have surpassed 20m by the end of last year – especially considering that Amazon Music Unlimited landed in 28 new markets in December, including multiple European territories.
Then there's the wealth of Echo devices sold in Q4 last year, which CIRP stats suggest stood at 11m in the US alone. 
Ignoring all of that evidence, though, let's just go with what we know: (i) Midia says that in June 2017, Amazon was at 16m music subs; (ii) the company now suggests it's comfortably above 20m.
A deeply conservative take, then: in the 10 months that followed June last year (ie. to April 2018), Amazon added at least 4m paying subscribers to its music platforms.
That's 400,000 paying subs per month.
Which, if applied to the remaining nine months of 2018, would mean that, by the end of this year, Amazon would have at least 24m paying music subscribers across its platform.
Again, this estimate ignores hugely positive indicators – including Echo sales and Steve Boom's own confirmation that Music Unlimited subs doubled in six months – to present a very conservative forecast.
---

Now for the guessing game.
Remember that Spotify is forecasting that it will end 2018 with between 92m and 96m subscribers.
Combining our extremely conservative Amazon figure (24m) and a more bullish Apple Music figure (58m), gets us to 82m across these two services at the same year-end juncture.
However – and this is a very important point – Spotify's FY2018 subscriber prediction is arguably on the heavy-handed side.
Here's why: by forecasting 73m-76m subs at the end of Q1 2018, Spotify is telling us us that it expects to have added around 1m subscribers per month in the first quarter of this year. (71m at end of Dec '17 up to 74m at end of March '18).
If that trend follows for the rest of the year – and bear in mind that a launch in India is widely expected this summer – Spotify would actually end 2018 with approximately 83m subscribers.
If this came to pass, Amazon and Apple would – combined, and based on our projection here – end the year neck-and-neck with the market leader.
And this doesn't count the 8m users which Eddy Cue said last month are currently on Apple Music's three month free trial.
At Spotify's big New York showcase to its Wall Street friends last month, the firm's CFO, Barry McCarthy, hinted that the company believes it can beat its rivals "like a drum" in the years ahead.
Such confidence will only ever play out, however, if the rhythm of its subscriber growth doesn't let up.
---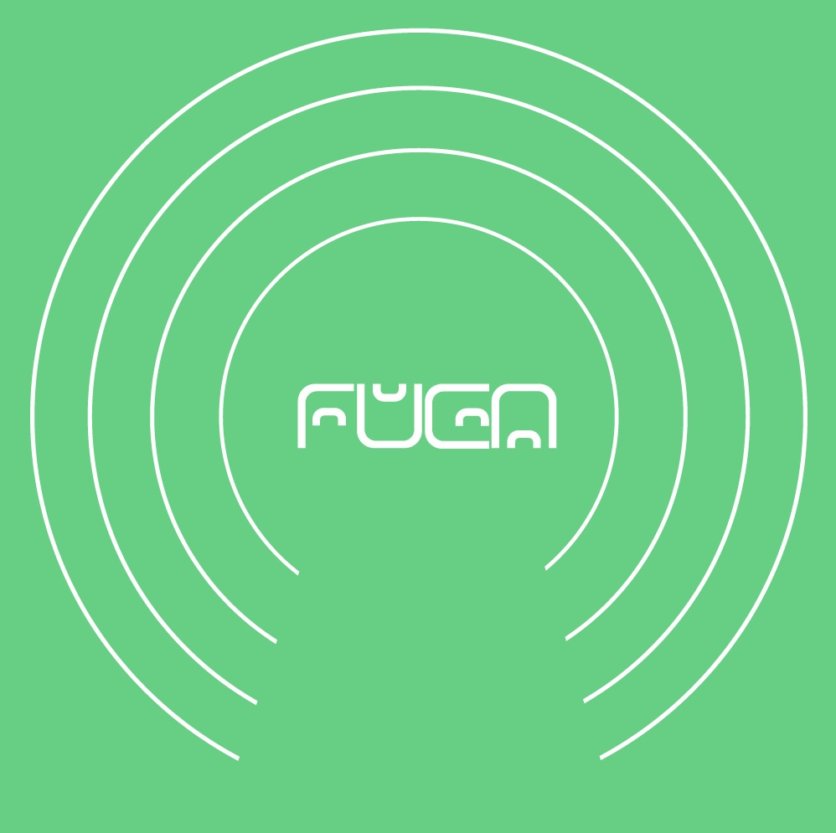 The MBW Review is supported by FUGA, the high-end technology partner for content owners and distributors. FUGA is the number one choice for some of the largest labels, management companies and distributors worldwide. With a broad array of services, its adaptable and flexible platform has been built, in conjunction with leading music partners, to provide seamless integration and meet rapidly evolving industry requirements. Learn more at www.fuga.com
Music Business Worldwide