It's been four years since Lucian Grainge was appointed Chairman and CEO of the world's biggest record music company, Universal Music Group.
The British exec worked his way up the Vivendi-owned major after joining Polydor in 1993 as GM of A&R and Business Affairs.
Grainge eventually replaced his former mentor, Doug Morris, on the throne of UMG in 2011.
(Morris, of course, defected to Sony, where he's recently rumoured to have signed a new two-year deal.)
So how's Grainge done in his four years in charge at UMG? And is he worth his new five-year contract from Vivendi?
That all depends on the angle you take on Grainge's scorecard.
Before we get there, though, it's worth recognising the pressure that's been heaped on Grainge – an exec who came up through the A&R ranks and whose first signing was The Psychedelic Furs – in the past two years.
Vivendi has sold off a handful of billion-dollar subsidiaries since 2012, including video games giant Activision Blizzard, plus telecoms firm Maroc and the company that was its biggest money-spinner, SFR.
As demonstrated in the chart below, what this means is that Universal is now far, far more important to Vivendi than it's ever been.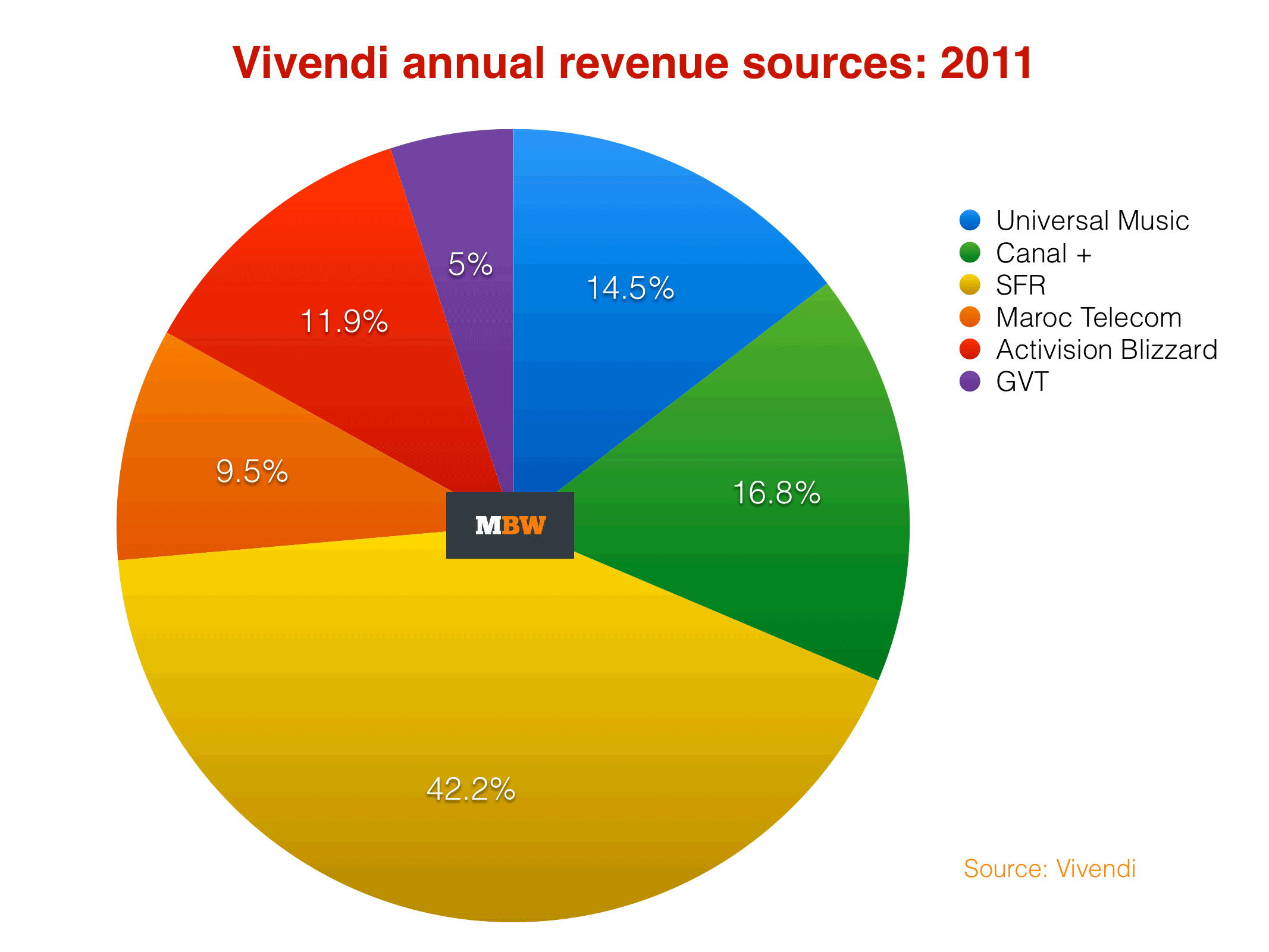 Handing Grainge a new five-year deal doesn't therefore just show belief that he can lead UMG to new glories – it shows a belief that he alone (with help from Canal +) can keep Vivendi's shareholders content.
No easy task.
The past four years certainly hasn't all been plain sailing for Grainge, who's had to grapple with a declining recorded music industry, the power of regulators and even the digital strategy of his own company.
Here's three key talking points of his tenure, which Vivendi would surely have considered before drawing up his new contract…
1) The acquisition of EMI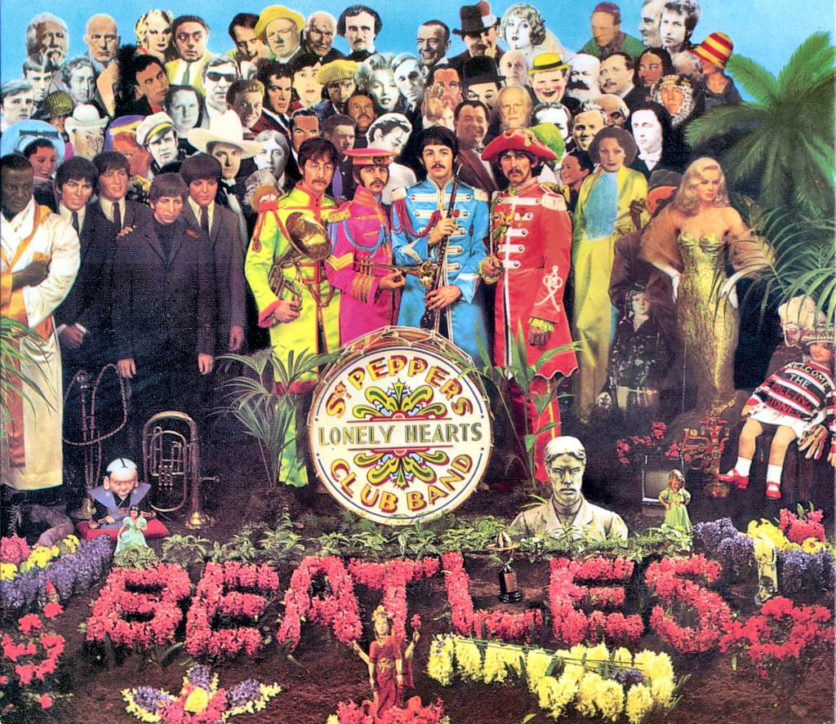 When it came to Universal Music Group's industry-changing acquisition of EMI, Lucian Grainge's greatest achievement was simply getting the deal over the line.
Closed in September 2012 for $1.9bn/£1.2bn, UMG faced fierce opposition from the independent sector, as well as Sony and others, who cried foul over anti-competitive fears.
The European Commission didn't blackball the deal, but it did clip Grainge's wings: UMG was forced to divest a painful chunk of EMI assets – the biggest packaged as 'Parlophone Label Group' – to other parties.
Grainge did his best to avoid this outcome: in a bid to calm the antitrust climate, he offered a powerful collective of EU independent labels the direct chance to buy €250m of assets – including Virgin Records, EMI Classics, Co-Op and Sanctuary Records – if they in turn agreed to support UMG's EMI buyout.
This caused brief pandemonium in indie land, with 56% of IMPALA's board voting in favour of negotiating with Grainge. IMPALA shut down the deal regardless.
PLG was subsequently sold to Warner Music Group for £487m.
(Sidenote: WMG then agreed to sell off £100m+ of assets to the independents, which still hasn't happened over two years later – causing huge frustration for the would-be buyers. Last we heard, this deal was due to be completed in 'mid-to-late summer 2015'. Autumn is now knocking on the door…)
In the weeks that followed PLG's sale, UMG agreed seven other EC-directed divestments with six separate buyers for around £45m.
These included Mute and Sanctuary Records, both sold to BMG, and Co-Op, which was purchased by [PIAS].
In addition, Universal agreed to sell EMI's 50% share of the Now! compilations brand in Europe to Sony for around £40m. (UMG held on to the other 50%.)
In total, then, Lucian Grainge sold off a bundle of assets – following the EC's strict post-EMI instructions – for around £580m.
From there, you can follow two distinct narratives, depending on which camp you believe:
Did Grainge strike the music deal of the century? He effectively acquired the bulk of EMI's hallowed recorded music catalogue – including The Beatles The Beach Boys, Robbie Williams,  Frank Sinatra, Katie Perry, The Spice Girls, Emeli Sande and The Chemical Brothers – plus wholly-owned EMI businesses in Japan, Germany and the US for £620m. Vivendi claims that this amounted to UMG buying two-thirds of EMI Music for half the price;
Or did Grainge actually end up giving away most of the juiciest, most lucrative cuts of EMI due to a bruising post-buyout procedure? The £487m paid by WMG for Parlophone looked pricey in the first instance, but when you consider the catalogue it subsumed – David Bowie, Blur, Pink Floyd, Kate Bush, David Guetta, Radiohead and Coldplay – it can make a fair claim to have got the better deal. Interestingly, when Grainge was offering his 'back us' package to the indies in 2012, Parlophone was conspicuously off the table, suggesting that the Universal man wanted to hold on to much more than just The Beatles. The EC, though, didn't see things that way…
The Now! divestment will also continue to hurt: Now! 90 is the bestselling album of this year so far in the UK, while the brand claimed two of the Top 5 bestselling UK albums of 2014. Grainge and Universal will be pleased with their 50% stake, but would surely have loved to own 100% of the spoils.
[Update: MBW has now learned that Warner actually paid a total of €621m, or £515m, for Parlophone Label Group, due to an additional payment. Which means Lucian Grainge effectively acquired Universal's chunk of EMI for around £590m.]
Regardless, history will show that, in the face of tricky opposition, Grainge got a vast chunk of EMI under UMG's roof.
You can't judge Grainge's first stint as UMG purely on this criteria, but it will forever remain a defining moment of his reign – and a helpful prism through which to view his successes and failures.
We know it hasn't had much of an effect on albums market share, but has it had an impact on the revenues of UMG? Read on…
2) Revenues
Income at UMG hasn't always been a reliable calling card for Lucian Grainge, but in the context of a declining record industry, he's performed solidly enough to impress Vivendi.
In 2011, the year he took over as CEO of UMG, the company posted annual revenues of €4.19bn.
Although Grainge arrived in the hotseat of UMG in January of 2011, it's slightly unfair to judge this annual performance entirely under his watch: he would of course have needed a few months to restructure operations. (In the second half of 2011, by the way, he was already trying to buy EMI.)
Over the next two years, though, Grainge let the good times roll.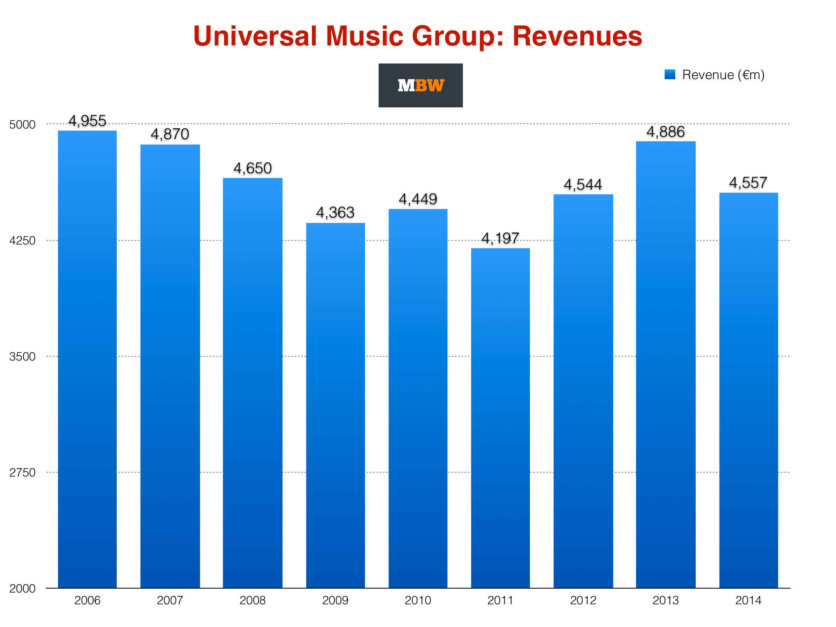 The pinnacle of this performance was 2013, when an EMI-assisted UMG brought home €4.89bn – its highest revenue since 2006, and €689m more than the company pulled in during Grainge's first year in 2011.
(Don't forget that UMG got a cash boost in 2013: the £487m paid by Warner for PLG hit its bank account.)
Last year, though, things went a little awry: UMG's total revenue fell 6.7% in 2014.
This wasn't helped by a strong Euro, which hit conversion from the US and Japan, but even when constant currency and 'constant perimeter' (which levels out Warner's PLG buy) are applied, revenues still fell 4.4%.
Universal also received the vast majority of its $400m from Beats' sale to Apple within this fiscal year.
This converted into €250m, from which Vivendi reported a €179m net gain on sale. UMG owned 13% in Beats – a deal struck by Grainge's predecessor, Doug Morris.
The most worrying culprit for this revenue fall in 2014 was UMG's digital performance, which fell 4.1% – or 0.4% using the fairer constant currency/perimeter metric.
Point being, anything other than growth in digital income was bad news for Grainge.
His explanation to Vivendi for this stumble very possibly centred on the argument that on-demand free and freemium streaming services were eating up too much potential cash – a point of view that ended up clashing with that of ex-UMG digital guru Rob Wells.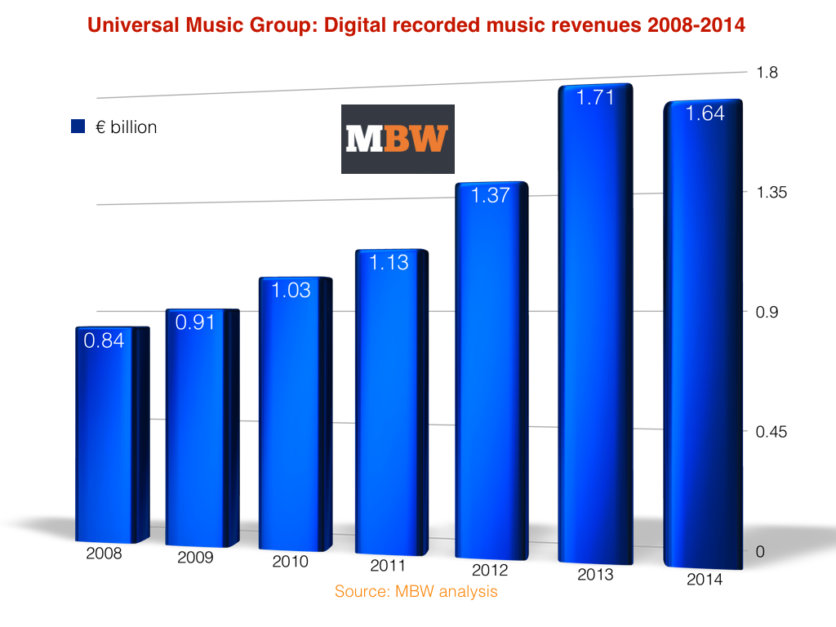 Not for nothing did Vivendi mention Grainge's first assignment under his new contract last week as "accelerating the monetization of UMG's music on digital channels".
Why would the French company back a leader who failed to grow digital income last year?
Surely because of two factors: his strong track record before 2014's blip, and his recent comeback.
Following the first quarter of 2015, Grainge posted storming results: UMG Q1 revenues were at the highest at any point over the past nine years to €1.097bn.
They were greatly helped by currency fluctuations – up 11.6% year-on-year or a less-impressive 2.3% at constant currency/perimeter.
But they were also boosted by digital income, which rose 8%.
If Grainge required some proof that his digital vision would yield long-term results, Q1 2015 would have made pretty reading for Vivendi.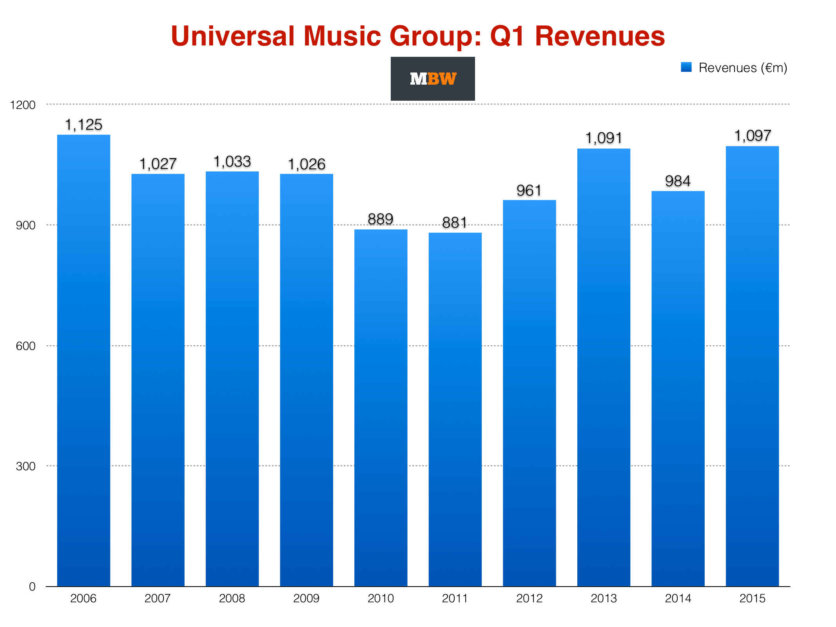 3) PROFITABILITY
This, really, is Lucian Grainge's trump card. Especially as it remains Vivendi's priority No.1.
When Grainge took over UMG in 2011, he inherited a company whose EBITA (essentially a version of operating profit, before tax and fixed costs) had just crashed 19% to €471m.
Since then, he's steadied the ship, pulling in a total €2.11bn in EBITA over four years.
Although these profits have never returned UMG to the glory days of 2006-2008, their robustness as the global record industry continues to decline has been inarguably impressive – particularly last year, when despite a fall in revenues, Grainge and his executive team managed to grow EBITA 10.6% to €565m.
(This, though, was boosted by that Beats stake, from which UMG saw €250m and, it says, €179m clear profit.)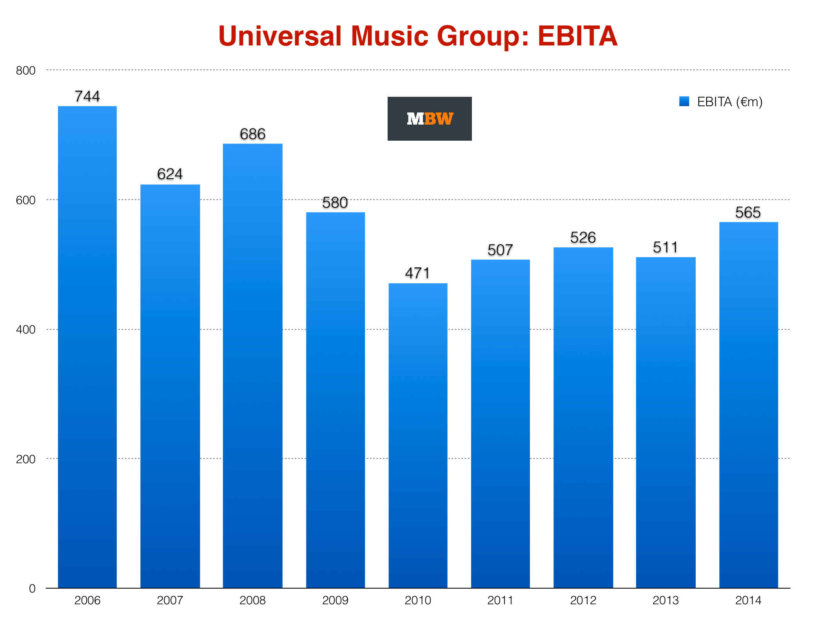 And once again, the first quarter of 2015 was a flyer for Grainge.
Universal's quarterly EBITA reached €82m in the three months, up 46.2% on the sum achieved in the first quarter of 2014.
If Grainge can maintain this level of growth across 2015, UMG's EBITA would skyrocket up towards €800m – a level that would make the exec's bosses at Vivendi very pleased indeed.
All eyes on Vivendi's Q2 results, due to be announced next month…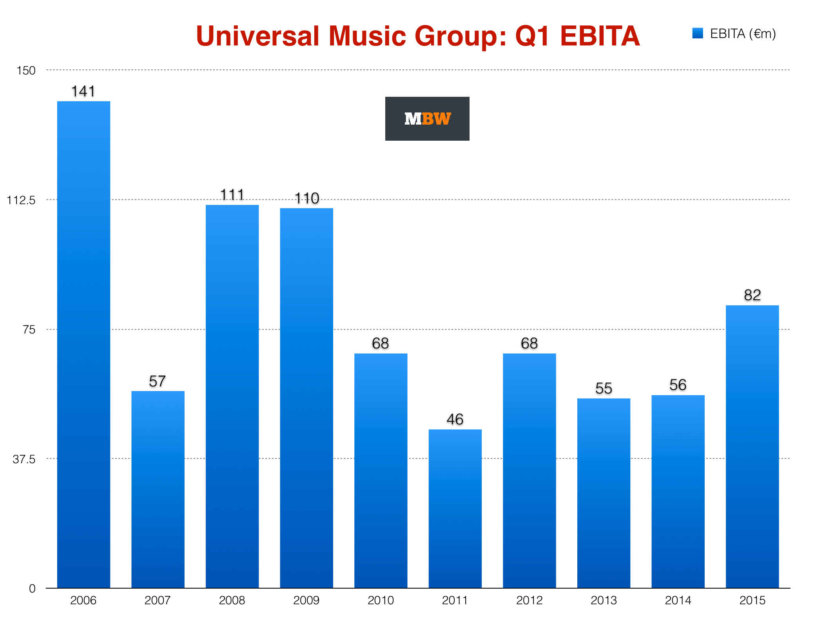 Music Business Worldwide