Just three years ago, EMI was the only UK-based major label in existence.
In its home country, the recorded music giant was the third-biggest major, positioned between Sony at No.2 and Warner at No.4.

MBW has taken a fresh look at stats from the the BPI's 2015 Music Market Yearbook (pictured and which you can buy through here).
These show the changing shape of Universal, Sony and Warner's market share for all albums (compilations plus artist albums) over the past five years.
MBW has further segmented the specific share that EMI and the indies took out of the market – and the results are pretty fascinating.
Before its sale, EMI's market share was already in the process of being eroded: in 2010, it claimed a strong 14.1% of the market by album unit sales. Yet by 2011, this had fallen to 13%.
From there, it's difficult to judge EMI's share fairly: Universal completed its acquisition of most of EMI's catalogue (including The Beatles, pictured) for £1.2bn in September 2012. But a big portion remained with Parlophone Label Group, which was held separate as an 'indie'.
In 2013, PLG's ('EMI') annual share of the UK albums market was 2.9%. That wasn't bad going considering it was effectively half a year's performance: PLG's sale to Warner for £487m was completed on July 1, 2013.
(Warner also agreed to divest £100m+ in assets to the independent sector – a process that, two years on, still hasn't been completed.)
So where did EMI's share end up?
When you factor in the organic growth of other companies such as Sony – which benefitted from EMI's sale by grabbing 50% of the Now! franchise in Europe for around €50m – the results may surprise you.
Let's compare the first full year without any EMI entity in existence – 2014 – to the last full year of an unbroken standalone EMI in FY 2011.
EMI's share in 2011 was worth 13% of the market. In a very basic comparison between both years (removing a host of other variables, of course) – here's how that 13% ended up being distributed in 2014:
Universal: + 3.6%
Sony: + 5.5%
Warner: + 4.2%
Indies: -0.3%
However, 2011 was also an anomalous year for one very important reason: Adele. Her record-breaking 21 album munched a lot of market share on its own, giving a huge boost to the indie sector.
Despite the indies' share falling between 2011 – 2014, therefore, it was some accomplishment to remain significantly above 20%. Pre-2011, the indies share was less than 18%.
(Remember that the indie share includes Ministry Of Sound, the UK's fourth biggest record company thanks to its very strong compilations business.)
So in the interest of edging closer to a fair reflection of a post-EMI world, it's also worth comparing 2012 – when EMI was a standalone major for three quarters of the year until UMG snapped it up – with 2014.
Here are the winners and losers in that timeframe:
Universal: +1.5%
Sony: +4.5%
Warner: +6.0%
Indies: +1.1%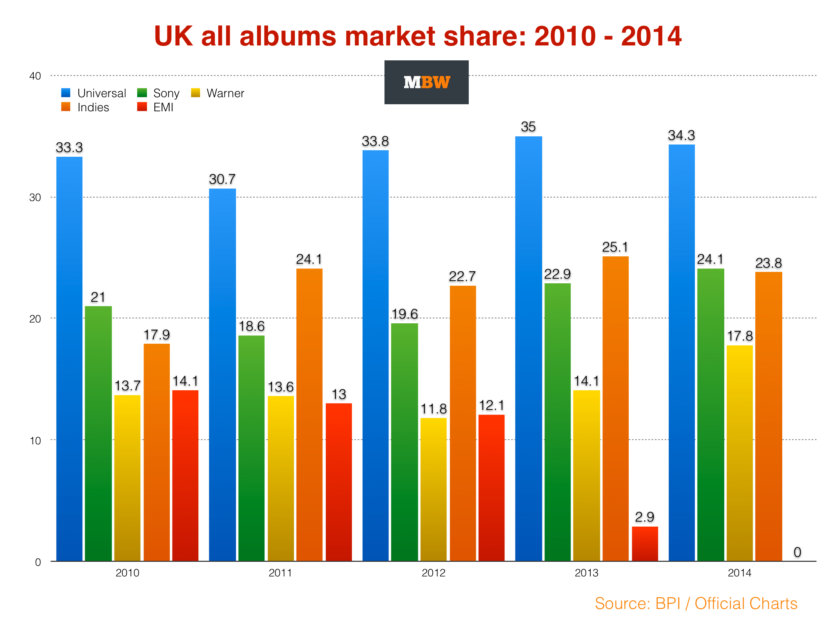 Interesting to note that in both comparison segments (2011 vs 2014 and 2012 vs. 2014), the biggest post-EMI growth in albums has occurred at Sony and Warner, rather than Universal.
The same is true in 2013 vs. 2014, when Universal's UK albums share actually dropped:
Universal: -0.7%
Sony: +1.2%
Warner: +3.7%
Indies: -1.3%
This has more to do with Sony and Warner's own A&R efforts, of course – with bestselling albums from the likes of Ed Sheeran and George Ezra etc. – rather than a simple redistribution of EMI.
Also, here's a surprising observation about the indies: their combined share beat Sony to No.2 in 2011 and 2012 – with Adele ruling the charts in both years.
But the same was also true in 2013. And in 2014, the indies were just 0.3% behind Sony.
The main takeaway, though, is this: remember all of the (understandable) fears that Universal would become an uber-dominant 'super-major' in the market after it swallowed EMI?
It simply hasn't come to pass.
(That's in market share terms, anyway: as MBW reported earlier this year, Universal Music Group posted its biggest Q1 revenue haul for nearly a decade in the first quarter of 2015.)
The prized EMI catalogue may not have really shown its teeth just yet, but in a streaming world where catalogue is king, that could all change in the future.
All the more so when – if – The Beatles ever arrive on streaming platforms.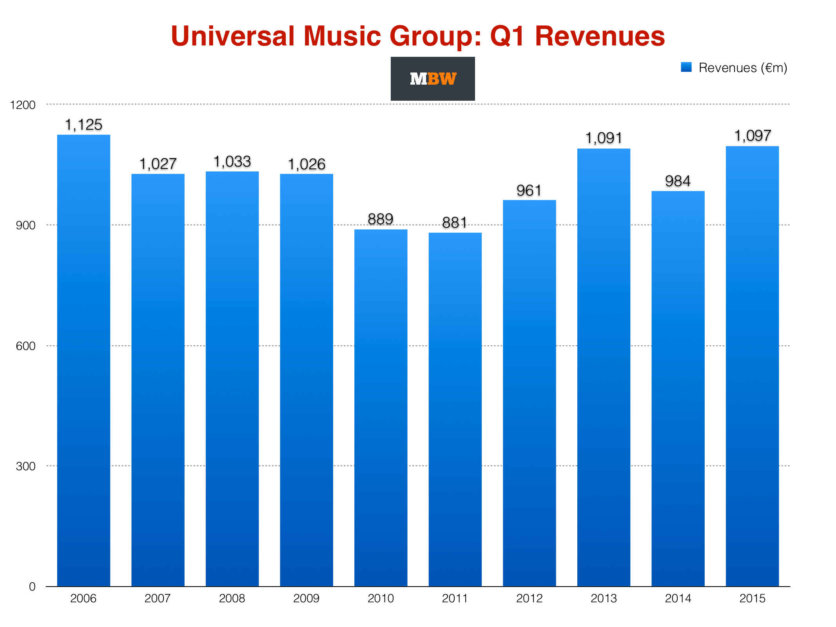 Music Business Worldwide