MBW's look into 2016's global label market share figures yesterday got some of you asking: how have the majors and the indies fared over the past few years?
Good question. And one which gets especially interesting when you think about what happened in 2012 and 2013.
A brief history lesson: In September 2012, Universal successfully completed the ingestion of most of EMI Music, including The Beatles catalogue. The pricetag was £1.2bn ($1.9bn).
However, a chunk of EMI's copyrights (including David Bowie, Blur, Coldplay and others) remained with Parlophone Label Group, which was subsequently sold to Warner for £487m in July, 2013.
The machinations didn't stop there:  in agreement with the EC and Merlin/IMPALA, Warner agreed to divest $200m+ in assets to the independent sector, a process which is now – three years on – finally underway.
This is all vital background information when you absorb the below: a handy at-a-glace guide to where global recordings market share (by revenue) has gone over the past five years.
(We have done this for the UK market before, but never worldwide.)
To see the amazing moving charts below in a bigger window, just click on 'em.
The stats come from the venerable Music & Copyright's annual global reports, which are widely held as the industry standard when it comes to this stuff.
(2016 data is not included, obviously – M&C is expected to reveal those numbers in spring next year.)
---
Total label global market share
Universal:
UMG scored a significant single-quarter boost from EMI after being cleared to buy the historic major (minus Parlophone) in Q3 2012.
That year, it chalked up a 31.7% market share – and you could certainly see the EMI bounce again in 2013, when its share jumped by a massive five points to 36.7%.
Since then, though, UMG's global share has fallen more than 3% – as all of its competitors have made gains.
In 2014, UMG's share hit 34.1%, followed by 33.5% in 2015.
According to analysts, UMG's market share is set to drop once again in 2016.
If it declines by more than 1%, it will be getting close to the 31.7% share posted in the year it bought EMI.
---

Sony:
What's perhaps most fascinating about Sony's worldwide share since the EMI purchase in 2012 is that it's barely been affected.
The Doug Morris-run company scored a 22.3% global share in 2012 – the year Universal ingested EMI after nine calendar months.
The next year, 2013, you'd expect Sony's share to fall. It's UMG's closest rival, after all.
But no dice. The company's global recordings share actually grew.
In fact, Sony's annual global market share has grown every year since EMI was acquired: 2013 (22.4%), 2014 (22.5%) and 2015 (22.6%).
---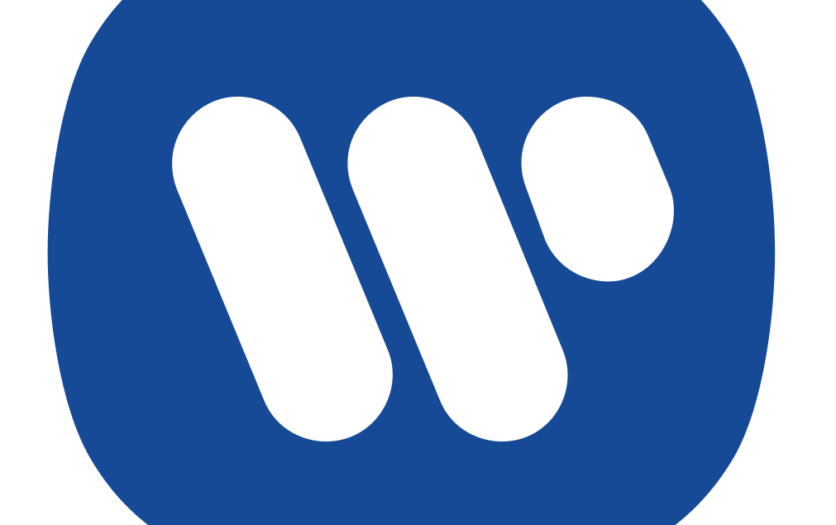 Warner:
Warner has clearly seen a significant rise from its Parlophone Label Group acquisition.
From 2012 (14.8%) to 2013 (15.8%), it saw a clear point rise in global market share.
It bumped another 0.9% the following year, and jumped yet again in 2015 up to 17.1%.
In total, Warner has grown share by 2.3% since 2012. Impressive.
---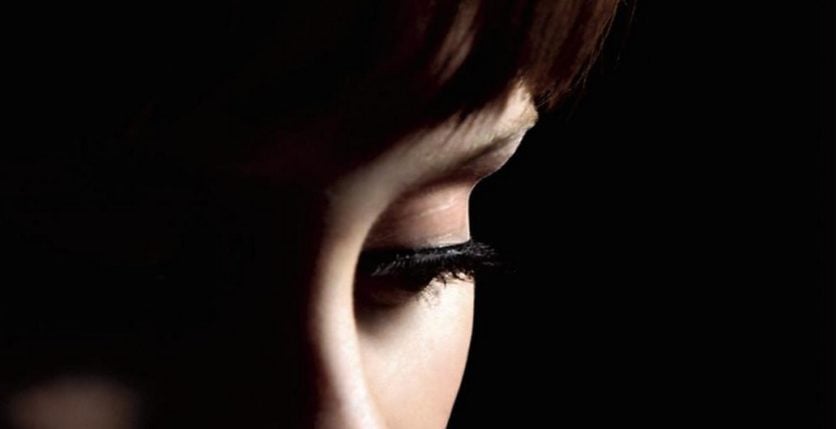 The independents
With or without Adele, the indies have continued to thrive in the wake of UMG's EMI acquisition – which many feared at the time would result in an unbalanced market.
Since posting a 24% market share in 2012, the indies have grown their share by 2.8% – more than any other market player.
The biggest leap on this journey came in 2014, when its share moved 1.6% from 25.1% to 26.7%.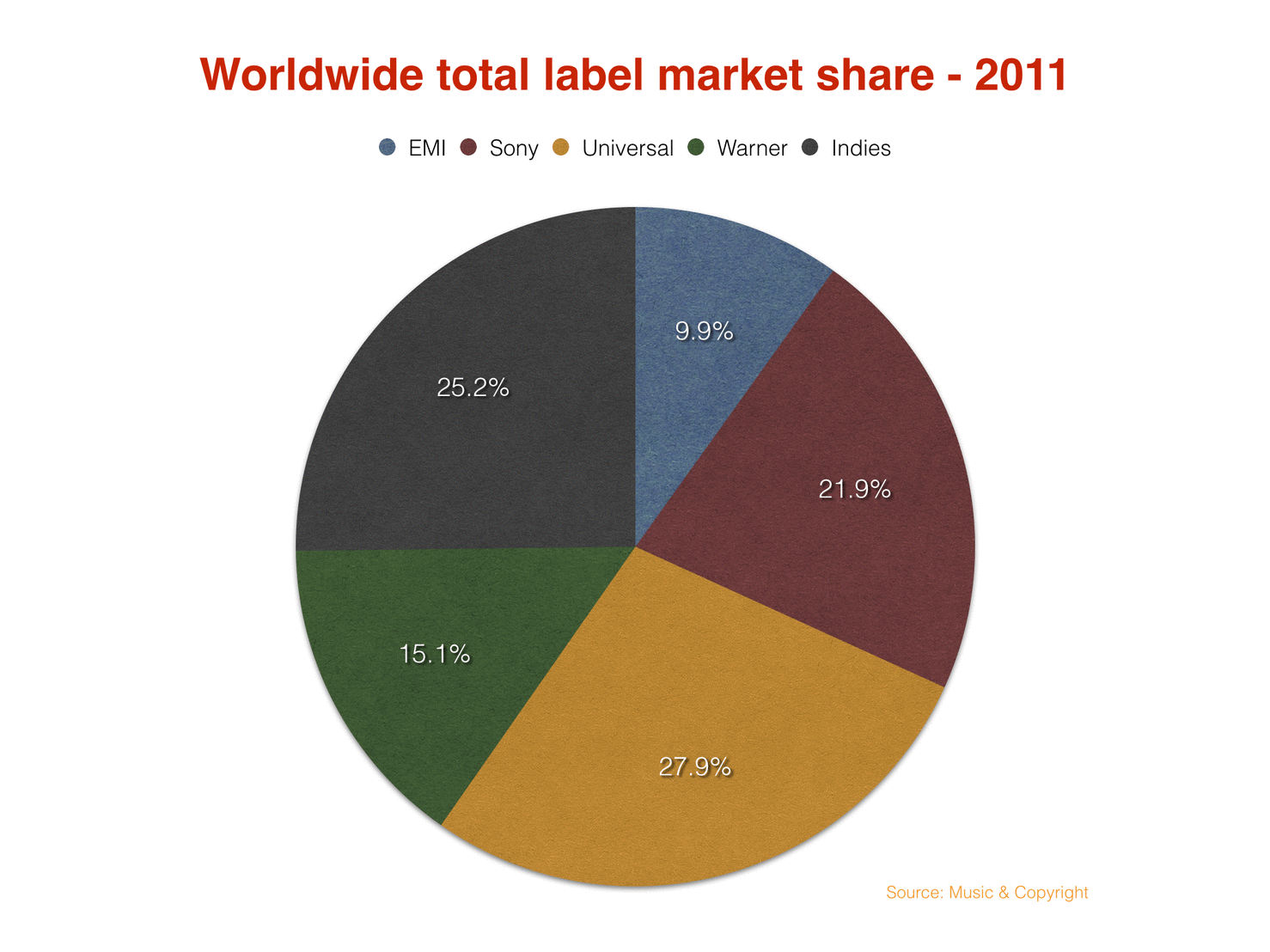 ---
Total label global digital market share
Considering it's an increasingly digital industry these days, it's worth taking a special look at this sector – especially as people suggest market share counts for tangible bargaining power (and payout receipt) from streaming services.
---

Universal
In the year UMG acquired EMI in 2012, the world's No.1 major enjoyed a commanding 32.6% digital global market share.
The following year, this bulked up to a dominant 39.7% (2013) – suggesting that a share above 40% was within its destiny.
UMG's fall in the digital arena since then, however, has been pretty steep.
Between 2013 and 2015, the major lost a 4.1% market share in digital – down to 35.6% last year.
Will it lose yet more in 2016?
---

Sony
Once again, Sony has enjoyed steady gains in the digital world since 2012.
It brushed off UMG's EMI buy in 2012 by moving from 21.5% that year to 22.3% in 2013 (up 0.8%).
Since then, it's rested at 22.3% (2014) and then moved its share up yet again in 2015 to 22.4%.
Like its 'all formats' total, Sony has never lost annual market share following Universal's EMI buy.
---
Warner
Since 2012, Warner has added a mighty 3.1% digital market share – resulting in 18.2% last year.
You can see the immediate bump from Parlophone: in 2013, Warner's digital share flew up by a full 2%.
Since then, it's maintained and grown this result, escalating by a further 1.2%.
---

The independents
Like Sony and Warner, the indies have enjoyed gains in the digital sphere since the EMI acquisition.
However, these have not been as dramatic as the equivalents across 'all formats' – suggesting both that streaming is a tough battleground without the majors' giant catalogues, and that the indies have capitalized on a resurgent vinyl and robust CD market in recent year.
The independents ended 2015 with a 23.8% digital global market share, – the same as the year before and up 1.1% on its 2012 result.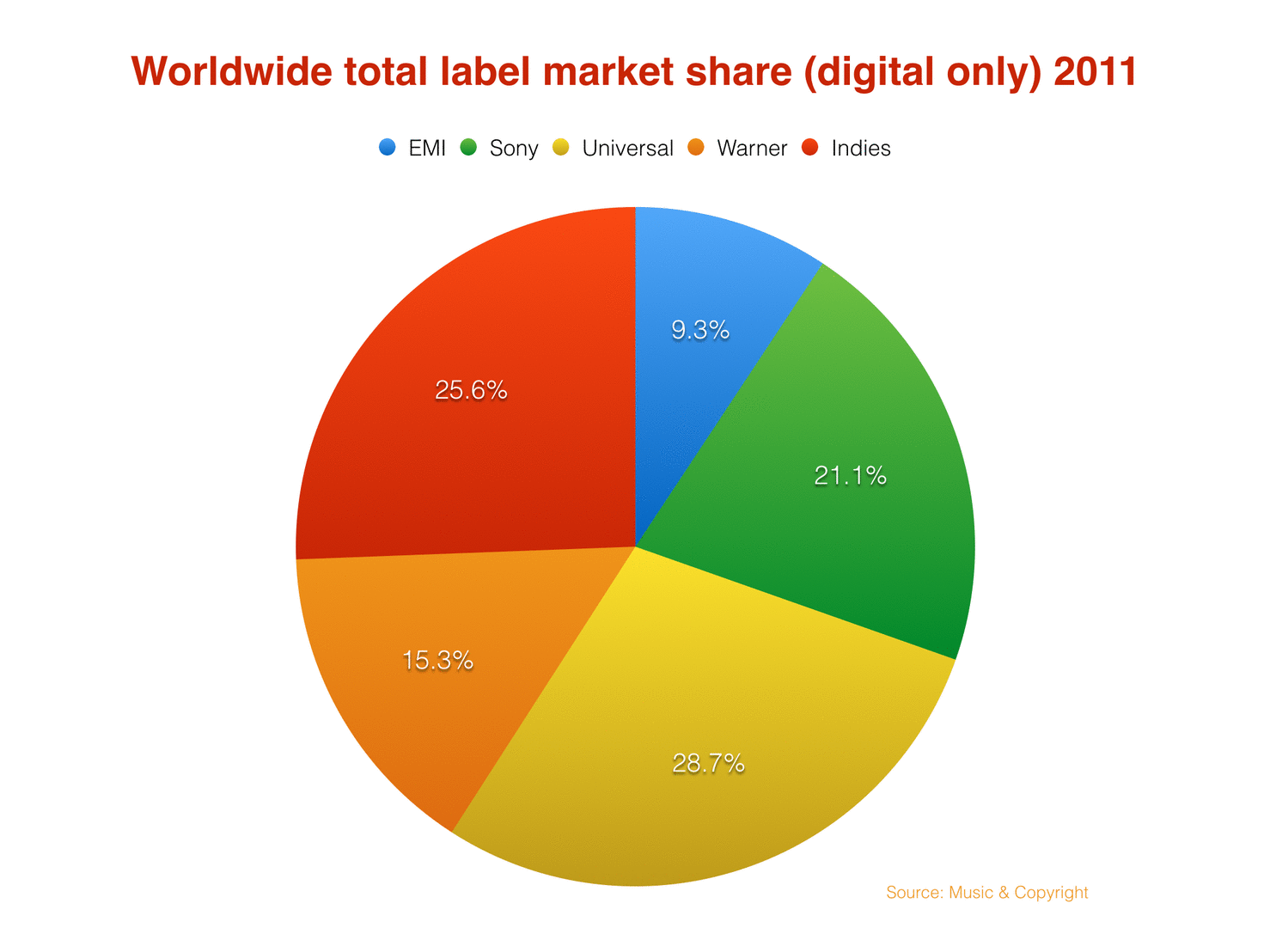 MBW previously took a look at the EMI question purely from a UK standpoint.
See what we concluded on that through here.Music Business Worldwide