The MBW Review gives our take on some of the music biz's biggest recent goings-on. This time, we take an in-depth look at some key comments from Vivendi's top brass about Universal's market performance. The MBW Review is supported by FUGA.
---
As MBW pointed out the other week, Universal Music Group is on course to post its biggest annual revenues since Vivendi acquired it a decade ago.
That's obviously great news for Sir Lucian Grainge and his management team, but it doesn't mean the company's performance in 2016 entirely escapes scrutiny.
UMG parent Vivendi recently fielded questions from analysts about its music business… with its global market share put under the microscope.
---
MBW calculated in September that, on a global revenue basis, Universal's recorded music market share had dipped by around 1% in the first six months of this year – a fall cushioned by Sony's income suffering from the strong Japanese Yen.
Meanwhile, Hits Daily Double recently reported that UMG lost 3.8% US recordings market share in the first six months of 2016 in terms of all albums (including TEA).
In terms of frontline market share in the same period, concluded Hits, Universal lost 5% share year-on-year.
As you can see below, Sony, Warner and the independent sector all gained share in the same period.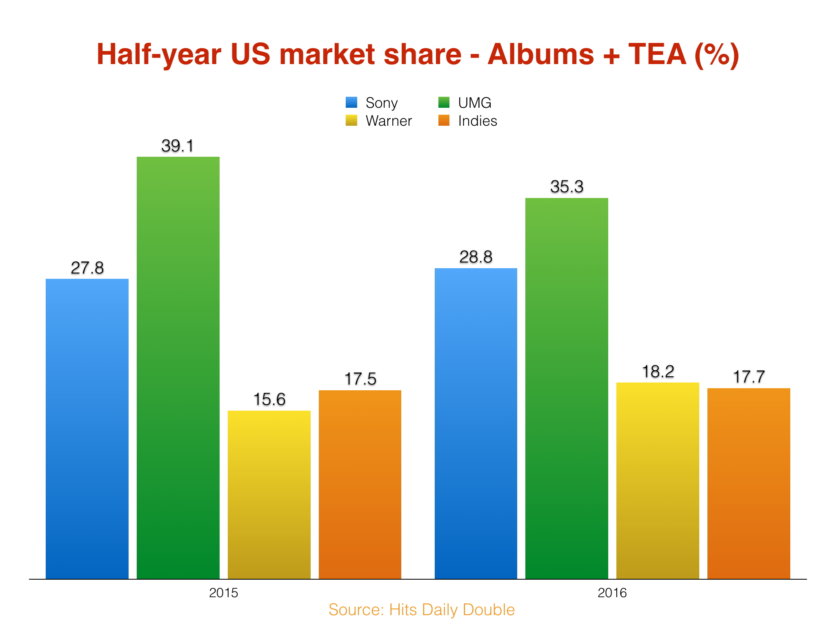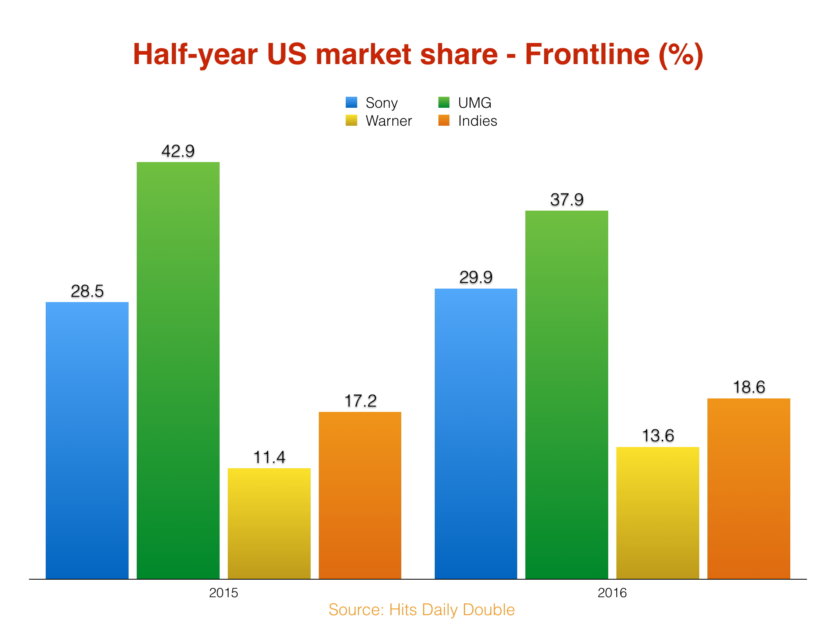 ---
Speaking to Vivendi on November 9, analyst Julien Roch from Barclays Capital suggested that UMG appeared to have lost global market share points in each of its past five quarters.
He asked the French media empire's top bosses to explain UMG's "fifth quarter of under-performance in a row".
"Universal Music seems to have lost share for five quarters in a row, which has to be [due to] more than the release schedule."

Julien Roch, Barclays Capital
Obviously, one reason for UMG ceding ground to its competitors in this period is its release slate: the business has not released albums from many of its big hitting artists in 2016 – including Taylor Swift, Sam Smith and Katy Perry.
In addition, albums from the likes of Kanye West, Frank Ocean and Rihanna have been disrupted by exclusive streaming agreements.
However, Roch pushed Vivendi on the point – noting that UMG's market share slip "has to be [down] to more than the release schedule".
---
Vivendi CFO Herve Philippe responded that the French company monitors the market share of UMG "very closely" every month.
"Specific events not positive for Universal Music in 2016 are both the death of David Bowie and Prince, which benefited, I would say… which benefited other labels," he commented.
"So we will see what will be the market share in the coming quarter, but this is something we are looking at clearly."
"The death of david bowie and prince… benefited other labels."

Herve Philippe, Vivendi
Obviously, it's not the deaths of Bowie and Prince per se that Philippe is referring to, but rather the jump in sales of both artists' catalogues triggered by their passing.
The recorded music catalogue of both artists is managed by Warner Music Group.
The Bowie EMI catalogue formed part of Parlophone Label Group, which was acquired by WMG subsequent to UMG's historic buyout of EMI in 2012.
---
The point about Bowie and Prince's deaths was backed up by Vivendi CEO  Arnaud de Puyfontaine.
"Market share doesn't always show the whole picture," he commented. "Quality of the revenue is just as important.
"If you take for instance in the US, UMG has had [the] top four most streamed albums year-to-date, through September with Drake, Rihanna, Justin Bieber [and] Kanye West.
"We are committed to grow market share again to reinforce our position as No.1… but in a way that is based on profitable growth."

Arnaud de puyfontaine, Vivendi
"If you take in the UK, we had seven of the top 10 singles, led by Calum Scott – number two – and, within the UK, UMG had the biggest selling album of the quarter with Drake."
He added: "It's clear to say that the market has had an impact from the passing of Prince and David Bowie, which benefited the market share of a competitor.
"But we are tracking the evolution of [UMG's] market share [and] we don't see [its decline] as an ongoing trend.
"There are some special kind of reasons why it is what it is… We still are committed to grow market share again to reinforce our position as No.1 in the industry, but to do that in a way that is going to be based on profitable growth."
---
De Puyfontaine makes a fair point on profitable growth: MBW calculates that UMG's profit margin in the first nine months of this year is greater than at any point since Lucian Grainge took over as CEO and Chairman in 2011.
However, it's perhaps a little unfair – although hardly surprising – that the Vivendi boss failed to mention the commercially significant performance of Universal's rivals this year.
Sony Music Entertainment standouts have included The Chainsmokers, Solange, Beyonce and Adele (who, outside The Americas, would have also boost the independents' market share significantly).
Over at Warner Music Group, major 2016 successes have included Twenty One Pilots (pictured), the Hamilton OST, Lukas Graham and Coldplay.
---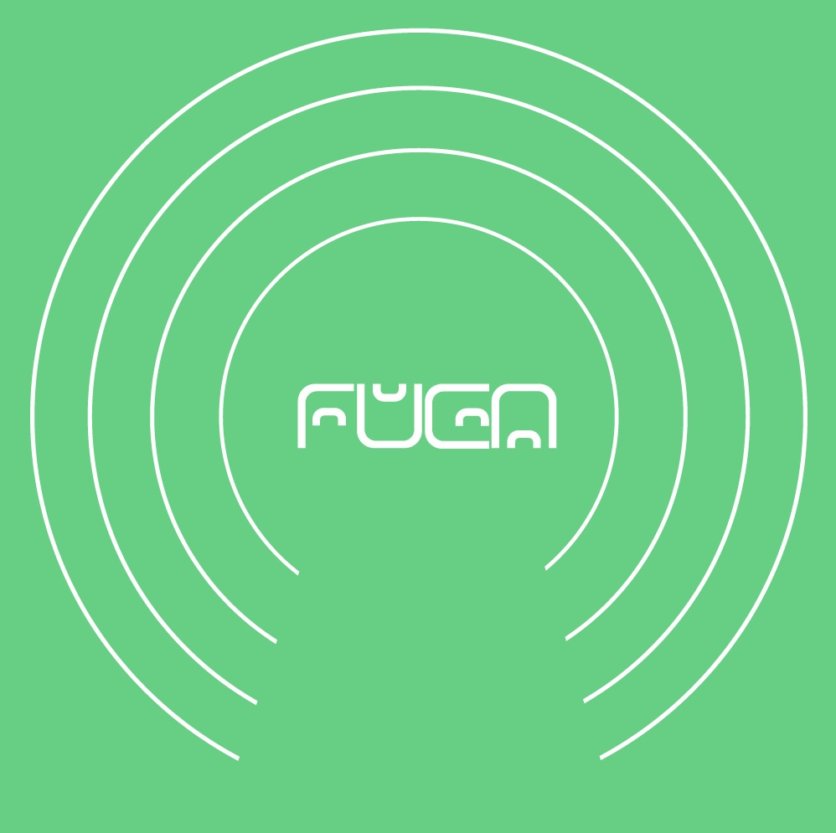 The MBW Review is supported by FUGA, the high-end technology partner for content owners and distributors. FUGA is the number one choice for some of the largest labels, management companies and distributors worldwide. With a broad array of services, its adaptable and flexible platform has been built, in conjunction with leading music partners, to provide seamless integration and meet rapidly evolving industry requirements. Learn more at www.fuga.com
Music Business Worldwide