MBW's World's Greatest Producers series sees us interview – and celebrate – some of the greatest talents working in studios across the decades. The latest instalment features British producer Fraser T Smith, who has worked with the likes of Stormzy, Dave, Adele, Sam Smith, Florence and The Machine and more. World's Greatest Producers is sponsored by Hipgnosis Song Management.
---
Fraser T Smith is holed up in a rustic, barn conversion-like home studio when we speak. It's the best place to be on a day where the sun barely peeks out from the clouds.
Upholstered beams hold up the ceilings and MIDI keyboards line the desk behind him. This pocket of English countryside found in Buckinghamshire – only an hour's train from London, but far enough away to feel like it's plucked from an Enid Blyton novel – is where Smith has recorded some of the biggest records to ever come out of the UK.
Before I ask a question related to his life as a producer, someone who's helped craft the sound of Adele, Stormzy, Dave and Drake, Smith opens up about some of his first loves.
There's football talk, obviously, and how Manchester United is the team of choice for most south London rappers (Kano, from east London, supports Liverpool). 
From there, he reminisces about taking work experience jobs in Manchester as a 17 year old, solely to visit the landmarks made famous in Smiths records, hiring a car to tour Salford Lads Club, Strangeways Prison and random 'Cemetry Gates'. Liam Gallagher and bucket hats are mentioned, inevitably.
Smith, however, is not largely known for his contribution towards Manchester's music history. But he has had more than a hand in shaping what is arguably the most seminal, vital sound to come out of the UK in decades. Grime. 
Two of the genre's leading figures, Dave and Stormzy, owe a large chunk of their success to Smith and his guidance. Smith executive produced both of their debut albums, and co-writing Stormzy's Audacity and Dave's Funky Friday. 
Since then, Smith has won three Ivor Novellos in four years for his various works with Dave. "If it wasn't for Fraser," said Stormzy in 2018, while presenting him with a Best Producer Award. "I don't think I would have ever been able to realise the artist that I could truly be." 
The likes of Stormzy and Dave are modern products of grime's origins. It came from London. Clashes filmed on shaky camcorders were distributed on DVDs named Lord of the Mic. MCs spread their name on the sadly now defunct Channel U, a sort of UK-version of Yo! MTV Raps where anyone – literally, anyone – could send in a music video and see it on TV. 
Smith was there at the time, working with the likes of Kano and Tinchy Stryder in trying to bring this then-underground genre to the masses. Mainstream audiences weren't entirely ready for it, though. 
"I'm always looking at ways that I can help and be of service to the artist."

Fraser T Smith
Naturally, some records were watered down incarnations of the frenetic roots they grew from. But Smith was a bridge from grime's first tiptoes into the public consciousness, to the Brit winning, chart-dominating, Glastonbury headlining status it enjoys today. 
Then, there's his work with Adele, Sam Smith, Gorillaz and Florence and the Machine, making Smith a producer who can toe the line between the underground, and someone who's achieved two Number One US singles, and has contributed to 18 Number One albums and eight Number One UK singles. Oh, and he's won a Grammy, too.
Shortly after Dave brought gospel choirs and flaming guitars to The Brits 2022, Smith spoke to MBW about his life as one of the World's Greatest Producers…
---
I've seen you described in past interviews as 'UK rap's secret weapon' and that you bring the 'Midas touch to grime'. How does that feel? Do you feel like a secret weapon?
What I've always tried to do is work with great artists across the board, and for artists to really feel that when they step in the studio, they feel very safe, creatively. 
I'm always looking at ways that I can help and be of service to an artist. When I first started working with Kano back in the early 2000s, I was aware that I wasn't trying to jump on the back of those early grime records. I wanted to look at how I could add what I do into the mix. 
With artists like Kano, Dave and Stormzy, they're such visionaries that they really want to bring something new to the table. 
It's become this crazy match between me and the artist, where they're looking to move into different areas and I try to support that, while being very respectful of the heritage and the music that they're coming with. 
I think 'secret weapon' is flattering, but what I'm trying to do is shine a spotlight on brilliance, and to add what I can. Maybe there's a sonic I can add, or a musical breadth. 
I can buy Dave a guitar, and then see how he's taken that on. When I watched his [2022 Brits] performance, it felt like I was having an out of body experience. It was like a dream to see. 
When I first bought him the guitar, he didn't know one end of it from the other. Then, he went away and practised, woodshedded for hours and hours to get to that point. 
That's so culturally significant, in these days of minute and a half songs. I really respect [that], and I love artists like PinkPantheress for what she's doing to the industry.
There is another visionary, but the fact that Dave can play a guitar solo, that probably lasted longer than a PinkPantheresse song, at the Brits, to shine a light on [on-stage collaborators] Giggs and Ghetts, and to play keys, acoustic guitar and electric guitar. That for me just showed what rap music can do.
That's what's always drawn me to that genre. I can show Dave a piece by [Gabriel] Fauré, we can talk about Pink Floyd, or we can talk about who's the new hottest rapper.
That for me is always what I've been about, which is the diversity and breadth in creativity and in music.
---
It takes a certain type of confidence to do a minute and a half solo at the Brits, knowing that your fans will be patient with it and will enjoy it. It goes back to what you said earlier, about wanting an artist to feel safe, going back to your days with Kano and Craig David, a lot of the records you've been involved in have not only tapped into a cultural Zeitgeist of the moment, but they've helped push the culture forward. How do you continue to tap into that?
When looking to elevate artists in general, I'm always looking at who is coming into the studio with the vision.
If an artist comes in with an incredible vision, then I'm just there for however long they need me to push them, support them, and elevate what it is that they do. 
I've just finished the latest Kasabian album, and I've been working with [lead singer] Serge quite intensely [Former Kasabian frontman, Tom Meighan, left the band after he was convicted of domestic assault in July 2020].
I've seen Serge's vision of how he wants this new incarnation of Kasabian to sound. I've been there to support him through the tough times, as well as the great times. I've seen him step into the role of the real leader of this band. 
When Serge talks about what he wants Kasabian to be, a cross between Travis Scott and Iggy Pop, they're the references that start sparking me up. 
It's not driven by A&R, it's not driven by TikTok, with all due respect to all the brilliant A&Rs out there and the great platform TikTok is for creativity.
"I try to work out where the weak spots are and fill them in. It's like a midfielder role."
But when you're able to become musical partners with great artists, I have to step up and match them. I'm definitely not someone that is content just to sit at the side of the studio and not support. 
It's kind of to do with what you say about a 'cultural Zeitgeist', but I've just been very fortunate to be around great artists. I'm actively looking for new artists, especially now with my label, 70Hz. 
By doing that, I'm tapping into some sort of Zeitgeist, because I'm able to shine a spotlight on incredible talent. And that must always, in some way, shine. 
It doesn't always have to be a Dave or a Stormzy. It could be [Peckham singer-songwriter] Cosmo Pyke, whose first EP we did. It could be Claire Maguire, whose record didn't really take off commercially, but there was some kind of Zeitgeist around her that we captured.
---
With Kasabian, have you had a similar experience before? Where a band has had to change everything that they've ever known almost overnight?
When I worked on Education, Education, War by Kaiser Chiefs, there was a massive hole where [former drummer] Nick had been. He was the Paul McCartney to Ricky's John Lennon. 
There was a hole there where someone needed to come in and suggest melodies, chords, and work with the band in that way.
The thing I try to do is work out where the weak spots are, and then try to fill those in. It's like a midfielder role.
---
Is that something you've had to learn over time? 
I start off with the question, how can I help? When you've had a long career, artists will come in for different reasons, so it's about cutting to the chase.
Where's the weak point? If it's lyrics, let's not worry about melodies until we've gone in on the lyrics. If it's lacking rhythm, then they'll write the song and I'll programme the drums and get some beats going. Let's break it down. 
"We'll all die with just a handful of songs written on our gravestones. Or on Wikipedia. The aim is to get one of those."
That's what keeps me interested and fresh, in that I'm constantly having to push myself. There's so many facets of production and songwriting, that to get really involved in one specific area is where you really push yourself. 
You also have to read how a particular artist is on a particular day, and the role is going to change depending on how they're feeling. It's ever-changing. That's the draw. 
---
Are there days where you just have to let an artist have a day off to walk around the countryside to make things feel right?
If an artist is caught in a rut, then that's about the expectation of the artist and the pressure they've put on themselves, or the pressure they feel from the industry or the label. 
We're all trying to write five great songs a week, but ultimately, we'll all die with just a handful written on our gravestones. Or on Wikipedia. The aim is to get one of those, and if it takes a week, then that's okay. 
---
A hit can be a hit, but like you said there are songs that will outlive you. Are those the types of songs the ones you're always aiming for in the studio? 
It's really good to challenge any idea.
The song is like a fighter, and you're putting it in the ring. You may know that fighter is the champion of the world, but you need to put it through a few rounds to test it. 
The biggest songs I've ever been involved in have not necessarily been the smoothest, but I don't want to jinx the future.
I want to allow someone to walk in and then in five minutes it's done, but when you know you've got something great the stakes feel a bit higher.
---
What are some of those songs that stand out for you?
Set Fire to the Rain felt almost perfect, but we couldn't get the pre-chorus. 
I remember Adele saying she couldn't get it, and at the time when Adele smoked, she went over to the kitchenette, smoked cigarettes and furiously wrote ideas in a notebook.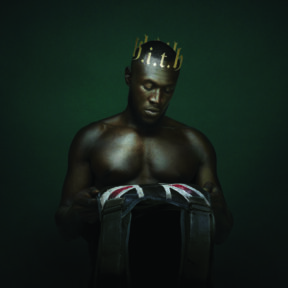 When she finally got it, it was a eureka moment. 
On Broken Strings with myself, James Morrison and Nina Woodford, it was quite a quick, almost Motown-esque song in the beginning. I don't think the vision was fully realised from the first writing session we had. 
Colin Barlow came in and flipped that vision into a slightly different type of feel.
That for me was brilliant A&Ring, because I don't think that that song would have been that song without Colin's input. That was him suggesting another record and a reference. It was visionary thinking. 
Blinded By Your Grace was initially a grime tune, but I could tell that Stormzy was pretty tormented with the uncertainty of what it should be. 
We got together one Sunday night, just me and him, and I started playing the chords that ended up on the record. That opened up something for him, and he felt like he wanted to go into another room to come up with the ideas. 
That pretty much was how that song was written, but over the course of months. And it just came at that point on a Sunday night.
---
So, is there a recording in a vault somewhere where Blinded by your Grace is a grime tune?
Yeah. It was a completely different take. Sometimes you just need to turn things upside down and start again.
But again, Stormzy's vision is incredible. When it comes to one track, he's probably got ten references in his head. That's what makes him great. That's what makes all artists great. These artists are visionaries, and they are successful for a reason.
---
Artists like Stormzy or Dave obviously have very important things to say on a record, and that's key to grime and UK rap in general. The lyricism drives a lot of it. For you as a producer, do you just sit back and let them say what they need to say in the booth? Or are you actively trying to bring that out of them?
With Dave, we would go through lyrics and concepts at the very beginning of the record.
He would go into the granular details of the lyrics, bring them back, and so forth. With Stormzy, we'd work on melodies and edit them together. 
When something's not broken, you don't have to fix it. When the bars are flowing, then you should let them flow.
But the studio can feel like a very vulnerable place to lay down those first ideas. So when help is needed, then I'm right there for them.
---
After so long producing massive records, with 12 questions, your first solo project, why was 2020 the year to release that? 
I didn't think I could bring anything else to anybody else at that point. I had worked on Kano's Made in the Manner, then Gang Signs and Prayers, and then Psychodrama. I just had to just develop myself in other areas. I had worked so intensely on those few records, I didn't want to go back to traditional writing and production. 
In the beginning, I had these 12 questions that I thought would be great to develop as part of a short film or some kind of documentary.
"I remember hearing Fight The Power and feeling how powerful music could be."
I didn't know what that was going to be, but I just knew that I wanted to interview people and record them answering those questions, just to give us different points of view. 
I had a whiteboard, where I would write down the names of everyone I wanted to interview. From that, it ended up as this whole movement of music that's 52 minutes long, which is meant to be a journey through the 12 Questions.
The answers certainly don't give us the full picture, but we have some pretty incredible answers from people such as [activist] Albert Woodfox. 
When he answered what the cost of freedom is, having been incarcerated for 44 years in a six by four foot cell for 23 hours a day, that's a pretty incredible answer. And we asked the same question to Dave, Es Devlin, Stormzy, and Katrin Fridriks, who's an Icelandic abstract artist. 
We've now expanded that into a podcast, asking those same questions to people like George the Poet, Kae Tempest, Jamie Oliver, Fatboy Slim and Julie Adenuga. It's become an incredible part of my life, and it started with these questions.
---
Is it exciting to have your own project, something that you can just experiment with and allow to mutate in your own way? 
It's the best thing. 
Being able to spend time writing my own music, writing my own hooks, working on my own artwork, and have all that expression allows me to be clearer with artists. I've obviously been there for the artists that I've worked with, but I think every writer and producer should have something of their own. 
When you're in the studio, you can sometimes become exhausted helping artists out. It's the best thing in the world, but it can also be draining.
In order for me to progress, it's really important to sit down and think, 'what is the next step? How are we going to move this forward?' It makes you feel very replete and very fulfilled, and then when you work with other artists, you can really be of service to them. 
---
I know you had those '12 questions' to begin with, but after working on so many records, was it hard to chisel down what you wanted it to sound like as well? 
I managed to get to the core of what kind of music that, given free rein, I would make. In a very crass way, it was blending hip hop and guitar-based music. I've always been a huge lover of rhythm, but especially hip hop. That was something I wanted to put firmly into the record.
---
Hip hop and grime are very formative genres, though. If you hear Snoop Dogg or Beastie Boys when you're 12, you're probably going to be into them for the rest of your life. Is that the case for you?
100%. I remember hearing Public Enemy's Fight the Power, and really feeling how strong and powerful music could be. I remember going to see [Spike Lee's] Do the Right Thing at the cinema when I was really young, and that just just blew my mind. 
Those moments are seminal, and it's probably the same when a 12 year old today hears a great Stormzy song, or Black by Dave. Watching that video, you can see how powerful that is. Those are seminal moments. It's a time when you're so open to influence.
---
Is that a feeling you try to bring to the records that you work on? When you're on a bus and some kids are playing your tune out loud on their phone, is that a big marker of success for you?
I remember when Tinchy Stryder's Number One came out, and I remember walking past a local Budgens shop in South London, and some kids were playing that record off their phone. For me, as a commercial sign of success, seeing people react to your music like that is an amazing feeling.
As a creative, getting art and commerce right is probably the biggest challenge.
But there's a point where the intersection of art and commerce meet, and the songs that I've written that I'm most proud of have definitely done that. 
Dave's Funky Friday, Black or Set Fire to the Rain are all cultural moments that I'm very proud of having collaborated on. I hold my head up high, and I don't think anyone sold themselves short.
Even looking back to Number One by Tinchy. At the time, it was super commercial, but the fact was that UK rap music had to be commercial for it to go on to radio.
We did what we had to do, but I still listen back to those records and think, that was a time in a place, and I'm hugely grateful to have had all those incredible moments.
---
MBW's World's Greatest Producers series is supported by Hipgnosis Song Management. Music Business Worldwide