TikTok, eh? Is it becoming a record label? Or is it just a social media giant that also acts as a music distributor? Or is it all of the above?
Could it soon add 'music streaming service' to the list?
Business Insider recently discovered a US trademark application filed by TikTok parent company ByteDance for 'TikTok Music'.
The proposed application, originally filed in Australia in November, followed by the US in May, would allow users to "purchase, play, share, download music, songs, albums, lyrics" as well as "live stream audio and video".
While the application with the U.S. Patent and Trademark Office certainly hints at an intention to develop a music app, MBW has spotted even more tangible evidence available of TikTok's music service ambitions in the US.
We've unearthed an old US patent filed by Singapore-based TikTok Pte. Ltd in May 2018, and granted in January 2021, for a "Method of enabling digital music content to be downloaded to and used on a portable wireless computing device".
As per the summary of TikTok Pte's filing, which you can read here, the company claims that its invention is a "mature, reliable and convenient solution which will enable users to easily acquire, listen to and manage music on portable wireless computing devices".
The filing claims further that "this invention," called the 'Music Station', has the promise of being genuinely transformative of the way people acquire and listen to digital music".
The name Music Station might sound familiar if you've been following the digital music streaming business for a number of years.
That's because, and this is where this story gets even more interesting, the patent for 'Music Station' was originally assigned to a UK-born digital music company called Omnifone, and has since been acquired by TikTok (see below).
---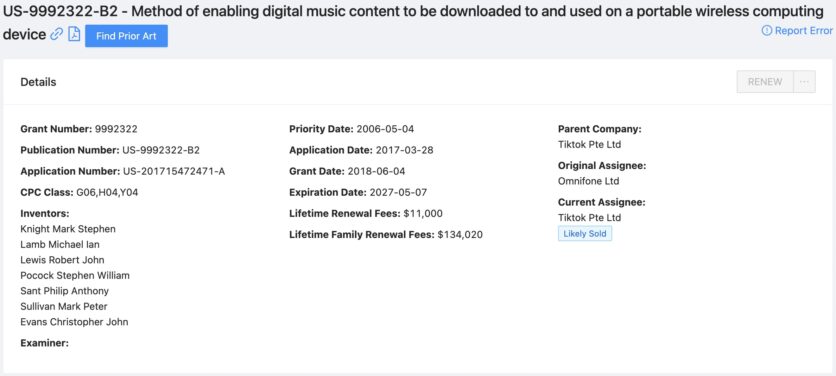 ---
Omnifone went into administration in May 2016, and its assets were sold for $10 million to what was reported by Music Ally at the time to be a "mystery" buyer in the US.
A subsequent report from TechCrunch suggested that Apple acquired some of Omnifone's technology and talent – but didn't acquire any actual patents as part of the swoop.
Now, here we are, six years later, and at least one of those patents, for a digital music service no less, is registered to TikTok.
---
This throws up a lot of questions, like: Did TikTok's parent company ByteDance buy the patent from Omnifone ahead of TikTok's launch, first as Douyin in China in September 2016, and then as TikTok for the international market the following year? And, is this patent the clearest evidence yet that ByteDance and TikTok are planning to launch a music service in the US to rival the likes of Spotify and Apple Music?
Owning a patent for the technology for a music platform, in addition to filing for a trademark for a potential name for it, are a good foundation to have if TikTok and ByteDance were seriously thinking of launching a competing platform.
Also, could parts of the Music Station patent be used for a 'TikTok Music' app? It wouldn't be the first time that ByteDance has used elements of other apps to improve its own.
Many of the features available within TikTok today were originally built for an app called Musical.ly, which ByteDance acquired in 2017 for more than $800 million, and which merged with TikTok the following year.
Another important bit of context to remember is that ByteDance already owns a music streaming app called Resso, which launched in India in March 2020. It's also available in Brazil and Indonesia.
Citing a former ByteDance employee, TechCrunch reports that the company considered launching Resso in Australia and the UK under that 'TikTok Music' banner. Could the US be next?
---
An extra layer to this story is that behind the scenes, TikTok is hiring for staff to work on its 'TikTok Music' team.
According to an ad spotted by MBW, TikTok is currently recruiting for a Backend Software Engineer for TikTok Music in Mountain View, California. The copy within the ad also makes TikTok's music ambitions crystal clear.
TikTok says that its "mission is to build resonance and inspire expression through music, which includes Resso, TikTok Music and SoundOn".
The ad explains further "Resso or TikTok Music, is a music app for Gen Z that launched 2020 in India, Indonesia and Brazil".
In other words, TikTok Music is just another name for Resso.
The ad continues: "Our key features now are: single song recommendations, comments, synced lyrics, lyric video sharing, etc. SoundOn, short for Artists Open Platform (AOP), is ByteDance's own music distribution and promotion platform, designed to empower independent artists with tools for the audience and career development".
"AOP is currently powered by TikTok (music discovery app) and Resso (music streaming app), but we plan to integrate more ByteDance products in the future.
"We are looking for enthusiastic software engineers who have a passion for engineering excellence, in particular, optimizing software R&D processes for large-scale internet services."
Note that in brackets, TikTok is described specifically as "music discovery app" in addition to claiming to be "the leading destination for short-form mobile video" at the top of the ad.
Questions the music business will be asking today will include: When will TikTok, with its 1 billion global users, officially launch a TikTok Music streaming app in the US? And how much of a threat would that pose to Spotify's market dominance?Music Business Worldwide