MBW's World Leaders is a regular series in which we turn the spotlight toward some of the most influential industry figures overseeing key international markets. In this feature, we speak to Kaz Kobayashi, President & CEO, Warner Music Japan and Kazuhiro Shimada, COO, Warner Music Japan. World Leaders is supported by PPL.
---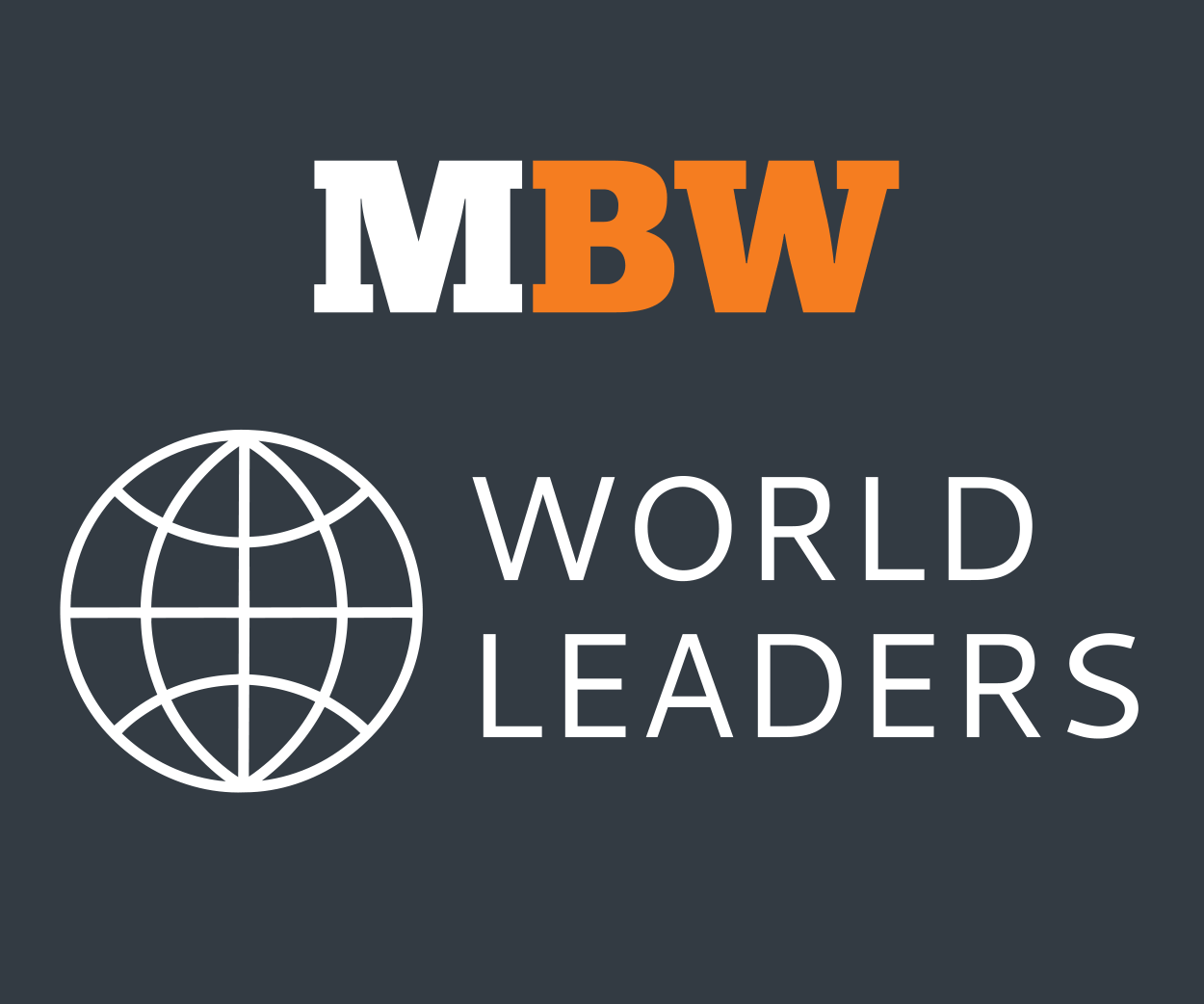 Japan is an outlier in the streaming-dominated global music industry.
Subscription music streaming was a half-a billion-dollar-plus business in the world's second-largest recorded music market last year, reaching 75.62 billion yen or USD $575 million.
Yet, after four decades since the CD's introduction in the market, it continues to thrive as the market's No.1 music format.
According to RIAJ data, revenues from CD sales in Japan topped $987 million (129.8 billion yen) in 2022, reflecting YoY growth of 5% – marking the reversal of the format's decade-long sales decline in the market (see below).
---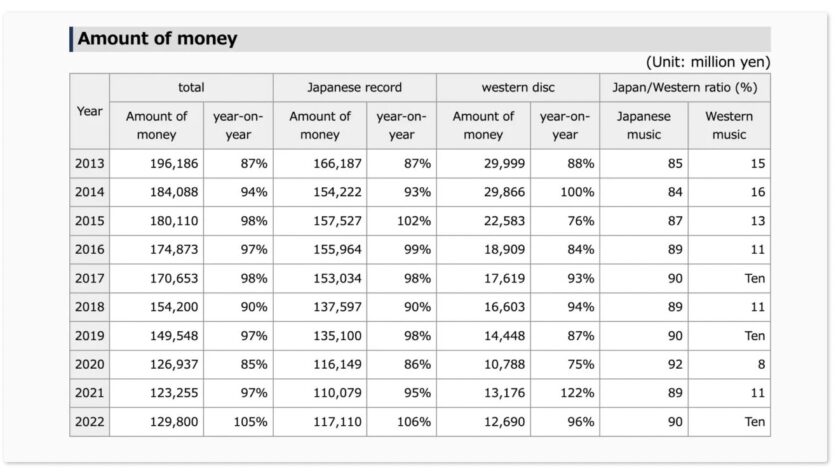 ---
Warner Music Group Japan COO Kazuhiro Shimada, who joined WMJ in November 2022 from Amazon Music Japan, explains that demand for physical music in Japan is so robust because the country has "a really strong 'fandom' culture".
"Fans show their support to artists by buying their physical products, and this should be encouraged as it brings a unique relationship between fan and artist," he says.
"This 'fandom' business is still growing and is a strong revenue stream."
Pointing to current growth trajectories of streaming and physical revenues, however, (paid streaming grew 19% YoY in 2022 versus physical music's 5% growth) Shimada notes that "while physical will continue to be influential, digital will become the dominant format".
He suggests further that when digital revenues do overtake physical revenues, "the physical market, including vinyl and CDs/DVDs, will remain robust and in demand in Japan, allowing it to stay the No.1 physical market in the world".
WMJ itself has long been preparing for the Japanese music industry's digital transition.
Back in 2021, Warner Music Japan's President & CEO, Kaz Kobayashi, told MBW that the company had "restructured" its business "with the expectation that subscription streaming will sharply accelerate over the next few years".
He added: "A few years ago, we made the decision to restructure our business completely.  So, we've outsourced all physical distribution, which has enabled us to fundamentally change the make up of our team.
"We've recruited them from outside the music industry, reaching out to people who worked at online ad agencies and TV stations, as well as streaming services and other digital retailers. It's completely changed the culture of our company."
Today, evidence of WMJ's digital strategy can be seen in the company's broad online audience, with over 2.8 million subscribers on YouTube alone.
Plus, the company confirms that it now generates more from digital revenue than it does from physical revenue.
---
Another trend Warner Music Japan has been keeping an eye on in recent years is the rise of the independent artist.
Warner expanded its global independent distribution division ADA into Japan in 2020, which is now led by Yoonsung Chu, who joined the company from Activision Blizzard last in March.
"With the rise of DIY artists on a global scale, ADA is becoming increasingly strategically important," says Shimada.
He adds: "We have a new head of ADA Japan who recently joined us and we have already established a great partnership with some major creative partners, such as Bandai-Namco. We're extremely focused on providing artists and labels with a very hands-on service."
WMJ President and CEO Kaz Kobayashi, adds: "As Kaz Shimada mentioned, the growth of DIY artists is on a strong upward trajectory. As a result, the focus of A&R activities these days is checking artists on platforms including TuneCore, YouTube and TikTok.
"Also, we have to prove to these artists that we can provide them with services and opportunities that they would not get by remaining as a DIY artist.
"We believe WM Japan can offer a compelling proposition and be a great partner to such artists."
Here, Kaz Kobayashi, President & CEO, Warner Music Japan and Kazuhiro Shimada, COO, Warner Music Japan tell us about how the company's positioning in the world's second-largest recorded music market, and the challenges of breaking international artists in Japan, and Japanese artists globally…
---
The last time we spoke, at the end of 2020 / start of 2021, we discussed steps that Warner Music Japan had taken to reposition itself as a digital first company. Could you share an update on that digital transition?
Kaz Shimada: Firstly, the digital transition of the Japanese music market increased steadily during the Covid period and we saw streaming grow 24% year on year from 2021 to 2022.
Streaming adoption is now growing at a healthy rate and we expect this to continue over the next few years. At Warner Music Japan (WMJ), our digital revenue is now larger than our physical revenue.
Physical is still an important revenue driver, but we're still fully focused on being a digital-savvy company, leading the way with innovative products and marketing campaigns.
---
How significant are TikTok and other short-form video platforms for your business, from both a revenue-generating perspective and for marketing / promotional activities?
Kaz Shimada: TikTok is one of a number of platforms which are skewed towards exploiting marketing and promotional merits today. It's also very useful in terms of reaching out to target fans, particularly those who are Gen-Z.
The impact of these platforms on music consumption cannot be ignored, so we're very proactive in analyzing the data from them to identify trends and opportunities.
What is Warner Music's current market position in Japan and where would you like it to be in years to come?
Kaz Kobayashi: Our current position is No.3 in terms of overall market share. We're focused on investing in and developing new and exciting domestic talent. Warner Music has an incredible catalog, which is a solid revenue-generating asset in the streaming era.
But our central mission is to unlock opportunities for our domestic artists on a global scale.  We believe with Warner Music's closely interconnected international network, we can offer opportunities that other music companies have difficulty matching.
No matter how our music consumption habits change, or what new technology enters the market, our goal at Warner Music Japan will always be to propel and showcase the brilliant talent we have here to as many people around the world as possible.
---
What creative, business or digital trends are you seeing in Japan that we should know about?
Kaz Kobayashi:  The utilization of data is key in terms of understanding new trends and evaluating new artists.  That said, data is only a guide, and old-fashioned A&R skills are still crucial in identifying artists with long-term potential, not just passing fads.
The rise of J-pop and K-pop over the last few years has been amazing to see.  This has meant the share of Western songs has declined in Japan, but it's encouraging to see Japanese and Asian artists resonating with a global audience.
However, we still believe that Japan is an exciting opportunity for international artists, though we have to work so much harder to break them here now.
---
What are the biggest challenges for the music business generally in Japan?
Kaz Kobayashi: The biggest question we face today is, 'how do we break the Japanese artists internationally?'.
A lot of Japanese artists have tried, but very few succeeded in the past. Of course, we know the success of K-pop and how its managed globalization so well.
The hurdles, such as language barriers and cultural differences will continue to exist, but we must find ways to move forward and make a new success model for the Japanese artists at a global level. A lot of Japanese culture, notably Anime, is hugely popular around the world.
WMG can play a big role by finding the balance of retaining Japanese artists' originality, but understanding that we sometimes need a slightly more international production sound to help them breakthrough globally.
---
In our previous interview, we discussed the challenges of breaking artists from Japan, globally, and you told us that language and cultural barriers are "crumbling in a more globalised, streaming-led market". Have you been seeing an increased interest from other markets in Japanese artists over the past few years?
Kaz Kobayashi: Interestingly, there's an increased level of interest in J-Pop artists these days in other Asian markets, such as South Korea, Taiwan and Thailand.
Some artists, such as Wednesday Campanella and Chanmina, are sought after for collaboration opportunities, and we're currently working on projects to bring artists from multiple countries together to create new music for fans.
---
Artificial intelligence is one of the biggest talking points in the global music industry right now – What are your thoughts about AI's potential impact on music in years to come?
Kaz Kobayashi: Creatively, AI is both an opportunity and a threat. Many people are already discussing the impact of AI's content creation capability and future copyright issues, but it also has the potential to help artists create exciting new sounds.
At the same time, we are also exploring new business opportunities in the realm of Web3, be it an NFT and the metaverse. There are many unknowns today, but we're leaning in and learning about these new technologies.
---
If there was one thing you could change about the music business, what would it be and why?
Kaz Kobayashi: Preventing and controlling fraudulent streaming activity is absolutely necessary in order to ensure the continued growth of music streaming, and, right now, we're not doing enough about it as an industry.
Also, creating the legal framework for copyright protection for digital products such as NFTs is critical.
In terms of the music business as a whole, going 'beyond' recorded music, be that live entertainment and anime content development, will be key to taking the music industry to the next level. To achieve it, we must change our mindset and be willing to take risks.
---

World Leaders is supported by PPL, a leading international neighbouring rights collector, with best-in-class operations that help performers and recording rightsholders around the world maximise their royalties. Founded in 1934, PPL collects money from across Africa, Asia, Australia, Europe, and North and South America. It has collected over £500 million internationally for its members since 2006.
Music Business Worldwide