We've previously pointed out that four of the world's top five recorded music markets – namely the US, UK, Germany and France, which are the first, third, fourth and fifth-largest, respectively – all look to music streaming as their primary revenue generator.
In Japan, the world's second-largest recorded music market (according to the IFPI), physical music, and specifically CDs are still the dominant format.
Streaming is starting to contribute a significant portion to the overall revenue pie in the market however, with revenues from subscription streaming in 2022, reaching 75.62 billion yen.
That figure converts to USD $575 million at annual average exchange rates (as per the IRS), and represents revenue growth of 19% from paid-for music services like Spotify and Apple Music
That's according to new stats published by local trade body RIAJ (Recording Industry Associaion of Japan),  which reports that overall streaming (including ad-supported and subscription) revenues hit  92.8 billion yen ($705m) in 2022, up 25% YoY (see below).
Digging deeper into RIAJ's numbers reveals that revenues generated from ad-supported music streaming in the market reached  5.99 billion yen (USD $45m), up 129% YoY.
Elsewhere, ad revenues from music videos reached 6.5 billion yen ($49m), reflecting growth of 29% YoY.
Overall, revenues generated from digital sources, including both streaming (subscription & ad-supported plus downloads) in 2022 exceeded 100 billion yen for the first time in 2022, up 17% YoY to 105 billion yen ($798m).
---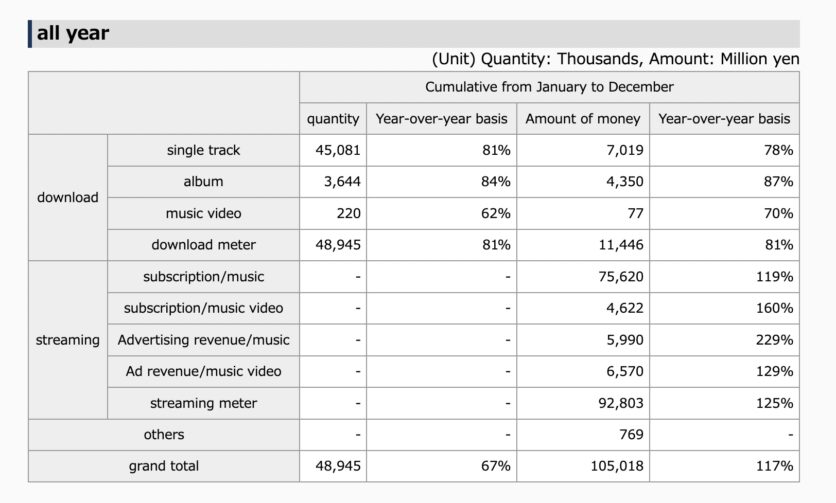 ---
Elsewhere in the market, in spite of music streaming's growth, CDs were still the biggest revenue generating format in Japan in 2022.
According to RIAJ data, revenues from CD sales in Japan topped 129.8 billion yen (USD $987m) in 2022, up 5% YoY (see below).
In terms of other physical formats, Vinyl sales generated revenues of 4.336 billion yen (USD $32.9m) in 2022, up 11% YoY.
---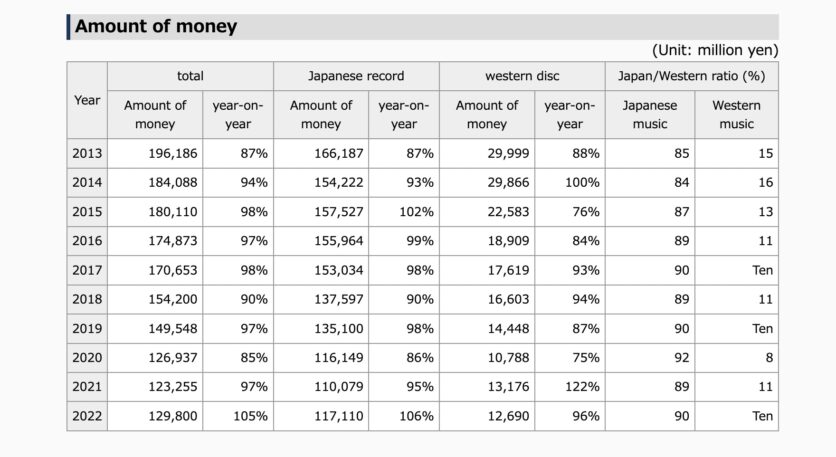 ---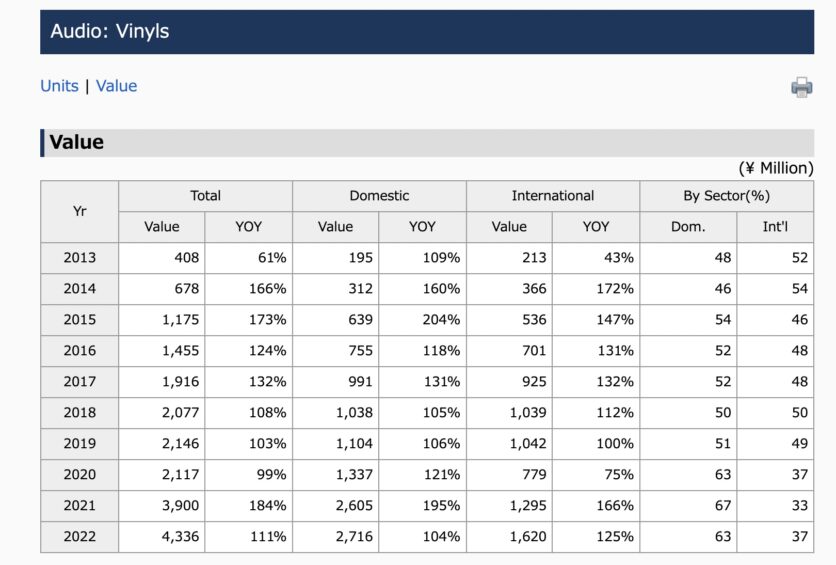 Music Business Worldwide