The amount of cash spent on music streaming services in the UK last year grew by £165m ($204m) – easily enough to offset an uncomfortable crash in download and physical revenues.
New preliminary figures from the Entertainment Retailers Association (ERA) show that the UK record industry generated £1.11bn ($1.37bn) at retail in 2016, up 4.6% year-on-year.
This was achieved despite a precipitous 26.8% year-on-year decline in money from download services such as iTunes – a drop which single-handedly sucked £78.8m ($97m) out of the business compared to 2015.
In addition, physical music revenues tumbled by 7.3% to £475.4m ($587m), with money generated by CD falling by 13%.
---
Despite these declines, physical remained the UK's biggest money-making format in 2016… but only by a slim margin.
The likes of Spotify, Apple Music, Tidal and Deezer generated £418.5m ($516m) in the UK last year, with subscription streaming revenues growing 65.1%.
Surprisingly, that represented an acceleration in streaming's annual percentage growth in the UK, which increased by 51% in 2015 and 58% in 2014.
(To be clear, these are retail, not wholesale, figures – so offers no clear indication of how much of this cash made its way back to labels/publishers and/or artists/songwriters.)
Streaming will now almost certainly overtake physical as the UK music biz's biggest money-making retail format in 2017.
In another bright spot, vinyl records continued their sustained revival last year, up 56.4% to £65.6m ($81m).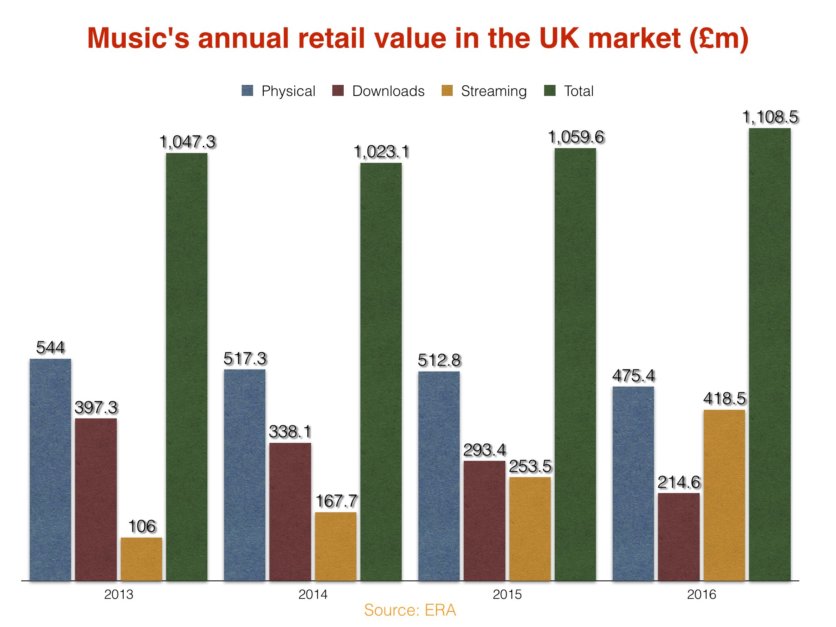 ---
With numbers like these, it's little wonder streaming's growth is fuelling optimism about the future financial health of the UK music business.
(That's despite concerns over a perceived lack of new blockbuster artists – not including Alfie Boe & Michael Ball, pictured, whose Together album sold 511,699 copies in the UK in 2016).
So who should take the credit for these promising first few years of streaming's ascent?
Kim Bayley, ERA CEO, knows where she's directing her praise.
Bayley told MBW: "These figures really underscore the tremendous work done by retailers and digital services in helping a music industry which really found itself in a bit of a pickle a few years ago. There was a real sense that the only way sales could go was down."
She added: "Fast forward to to 2017 and we have two really dynamic sales stories and ERA members have been the driving force behind both of them.
"Even the most partial observer would have to admit that it was independent retailers, notably through Record Store Day, who first discovered and nurtured the revived appetite for vinyl.
"These figures really underscore the tremendous work done by retailers and digital services in helping a music industry which really found itself in a bit of a pickle a few years ago."

Kim Bayley, ERA
"And when it comes to streaming, the fastest growing part of the music business, this is almost entirely due to the investment and innovation of digital services.
"ERA members are the first to acknowledge the importance of their artist and record company and music publisher partners. Without the music none of us would have a business.
"But I think with these figures the wider music industry will recognise the crucial role of retailers and digital services in the revival of their fortunes."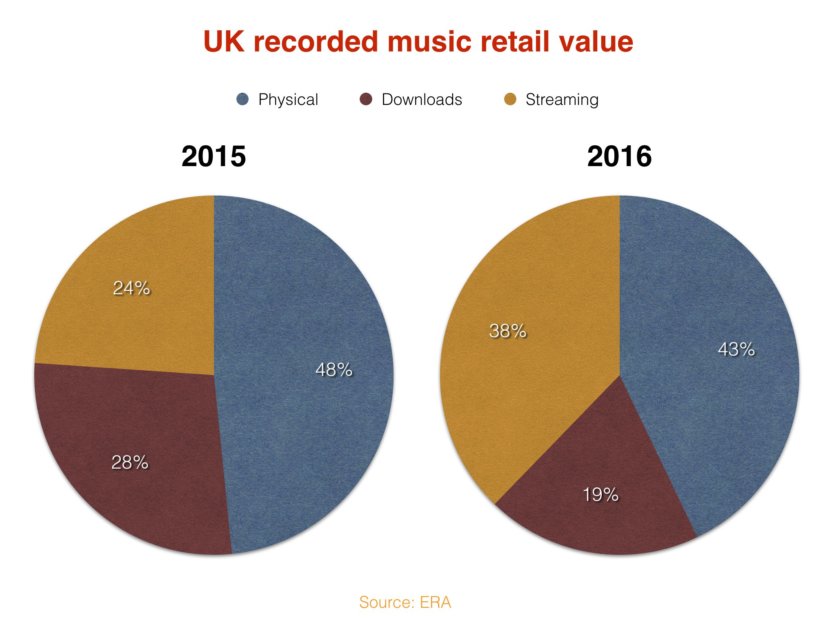 ---
In its preliminary numbers, ERA also measured the retail takings of UK video games and digital video retailers across both the digital and physical realms.
Video games generated £2.96bn in the year, up 2.9%, while video generated £2.25bn, up 2.2%.
Digital services accounted for 57% of music revenues, 58% of video revenues and for 74% of the games market.
Kim Bayley added, "The music, video and games industries were understandably nervous about the advent of new digital services, but these figures provide resounding evidence of the benefits of our members' investment in innovation.
"To have added over £1bn in new revenues in just four years is an incredible achievement. To put it another way, take away today's digital services and the entertainment market would be barely a third the size it is today."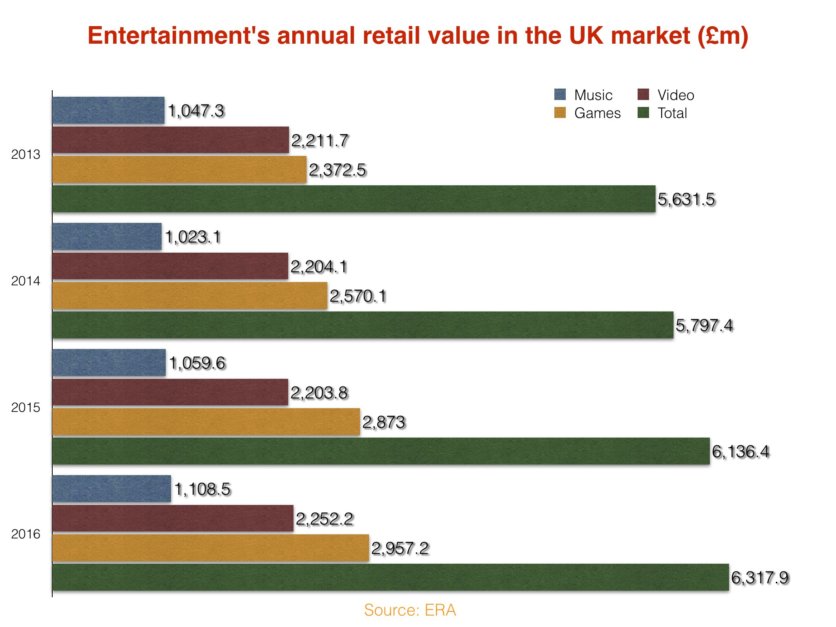 ERA's market figures provide a definitive overview of the UK entertainment market, aggregating data from market analysts including the Official Charts Company, GfK and IHS.Music Business Worldwide