Rock solid label sources have told MBW that Spotify now has in excess of 35m subscribers worldwide – and has added around 2m paying customers each month in the past quarter alone.
The Swedish streaming service is currently standing at around 37m subscribers, a figure accelerated by a recent price promotion in multiple territories.
For the past quarter, Spotify has been targeting new/free users with a 'Love Your Summer' promotion, offering three-month subscriptions for just $0.99 in the US – as well as offering lapsed subscribers a $9.99-for-three-months deal.
Update: We're told previous Spotify promotion trends suggest it will lose between 1m-1.5m of these subscribers once their cut-price deals end – putting today's true 'recurrent subscriber' figure at a healthy 35m-36m.

---
So what does all of this mean for Spotify's race for supremacy with Apple Music?
For one thing, it means that the three months to end of June was the biggest growth period in Spotify's history.
The last official subscriber update we were given by Daniel Ek's company came in March, when we learned it had surpassed 30m paying customers.
MBW is told that Spotify added somewhere between 6-7m subscribers in the three months that followed – though remember that internal experts think around 1m–1.5m of these will leave ('churn') when their three-month summer offer expires.
Another way of looking at it: Spotify revealed last month that it had surpassed 100m total active users on its platform.
Therefore, its current premium conversion rate stands somewhere between 35% – 37% – comfortably the biggest since it launched in 2008.
(As ever, bear in mind that this is the percentage of people paying something for a subscription– including price promotions, geographical discounts and telco bundles – rather than necessarily paying $9.99 a month.)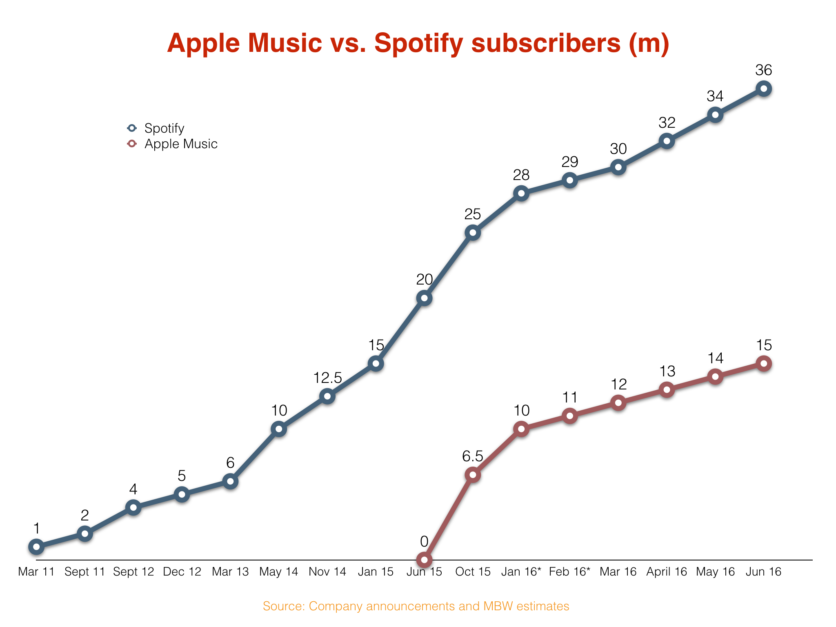 ---
Let's dig into finances: last year, according to MBW estimates, Spotify's average global subscriber paid €62.30 ($69) annually.
Its recent price promotion would have likely driven this figure down a bit, but if things even themselves out across 2016, Spotify would earn close to $2.5bn from its current subscriber base over the next 12 months.
Approximately $1.75bn (70%) of that $2.5bn would make its way directly into the coffers of music rights-holders.
Compare that to calendar 2015, when subscribers generated $1.95m for Spotify, and you can see the strides forward the company is making.
---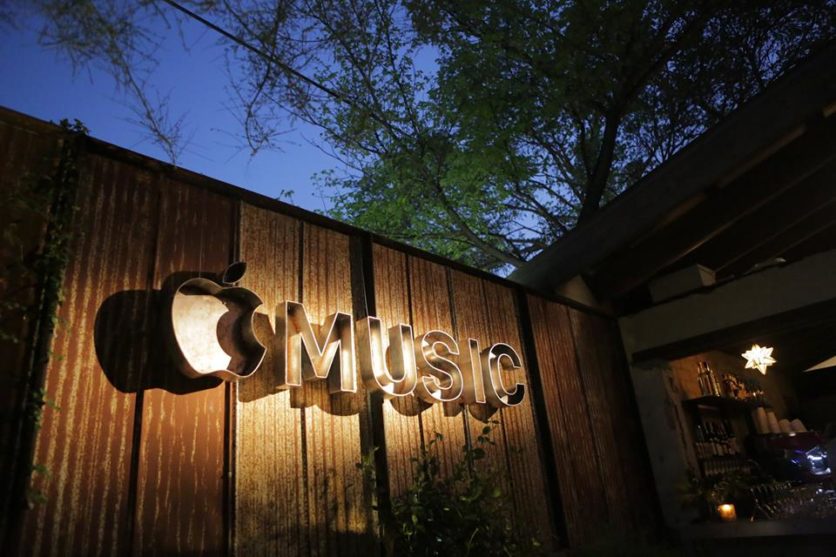 Apple Music told us last month that it had topped 15m subscribers, while TIDAL says it now has 4.2m subscribers.
At 35m+ subscribers, Spotify therefore has comfortably more than double Apple's subscriber base, and just under nine times that of TIDAL.
Combined across all three companies, you're looking at around 55m paying subscribers worldwide right now.
More importantly, say our label friends, Spotify's subscription business appears to be growing slightly faster than Apple Music's – at least, it is while Spotify can offer cut-price user promotions.
That's despite Apple Music continuing to secure major artist exclusive deals that temporarily lock out big releases from the Swedish platform.
Game on.Music Business Worldwide