Spotify finished 2018 with 96m paying subscribers around the world, up by 25m year-on-year.
That represented an acceleration in annual subscriber growth compared to 2017, when Spotify added 23m paying subs in a 12 month period.
In Q4 alone, Spotify added 9m subscribers – an average of 3m per month. The firm finished Q3 2018 with 87m paying customers worldwide.
SPOT expects to complete Q1 this year with between 97m and 100m subscribers worldwide.
That wasn't the biggest news in Spotify's freshly announced financials for Q4 2018, though.
The company posted its first ever quarterly operating profit (€94m) in the final three months of last year, driven by lower operating costs (-17% YoY). The firm, which posted a €442m net profit in the quarter – thanks to €387m of finance-related income – said that "movements in our share price in Q4 had a [positive] sizeable impact on our reported results" but that "the business would have been profitable regardless".*
(Spotify also posted an uncharacteristically small net loss of €6m, and a net profit of €43m, in Q3 2018; this was partly due to reduced operating costs, but mainly thanks to a €125m tax-related benefit related to the value of its stake in Tencent Music Entertainment.)
---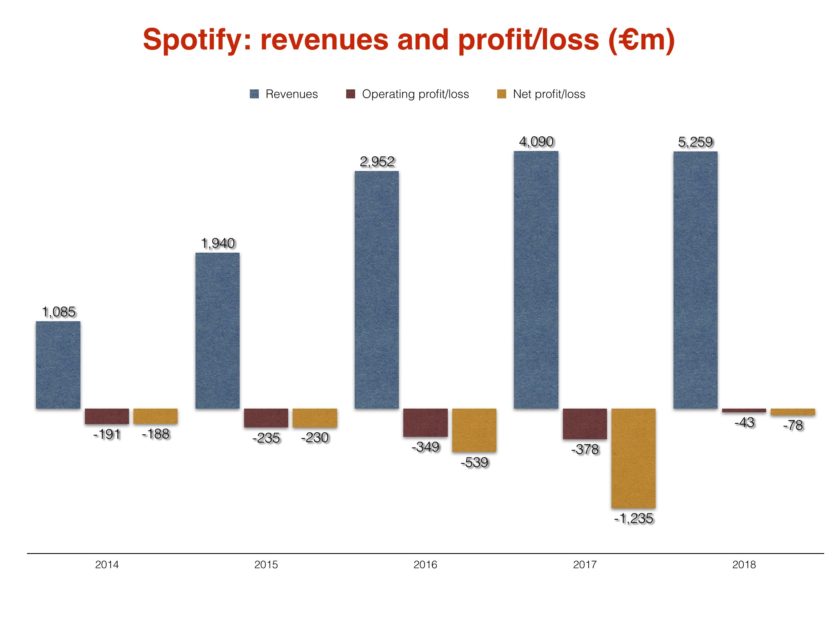 ---
These results mean that, for the full year of 2018, Spotify's operating losses stood at just €43m, nearly nine times smaller than the €378m operating loss it recorded in the prior year. Its annual net loss in 2018 was €78m.
Full-year revenues at Spotify surged in 2018, hitting €5.26bn, up 28.6% on the €4.09bn posted in 2017.
---

---
Spotify ended last year with 207m Monthly Active Users (MAU) around the world in total – a number which includes both paying and free customers.
As previously predicted, that MAU figure represented a bigger increase (+47m) than that seen in the calendar year of 2017, when Spotify's active user count grew by 34m.
---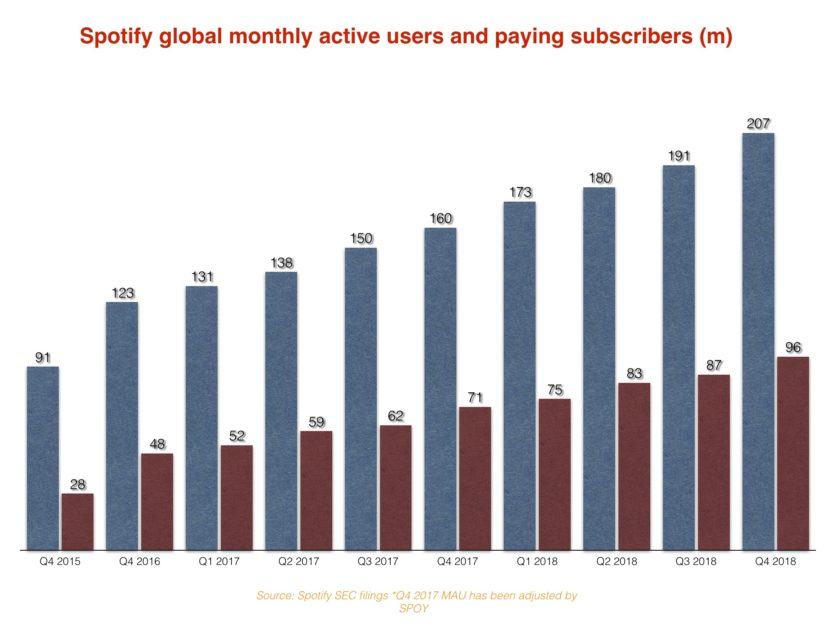 ---
Spotify has today (February 6) forecast to investors and analysts that its global subscriber count will reach between 117m and 127m by the end of 2019.
The company is also predicting that its Monthly Active User count will land between 245m and 265m by the close of the year.
Spotify suggests that its annual revenues will land between €6.35bn and €6.8bn in 2019, with a projected annual operating loss between €200m and €360m.
The firm is believed to have just agreed to pay $230m to acquire podcasting content company Gimlet Media. It's also snapping up podcasting distribution and software firm Anchor.
---


---
Spotify is expected to launch in India in the coming weeks.
MBW understands that both Universal Music Group and Sony Music Entertainment, to name two parties, are getting very close to licensing the service for the Indian market.
* RE Q4 profit: Spotify added, "The stock price decline resulted in a significant reduction of accrued social costs for stock options and RSUs, leading to a significant delta between our guidance and reported results. As a reminder, social costs are payroll taxes associated with employee salaries and benefits, including stock based compensation. We are subject to social taxes in several countries in which we operate, although Sweden accounts for the bulk of the accrued cost. Removing the impact of these costs, our results would have been slightly above the high end of our Q4 guidance. Strong gross margin and slower than planned headcount growth were the primary drivers of this performance."Music Business Worldwide