Spotify held its first 'Investor Day' presentation since 2018 in New York today.
There was plenty of optimism on display during the event's near-four hours of corporate chatter, which we'll be breaking into bite-size chunks in the days and weeks ahead.
(Apologies in advance if things get especially Spotify Business Worldwide round these parts as a result. But SPOT is the biggest music subscription company on the planet, so, y'know, fair's fair.)
In his opening remarks today, Spotify co-founder and CEO, Daniel Ek, discussed Spotify's expected expansion into audiobooks, before teasing a standout presentation from Spotify's Chief Freemium Business Officer, Alex Norström.
Norström, promised Ek, was about to "walk you through how we plan to get to a billion users" over the next eight years.
A while later, Norström took the stage, and wasted no time in making this claim.
---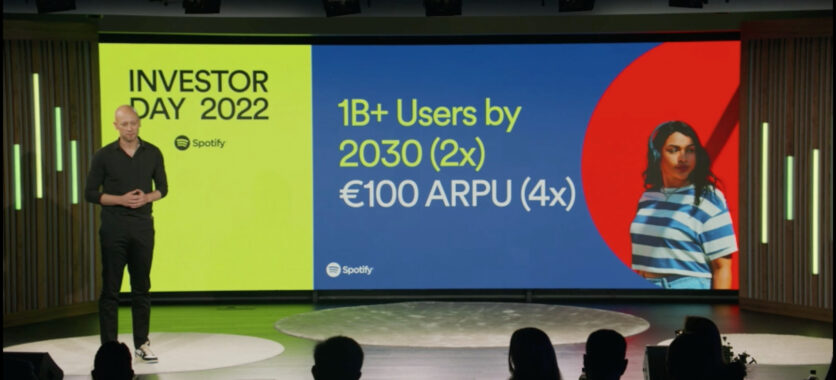 ---
Hitting a billion users by 2030 for Spotify would be no mean feat.
That said, Spotify ended 2021 with 406 million monthly active users (MAUs) globally, up 61 million YoY.
If SPOT could somehow maintain that pace of growth over the subsequent decade (+61m per year), its platform would hit 1 billion MAUs in the second half of 2030.
---
One of Spotify's strategies to reach the 1 billion MAU threshold, said Norström, was its continual growth in 'established' (i.e. mature) streaming markets (North America, UK & Western Europe, Australia & New Zealand).
But perhaps the most important part of the plan, Norström indicated, was the potential for Spotify's accelerated growth across 'emerging' markets – which, for the sake of his presentation, he named as Africa, Asia, Latin America (LatAm) and the Middle East.
Norström then explained why these 'emerging' markets offer such promise for Spotify, a product now available in 183 markets globally.
According to data shown in Norström's presentation, there are currently 600 million smartphone users across the aforementioned 'established' markets (in regions that also have access to Spotify).
Spotify therefore considers these 600 million smartphone users as its Total Addressable Market (TAM) in these regions. And with 184 million SPOT users in these 'established markets' at the close of 2021, Norström calculated, Spotify already counts 32% of them as customers.
---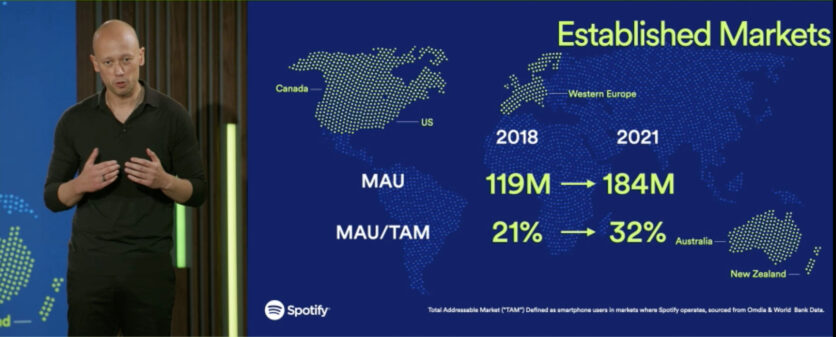 ---
Yet in the 'emerging' markets, Norström explained, the potential TAM for Spotify – and therefore the potential user growth opportunity for Spotify – is much larger.
Spotify's TAM in the 'emerging markets' (reminder: Africa, Asia, LatAm, and the Middle East), said Norström, is currently 2.7 billion smartphone users.
He added that Spotify currently reaches just 8% of this 'emerging market' TAM, i.e. around 216 million users.
That leaves 92% of this 2.7 billion TAM audience for Spotify to go get.
---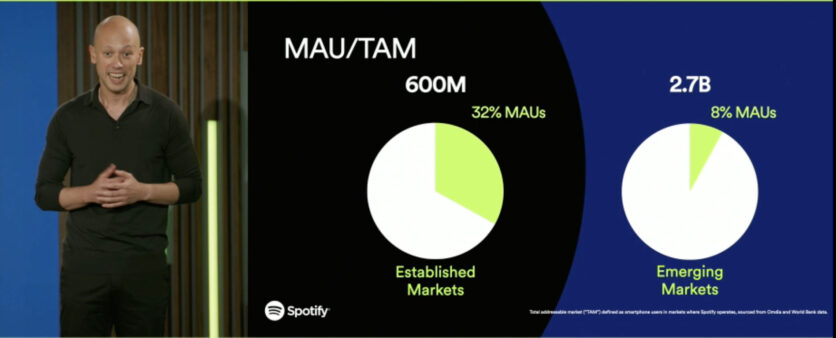 ---
Investor appetites whetted, Norström turned his attention, specifically, to Latin America, and Spotify's growth story in the market to date.
He unveiled the below graph, showcasing Spotify's Monthly Active User (MAU) and subscriber growth across Latin America over the past five years.
At this point, MBW's antennae dinged: this was brand new information.
Spotify breaks down its MAU reach by global region for investors each quarter, but only in terms of rounded percentages, from which exact user-counts cannot be derived.
Norström's LatAm figures, though, were nice and precise – and came complete with an up-ticking bar chart (see below).
Spotify is clearly very happy with its LatAm story: Norström choose to feature it prominently in his presentation, while commenting of Spotify's performance in Latin America:
"We're close to having 100 million users in the region. MAU over TAM [i.e. how many users Spotify has vs. smartphone users in LatAm] is 20%, and the engagement is fantastic… our subscriber proposition has started to gain serious traction, and with a 60% subscriber market share, we have a strong lead [on the competition]."
---

---
But, naturally, when MBW sees a chart like this, we want to dig deeper. So we did.
Below, you can see what Norström's chart looks like repurposed to include YoY growth numbers for Spotify in terms of both LatAm MAUs and LatAm subscribers (in millions).
---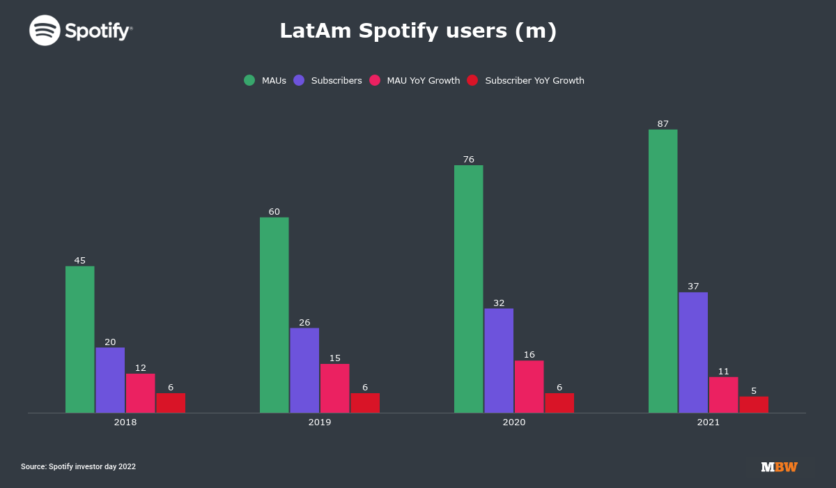 ---
Here's what it tells us: Spotify's YoY MAU growth in Latin America, according to its official figures, actually fell considerably in 2021.
The prior year, in 2020, Spotify grew by 16 million LatAm MAUs; in 2019, it was 15 million MAUs.
Yet in 2021, that number tumbled to +11 million.
SPOT's fall in LatAm subscriber growth was smaller, down to +5 million YoY – but in each of the prior three years, this figure stood at +6 million.
---
These are by no means horrendous figures for Spotify, but they are surprising to see. Especially in regards to LatAm – a music market which is growing like never before.
According to IFPI data quoted by Sony Music in a presentation last week, the LatAm region grew by 31.2% YoY in 2021 (in terms of recorded music trade revenues) topping USD $1.0 billion for the first time in history.
And according to IFPI's Global Music Report this 31.2% growth in Latin America sped up the region's fortunes versus the prior two years: LatAm was up 18.1% in 2020, says IFPI, and up 23.2% in 2019.
So the deceleration in Spotify's user growth in LatAm doesn't match the revenue trend of the region from a music perspective.
It should be said that Spotify's subscription price rises in regions like Argentina and Brazil last year – both confirmed on the Investor Day presentation today – played a significant role in driving LatAm's record revenue growth last year.
Still, if Spotify's investor narrative is one of accelerated user growth in 'emerging' markets, then why is its user growth slowing down in one of the most important 'emerging' markets of all?
---
Having covered LatAm, Alex Norström's presentation turned to India, where he claimed that Spotify has "raced past all competition" in the past two years as a music streaming provider.
Norström offered stats showing that in 2021, Spotify claimed 35% of total monthly streaming volume amongst India's top 5 music streaming platforms.
This was enough, said Norström', to leave Spotify as "the clear No.1 music streaming service in India, judging by engagement".
However, Norström stopped short at telling us what Spotify's market position in India is in terms of actual number of users/subscribers versus the likes of JioSaavn, Gaana etc.
---

---
An hour or so after Norström's presentation, concluding the day's events before an investor Q&A, Daniel Ek stood in front of a Spotify-branded screen bearing the words, "Opportunity is massive."
"From everything I see," said Ek, "I believe that over the next decade [Spotify] will be a company that can generate $100 billion in revenue annually. And that we can achieve a 40% gross margin, and a 20% operating margin."
These are obviously very ambitious targets. As, indeed, is that projected milestone of 1 billion MAUs globally by 2030.
Can Spotify get there even as its growth in Latin America decelerates?
Latin America: a $1 billion-plus 'emerging' market, with explosive growth behind it – and, crucially, with explosive growth still ahead of it?
Questions, perhaps, for Spotify's next Investor Day, whenever that might be.Music Business Worldwide