Spotify's global Premium Subscriber base grew to 180 million in Q4 2021 (ended December 31), according to the company's new financial results published today (February 2).
That was up by 8 million subscribers (5%) on the 172 million that the company counted at the end of the prior quarter (Q3 2021), and up by 25 million (16%) year-on-year.
The company's total global Monthly Active Users, (MAUs), meanwhile, grew 18% year-on-year to 406 million in Q4 2021 and by 7% compared to the previous quarter (Q3) when the platform counted 381 million MAUs.
Spotify's Premium subscriber growth translated into Premium revenue of €2.295 billion in Q4, which was up 5% on the €2.178 billion generated in the prior quarter (Q3 2021) and up 22% year-on-year (see below).
---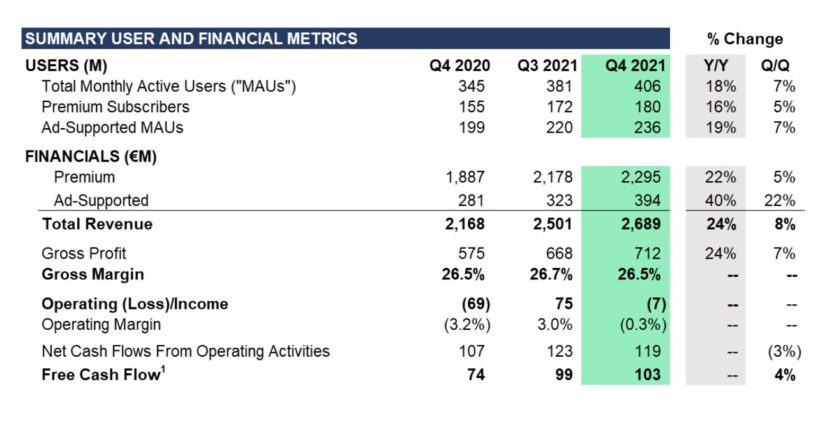 ---
The firm's average monthly revenue per user (ARPU) landed at €4.40 (approx. $4.97) in Q4, up just 3% year-on-year (up 1% year-on-year at constant currency).
SPOT says that "Excluding the impact of FX," it saw a benefit to ARPU "primarily from our price increases".
Spotify's Gross Margin finished at 26.5% in Q4.
Meanwhile, Spotify's ad-supported revenue hit €394 million in Q4, up 22% on the €323 million generated in the prior quarter (Q3) and up 40% year-on-year.
Spotify's Ad-Supported MAUs grew by 16 million (7%), from 220 million in the prior quarter (Q3 2021) to 236 million in Q4, and by 37 million (19%) on the 199 million ad-supported MAUs counted in the same quarter in 2020.
SPOT reports that its Ad-Supported Revenue reached "a record 15%" of total revenues in the quarter.
Spotify's MAU tally of 406 million in Q4 2021 was near the top end of its guidance range. The company says that it saw double digit YoY MAU growth in all regions with particular strength in the 'Rest of World', which was led by strong results in India and Indonesia.
Spotify says that Latin America also "outperformed expectations".
SPOT adds that all regions, led by Europe and Latin America contributed to its Premium Subscriber growth of 16% YoY, which at 180 million, is also near the top end of its guidance range.
---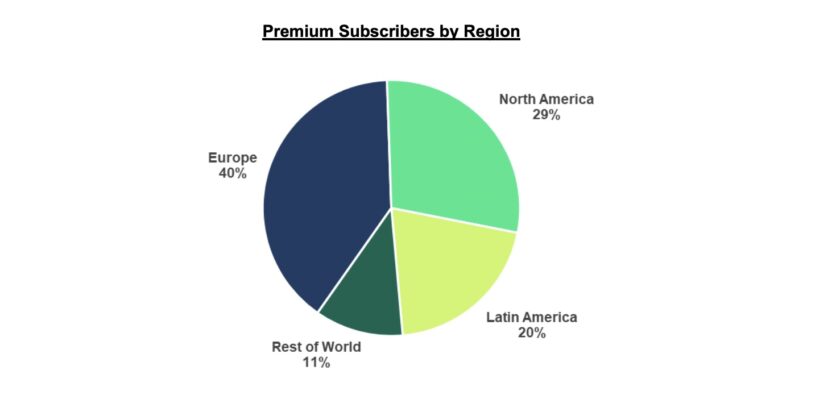 ---
At the end of Q4, Spotify had 3.6 million podcasts on the platform (up from 3.2 million at the end of Q3).
SPOT also says that it expanded its paid podcast subscriptions to creators and listeners in 33 additional markets and adds that it enabled podcasts for users in Russia, Egypt, and Saudi Arabia.
Looking forward to Q1 2022, Spotify says that, "going forward we will simplify our approach by providing a single estimate for each metric instead of a range of outcomes".
Spotify's guidance for Q1 2022 includes 418 million MAUs, 183 million Premium subscribers and total Revenue of €2.60 billion
"As we move into 2022 and beyond, the opportunities in front of us are large and we see a tremendous amount of greenfield on the horizon."

Spotify
In a letter to shareholders, Spotify said: "We ended 2021 with strong Q4 results, led by outperformance in MAUs, continued momentum in our subscription business, and meaningful advertising results.
"Looking back on not just this quarter, but the past few years, we are increasingly excited about the investments we have made and see meaningful progress within a number of our initiatives.
"As we move into 2022 and beyond, the opportunities in front of us are large and we see a tremendous amount of greenfield on the horizon."Music Business Worldwide