Spotify has today (March 26) issued its official financial outlook for the full year of 2018 as part of its new duties as a soon-to-be public company.
There are a couple of exciting numbers for those keeping their fingers crossed over streaming's continued growth.
Spotify has officially told Wall Street that it expects to have somewhere between 92m and 96m paying subscribers by the end of 2018 – up 30%-36% year-on-year.
That would represent a rise of around 23m on the 71m subscribers it has confirmed it attracted by the end of 2017.
Twenty-three million is, in turn, exactly the same number that the company's subscriber base grew by last year.
(Considering that Spotify recently launched in South Africa, Vietnam and other territories – and that launches in India and elsewhere are expected later this year – those figures may come as a slight disappointment to those hoping to see Spotify's growth curve continue to rise in 2018.)
In terms of Monthly Active Users (MAUs), Spotify has forecast that it will finish 2018 with an audience of between 198m and 208m people – up 26%-32% year-on-year.
That would represent a rise of around 44m on 2017, when the company's MAUs increased by 36m.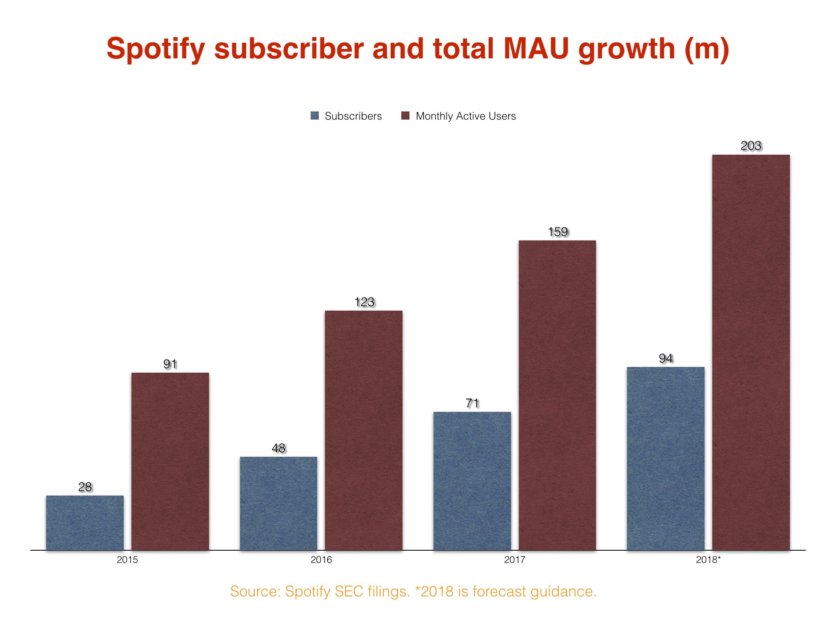 ---
Spotify has also today issued guidance on its full-year financial performance in 2018.
The company expects its total revenue to reach somewhere between €4.9bn – €5.3bn, up 20-30% year-on-year.
It expects a gross margin of 23-25%, with a total operating loss of somewhere between €230m-€330m. (Spotify added that it 'anticipates changes in foreign exchange rates will have a negative impact of approximately €260-300 million for the full year'.)
This operating loss figure would include a one-off cost related to the firm's direct listing on the New York Stock Exchange of €35m-€40m, it said.
Spotify is set to float on the NYSE next Tuesday (April 3).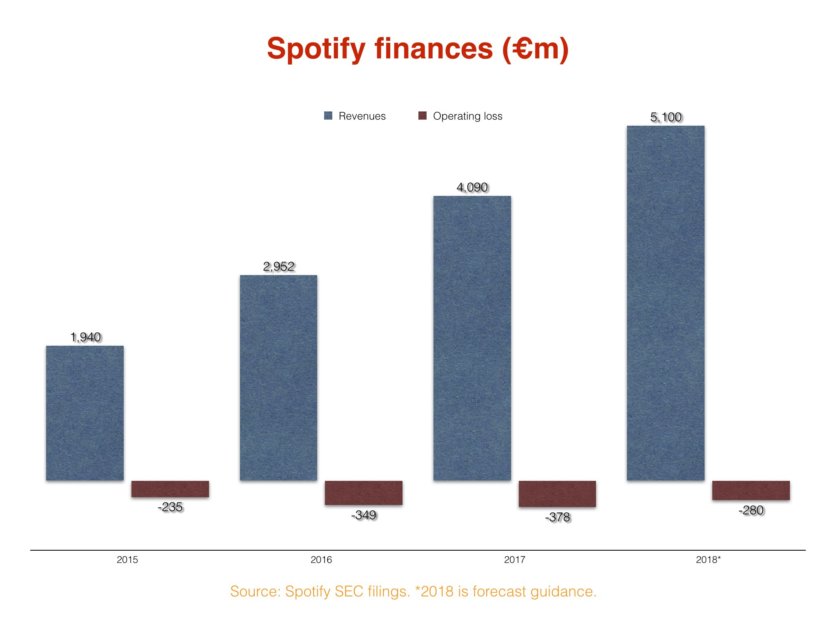 ---
The company has today also issued guidance for the first quarter of 2018 (ie. the three months up to end of March) which you can see below.
Total Monthly Active Users ("MAU")1: 168-171 million, up 28-31% Y/Y
Total Premium Subscribers2: 73-76 million, up 41-46% Y/Y
Total Revenue: €1.10-1.15 billion, up 22-27% Y/Y. We anticipate changes in foreign exchange rates will have a negative impact of approximately €95-105 million in the quarter3
Gross Margin: 23-24%. This includes a 60 bp benefit from a one-time estimated accrual adjustment associated with prior periods
Operating loss: €50-€80 million
Music Business Worldwide