2022 has been a metamorphic year for SoundCloud.
In January, the company launched its 'Roster' business, which for the first time has seen it investing significant sums in selected talent, while 'signing' said talent's recorded music for a licensed term.
Deals struck under 'Roster' so far include JV partnerships with two Atlanta-born companies: Kevin "Coach K" Lee and Pierre "P" Thomas' Solid Foundation, plus Kei Henderson's Third & Hayden.
In addition, this year has seen SoundCloud revamp its 'Repost' distribution and services operation for independent artists into the new 'SoundCloud for Artists' platform, a development project led by ex-Spotify and ex-Twitch exec, Tracy Chan. (SoundCloud For Artists is a centralized hub for distribution to SoundCloud and other streaming platforms, promotion, monetization and more.)
There's been less triumphant news, too: In August, SoundCloud confirmed it was cutting 20% of its global workforce – a now-familiar headline from global tech companies in the current macroeconomic environment.
But perhaps the biggest announcement from SoundCloud this year was its deal with Warner Music Group to pay the major's artists via 'Fan Powered Royalties' (also known as 'User Centric Royalties').
Over 100,000 independent artists have been paid via 'Fan-Powered Royalties' (FPR) since last year, with a Midia Research report published in the summer suggesting that 56% of these acts are now being paid more via FPR on SoundCloud rather than they were via the 'pro-rata' model still adopted by the likes of Spotify and Apple Music.
According to Eliah Seton, President of SoundCloud, the biggest future opportunity for SoundCloud's 'Fan Powered Royalties' (FPR) lies in what he calls 'Fan Powered Insights' (FPI) – information and analytics accessible to artists about their most fervent fans on the platform.
This, says Seton, will inform artists about the fans most likely to spend money on concerts, merchandise, digital goods and other income sources outside of mere streaming. (More information on 'FPI' is expected to emerge from SoundCloud in the coming months.)
"We really believe the next big format for the music business is fandom."

Eliah Seton, SoundCloud
"We really believe the next big format for the music business is fandom," Seton tells MBW. "Today's music business doesn't work for most artists; streaming alone is not enough [financially] for most artists. Optimizing and commercializing fandom is going to be all-important to unlocking a music business that does work for most artists.
"To do that, artists need a direct relationship with their listeners, and SoundCloud is a unique platform where artists/creators [who use SoundCloud for Artists] and over 100 million fans can develop that direct relationship."
The '100 million fans' stat there is an official one. MBW has this week obtained SoundCloud's financial results for the calendar year of 2021, as recently published by parent company SoundCloud Holdings GmbH in Germany.
It shows that, at the close of 2021, SoundCloud's platform was used by 130 million 'fans' alongside 40 million artists.
That artist stat is impressive in terms of the volume of creators on the SoundCloud platform: for context, Spotify confirmed earlier this year that its service hosted content from just 11 million 'creators' at the close of 2021 – around a quarter of the size of SoundCloud's equivalent artist pool.
There were also 320 million tracks on SoundCloud at the close of 2021 – a year-on-year increase of around 20 million tracks.
---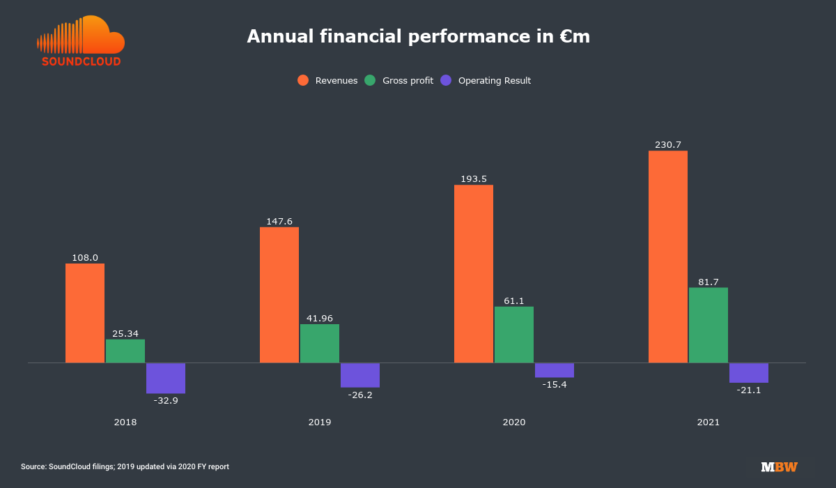 ---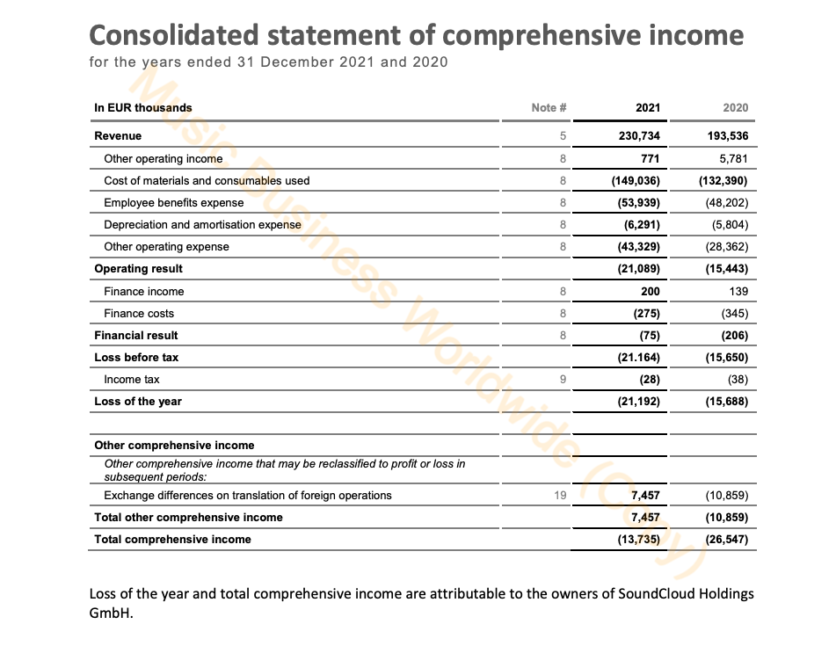 ---
According to its financial report, SoundCloud saw its global revenues grow 19.2% YoY to EUR €230.7 million (USD $273m) in 2021, as the firm's gross profit grew by 33.7% to €81.7 million ($97m).
That represented the third consecutive year of double-digit revenue growth across SoundCloud's business, and the first year in which its annual revenues topped a quarter of a billion dollars.
SoundCloud's operating loss widened in 2021, to €21.1 million ($25m) from €15.4 million in the prior year.
The company largely pins that widening of operating loss on a significant increase (+70% YoY) in marketing costs – particularly utilized, it's understood, to push 'SoundCloud For Artists' to prospective independent artist clients. There were also 'Roster'-related costs spent in 2021, in the lead-up to that business's launch in Q1 2022.
The 2021 SoundCloud filing explains: "Significant investments were made in our operating infrastructure in 2021, including a reconstitution of the executive team with new experienced executives from the music and entertainment industries. Further, marketing spend was increased substantially (+70%) to drive targeted revenue growth, but [that spend] was slightly under plan."
SoundCloud ended 2021 with €42.2 million ($50m) in cash and cash equivalents, down from €78.5 million in FY 2020, according to the document.
SoundCloud: 'Fans' vs. 'Creators' business
In 2021, SoundCloud divided its business into two simple categories:
(i) Fans – covering ad sales monetization of music streaming, plus payments from listeners who subscribe to SoundCloud's paid-for subscription streaming offering; and
(ii) Creators – covering fees paid by artists for access to distribution and tools (SoundCloud For Artists) to market and monetize their music.
'Roster' has now added another dimension to this 'Creators' section', with SoundCloud paying out advances and generating money from artist royalties on its and other platforms.
According to SoundCloud's 2021 fiscal filing, its 'Fans' business saw revenues grow by 16.6% YoY to €143.4 million ($170m) last year.
Its 'Creators' business, meanwhile, grew faster in percentage terms – up by 23.7% YoY to €87.3 million ($103m).
As SoundCloud further adjusts its business with 'Roster' to increasingly focus on servicing and striking deals with 'Creators', it will be interesting to see if the gap in annual revenue between these two business segments narrows in the years ahead.
Sources close to the company suggest that, via this dual 'Fans' and 'Creators' strategy, it is now looking to achieve run-rate profitability at some point in 2023.
---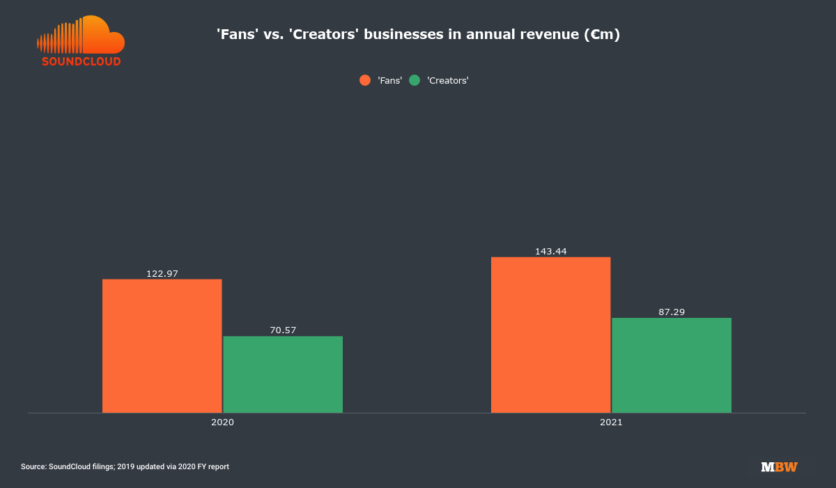 ---
SoundCloud: Headcount
As mentioned, one of SoundCloud's most important moves this year was the trimming of its global headcount by 20% in the summer.
The company's 2021 financial document shows the size that the firm's global headcount had reached at the close of last year, months before the company made its lay-off round in summer 2022.
According to the document, the average number of people employed by SoundCloud in 2021 was 451, up from 392 in 2020.
If that 451 headcount held into H1 2022, then SoundCloud would have cut around 90 roles during its round of redundancies this summer.
---

---
SoundCloud: Acquisition of Musiio
SoundCloud's big announcements this year didn't stop at new launches and 'Fan Powered Royalties': in May, it also confirmed its acquisition of artificial intelligence-driven platform Musiio Pte Ltd.
SoundCloud's 2021 financial filing confirms that it acquired 100% of Musiio Pte Ltd in April 2022, and that the purchase price consisted of approximately USD $7 million in cash, plus equity components.
Musiio´s technology focuses on B2B audio reference search (AI that can "listen" to music), automated tagging, and playlisting tools for the music industry.
SoundCloud says that, as part of its company, Musiio will now "add to the unique portfolio of fan and creator products at SoundCloud".
---
All 2021 currency exchanges from EUR to USD in this article have been calculated at the average annual rate published by the US's Internal Revenue Service (IRS).Music Business Worldwide