SoundCloud's last 12 months have been nothing short of transformative.
In March 2021, the company launched its pioneering "fan-powered royalties" (FPR) – a spin on user-centric streaming payments.
Around 100,000 independent artists, who upload their music direct to SoundCloud, were welcomed into the FPR program, in a move that sent ripples across the global music business.
A few months later, SoundCloud recruited respected music industry leaders to its top table, including ex-ADA Worldwide boss, Eliah Seton (now SoundCloud's President) and ex-UnitedMasters President, Lauren Wirtzer-Seawood (now SoundCloud's Chief Content & Marketing Officer).
These and other hires joined SoundCloud CEO, Michael Weissman, who told MBW in April last year that his company could one day work directly with "a million or two million artists".
It was a telling comment from Weissman, and a significant pointer towards SoundCloud's future.
For while SoundCloud remains best-known as a consumer-facing streaming service (with over 300 million tracks and counting), it's also been building a significant Creator Services operation, offering artists digital distribution (to multiple platforms), plus other beneficial services to boost their careers.
You can see why Weissman thinks this part of SoundCloud's business has the potential to scale rapidly –and why his investors may be pleased by the focus SoundCloud is giving it:
The independent artist market, according to Midia Research, saw 34% revenue growth in 2020;
The likes of TuneCore, CD Baby, and DistroKid now service multiple millions of artists between them (indeed, Daniel Ek just revealed that 3 million additional new 'creators' uploaded content to the Spotify platform in 2021);
Rival indie-artist-servicing platforms have recently achieved vast valuations, including UnitedMasters ($550 million in October 2021) and DistroKid ($1.3 billion in August 2021).
In addition to scaling the audience of its Creator Services business, SoundCloud is also moving it into potentially more lucrative – and potentially more controversial – territory.
The company revealed in an expansive Billboard profile last month that it's launching a new white-glove tier of service for indie artists; what it calls the SoundCloud "roster".
The acts that make it into this tier will receive weighty creative and financial resources from SoundCloud, with some receiving meaningful levels of financial advances and marketing support.
Eight artists have initially been signed to this "roster", including acts who previously built their profile at large-scale record companies – amongst them Lil Pump (formerly signed to Warner), Atlanta-based rapper MadeinTYO (formerly signed to Commission/BMG), and Nigerian act Tekno (formerly signed to Sony and Universal).
Each of these artists will maintain ownership of their underlying copyrights, but have essentially 'signed to SoundCloud' – with the company representing their new recordings via an exclusive licensing agreement.
---
On the one hand, this an obvious next evolution for SoundCloud's creator-facing services business, which has been accelerating ever since the firm acquired subscription-based artist services platform Repost for around $15 million in 2019.
On the other hand, it moves SoundCloud closer towards the territory of being… well, not exactly a record company, but more akin to the likes of AWAL. i.e. a multi-level artist development model that can dedicate increasingly substantial resources to indie artists as they grow their careers.
SoundCloud isn't the only company to have noticed the potential in being a hybrid artist-services-plus-streaming-platform company, of course: Spotify tried inking direct agreements with artists in 2018 – including the payment of advances.
But soon after, with disquiet growing amongst the major record companies, Spotify retreated from this model. (Spotify also famously launched, then shut down, its own SoundCloud-style DIY artist-upload service the following year.)
---
All of which is very interesting context to the news that MBW brings you today: SoundCloud posted revenues of EUR €193.5 million (USD $218.7m) in calendar 2020, up 31% year-on-year.
The company's gross profit in that same year increased by 53% to €61.1 million ($69m), while its operating losses substantially narrowed by 41% YoY to €15.4m ($17.4m).
We know all of this because MBW has gotten our hands on the FY 2020 fiscal report for SoundCloud Holdings GmbH, Berlin – now the umbrella company for SoundCloud and its subsidiaries worldwide.
The 2020 report reveals that, in that year, SoundCloud's "total revenue exceeded expectations and our operating losses were lower than initially planned".
---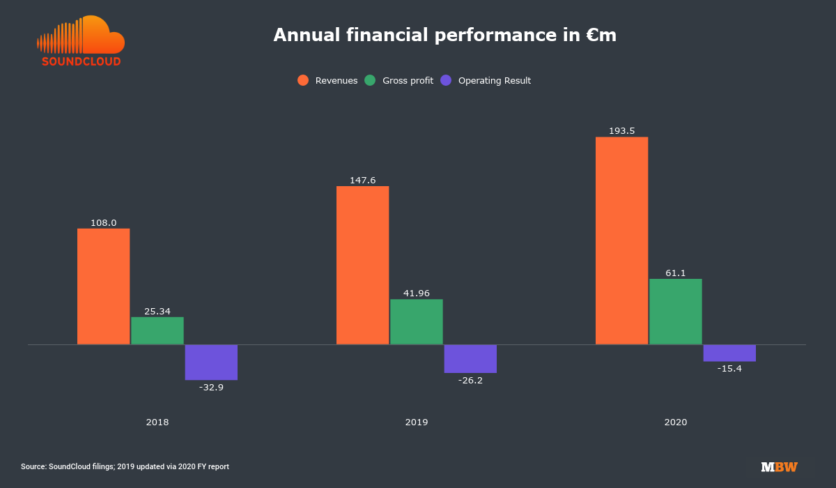 ---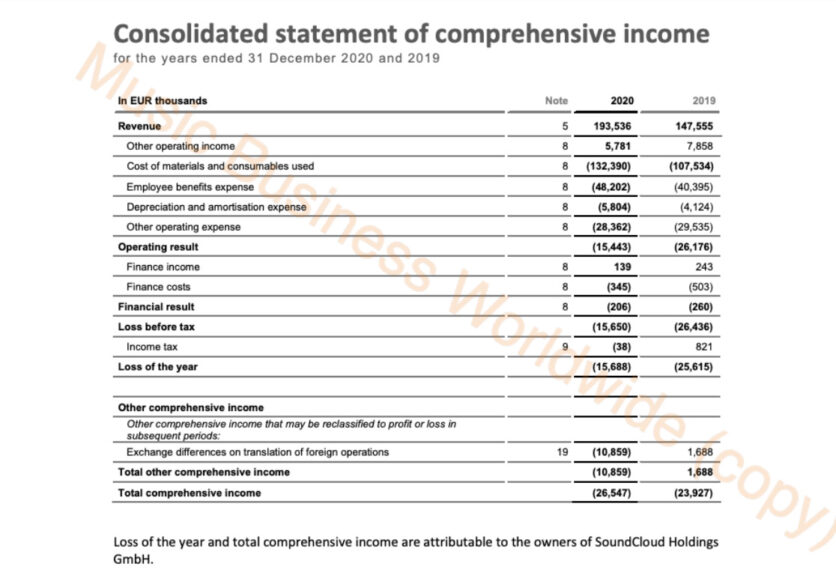 ---
Obviously, 2020 is now a while ago, but these figures are indicative of SoundCloud's increasingly improved fiscal health since it was majority-acquired by The Raine Group and Temasek in a $170 million deal in 2017 (an agreement which brought Michael Weissman and ex-CEO Kerry Trainor into the company).
"[We will be making] conscious investments into our resources, including talent, as we reposition SoundCloud as a music entertainment [company]… given our fund raising in 2020, we are well placed to make those investments and expect our liquidity resources to accommodate this comfortably."

SoundCloud 2020 report
Interestingly, SoundCloud's 2020 FY report also reveals: "[We] expect revenues to continue to grow in 2021 and beyond, reaching similar growth rates to those of 2020 [but] as we plan to invest into further scaling of the Group to meet our targets for 2021 and beyond, we expect our operating loss in the financial year 2021 to be higher than in 2020.
"This will likely be driven by conscious investments into our resources, including talent, as we reposition SoundCloud as a music entertainment [company]… given our fund raising in 2020, we are well placed to make those investments and expect our liquidity resources to accommodate this comfortably."
---
For its 2020 report, SoundCloud organized its business into two divisions:
(i) SoundCloud Network, which covered the firm's main business inclusive of listener subscriptions to its streaming service plus creator subscriptions to its distribution/services business; and
(ii) 'Creator Services' which covered the gross royalties being pulled in by music distributed to other services by SoundCloud on behalf of artists signed up to Repost By SoundCloud and Repost Select.
Obviously, the latter is by far the smaller part of SoundCloud's business, but it did experience significant growth in 2020 (+156%), which SoundCloud says was the result of both an influx of new Repost subscribers, but also the general growth in royalties pertaining to increases in subscriptions and advertising revenues across music streaming services.
(SoundCloud says that, from 2021 onwards, it's organizing its business slightly differently, once again into two operating divisions: (i) Fans will cover ads and subscription money accrued by its consumer-facing streaming service; and (ii) Creators will pull together the subscriptions paid by creators to SoundCloud / Repost alongside the spoils of the monetization of their music on other platforms.)
---

---
2020 was an important year for SoundCloud's financial status, remember: In February that year, it accepted a $75 million investment from SiriusXM (parent of Pandora).
SoundCloud says this cash injection "contributed to our sound financial position" by year-end: SoundCloud finished 2020 with €78.55 million in cash & cash equivalents.
One of SoundCloud's banner initiatives in 2020 was to offer reduced-priced creator subscription packages in response to the socio-economic challenges of the pandemic.
The firm's 2020 FY report shows that this move resulted in a 50% increase in uploads via SoundCloud's subscription creator services engine.
"A reduced ARPU resulting from this temporary price reduction was compensated by an increase in subscriber count," said SoundCloud in its report.
---
Although SoundCloud says it remained "cost conscious" throughout the pandemic year of 2020, it managed to avoid making any lay-offs amongst full-time staff. At the end of that year, it had 359 full-time employees worldwide.
In one interesting 'risk factor' in its report, SoundCloud addresses both sides of its business – the consumer-facing streaming platform, and the artist-serving distribution/services operation.
It notes: "Risks also arise from the competitive nature of our markets. Both the audio streaming and the creator services markets are contested by well-capitalised companies such as Google, Spotify and Apple on the tech side, and various major labels and publishers on the established music side.
"We are confident that we will continue to hold a strong position within the industry, though expect the markets to continue being highly competitive."
---
EUR-USD currency conversion in this story for 2020 have been calculated at an average annual rate of 1.130 as stated by French multi-national Vivendi in subsequent investor presentations.Music Business Worldwide