Scooter Braun, one of the most successful modern music entrepreneurs, is well known for being a lot of things: superstar artist manager, activist, philanthropist, e-Sports investor, music publisher and record label owner. (Ever since he bought Big Machine for $330m of of private equity money last year, Taylor Swift has chosen some other words with which to label Braun… but it's fair to say hers is a unique perspective.)
Now, it transpires, there is a new discipline etched onto Braun's résumé: published songwriter.
As founder of SB Projects, Braun is manager of both Ariana Grande and Justin Bieber, who have today (Friday May 8) released a new quarantine-themed track together, Stuck With U.
The song, which is now top of Spotify's New Music Friday playlist, is a charity single raising funds for the New York-based First Responders Children's Foundation.
According to a note under Stuck With U's official video on YouTube: "In response to the COVID-19 crisis and to help further bolster relief efforts, all net proceeds from the streams and sales of Stuck With U will be donated to First Responders Children's Foundation to fund grants and scholarships for children of healthcare workers, emergency medical technicians (EMTs), paramedics, police officers and firefighters serving at the front lines during the global pandemic.
"That means that by listening, watching, and sharing – you are helping to support families in need."
---
---
The track's credits show that Stuck With U is being jointly released on Silent Records Ventures, LLC,  which is a JV between Bieber's label partner (Def Jam Recordings) and Grande's label partner (Republic Records).
But there's an additionally interesting detail buried within these credits, too: an MBW reader has tipped us off that Scooter Braun is officially noted as a songwriter on Stuck With U, alongside Bieber, Grande, Freddy Wexler, Gian Stone, Whitney Phillips and Skyler Stonestreet.
We've been doing some digging and discovered this isn't actually the first time Braun has been credited as a songwriter on a track from one of his major management clients at SB Projects.
Braun (pictured with Big Machine founder Scott Borchetta) also received a songwriting nod on the title track of Justin Bieber's Purpose album, which was released in late 2015.
---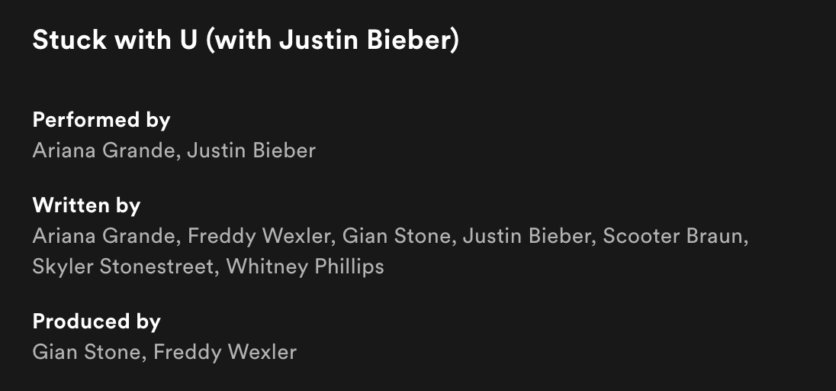 ---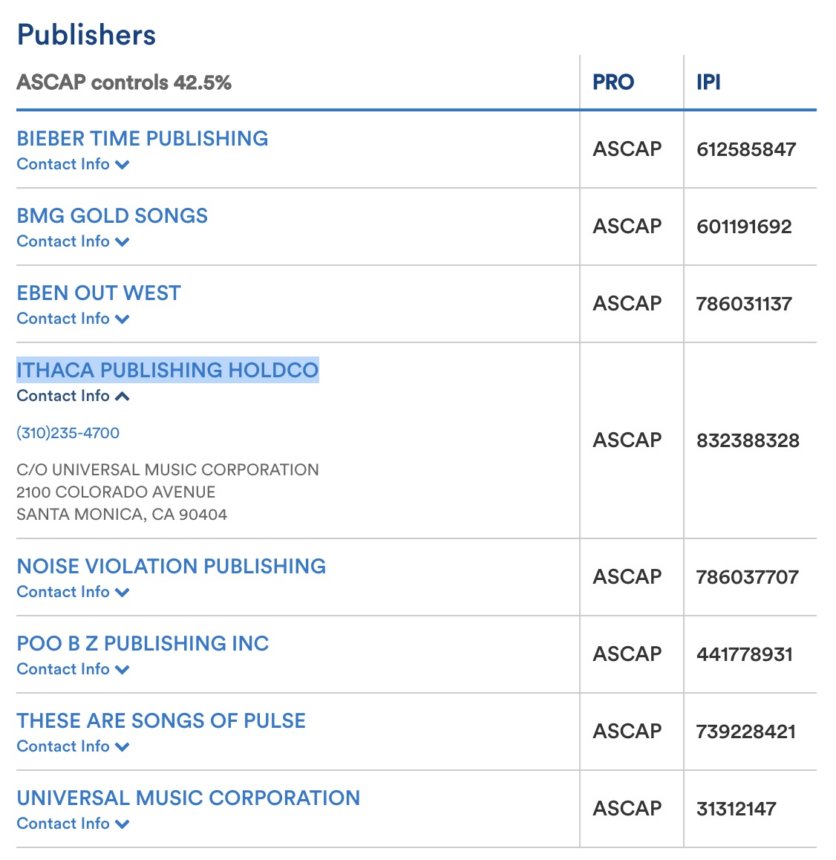 According to the ASCAP Repertory, Braun's cut of that song is published by his own Ithaca Publishing Holdco, which appears to work with Universal Music Group.
Last year, Braun's Ithaca Holdings acquired New York Based Atlas Publishing – which was founded by CEO and Partner Richard Stumpf in 2013.
Last year, Ithaca also launched acquisitive tech x music startup accelerator Raised In Space, run by Zach Katz and Shara Senderoff, in addition to making its headline-grabbing Big Machine buyout.
The First Responders Children's Foundation provides support to US first responders and their families in times of need.
In response to the COVID-19 pandemic, the Foundation has already funded more than 11,000 hotel room nights "so first responders don't have to go home and infect their families or can self-quarantine", as well as awarding more than $2m in financial hardship grants and distributing nearly 200,000 FDA-approved masks to first responders in the US.Music Business Worldwide