MBW's Stat Of The Week is a series in which we highlight a data point that deserves the attention of the global music industry. Stat Of the Week is supported by Cinq Music Group, a technology-driven record label, distribution, and rights management company.
---
Legendary British band Queen are an astonishing streaming success story – and one of the few 'deep catalog' artists to have truly conquered the format.
Queen remain the 38th biggest artist on Spotify today, with over 37.6 million monthly listeners. That's more than Kanye West (35.8m), Beyoncé (32.6m), The Beatles (24.3m), and Jay-Z (21.6m).
Indeed, according to the IFPI, Queen were the world's fifth biggest revenue-generating recording artist of 2019, and the sixth biggest in 2018.
All this from a band who last released a new studio album 26 years ago (Made In Heaven, 1995).
Now we can reveal the stunning amount of money Queen's classic music continues to generate in royalties each year.
MBW has trawled back through the annual accounts of Queen Productions Ltd, the UK-based group into which Queen's turnover is paid each year.
Queen Productions Ltd is jointly and equally owned by the three living Queen founder members – Brian May, Roger Taylor, and John Deacon – plus the estate of Freddie Mercury.
The most recent of the firm's annual accounts, for the 12 months to end of September 2020, was filed late last month.
It reveals that Queen generated £41.95 million ($58.1 million at current exchange rates) in the annual period. The vast majority of this money came from royalties, which amounted to £41.67 million ($57.7 million) in the year.
These royalties will have been derived from a variety of sources, but to put things into context: $57.7 million is the equivalent of the payout an artist might expect to receive if their music was played around 14.4 billion times on Spotify.
---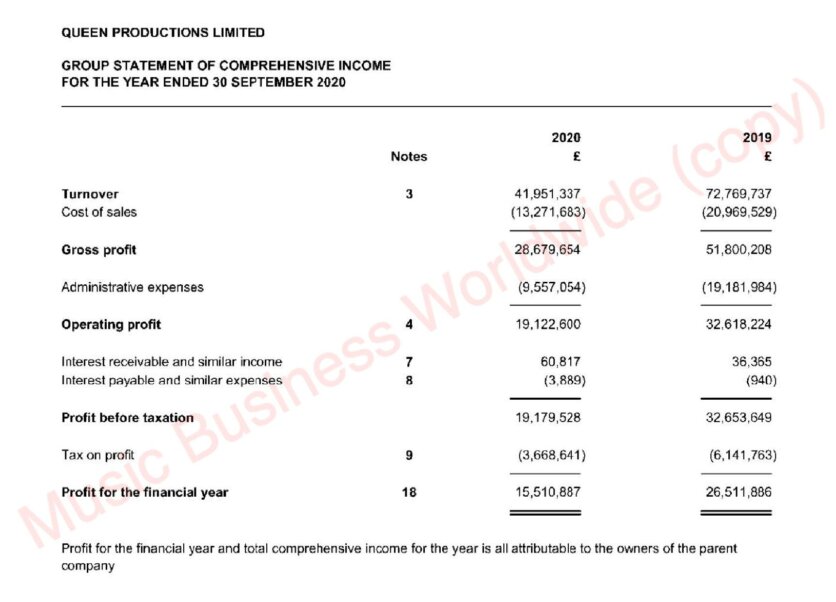 ---
An important reminder: what we're talking about here is the net revenues being pulled in by Queen Productions Ltd – not money that's yet to wash through a record company or music publisher. (That said, Queen could feasibly be paying its label/publisher partners on a fee basis for their services.)
Streaming services show that, today, Queen's master recordings are owned by Queen Productions Ltd, and licensed worldwide (ex-US/Canada) to Universal Music. (Queen's US/Canada recording rights are owned by Disney.) The band's publishing rights, meanwhile, are a little more complex. They are owned by a separate UK company, Queen Music Ltd, and administered by Sony Music Publishing.
That said, filings for Queen Music Ltd show that it paid out £26.8 million to "entities under the control of [Queen's members]" during FY2020 – suggesting this music publishing income is likely being paid through to Queen Productions Ltd.
---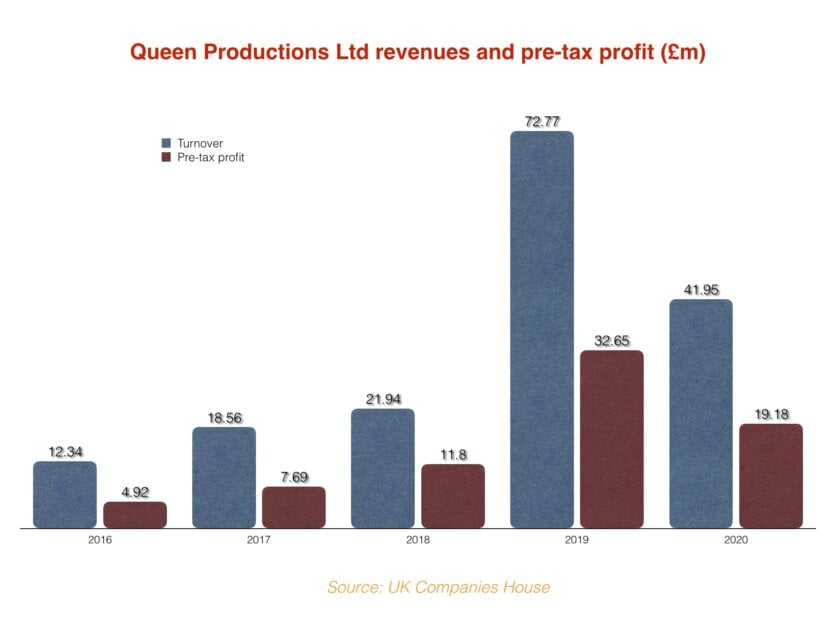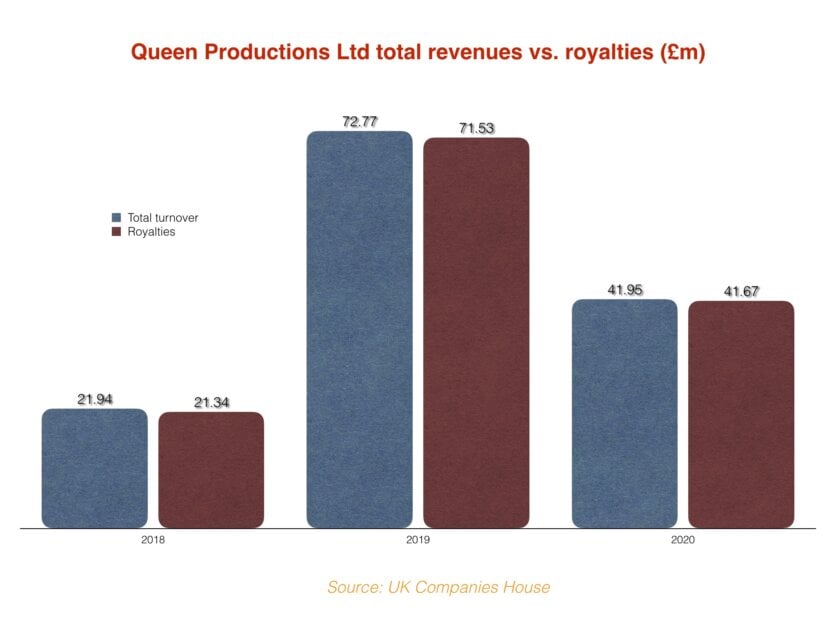 ---
Queen's mammoth royalties in FY2020 were actually significantly down on what the band pulled in a year earlier.
In FY2019 (the 12 months to end of September 2019), Queen Productions Ltd generated £72.77 million ($100.8m), of which £71.53 million ($99.0m) was from royalties.
Queen's astronomical success in FY2019 was largely down to one particular reason: the super-successful, Oscar-winning biopic Bohemian Rhapsody, which was released in October 2018 (within Queen's FY2019), and was stuffed with the classic recordings of the band.
---
Stat of the Week:

Queen's UK company has banked over USD $180 million for the band (and Freddie Mercury's estate) in pure royalties over the past three years.
---
In its latest filing, Queen Productions Ltd notes that the company's decline in revenues in FY2020 vs. FY2019 was "expected and can be attributed in part to the success of the film Bohemian Rhapsody".
However, the filing adds: "Given the success of Bohemian Rhapsody it is anticipated there will be further income from the film in the year ended 30 September 2021 and in the years thereafter, although that is expected to decrease year-on-year."
In other words, Bohemian Rhapsody's cinema release provided a one-off spike in revenues for Queen in FY2019, but should now continue to boost revenues to a smaller extent as the years tick by.
(Disclaimer for what you're about to read: We can't be 100% sure from the filings if Queen counts any non-music residuals from Bohemian Rhapsody as "royalties" within Queen Music Production Ltd.)
---

---
One particularly interesting thing about Queen's recent revenue history is that even before the Bohemian Rhapsody movie arrived, the band's income was already jumping up significantly.
So much so that in FY2018, Queen Productions Ltd turned over nearly double what it had just two years prior (£21.94 million in FY2018 vs. £12.34 million in FY2016).
Amid the current fierce music industry acquisitions market, this all begs a vital question: If Queen were to sell their music rights today, what kind of price might it fetch?
---
A couple of data points to help us: In its latest annual report, Hipgnosis Songs Fund says that its catalog was recently independently valued at $2.2 billion, based on a "multiple of 17.96x historical annual net publisher share income". The suggestion there, obviously, is that a 17.96 multiple is a reasonable reflection of the market value of gold-standard music publishing rights today.
In the past three years, according to Queen Productions Ltd, the band's rights have generated some £134.5 million ($186 million) in royalties. That's an average across these three years of $62 million per annum.
This figure obviously represents income from Queen's recorded music as well as music publishing.
It's also been boosted by that Bohemian Rhapsody release in FY2019. At the same time, Queen's music continues to command an enviable market share on streaming services, whose contribution to the music industry keeps on growing each year – driving up Queen's own income.
So, just for fun: A 17.96 multiple on $62 million? That would make Queen's royalty-bearing rights worth $1.11 billion today.
---
Bear in mind that it's not uncommon for a prestige 'deep catalog' of music to attract acquisition multiples in excess of 20-times: senior industry sources suggest that Universal Music Group paid a multiple of between 25 and 30 times for the Bob Dylan song catalog last year (for which UMG shelled out over $300 million).
Again, for fun: What if a buyer was willing to pay a 25-times multiple for Queen's royalty-bearing rights – again, including recorded and publishing rights – based on that $62 million per-year average royalty turnover in the past three years?
You'd be looking at a sale price of just over $1.5 billion.
Regardless, Queen's members aren't likely to have any burning financial imperative to sell.
According to their fiscal filings, the owners of Queen Productions Ltd have shared dividends of £47.38 million in just the past three years – including a £20.17 million annual dividend payout in FY2020.
Guaranteed to blow your mind.
---

Cinq Music Group's repertoire has won Grammy awards, dozens of Gold and Platinum RIAA certifications, and numerous No.1 chart positions on a variety of Billboard charts. Its repertoire includes heavyweights such as Bad Bunny, Janet Jackson, Daddy Yankee, T.I., Sean Kingston, Anuel, and hundreds more.Music Business Worldwide