MBW's Stat Of The Week is a series in which we highlight a data point that deserves the attention of the global music industry. Stat Of the Week is supported by Cinq Music Group, a technology-driven record label, distribution, and rights management company.
---
Hipgnosis is the owner of a catalog that has been independently valued at USD $2.21 billion, the UK-listed company revealed today (June 7) in a financial update.
That catalog, valued as of the end of March 2021, contained 64,555 songs across 138 catalogs, according to a preliminary annual financial filing.
The $2.21 billion valuation, said Hipgnosis, reflected a multiple of 17.96x historical annual net publisher share income.
The valuation is over $200 million larger than the approximate $2 billion Hipgnosis cumulatively spent on the catalog following the firm's IPO on the London Stock Exchange in 2018.
That ≈$2 billion cumulative expenditure, said Hipgnosis today, represents an average/blended acquisition multiple of 15.32x.
In the 12 months to end of March 2021, said Hipgnosis, it acquired 84 catalogs for $1.06 billion – an average per-deal price of $12.6 million.
These acquisitions included music catalogs from the likes of Neil Young, Lindsey Buckingham, Chrissie Hynde, Shakira, Walter Afanasieff, Steve Winwood and Grammy Award-winning producer, Andrew Watt.
---
Calling 2020/2021 a "remarkable year", Hipgnosis founder and CEO, Merck Mercuriadis said today: "[Whilst] we never would have wished for a pandemic, it has accelerated the consumption of classic songs through streaming and demonstrated exactly what an excellent uncorrelated asset class proven songs are.
"The pandemic looks set to now lead us into inflation and again we are extremely well placed with Songs as an asset class for our shareholders to be beneficiaries."
"The pandemic looks set to now lead us into inflation and again we are extremely well placed with Songs as an asset class for our shareholders to be beneficiaries."

Merck Mercuriadis, Hipgnosis Songs fund
He added: "Our goals when we listed three years ago were to: (1) Establish Songs as an asset class; (2) Use the leverage of our fund and the great songs in our catalog to be a catalyst to change where the songwriter sits in the economic equation for the benefit of the songwriting community and our shareholders; (3) To replace the broken traditional publishing model with Song Management and add value.
"Having given our shareholders a 41% total return since inception, grown our NAV by more than 11% across this fiscal year, having advocated for songwriters at the highest level including the DCMS hearings taking place in Parliament and having increased our sync income from 9% to 15%, I'm delighted to say we are well on our way to Hipgnosis achieving all."
Having rooted through Hipgnosis' new preliminary update, below MBW presents three key takeaways from the music company's latest numbers…
---
1) Hipgnosis has transformed into a deeper catalog company in the past year
One of the most interesting parts of Hipgnosis' new results covers the make-up of the company's portfolio of 64,555 songs (or, more accurately, its portfolio of songs and/or portions of songs).
The 84 catalogs acquired by Hipgnosis in the year to end of March 2021 – which also included deals for catalogs/income streams related to Blondie, Barry Manilow, Rick James, and Jimmy Iovine – changed the mix of its portfolio significantly.
As you can see below, some 60.2% of Hipgnosis' song portfolio, in terms of fair value, is now at least a decade old.
At the end of March 2020, this figure came in at just 32.5%, and at the end of March 2019, 10-years-plus aged catalog represented just 10.2% of the firm's total fair value.
Obviously as time ticks on, acquired catalogs are getting older, but there's been a clear acquisitive swing at Hipgnosis to more evergreen/classic catalogs in the past 15 months.
That said, major contemporary music deals are still getting done by Hipgnosis, with the likes of Andrew Watt and Joel Little (Taylor Swift, Lorde). Hipgnosis acquired 178 songs from Little earlier this month.
---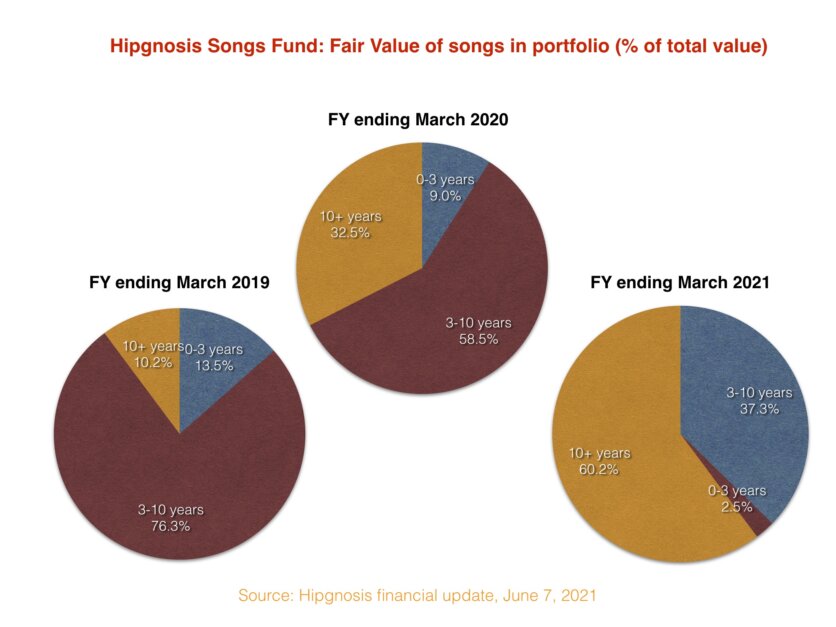 ---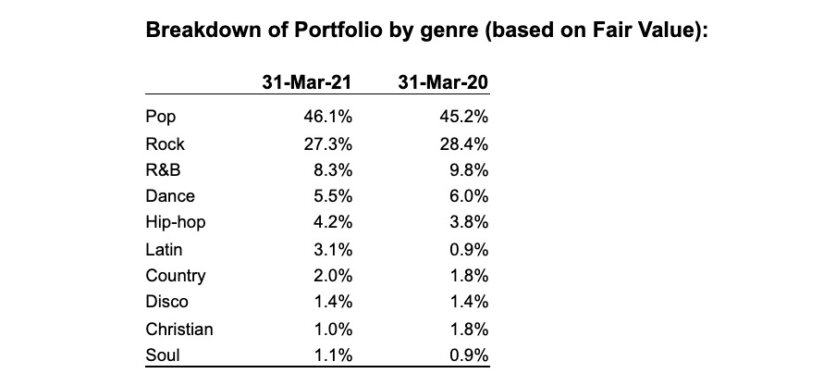 ---
2) Hipgnosis saw its net revenue grow 66% in FY 2020/2021 – but pandemic-hit performance rights were a pain point
Hipgnosis Songs Fund's net revenue increased by 66% in the year ended March 31, 2021, to $138.4 million.
That number was up on the prior year's net revenue figure of $83.3 million. It included both new revenue from acquisitions, and $22.7 million of "Right To Income" which Hipgnosis says "in effect reduces the net purchase price [of acquisitions], to the benefit of the company".
Hipgnosis also posted a healthy EBITDA in FY 2021 of $106.7 million.
That was up 49.8% on the $71.2 million EBITDA the company posted in the prior year period.
The $106.7 million EBITDA in FY 2021 represented a 77.1% margin on Hipgnosis' net revenue in the period ($138.4m).
---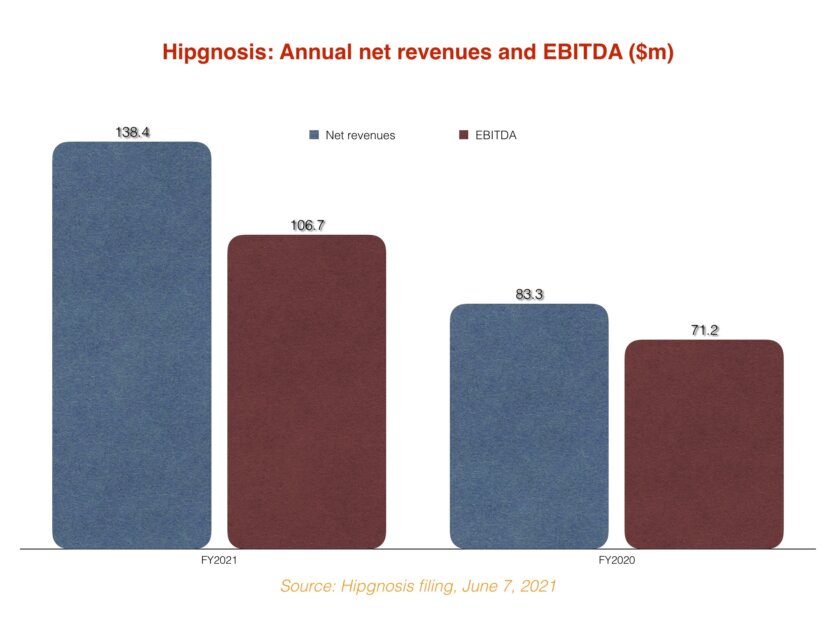 ---
Hipgnosis has started recognizing two separate calculations for its portfolio: one for its entire catalog, and one for "steady state catalogs", from which it says "we would not expect decay from peak earnings".
Streaming income increased 18.4% across the whole Hipgnosis portfolio in the six months to end of March 2021 versus the prior six months, said the company. And its "steady state" catalog grew by 24.3% on the same six month vs six month basis in the second half of the FY.
However, Hipgnosis added: "[Performance] income – which is predominantly received from shops, bars and restaurants as well as live music – has fallen across the music industry in 2020 as a result of COVID-19 lockdowns globally, with PRS recently stating [UK] performance revenues fell by 19.7% in 2020.
"As a result of these industry wide trends, performance income in our catalogs' royalty earnings income decreased by 25.8% in the second half of the year from the previous six month period across all catalogs, and 21.3% on our 'steady state' catalogs where we would not expect decay from peak earnings."
Hipgnosis said it expected a "further modest fall" in performance revenues in the first half of the current financial year (to end of September 2021), but that it expects "performance income will quickly return to and exceed pre-COVID-19 levels as lockdowns are being lifted in our largest revenue generating markets".
On 26 March 2021, Hipgnosis drew down USD $90 million under its Revolving Credit Facility, resulting in total gross indebtedness of $577 million and net indebtedness of $438 million.
---
3) Hipgnosis says its copyright management platform is increasing some catalogs' revenues by as much as 40%
Hipgnosis' preliminary results filing reads: "We have launched a platform that matches all data points to identify issues that can stop or delay payments. It provides a 3D picture of the data across 200 outside partners who collect revenue on the Company's behalf. The platform is expected to shorten payment times and increase accuracy as we identify data breaks in real time.
"Our initial trial catalogs have identified 62% of Songs had data issues and we estimate a significant revenue uplift, projected to be as much as 40%, which will be realised by correcting the mistakes in registrations inherited from previous owners. These issues existed before our ownership, therefore every issue fixed is pure revenue upside for the Company."
"Sync revenues have exceeded all expectations and, despite film and TV production being shut down for much of the last 16 months, revenues have increased."

Merck Mercuriadis, Hipgnosis
In addition, Hipgnosis is buoyant about its 'Song Management' team, led by Ted Cockle and Amy Thomson.
Said Merck Mercuriadis: "Our new Song Management team, led by Ted Cockle and Amy Thomson, has made a strong impact, growing revenue and enhancing the legacies of our great Songs, which will make a positive economic impact to the Company in periods to come. Sync revenues have exceeded all expectations and, despite film and TV production being shut down for much of the last 16 months, revenues have increased. This has highlighted not only that we have bought well but also how undervalued our iconic songs have been by traditional publishers and the massive opportunity this affords Hipgnosis."
Speaking of sync, Hipgnosis' results revealed that it has now hired former BMG Global Head Of Sync, Patrick Joest, in Europe.
---

Cinq Music Group's repertoire has won Grammy awards, dozens of Gold and Platinum RIAA certifications, and numerous No.1 chart positions on a variety of Billboard charts. Its repertoire includes heavyweights such as Bad Bunny, Janet Jackson, Daddy Yankee, T.I., Sean Kingston, Anuel, and hundreds more.Music Business Worldwide