When the music industry 'streaming wars' are taught in universities in years to come, 'Spotify Vs. Pandora' will be a fruitful case study for students to delve into.
Little over three years ago, at the end of Q2 2015, Pandora had more active users worldwide than Spotify (79.4m vs. 75m).
Today – according to updated Q3 statistics publicly unveiled by both companies this week – Spotify has nearly four times as many as its one-time rival (248m vs. 63.1m).
The most fateful decision in Pandora's story, it could be argued, was its global contraction: in July 2017, the firm shut down operations in Australia and New Zealand, making it a US-only service, while, since that date, Spotify has expanded into the likes of India, Vietnam and the Middle East (with a launch in Russia now on the agenda).
There are other key factors at play, too, though: for a long time following that isolationist US-only move, Pandora has boasted of being "the largest music streaming service in the US".
That claim is now severely under pressure.
According to the latest Q3 quarterly update from Pandora parent SiriusXM, Pandora ended Q3 with 63.1m active users in the States. That was down 1.8m quarter-on-quarter, and down 5.7m on the 68.8m user count it announced at the same point in the prior year (Q3 2018).
In a growing music streaming market where upward arrows have become par for the course, that 63.1m number is also down by over 18m users on the 81.5m base Pandora announced at its height, in Q4 2014.
Switching attention back to Spotify: Daniel Ek's company just announced that 27% of its 248m active users in Q3 were located in North America. That equates to approximately 67m Spotify users in the US and Canada.
Pandora's days as the "the largest music streaming service in the US" look numbered.
---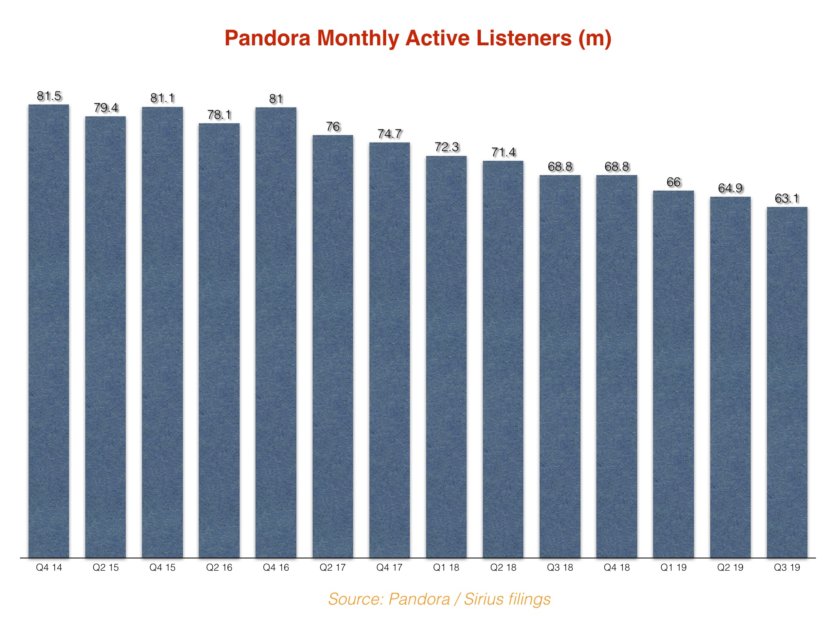 ---
All of that being so, there was a brighter Pandora vs. Spotify comparison to make within Sirius XM's just-announced Q3 results.
Ad revenue at Pandora reached a record $315m in the three months to end of September, up 8% year-on-year.
Juxtapose that with Spotify which, despite its nearly-four-times-bigger global audience, generated just $190m (€170m) from advertising in the same period (up 20% YoY).
Pandora's ad growth was rendered all the more impressive by the fact that total ad supported listener hours on the service in Q3 were 3.32bn – down from 3.59bn in the third quarter of 2018.
Sirius said: "Strength in traditional audio advertising, boosted by video programmatic and engagement-based video, as well as the expansion of off-platform efforts and fees generated on the AdsWizz platform drove revenue growth."
Total revenue for Pandora in Q3 grew 7% to $447m, aided in part by a 5% increase in subscriber revenue to $132m.
Subscriber-wise, Pandora added only 33,000 net new 'self-pay' subscribers (i.e. not bundled in automobile deals) in the third quarter. It ended the period with nearly 6.3m self-pay subscribers.
Pandora's one-year paid promotional subscription trial with T-Mobile ended in Q3, resulting in approximately 700,000 paid promotional trials being retired. This brought total Pandora subscribers to over 6.3m at the end of the period, which included a paid promotional subscriber base of 45,000.
Sirius added: "Total cost of services at Pandora in the third quarter 2019 of $278 million increased 1% compared with the third quarter 2018. This resulted in gross profit at Pandora of $169 million, up 19% over the third quarter 2018, and produced a gross margin in the quarter of 38%, growing approximately 400 basis points from 34% in the prior year period. This expansion was driven primarily by lower revenue share and royalties and customer service and billing expenses as a percentage of revenue."
---

---
Pandora was acquired in a $3.5bn all-stock deal by SiriusXM in February.
Sirius itself posted another $2bn quarter in the three months to end of September, with net income of $246m.Music Business Worldwide