Kanye West's The Life Of Pablo is one of 2016's most anticipated albums.
The star's seventh studio LP was released as a TIDAL streaming exclusive on Sunday (February 14) via two labels – West's GOOD Music and Def Jam Recordings.
As you've probably heard, the record's arrival has been accompanied by some typically bizarre, showstopping behavior.
This started with a world premiere of the album at Madison Square Garden last Thursday (February 11).
Streamed live on TIDAL and in certain cinemas around the world, West took to the MSG stage before playing the album live… through his laptop. Tickets: $50-$135.
Since then, the rapper has gone hog-wild on Twitter.
West's headline-grabbing proclamations on the social media site include the claim that he's personally $53m in debt, and asking Facebook founder Mark Zuckerberg to help bail him out.
(Well, more told than asked. Verbatim: "Mark Zuckerberg invest 1 billion dollars into Kanye West ideas.")
There have been many, many more self-aggrandising tweets. ("I'm this generation's Disney… I want to bring dope shit to the world.")
Yet for the music business, the real interest in West's latest work lies in something as mundane as his release strategy.
First, West followed the pattern of two other major 2016 releases – Rihanna's ANTI and Beyonce comeback single Formation – by exclusively windowing The Life Of Pablo for a week on TIDAL:

West, remember, is a stakeholder in the Spotify rival – part of a celebrity launch harem each believed to own 3% equity in the platform.
The Life Of Pablo was also made available to buy on the official Kanye West website for a short while, before being taken down.
Then, during the Grammys last night (February 15), West took things up a notch.
He sent two tweets that will have no doubt shocked his previous retail partners – and has stuck to his guns so far today.
No.1: "My album will never never never be on Apple. And it will never be for sale… You can only get it on Tidal."
No.2: "Please to all my friends fans and music lovers. Sign up to Tidal now."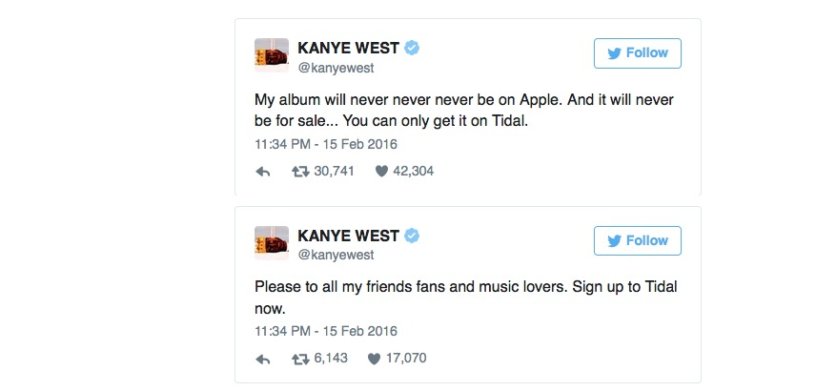 If we're to take Kanye at his word – and it's probably best to bear in mind that The Life Of Pablo changed title numerous times before arriving – then his new album will never be available to download on iTunes, stream on Apple Music or buy in record stores.
Yet the star's assertion that fans will 'only get it on TIDAL' is, sadly enough, already wrong.
The huge amount of pent-up demand for The Life Of Pablo has to be sated somewhere – and that somewhere isn't necessarily within Jay Z's streaming platform.
First, the good news for TIDAL: after Kanye asked all of his fans to sign up, the service went to No.1 on Apple's official list of the most-downloaded iOS apps in the US.
And then the bad: The Life Of Pablo is already all over torrent sites. Like a rash.
A quick Google Search for 'The Life Of Pablo torrent' throws up 2.6m results.
MBW has today found six separate live torrents of the record on the world's biggest piracy site, Kick Ass Torrents.
And on the world's most notorious pirate site, The Pirate Bay, things are even worse.
The Life Of Pablo is the No.1 and No.3 most-downloaded audio file in the past 48 hours (see chart below).
At one point, says expert piracy site Torrentfreak, West's album was being illegally shared by more than 10,000 people on TPB alone – 'something we haven't seen with a music release before'.
Meanwhile, TF estimates that 500,000 copies of the record were downloaded on torrent sites in its first 24 hours online.
Five. Hundred. Thousand.
Look on the bright side, Kanye: just two days after your new album's official release, it's already a chart-topper.
It's just not a chart that your record's official distributor, Universal Music Group, will be pleased to be anywhere near.
Or one that's going to do your self-confessed personal debt much good at all.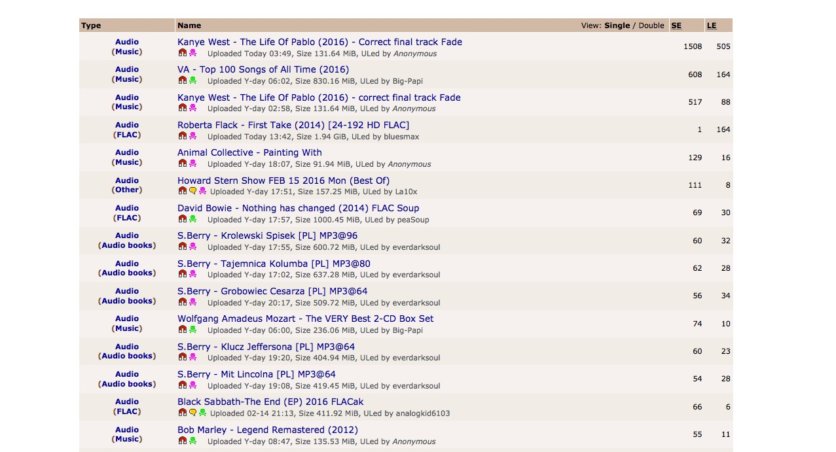 Music Business Worldwide