The MBW Review offers our insight on some of the music biz's biggest recent stories. Earlier this week, MBW broke the news that audio streaming consumption had overtaken video platforms in the US. We couldn't resist digging further into the stats. The MBW Review is supported by FUGA.
---
What perfect timing.
Just as the music industry's battle with YouTube reaches new heights/depths, we discover that audio streaming services are now bigger than video platforms for music in the US.
Once labels have stopped high-fiving, they might want to ask: how on earth did this happen?
Last year, low-paying YouTube looked imperious.
It was both bigger, and growing faster, than the likes of Spotify, Apple and TIDAL combined.
The fact it's not only been caught up but actually surpassed by audio platforms is pretty remarkable.
Various factors play into this tipping point moment – but the influence of superstars like Drake, Rihanna and Desiigner is particularly worth further consideration.
---
First, a quick refresher of the stats.
Both BuzzAngle (who broke the news) and Nielsen agree that US music video streams fell behind audio streams in the six months to end of June.
We'll focus on the latter for now as there's more historic data to dig into.
Here's the most pleasing graph the likes of Lucian Grainge and Doug Morris may have seen for a while.
You're particularly looking out for that milestone moment where blue overtakes green.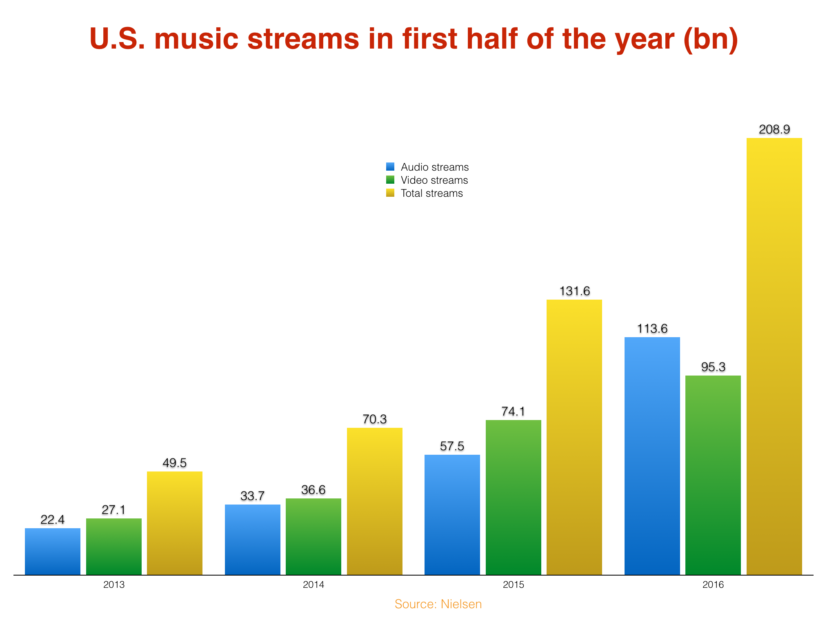 According to Nielsen, audio streams (blue) jumped 97.4% year-on-year in H1 2016.
Video streaming – that's YouTube and Vevo, really – grew by just 28.6%.
MBW analysis of BuzzAngle's stats shows us that audio streaming took a market share of 55%, with video lagging behind on 45%.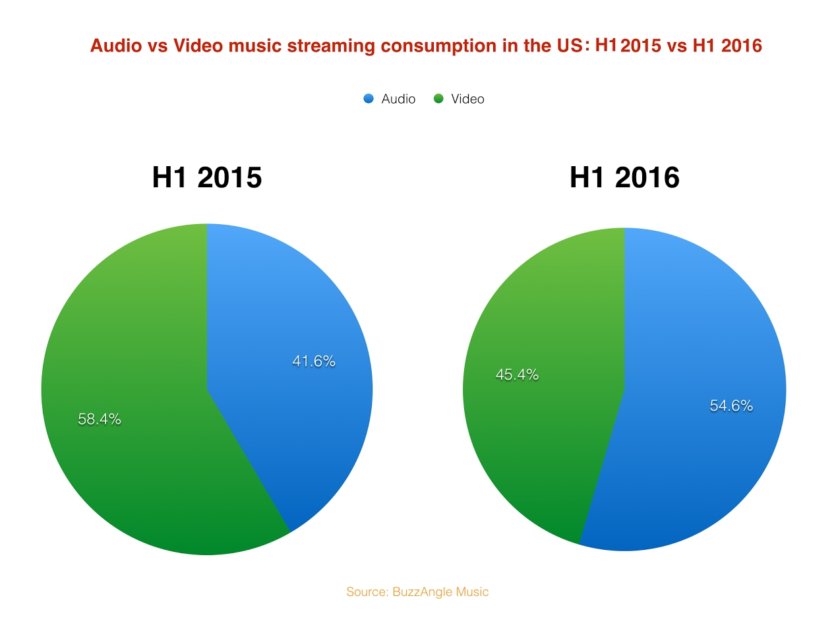 ---
So which areas did Spotify, Apple Music etc. raid in order to steal a whopping 13% market share from YouTube within a single year?
One answer to that question: they went big.
MBW has crunched Nielsen's numbers to analyse just the Top 5 most-streamed tracks in the first half of each year across video and audio.
In 2016, these songs included smash hits like Drake's One Dance, Rihanna's Work, Desiigner's Panda and Zayn's Pillowtalk.
You can see the total combined number of streams below: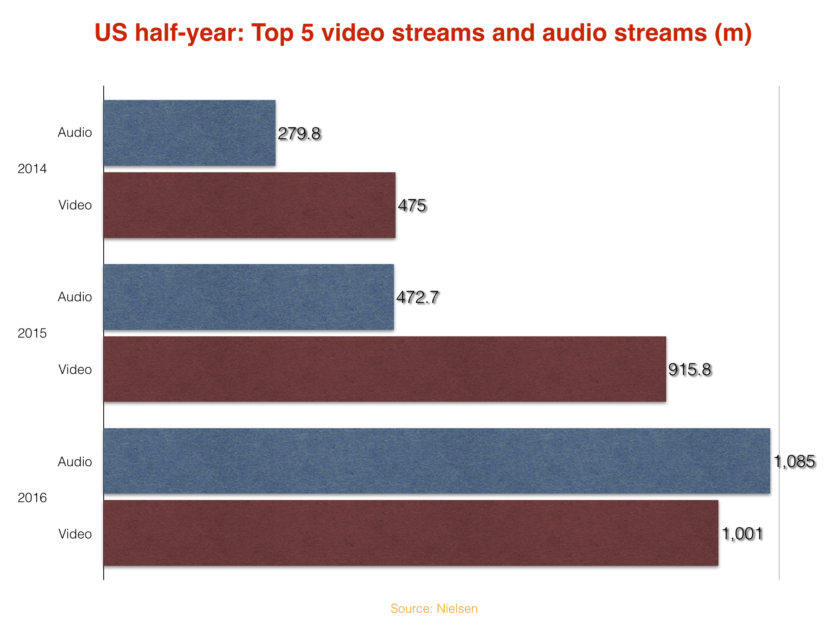 Look at the difference between 2015 and 2016!
Plays of the US's five biggest tracks on audio services jumped 130% in H1 this year – comfortably outpacing the growth of audio platforms for all tracks (+97.4%).
In fact, streams of the Top 5 audio streaming songs alone increased by over 600m on the likes of Spotify et al.
Meanwhile, plays of 2016's top 5 biggest tracks on YouTube were up by a relatively pitiful 9.3% compared to H1 2015's equivalent chart.
That increase was far behind the growth of all tracks on video platforms (+28.6%).
---
What does this tell us?
Surely that blockbuster hits are a key areas where audio platforms are successfully wresting consumers away from YouTube.
It can't be a fluke that the US's biggest audio streaming track in H1 2016 was an artist so closely associated with Apple Music.
Drake's record-breaking One Dance enjoyed 286.4m audio plays across the six months.
It didn't even appear in the Top 10 most streamed tracks on video platforms.
The biggest video streaming track, Desiigner's Panda, trailed One Dance's audio tally, with 269.4m plays on YouTube, Vevo etc.
That's especially remarkable when you consider that back in H1 2015, the biggest streaming video track was Uptown Funk! with 258.1m streams.
Meanwhile, the biggest audio streaming track was also Uptown Funk!… with less than half the plays of YouTube et al on 109.9m streams.
---
Blockbuster songs certainly aren't the only reason YouTube took a beating: the 612m plays gained by our Top 5 audio tracks represent just 1% of the total 56.1bn additional streams seen on Spotify, Apple Music etc in H1 2016.
Yet the migration of consumers to audio platforms when it comes to the world's biggest hits is symptomatic of a major shift for the music business.
Compare Nielsen's two US Top 10s from the six months to end of June below – for video platforms and audio platforms.
Pound for pound, in every position but one (No.2 – both Rihanna's Work) the audio chart outguns the video list in streaming volume terms.
That can only spell positive news for Universal, Sony and Warner in particular – and perhaps something for Spotify to point to during its ongoing licensing negotiations with all three.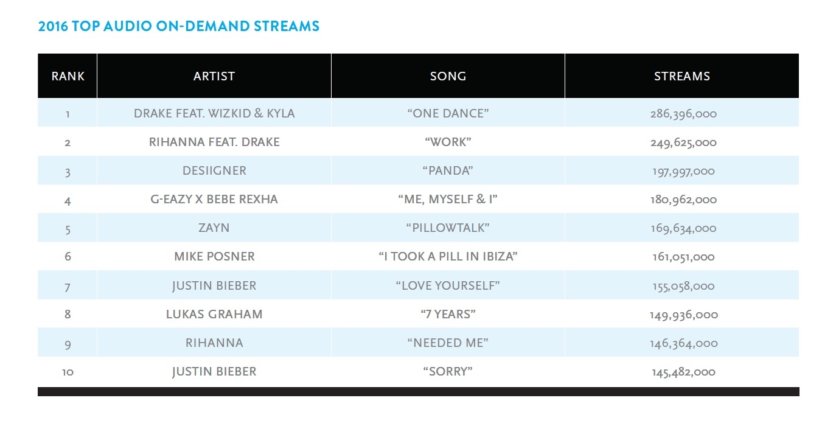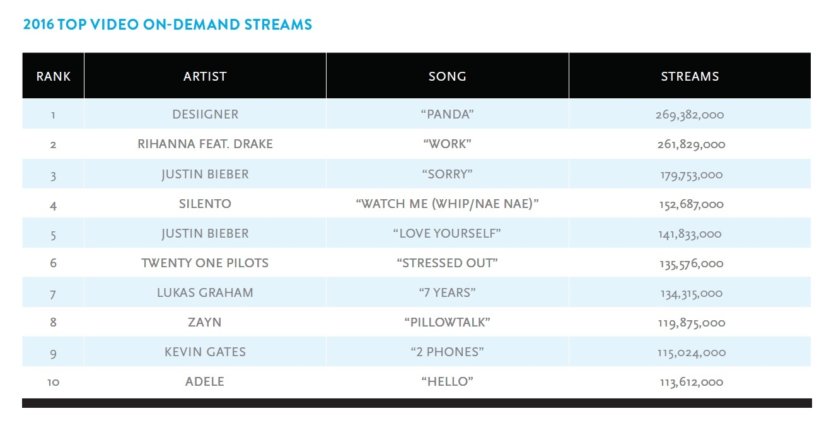 [You can download the full Nielsen mid-year report through here.]
---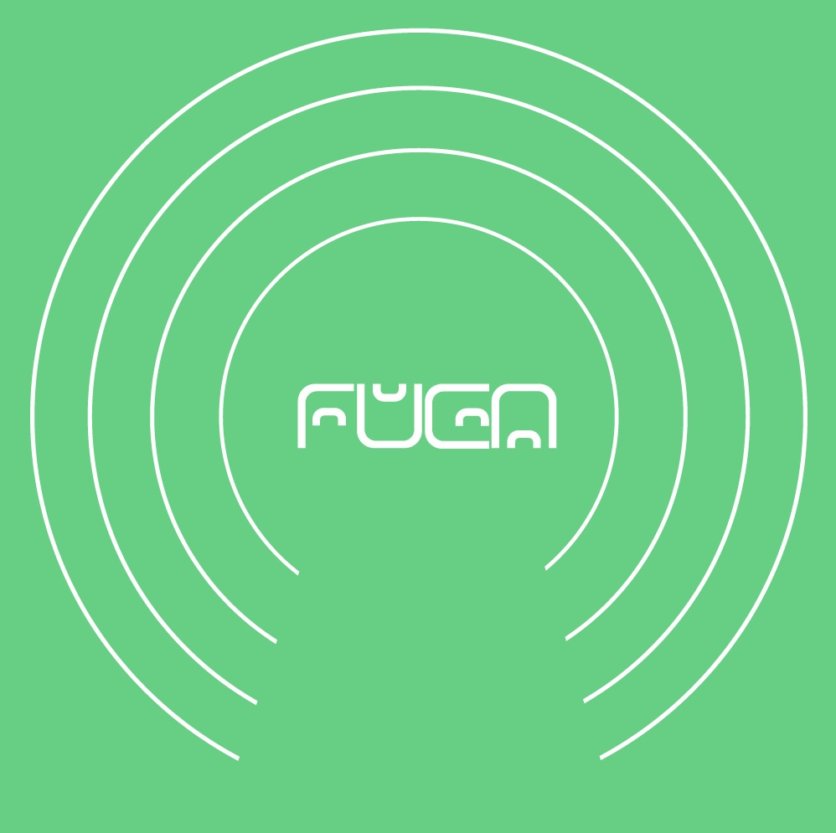 The MBW Review is supported by FUGA, the high-end technology partner for content owners and distributors. FUGA is the number one choice for some of the largest labels, management companies and distributors worldwide. With a broad array of services, its adaptable and flexible platform has been built, in conjunction with leading music partners, to provide seamless integration and meet rapidly evolving industry requirements. Learn more at www.fuga.comMusic Business Worldwide