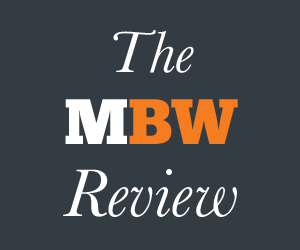 The MBW Review offers our take on some of the music biz's biggest recent goings-on. This time, we take the temperature of one of the biggest album releases of the year – Ed Sheeran's No.6 Collaborations Project. The MBW Review is supported by Instrumental.
---
One of the most anticipated albums of 2019, Ed Sheeran's No.6 Collaborations Project, is doing swift business on streaming services.
The record features Sheeran performing with the likes of Chance The Rapper, Cardi B, Khalid, Camila Cabello, Chris Stapleton, Bruno Mars, Stormzy, Justin Bieber and Travis Scott.
Released on Friday (July 12), it has already risen to the global No.1 spot on services like Apple Music and Amazon Music.
No.6 Collaborations has also had a marked impact on the global charts of the world's biggest streaming music subscription service, Spotify.
On day one, according to Spotify's official charts, tracks from No.6 Collaborations claimed five of the Top 10 tracks worldwide on the service.
---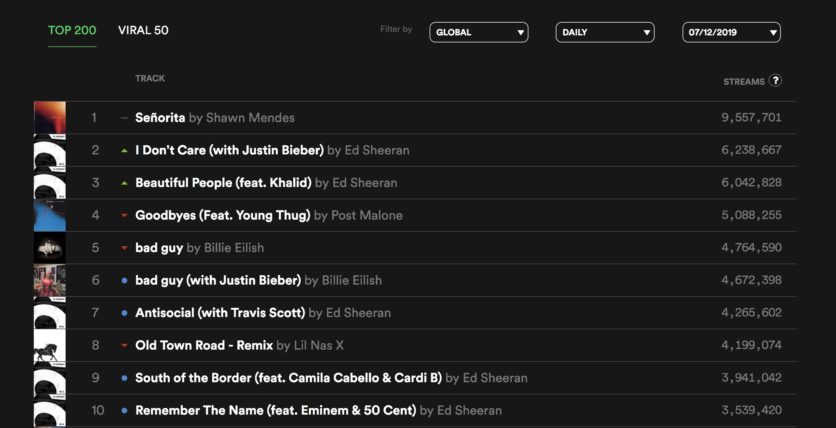 The biggest track from the album, the previously-released I Don't Care (with Justin Bieber) was Spotify's second biggest song worldwide on the LP's release day, with 6.24m chart-eligible streams globally.
I Don't Care sat behind the No.1 track on Spotify on Friday, Señorita by Shawn Mendes (feat Camila Cabello), which racked up 9.56m daily chart-eligible plays.
However, tracks from Sheeran's new album also landed at No.3 (Beautiful People feat Khalid), No.7 (Antisocial with Travis Scott), No.9 (South Of The Border feat Camila Cabello & Cardi B) and Remember The Name (feat Eminem & 50 Cent) on Spotify's worldwide daily Top 10.
Demonstrating the breadth of popularity of the record, the lowest-placed track from No.6 Collaborations on Spotify's daily global chart on Friday (July 12) was I Don't Want Your Money (feat H.E.R) at No.51.
---

---
There are 15 tracks on No.6 Collaborations in total, which was always going to make its chances of becoming a record-breaker on Spotify pretty slim.
Don't forget that Drake's Scorpion holds the record for Spotify's day-one album streams with a massive 132.4m day-one, chart eligible plays – but that album had a whopping 25 tracks on it.
A more useful comparison point might be Sheeran's last full studio LP, Divide, which was released on March 3, 2017.
Divide houses 16 tracks on Spotify (thanks to the four bonus tracks on its Deluxe Edition).
(Before we go on with this analysis, a quick housekeeping note: we are measuring chart-eligible streams from Spotify here, which are the only publicly-displayed number on the service. These numbers under-play the full total an album may have attracted; to prevent people gaming the system, Spotify puts a cap on the number of plays each individual user can contribute towards its chart within a 24 hour period.)
---

According to MBW's analysis of Spotify Charts data, the 16 tracks from Divide racked up 55.71m global chart-eligible plays on its release day on Spotify (March 3, 2017).
Some 9.89m of these were provided by global smash hit, Shape Of You, with Castle On The Hill in second spot with 4.78m daily plays.
We've also crunched the numbers on No.6 Collaborations album, a more R&B/hip-hop-leaning record than its predecessor, and less of an obvious 'cohesive' album project than Divide – but one with a plethora of global superstars amongst its tracklisting.
According to our calculations, No.6 Collaborations saw 45.53m chart-eligible streams on Spotify globally on day one from its 15 tracks, led by those 6.24m plays of I Don't Care.
That 45.53m number doesn't quite hit the heights of Divide's 55.71m day-one Spotify chart-eligible streams, but it certainly indicates another blockbuster early performance for Sheeran on the service. (Proving the 'chart-eligible' point: Divide's official day-one stream count on Spotify, including those streams not counted towards the platform's chart, was 56.73m.)
One key stat which will please Team Sheeran: the mean average global day-one Spotify playcount for the songs on No.6 Collaborations was 3.04m, not far behind Divide's day-one, per-track average of 3.48m.
Furthermore, if you omit the most popular song in each case – I Don't Care and Shape Of You respectively – these numbers move closer together.
The average day-one Spotify per-track playcount for No.6 Collaborations (minus I Don't Care) becomes 2.81m; for Divide (minus Shape Of You) the equivalent day-one figure was 3.05m.
---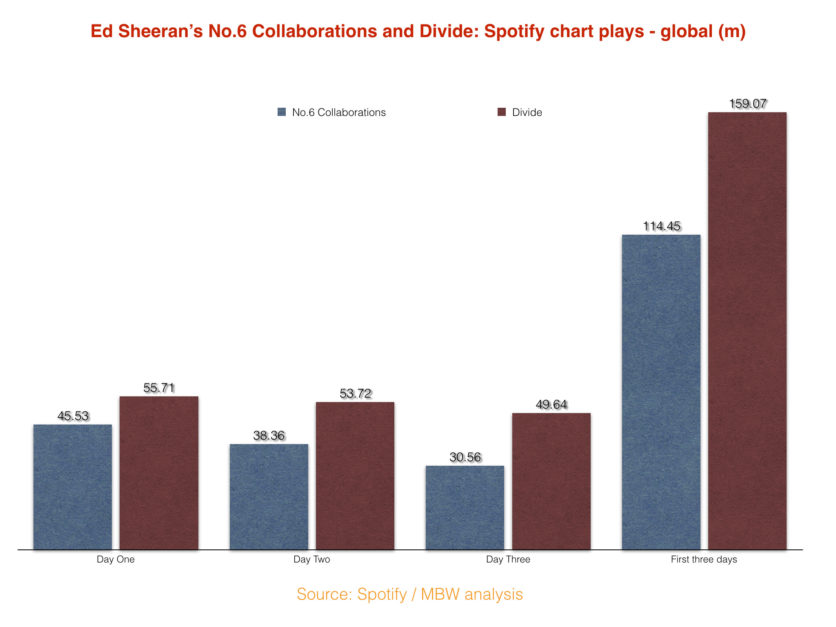 ---
One thing that will definitely please team Sheeran is the spread of plays on No.6 Collaborations Project.
According to our analysis of the numbers, the basis for which you can see in a spreadsheet through here, the most popular track on Divide (Shape Of You) claimed some 17.75% of its total day-one global Spotify plays.
By contrast, the biggest tracks on No.6 Collaborations – I Don't Care – claimed just 13.7% of its total global plays in the album's debut 24 hours, despite the LP having one fewer track compared to its predecessor.
What's more, the global Spotify streams of No.6 Collaborations cruised past 100 million in the LP's opening 72 hours.
The album racked up 114.5m chart-eligible Spotify streams across Friday, Saturday and Sunday – generating approximately $500,000 for Sheeran and his record label, Atlantic Records, in recorded music royalties. (Based on an average $0.00437 per-stream recorded music pay rate.)
That all being said, Spotify's total global active monthly user base when Divide was released in March 2017 stood at 131m; at the close of March this year, that number had risen to 217m.
---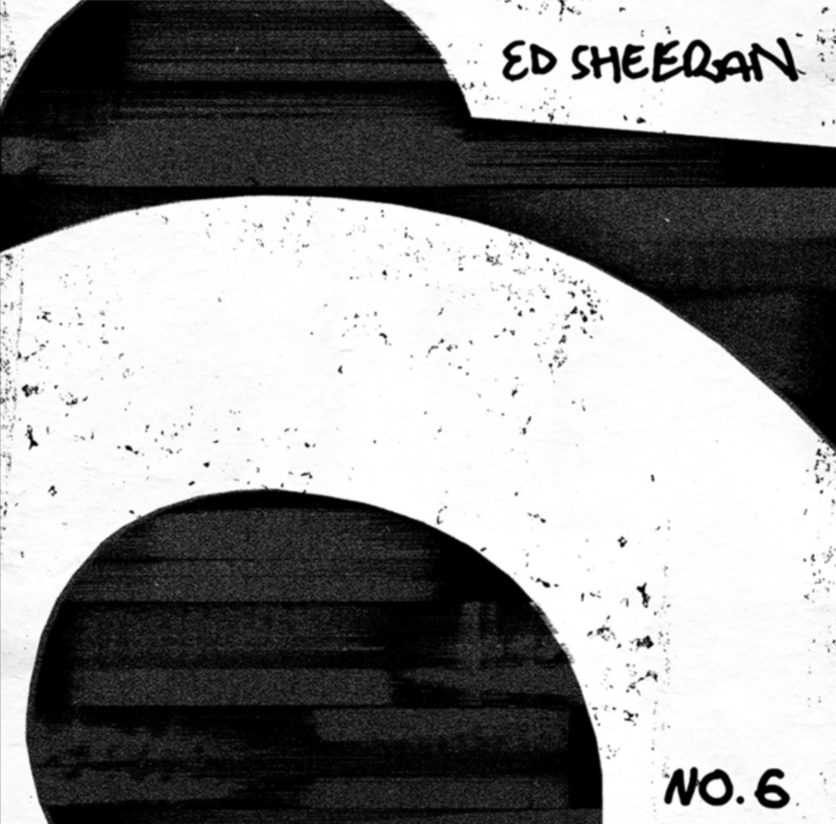 UPDATE: It's also worth looking at the specific fortunes of No.6 Collaborations in the United States.
According to Spotify data (again broken out through here), the record attracted a total of 12.21m US-based, chart-eligible Spotify streams on day one of its release.
Back in 2017, Divide pulled in 12.78m chart-eligible Spotify streams in the US in its first 24 hours.
That was enough to contribute 22.9% of the album's total global streams on its opening day.
For No.6 Collaborations, those 12.21m US-based streams contributed 26.8% of day one global Spotify plays.
---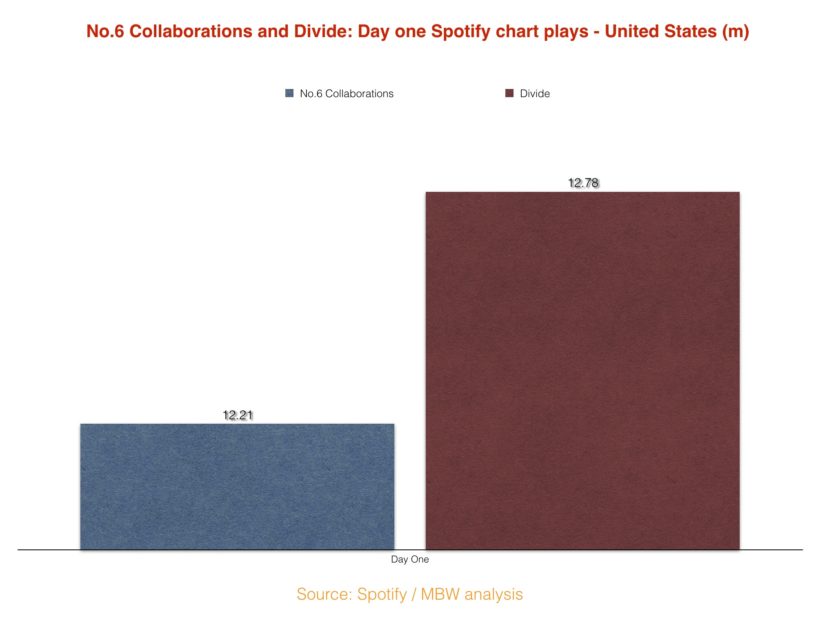 ---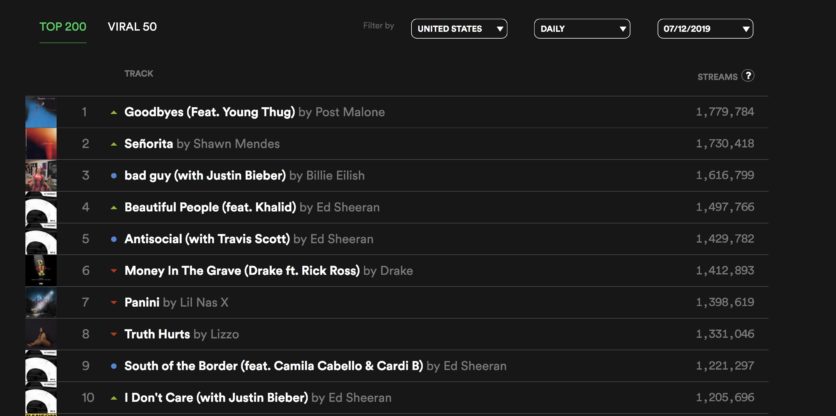 Interestingly, I Don't Care wasn't the most successful Sheeran track in the States on day one of No.6 Collaborations arriving.
That honor instead went to Beautiful People (feat. Khalid) with 1.49m chart-eligible streams.
Antisocial (with Travis Scott) was the second most-streamed track in the States on day one, with 1.43m chart-eligible plays.
Ed Sheeran's mammoth Divide tour comes to a close in his hometown of Ipswich, England over four nights in August.
Having already pulled in a world-record $432m last year, the tour's total gross is expected to comfortably exceed half a billion dollars.
---

The MBW Review is supported by Instrumental, which powers online scouting for A&R and talent teams within the music industry. Their leading scouting platform applies AI processes to Spotify and social data to unearth the fastest growing artists and tracks each day. Get in touch with the Instrumental team to find out how they can help power your scouting efforts.Music Business Worldwide