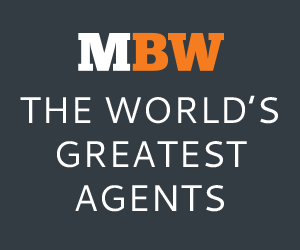 MBW's World's Greatest Agents series celebrates the talent representatives looking after the live careers of the world's biggest artists. This time, we speak to Brian Ahern – who heads up the London music division of powerhouse talent booking agency William Morris Endeavor, which works with everyone from Drake to Foo Fighters and Childish Gambino. World's Greatest Agents is supported by financial technology company Centtrip Music, which regularly works with the live music sector to maximise returns from artist touring around the globe.
---
Like a lot of the most successful executives in the music business, Brian Ahern started in the mailroom.
He moved to Los Angeles after graduating from the University of Virginia with a degree in finance and "applied for a number of jobs in Hollywood" before landing a role sorting mail at the over 100-year-old talent booking firm William Morris Agency.
"It's a good way to understand exactly how the company operates from the ground up," he explains.
Today, WME and its multi-territory network of agents are behind global tours for some of the world's biggest artists, from country stars like Jason Aldean and Miranda Lambert, to Justin Timberlake, Bruno Mars and Drake.
In 2009 the William Morris Agency became William Morris Endeavor Entertainment (WME) via a merger with Endeavor, engineered by WME Co-CEOs Ari Emanuel and Patrick Whitesell.
By that point, Ahern had been working at William Morris for around eight years, including four years as an assistant under WME's global head of music Marc Geiger, as well as a stint as a tour manager.
"I quickly learned that the power and influence in the entertainment industry was either with the talent, or adjacent to the talent."

Brian Ahern
"I quickly learned that the power and influence in the entertainment industry was either with the talent, or adjacent to the talent," says Ahern, of his early days at William Morris.
WME's global footprint and influence have grown substantially in various sectors since the merger, including sports, esports, music, entertainment, literature and art.
The company (alongside private equity firm Silver Lake Partners) bought sports and fashion talent management agency IMG in 2014 for $2.3 billion, with the talent booking giant WME-IMG subsequently making a number of further acquisitions such as Miss Universe and Ultimate Fighting Championship (bought for $4bn). In 2017, WME-IMG rebranded as Endeavor.
---
"I've seen the backbone of the company," continues Ahern, discussing his rise through the agency ranks. "I've seen the mailroom, I've seen the assistant pool. I've been on the road, I've been a tour manager. I've worked for the head of the music department. I've been a normal agent. I've run a music department in the electronic group.
"There's certain experiences along the way, starting with the very basic of them that have enabled me to be a little more well-rounded hopefully in taking this position."
That position is Co-Head of Music WME London. Ahern has led the London division since 2016 after moving to the UK from his previous base of Los Angeles, recalling that he "was flattered to be asked" to take on the role.
In spite of Ahern's London-based leadership remit, he is keen to convey the organization's global outlook.
"Clients expect service that is uniform across the world these days," says Ahern. "They expect things to be identical when they go to various offices, whether it's marketing or their festival reach, or just representation and planning in general.
"The first thing we did was streamline our operations so that we were able to represent those people globally without hesitation and hand the baton off in the relay race around the world, if you will."
Here, Ahern tells MBW about how he got started as an agent and gives us a glimpse inside one of the most culturally influential groups of companies in the world.
---
What was it like in those early days working in the mailroom?
It was hard. Listen, I went to a prestigious university and I went in for a fairly low-paying job in the mailroom to build myself up and work my way up the ladder which is the natural progression of the business. I respect all the people that had done it before me.
At the same time, it was also cumbersome because you're doing something like faxing and distributing mail and doing various activities that are the backbone of the business, but at the same time, are also not things that a finance major or somebody in that field might do as their first job.
"I went in for a fairly low-paying job in the mailroom to build myself up and work my way up the ladder which is the natural progression of the business. I respect all the people that had done it before me."
A lot of my classmates from school were going to major consulting companies or major corporations and getting higher paying jobs right out of the gate, so going into the mail room was obviously a step in a different direction.
But I saw William Morris, the William Morris Agency at the time, as being a graduate school of sorts. It was the way for me to learn the business, network while doing a job.
---
How does somebody become an agent at WME in 2019?
Obviously we hope that a lot of our people that start in the mailroom can become an agent in the long run, though the reality is that not everyone is going to become one.
We hire very regularly from the outside. We bring in a lot of people here. They train in what we call Music Central. This is for the music department that we have available across the company.
"Obviously we hope that a lot of our people that start in the mail room can become an agent in the long run, though the reality is that not everyone is going to become one."
Music Central then trains them how to put offers into our system, meaning promoter offers for our clients, how to get ticket counts for our shows, how to answer the phone, how to use etiquette, all the basic things that you would use as an executive in a company.
In the long run, we try to give them the foundation of that. We tell them from the beginning that the business doesn't operate without them doing their job. If I don't have ticket counts for my client, they get mad. So they have an important job from day one.
We use that as the catalyst to show them what their responsibility to the client might be in the long run, so we train them from the ground up.
---
What was your role at the time of the William Morris Endeavor merger?
I was a standard music agent. I had my own clients. I was working with bands and DJs at the time. I had a fairly normal day job as an agent, which is not normal in any way considering how hectic it can be! We want to work the hours our clients are working or be available to them when they need something, whether it's noon or morning or night.
But my normal day job was booking shows. So I've done the job that my colleagues here in London and the United States do as well, where I do deals with promoters, route tours, plan a strategy, all those things.
When we merged in 2009, we then took the music department [and] put it into the greater network. The music department came from WMA because Endeavor did not have a music department.
---
Did the structure of the company change a lot internally?
Over time we've developed more structure and as we grow we certainly need structure because we're a big company now, that has thousands of people.
We're global, we're in many different offices. Whereas in the beginning of WME, which is the backbone of the Endeavor network, in the beginning of it, we were Beverley Hills, New York, Nashville and. I think we had a Miami office at the time.
So it was a very different presence, which was more of a traditional model: leadership and then an army of agents.
That's evolved over time and we included IMG and others. As you grow, you need to have more structure and hierarchy so people understand how to get things done. We're still in the midst of that growing phase right now.
---
You mentioned Ari Emanuel. I read a quote from Ari that said 'WME 'built a culture where people are rewarded for taking risks'. What does that mean? Have you felt like you've been rewarded at the company for taking risks?
Oh absolutely. I think we're a very entrepreneurial organization. The company obviously wants people to do their day job and have a skillset.
If a music agent is good at booking shows, the music agent should be good at booking shows. If an endorsement agent is good at procuring deals on behalf of a client with a brand, that's what they should be doing.
But [Ari] challenges every single one of us every single day to think outside the box, whether it's connecting within the company to do different things utilizing the various streams of business that he's created through the acquisitions he and Patrick have made over the years and leveraging those various relationships to either better represent our clients or create IP on behalf of our clients, or go outside of the company and think of new initiatives or new projects that we could be either sourcing, purchasing, and then recommend those things back into the company.
We have an entrepreneurial drive and spirit, which is one of the reasons why I've always wanted to stay at this company and feel like it's my home because we're challenged to not just do a day job.
I think we would be naïve not to say that some people have specific skillsets and they should focus on those things, but a lot of us have ambition to do other creative endeavors and there's no reason why we shouldn't pursue those. Ari very much encourages that. Management below Ari very much encourages that, and I feel very much rewarded for what I'm doing. 
---
Can you tell us a bit about moving over to London to run the office?
When I was asked by our music management to consider the idea, my response was fairly instantaneous that I was happy to do it.
There were just some personal things that I had to resolve to make sure that I was comfortable being here, and obviously I wanted to make sure that I was capable of doing the job and I was comfortable doing the job.
The company was very supportive of all those things. They created a good program for expats to come over here.
I'm not the only expat that's in this office. So as a result, I think that's really been the backbone of why we're so good as a group of integrating the culture and doing what we're doing now because a number of us came over here and the company protected us and helped us and encouraged us in a proper way.
---
Can you talk to us about some of the projects that have come out of your office since you've taken over in the UK?
We've been focusing on a number of things here. First and foremost was to grow our operations in the most basic form.
As a globalizing company similar to other brands that are out there like Live Nation or AEG [Facilities] merging with SMG, we wanted to have unified operations across the globe.
The first thing that I was doing with my colleagues here was integrating the culture so that they had the right influence here, [and] that the British people that were here historically in the office were doing things in a similar way to the Los Angeles office, the Sydney office, the New York Office, the Nashville office.
I would say the first thing that we were most effective in doing, was better representing our clients in the most basic sense.
---
What markets are emerging currently that you see a lot of potential in?
There are a lot of great success stories out there. I think everyone's still fascinated by China and Asia in general. I think that will take on more investment. We have an IMG office in Shanghai and I believe that we will be expanding our presence over there over the years and hopefully having more of a music presence there.
We've got Sydney, so they're in a good position to help with that marketplace, but I think we all know that there are a lot of people in that part of the world that have not had access to as many concerts as they probably could consume. There are certain local pressures that we still have to learn and understand.
We're all trying to still understand that business and how it evolves, but there's a tremendous opportunity in the marketplace for more consumption of music.
With the distribution of music, we have Spotify, Apple, more people are getting access to tunes and as they do, more artists gain popularity. It enables us to book more shows globally. So we see there being more consumption of music and live events in those parts of the world.
India as well. Their mobile phone usage and screen usage has gone up considerably in the last 10 years or so. As a result of that, I see more investment and organization from either global promoters or local promoters in investing in the live music space. Once they get through some of their infrastructure issues, I think there will be more opportunities there.
A lot of labels are investing now in Africa and putting a presence there to get more artists. There are artists emerging from there. There's certainly a touring network. It may be limited now, but there are places to play, not just South Africa, but throughout central Africa.
I see a number of emerging markets that are very relevant to us in expanding our business. Ultimately we want to be experts in all of them.
---
You mentioned streaming and music consumption increasing. How important have artists' streaming metrics become for agents?
More data is better, right? We understand things better when we see what people are doing and consuming. We have to take some of it with a grain of salt thought, obviously, because not everything translates directly to ticket sales.
There's not a one-to-one relationship between number of streams and how many people are going to buy a ticket. Some people are casual fans, some people are hardcore fans. I think there's differentiation in the level that people are going into it when they're doing this.
You have to be cognisant of that when you're booking a tour, but it certainly helps to have the ammo and the data and understanding what the artist might be worth. It might point out to us that there's an emerging marketplace that we haven't tried.
So it's hugely important. It lends a lot of credibility to taking the idea and taking the risk so that we can go into these markets and break new territory on behalf of our clients.
---
How does the process work for signing a new artist? Do you see, for example, that an artist is able to sell out a venue on their own for example, and at that point, an agent might start having a conversation with that act's management about potentially signing them?
First and foremost A&R is a group, so while an individual might hear of something, they share that with the wider team and then we discuss the viability of the artist both in the marketplace and making sure we can best represent them via our ecosystem internally.
We share information about what we're looking at, whether it's in a discipline like hip hop or dance music or rock music or pop music or country music.
That might be coming from a tip from a manager, a tip from a label executive. It might come from going to a live show, seeing somebody open for somebody else. It might be somebody on a street corner, right? There are many different ways to discover an artist.
But, we bring that data and information, those tips, those recommendations back to the wider team. Obviously there's credibility to some of the filters, meaning that a manager might recommend something or a label executive might recommend something.
You see team around it building quite quickly and you say you want to be a part of that because not only do you see the raw material in the artist and the talent, but you see a great structure behind them that would potentially enable success. We talk about all those factors.
First and foremost it's about talent. It's still an old school business in that regard. Can the person sing? Can the person play? Can the person be a future rock star or pop star? Can he or she be a celebrity? Can they be a credible musician? We talk about the art, and the art is the most important thing.
---

Centtrip Music, a specialist division of fintech company Centtrip, combines unrivalled financial industry expertise with smart technology to champion transparency and provide world-class international payments, foreign exchange and global expenditure services. Today more than 300 of the world's top international artists use Centtrip's products and services to make the most of their hard-earned money.Music Business Worldwide